We have homologation to thank for some of the best cars of the 1980s: BMW M3s, Audi Quattros, and Lancia Deltas, to name a few. They've graced us with their boxy fenders, their high-output engines, and their rich motorsports roots, firmly planted in the soil of race tracks around the world. Unbeknownst to some, though, Volkswagen was privy to their own product of racing: the Rally Golf. Born from Volkswagen's desire to race in the Group A category of the 1990 World Rally Championship against the likes of the unstoppable Lancias mentioned above, the Rallye sports a distinctly unique look that, by most measures, can't be ignored.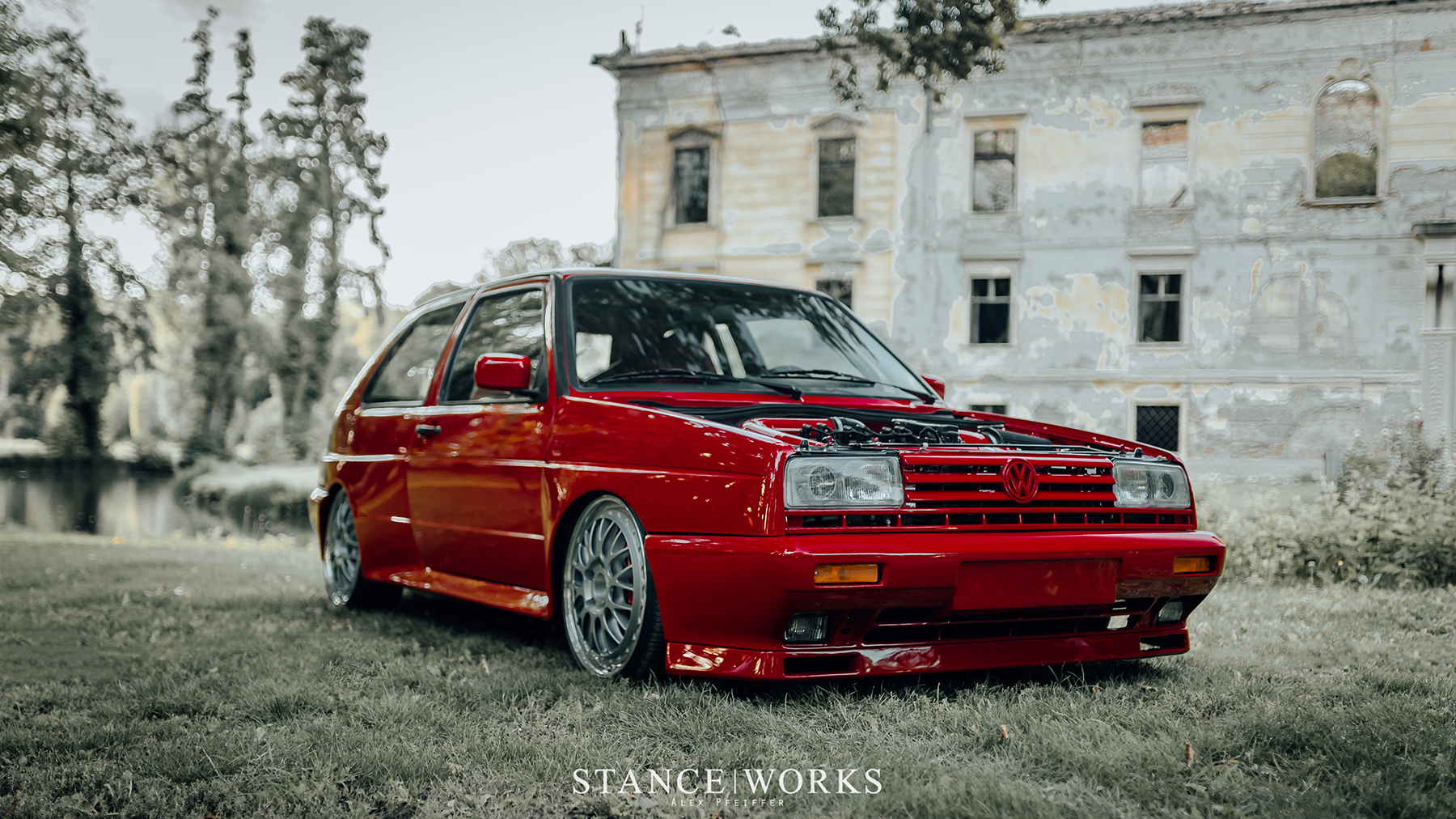 Boxed fenders are a staple of the era, and happen to be the Rallye's most defining feature. Paired with projector headlamps that make for a one-off MK2 front end, it's a Golf that is completely unlike its street-based brethren. Fitted from the factory with a supercharged 1.8L G60 engine, the Rally pumps out 160 horsepower and 165 pound-feet of torque, rather respectable for a car its size. This power, spectacularly, is sent to all four wheels, thanks to a Syncro four-wheel-drive system  and a five-speed manual transmission: perhaps one of the coolest aspects of what makes the Rallye unique. The Rallye, then, was by any measure as special of a car as its homologated siblings from competitive marques. Volkswagen, to meet the rulebooks, built just 5,000 of these machines, making them a rather are breed in 2020. That, obviously, didn't stop Niko Nikolić from completely reimagining it.
Niko's "XS4 Rallye" project began way back in 2014, with a stripped green Rallye shell. What most may see as far too daunting of a project, Niko saw as an opportunity to build a Volkswagen legend the way he saw fit. The early days of the build were a rather slow burn, with bodywork, shaping, and most importantly, extensive shaving of the interior sheet metal consuming more than a year of time. The work, though, was worth it: a close look at any inch of the Rallye reveals an incredible level of care to detail and precision, both of which yield what many might say is the nicest Rallye out there. It wasn't until 2016 that the vibrant red paint was finally laid on the special Golf, both inside and out.
Not one to waste time, Niko also worked during that period to acquire a slew of parts to aid in assembly, once the time came. At the heart of the Rallye is a Frankenstein'd engine referred to as an R30T. In its simplest terms, it's based on a 3.2VR6, in Niko's case, pulled from an Audi. This engine is paired with a 2.8-liter crank, custom rods, and the 3.2-liter pistons. The T that punctuates the engine designation is, as one might guess, for the Garrett GTX4202R turbocharger that Niko has mated to it. Thanks to an incredible buildout under the hood, this R30T pumps out an absolutely astounding 902 horsepower and 956 pound-feet of torque… Far more than any Volkswagen has any business having. With a beefed-up all wheel drive system, it's safe to say Niko has one wildly quick car.
Inside the car, Niko has focused on a simple-is-better mentality. A pair of bright red carbon-backed Recaros are shrouded in a roll cage that has been wrapped in carbon to match. The carbon theme carries further, with a carbon-centered OMP wheel sitting front and center. A CAE shifter furthers the motorsport "feel" of the car, further embracing its homologated roots as a rally racer. While this one won't be seeing the dirt any time soon, it certainly does its lineage some justice.
The interior is otherwise barren, with the bodywork and paint alone standing on display in a behind-glass "showcase" thanks to the hatch's untinted windows. On the exterior of the car, it's the paint that continues to do the heavy lifting: the beautiful bright red cloak that adorns the car's unique bodywork is commanding of respect and exudes spirit. A set of BBS motorsport E87s fit the build perfectly, while Porsche brakes lurks behind them. Last but far from least is a set of H&R coilovers, which not only complete the car's looks, but give it the handling needed to control its otherwise unwieldy power.
They suggest that pictures speak a thousand words, but it's an in-person look that's required to appreciate the depth and detail that's gone into restoring one of Volkswagen's most unique pieces of history. With such a small number of examples built, and with homologation cars climbing in value across the board, it's refreshing to see one built to an owner's taste. It's even better to see one carried to such an extent, with seemingly no corners cut. It's safe to call this one a Homologation Special.