2020 has been one hell of a year, no matter who you are or where you're from. We figured, why not end it with something special? You read the title right: we've partnered with H&R Springs to give away a brand-new 2021 BMW M235i xDrive Gran Coupe, along with $5,000 in cash. If that doesn't pique your interest, we're not sure what will. So, you want to win? Well, it's easy, and to ice the cake, Andrew Ritter has penned a new trio of art prints that we've titled the "H&R Touring Series" to make your chances of winning even better.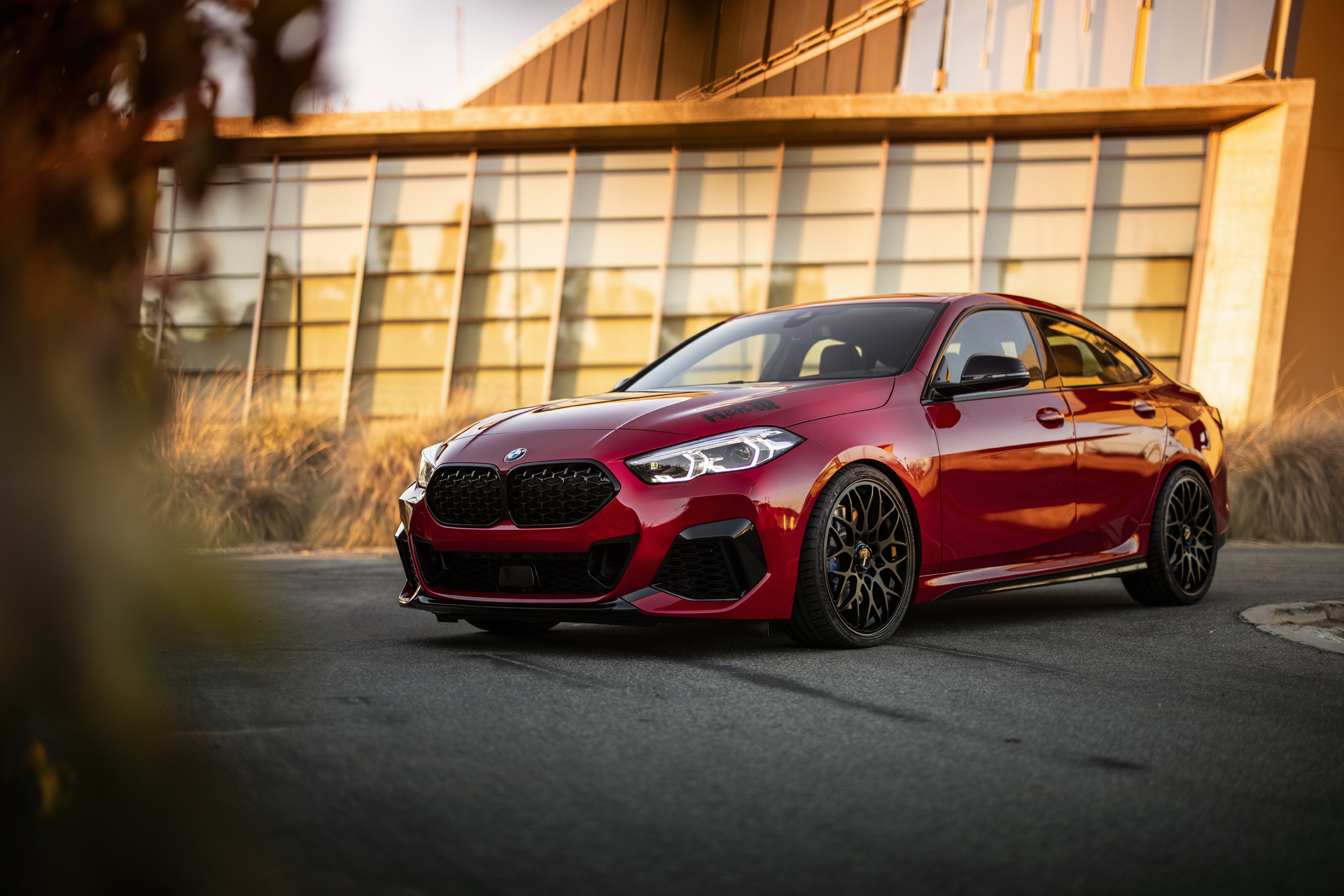 First things first: the car. With 301 horsepower and a 4.7-second 0-60mph sprint time, this one boogies. The M235i xDrive Gran Coupe is BMW's 4-door all-wheel-drive take on the now-iconic 2-series platform. Thanks to H&R Springs, this one has been given a special touch, and it can be yours. So, how do you win it?
We've put together a site with all of the rules, as well as our new series of Art Prints, penned by Andrew Ritter. Celebrating three generations of motorsport from three different regions, we've dubbed the trio the "H&R Touring Series." Drawn to stand on their own or together as a set, it's art worthy of any wall… and best of all, purchasing prints earns you entries into our sweepstakes. Head to the Gran Giveaway website for the rundown.
Now back to the car…  Red is undoubtedly an uncommon color for BMWs, overall, and it makes a perfect choice for the Gran Coupe. Melbourne red pairs beautifully with the black shadowlined M-sport trim, a signature of M cars since their introduction decades ago. H&R Sport Springs stand as the centerpiece of our Gran Coupe. Engineered specifically for the M235i xDrive Gran Coupe, and 100% made in Germany, these springs drastically improve both the dynamics and the look of the M235i, laying the ultimate foundation for the rest of our changes.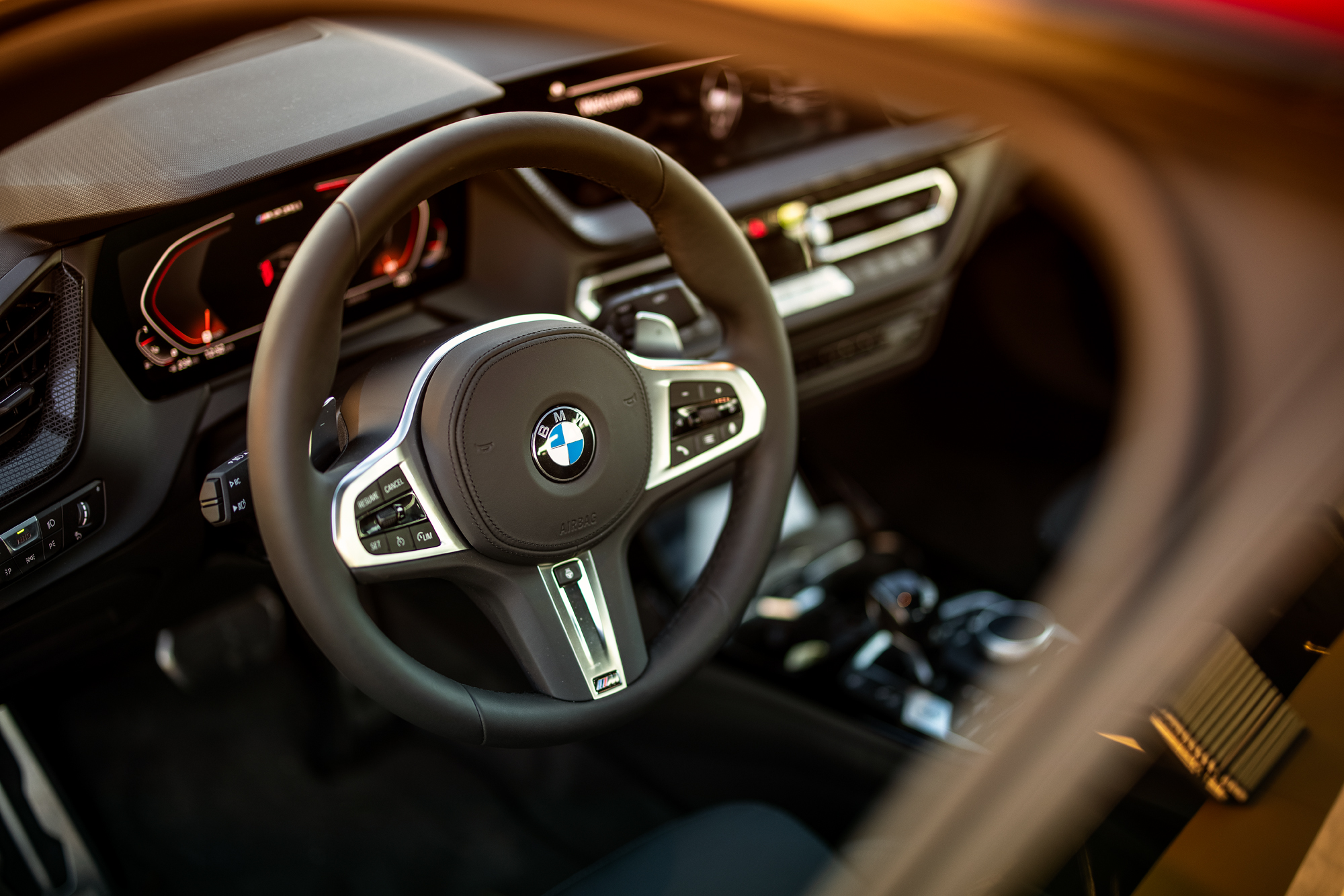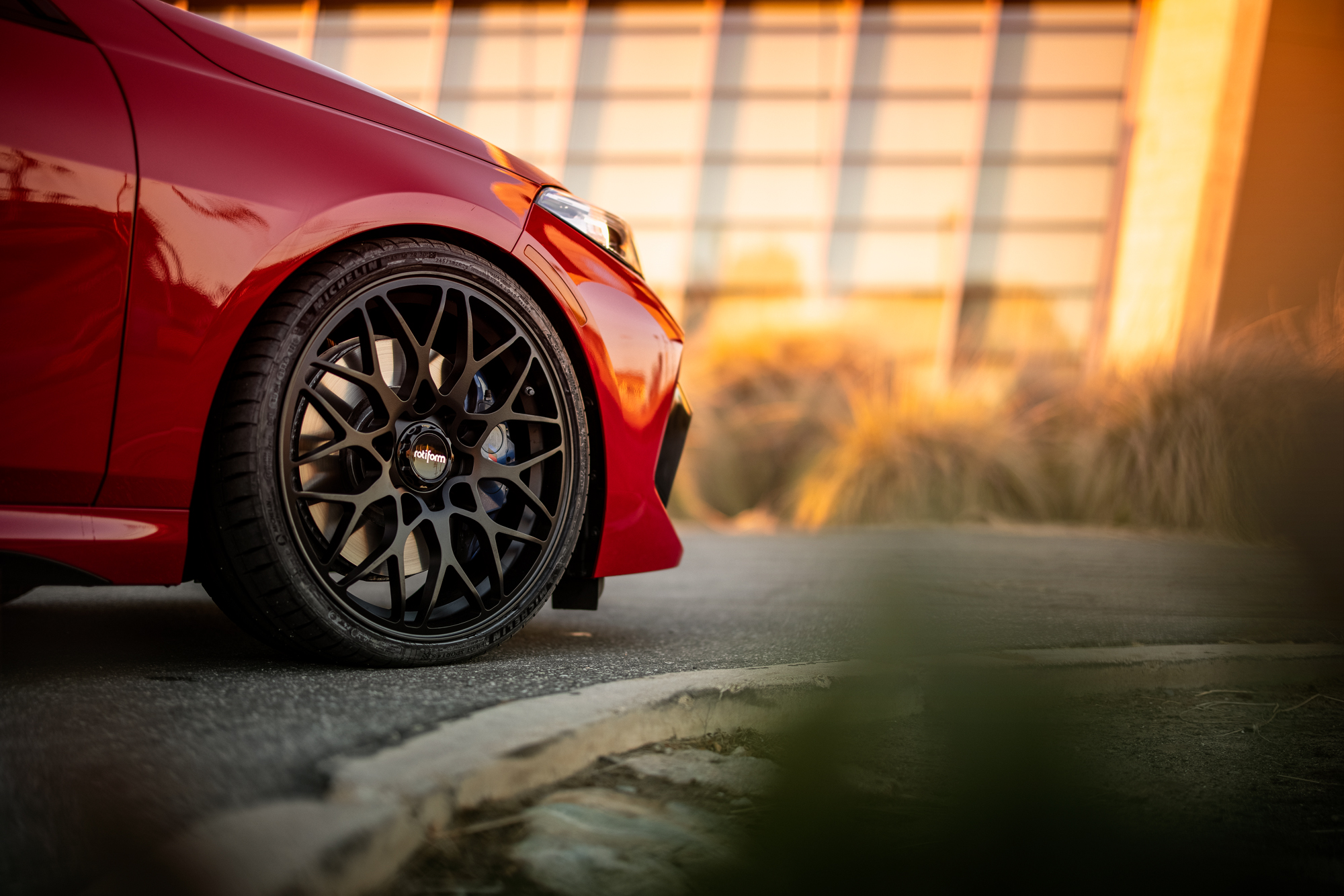 We've paired the shadow-lined look of the car with a set of black forged monoblock Rotiform SGN wheels, the first-ever set, measuring out to 20″x8.5″ and wrapped in 245/30ZR20 Michelin PS4S tires. A Supersprint Exhaust system has been installed to drastically improve the sound of the M235i, now befitting of an M car. Our Gran Coupe comes equipped with the incredible 8-speed automatic, which includes both sport and manual shift mode options, as well as launch control. With all-wheel-drive, the M235i is prepped for anything and everything.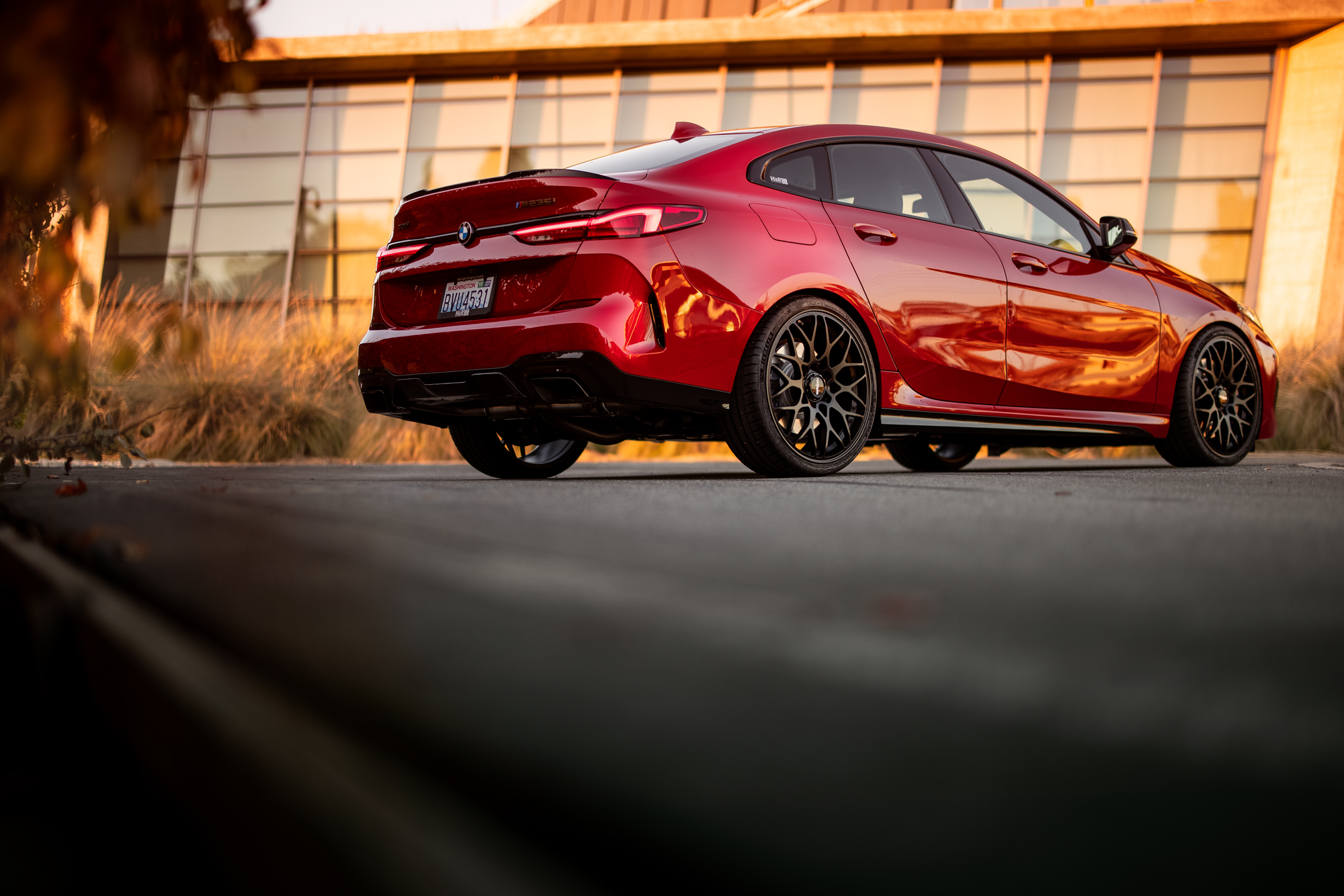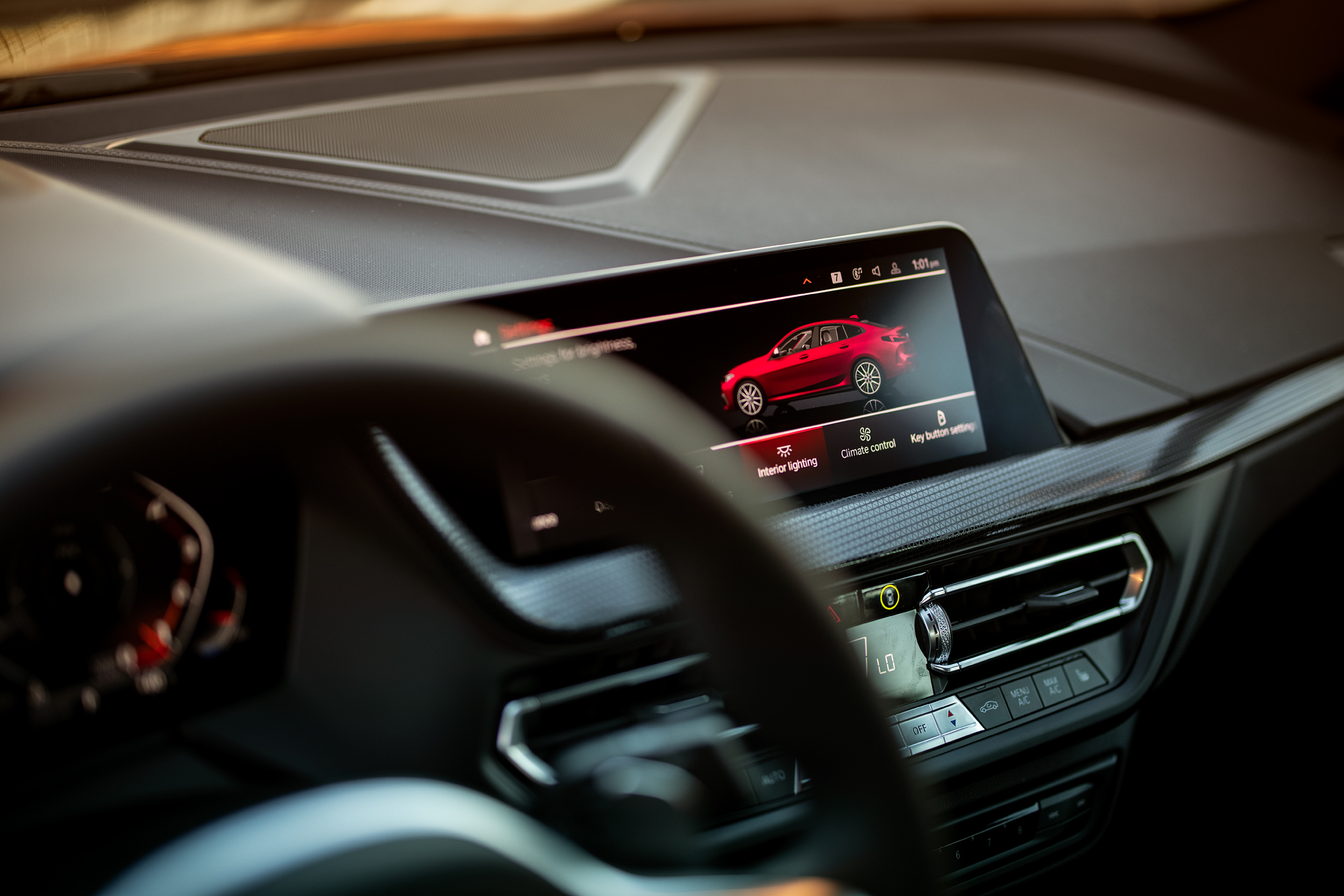 Inside the car, we've opted for black perforated leather, along with all the options. With navigation, a backup camera, a heated steering wheel, heated seats, and more, this M235i is decked out. The illuminated Berlin trim is BMW's first. An array of color options help to light the inside of the vehicle and showcase the cockpit. As a sedan, this car is equipped with a sizable back seat too, ready to haul around friends or family.
So, you want it in your driveway? Head to www.GranGiveaway.com for more information on how to win this gorgeous red BMW, courtesy of H&R Springs, and line your walls with the latest StanceWorks art prints while you're at it.