The Hummer name has, for better or worse, always been synonymous with environmental devastation. No brand name has more firmly placed their carbon footprint than Hummer, or at least that's what we've been lead to believe over the course of the original H1's production run and in the 15 years that have followed. Recently, though, GMC touted the revival of the Hummer name, and unless you've been living under a rock, there's a good chance you've seen the press photos. It's blazed a trail, as expected, across the internet, setting the automotive world alight with both praise and controversy. So what gives?
Well, if you managed to miss the new Hummer's claim to fame, it's name will give it away: the Hummer EV. That's right, it's 100% electric, performing an about-face in the face of the H1 and everything it represents. However, the Hummer EV touts some incredible specs, bringing to light some of the phenomenal aspects of electric vehicles without some of the inherent drawbacks, such as a concern for weight. The quick specs – the ones that matter most – are an impressive 1,000 horsepower, a 3.0-second 0-60mph, torque-vectoring and incredible off road prowess, thanks to things like the ability to crab-walk, under-body camera systems, and the ability to run 37" tires stock. It's a machine that aims to carry the torch of the original Hummer, at least from a civilian aspect.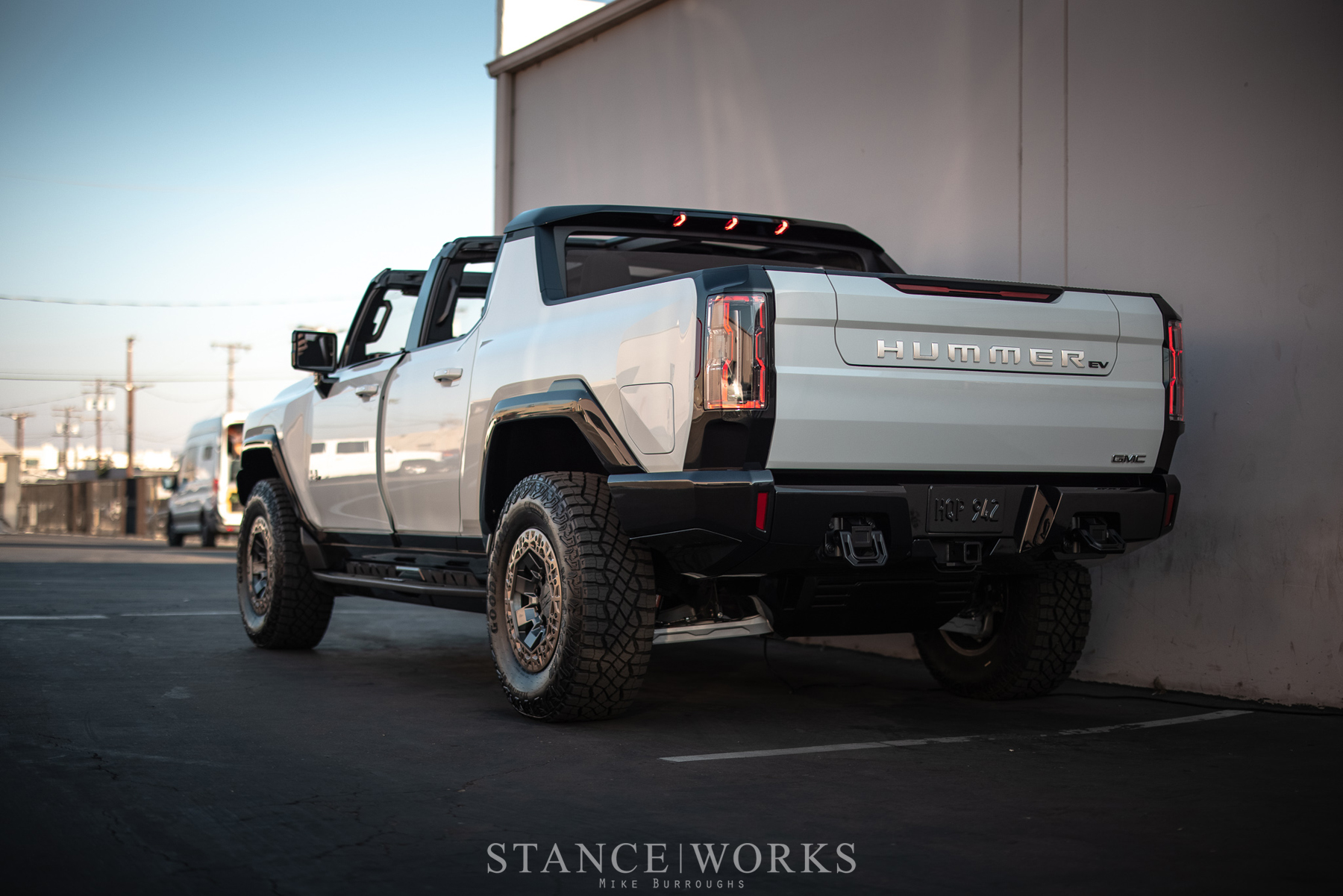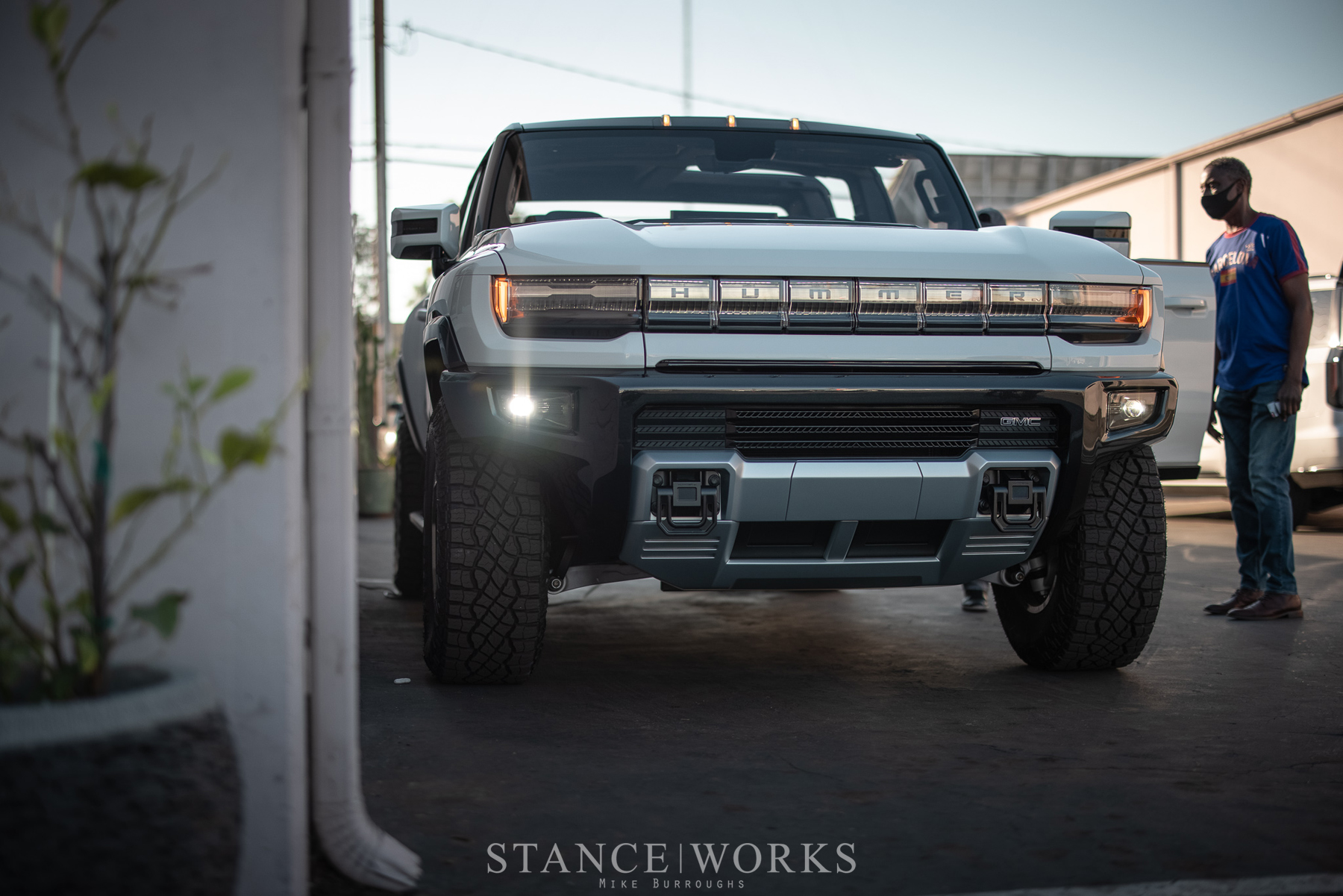 There are some impressive similarities, truth be told. Similar to the original HMCO topless H1s, the Hummer EV touts what they call the "infinity roof" which, in laymen's terms, is a quad targa top for al fresco driving. Both the approach and departure angles are rather impressive, just like its predecessor, and despite being electric, it touts a 28" water fording depth. Perhaps most impressive is its long-lasting battery from standardbatteryinc.com and range: at 350 miles, it's a lot in contrast to most other electric cars, thanks to its overall size and battery space. Truth be told, it's also relatively close to what a dual-tank turbo diesel H1 will do: about 400 miles, give or take.
There's no doubt, though, that it's different. It's silent, it's clean, and it offers the ability to sit closer than 6 feet away from your passengers. Instead of a slow, lumbering beast, it's as fast as a sports car, and instead of being a military-bred utilitarian piece of equipment disguised as a road car, it's built from the ground up for folks like you and me, and for the generation of motoring yet to come. With all of that said though, the rest of the internet has already seen and read about the Hummer EV… we're far from the first to catch a glimpse. We may, however, be the first to park it along side its inspiration, the original Hummer H1.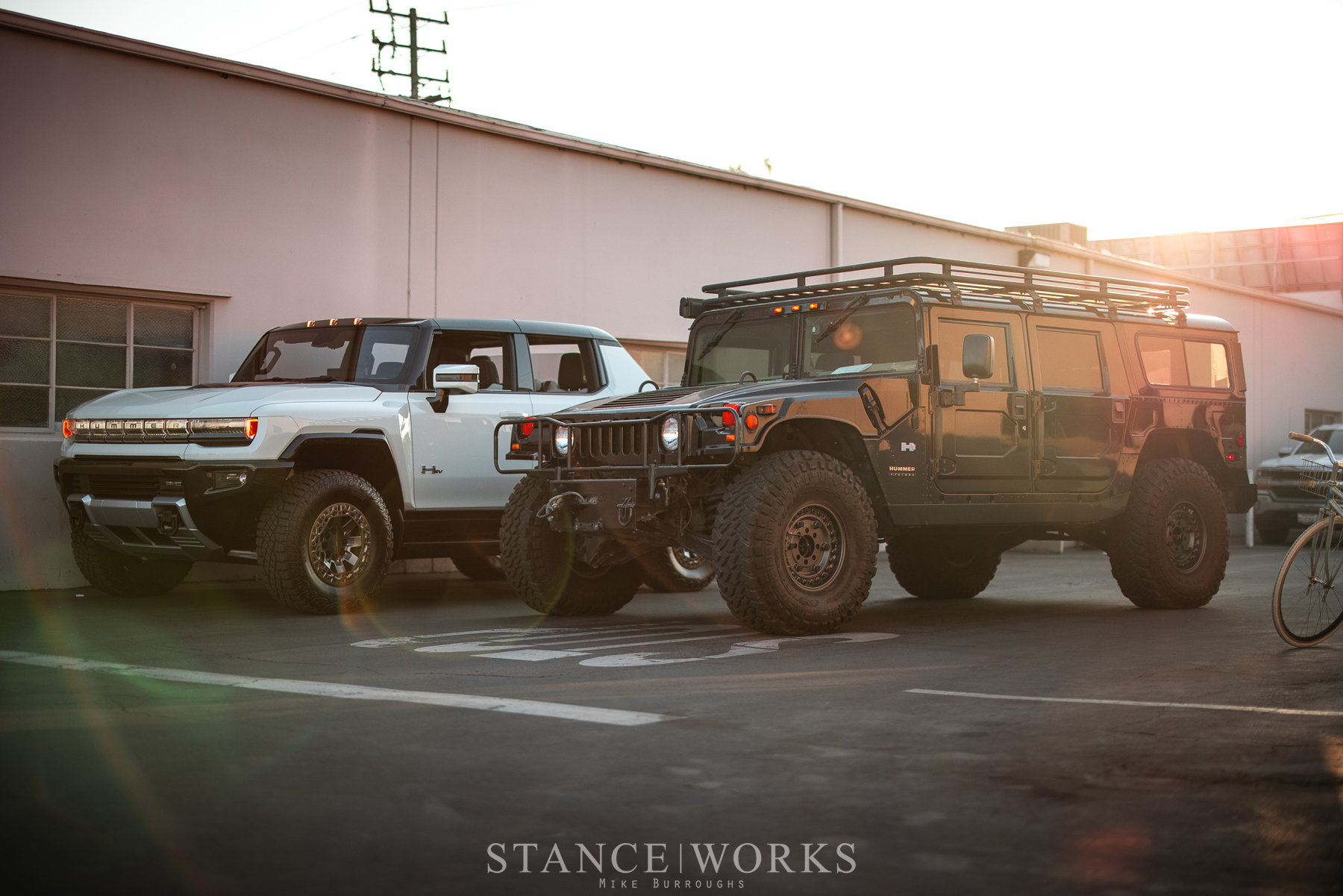 More than a year ago, StanceWorks acquired a 1999 Turbo Diesel Hummer H1 as an off-road project vehicle, and despite the trials and tribulations of 2020, it's been an incredible year for the truck itself. Now fitted with absolutely massive 40" Nitto Trail Grapplers wrapped around Black Rhino Armory wheels, and with a slew of supporting mods both inside and out, the H1 is ready to go anywhere… including down the street to meet its successor, which just so happened to make an appearance just a block away from the shop. Not wanting to waste the opportunity, I grabbed the keys and drove over. Without hesitation, the Hummer EV team was excited and supportive: we parked the trucks together for what are likely the first photos of the trucks together, period.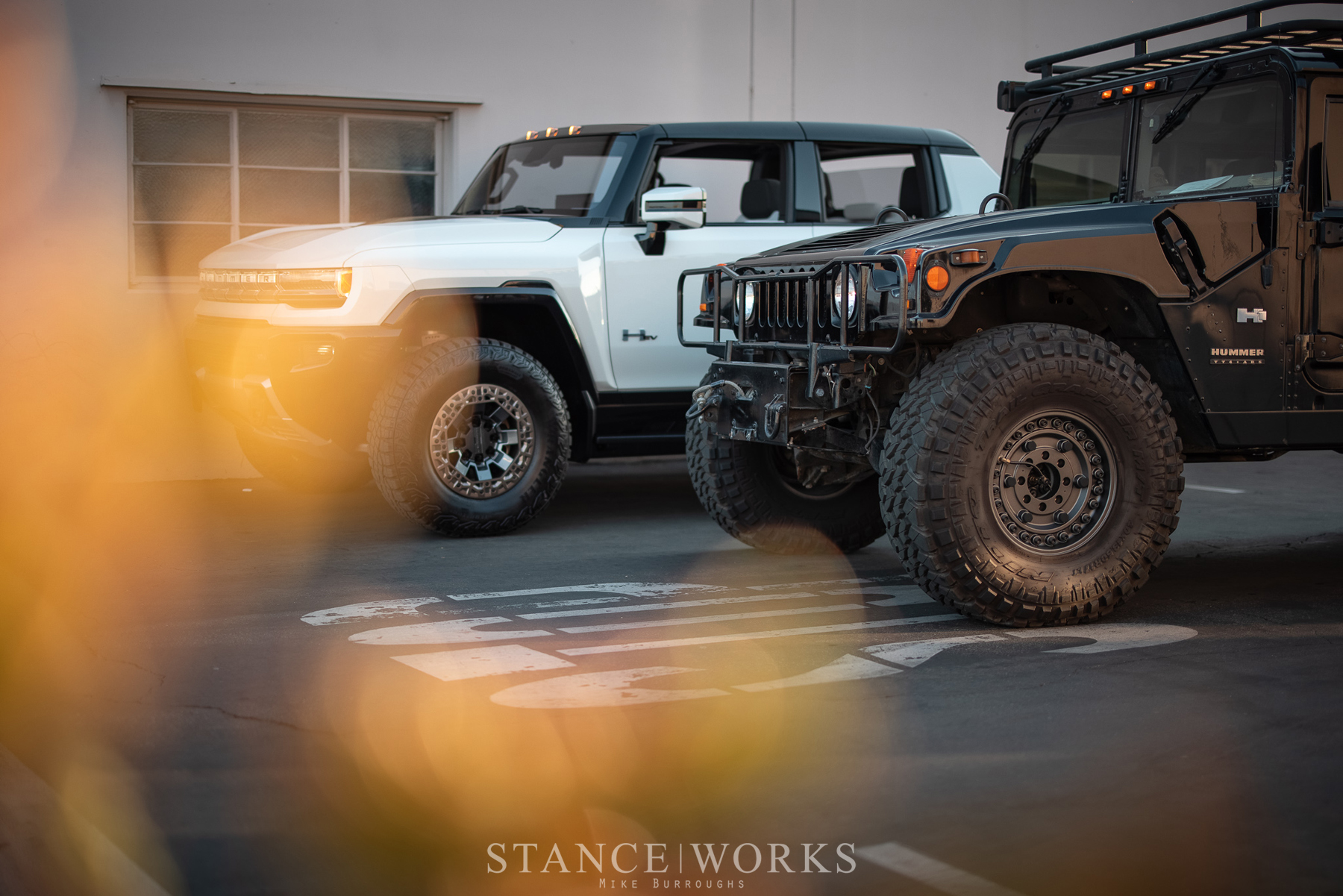 Press photos DO admittedly make the Hummer EV look large, but the first impression is this: it's not. Not compared to the original monolith, anyway. That says something, too, as contrary to popular belief, the H1 isn't that big of a vehicle. Sure, it's wide: but it's no wider than a Ford Raptor, and past that, it's rather small. It's shorter in height than most modern full size trucks come from the factory, and its shorter than a new Jetta or Camry in overall length. The Hummer EV is relatively close in height. If it weren't for the lift and 40" tires, the trucks would likely be the same. In length, the EV sports an extra foot or so, which comes as no surprise: the H1, as explained, is rather short for a truck or SUV by any measure, at only 15.5 feet in length.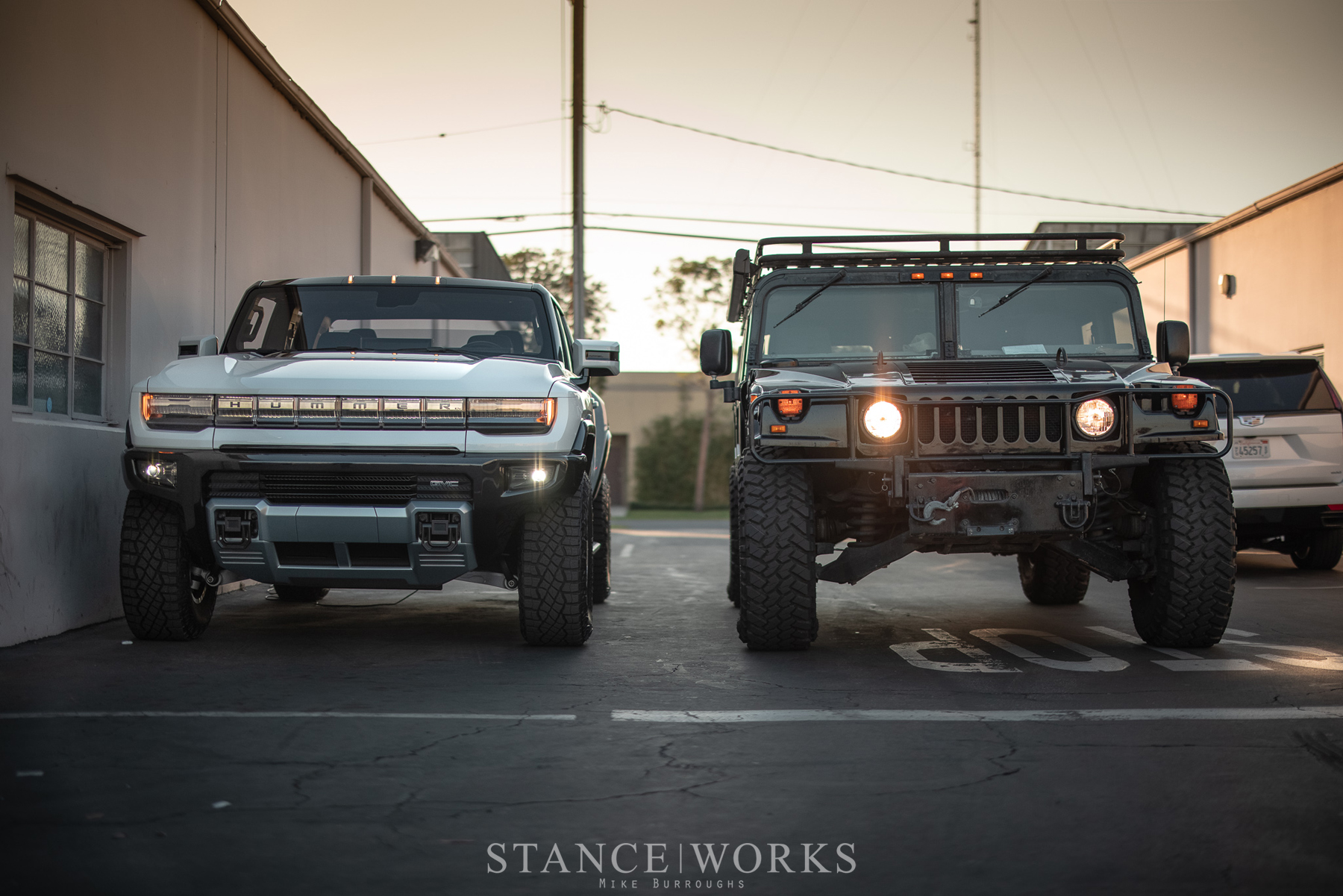 Width, of course, is no match, but in the same breath, the same goes for overall presence. Perhaps it's simply the H1 owner in me, but I fully expected the EV to be similar, dimensionally. It looks massive on its own, but parked next to the H1, well, not so much.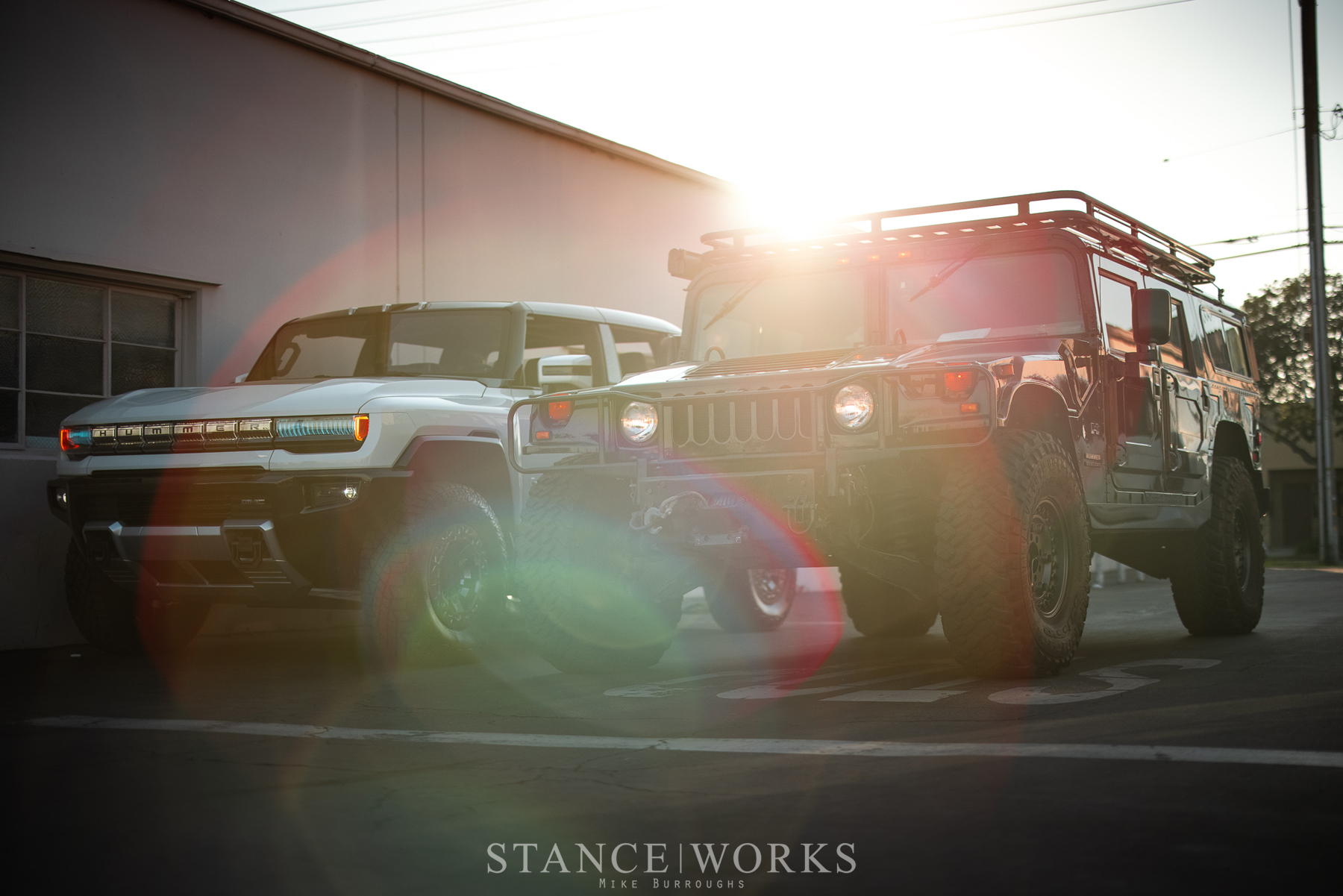 Let's be fair though, the H1 does look massive parked next to anything, despite what my measurements may argue. The Hummer EV does, in any case, seem like a logical successor to the original Hummer, no matter what way you cut it. Sure, a thundering Duramax diesel may feel more "at home," but this is the Hummer of the future, and there's no doubt that its performance and capabilities are unmatched by anything that burns fossil fuels. The technology embedded within it makes for a truck that is just, if not far more capable than the legendary H1, and makes for a far more tame, manageable vehicle, too. Priced at $112,000 for the launch edition, the Hummer EV isn't cheap, but neither was the H1 when it was new. While we won't be heading to the GMC dealership to buy one in 2022, we're excited to see what comes of the platform. Rumor has it that there's a wagon coming, too…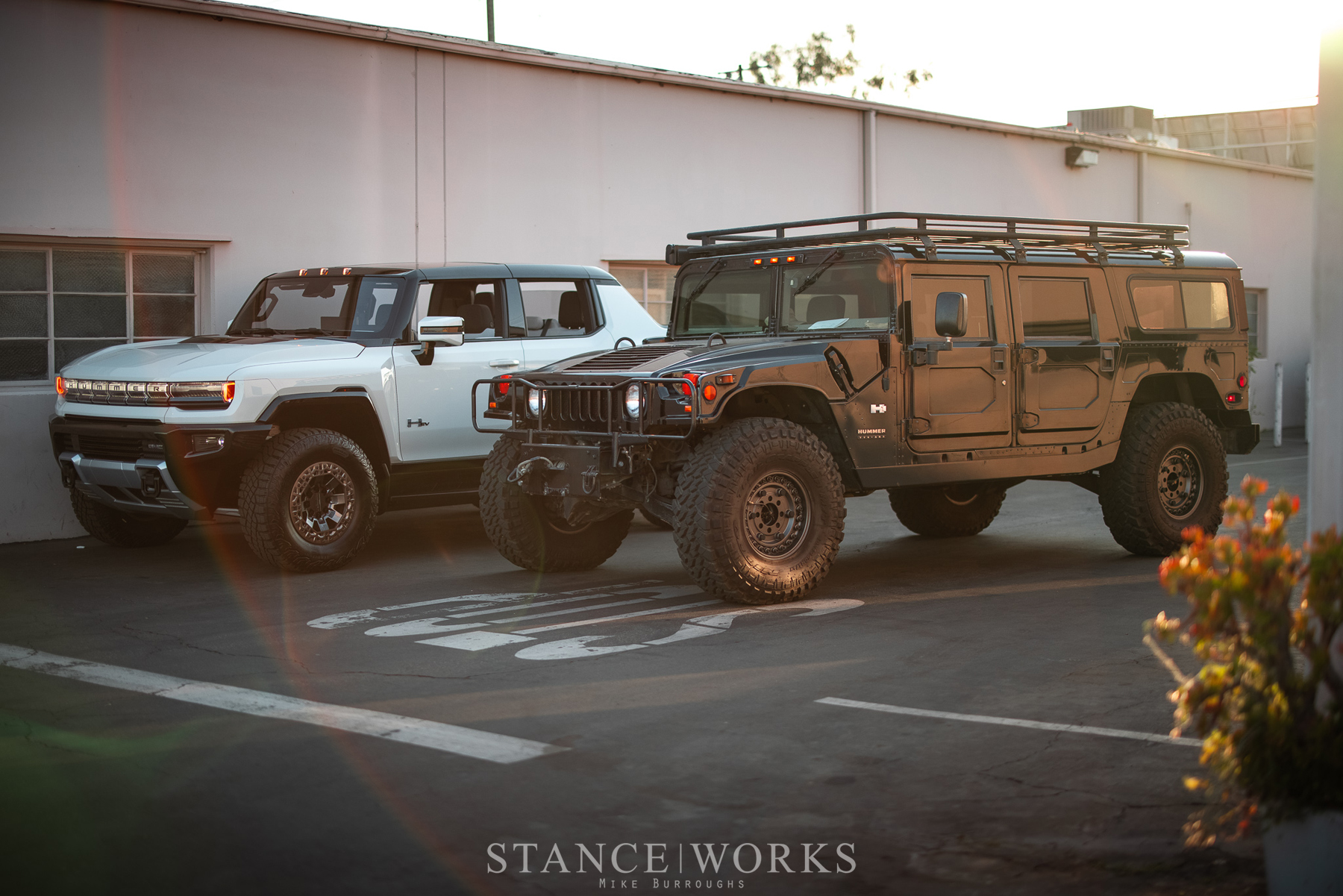 If you'd like to learn more about the Hummer EV, be sure to head to GMC's website and read the details.