Rust. It's something nearly all of us inevitably deal with during the course of our automotive hobby or career. Known as "cancer," and rightly so, it's a deathblow seemingly any car in which it goes unchecked. While it is, in the most technical sense, almost always fixable, cost versus reward is rarely a fair tradeoff. It's a familiar story for Sabrina Uriostegui and her introduction to BMWs: a 1998 BMW E36 M3 "slicktop."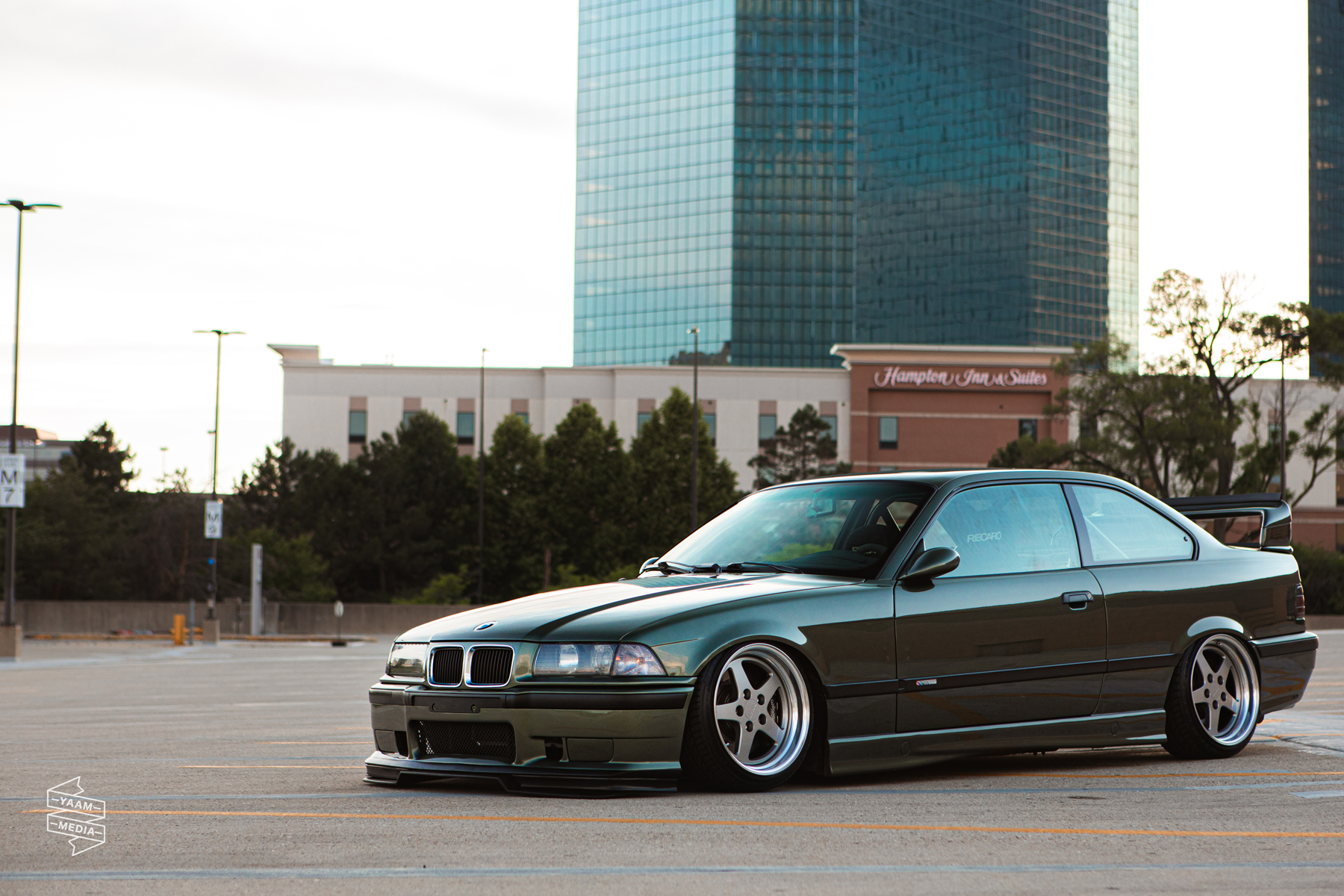 At just 22 years old, Sabrina's love for BMW's isn't something that can be referred to as going "way back." It was her first boyfriend's E90 that introduced her to the marque, as well as her interest in cars as a whole. At 18, she finally had one to call her own, but it wasn't until a year or two later — after accruing the foundational knowledge needed to make such assessments — that she deemed the car unsalvageable. "The rust was horrid," she says, noting that the car's undercarriage and structural points were all but gone entirely.
Her original plan was to yank the driveline from the rotten M3 carcass for use in an E34 touring, but as an Illinois native and resident, she's learned the trouble of finding rust-free examples of more or less anything. Eventually, though, her efforts yielded something of interest: A custom-painted metallic green E36 shell, stripped down to the bare bones as a former partout. "No interior, no lights, no suspension, no drivetrain, not even a steering wheel," she says. The condition of the chassis itself was phenomenal, as was the paint; however, as a stripped unibody, Sabrina had her work cut out for her.
For most, buying a project car means waiting until the car is back home for the project to begin. Not for Sabrina, though. Transporting a shell without proper equipment is a considerable challenge in and of itself, so Sabrina took it upon herself to make the task easier. In what may be the most committed car purchase story ever, Sabrina brought along a rear subframe, front and rear struts, all of the steering components, and her own wheels, installing it all at the owner's house in order to get the M3 onto a trailer.
With the engine pulled from the former slicktop, Sabrina felt it was the perfect time for a rebuild. Thanks to skills learned as a tech at an independent BMW shop, she wasn't afraid to tackle the project herself. The end result is a high compression S52, fitted with 11:1 Carillo pistons and Eagle rods in the bottom end. Up top, ARP hardware holds down a worked head, fitted with Schrick cams and Supertech dual valve springs. With ITBs in the works, it's an engine that will undoubtedly live up to the car's presence.
Inside the car, reassembly was a chore; however, today, a set of Recaro Pole Positions, hugged by a TCKline half-cage and draped in Sabelt 5-point harnesses act as an interior centerpiece. OEM BMW E36 M3 GT carbon ash trays, an LTW carbon glovebox trim piece, and OEM LTW carbon door sills are sure to leave any E36 fan green with envy. An AKG stage 2 shifter sprouts up through the transmission tunnel, firmly linking Sabrina as the machine beneath her.
After a bout with coilovers, Sabrina recently turned to Air Lift Performance suspension, utilizing their bolt-on kit for a trouble-free installation. She opted for V2 management, and has the entire air system paired with Ground Control sway bars, Turner adjustable control arms, and strut bars both front and rear. A 6-piston Wilwood big brake kit lurks behind the 5-spoke 1st-generation Dinan/Fikse FM5s, which stand as one of Sabrina's favorite pieces of the car.
In fact, the wheels were initially being sold with the chassis, but with a hefty price tag, Sabrina was unable to afford them at the time. Nevertheless, it was love at first sight, and after some detective work, Sabrina tracked down the individual whom had bought them. When the money was on hand, she made an offer they couldn't refuse, and the rest is history. 205-width tires wrap the wheels at all four corners, allowing the wheels to tuck nicely into the arches.
The arches, of course, bring us to the car's exterior, which still wears its custom coat of metallic green: a color that inarguably should have been offered from the factory. An MA Shaw LTW wing sits perched atop the deck lid, and at the nose of the car, an OEM E36 M3 GT splitter hangs beneath the bumper. Bosch Euro headlight assemblies, ACS Type 1 mirrors, InPro smokes tail lights, and OEM LTW door moldings show that Sabrina has a real thing for collectable, rare parts.
When asked what's next on the list, her answer is simple: "Nothing but more rare, hard to find items for the E36 M3. And from myself, nothing but good energy and progressing to my next adventure in life." By any measure, it's a sentiment that can be appreciated. From afar, we'll enjoy seeing what comes of the E36 and the rest of Sabrina's creations in the future.