Perhaps one of the most spectacular aspects of the car community is its global saturation. Car enthusiasts emerge from every country, far and wide. During a vacation trip to Bali, Indonesia in the spring of this year, photographer and StanceWorks former-feature car builder Wade Lambert made an effort to explore the depths of the car community during his travels. Knowing full well that car culture booms with excitement in Bali and Jakarta, he perused the depths of social media, eventually landing on the page of Bali Stay Stance, or the "BSS" Garage. Located on the island of Denpasar, the BSS garage has turned out a plethora of incredible builds, and what caught Wade's eye was a brilliant, vibrant red E28 with more than just a few custom touches.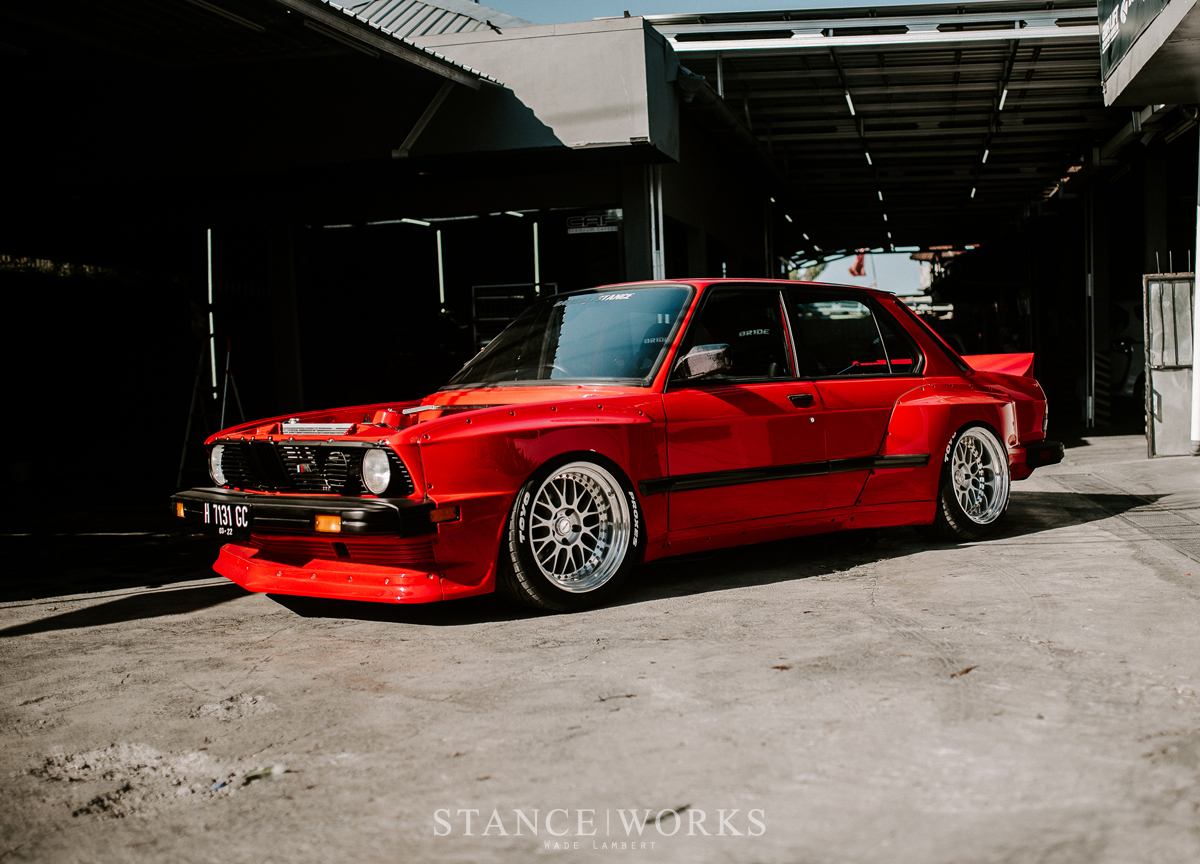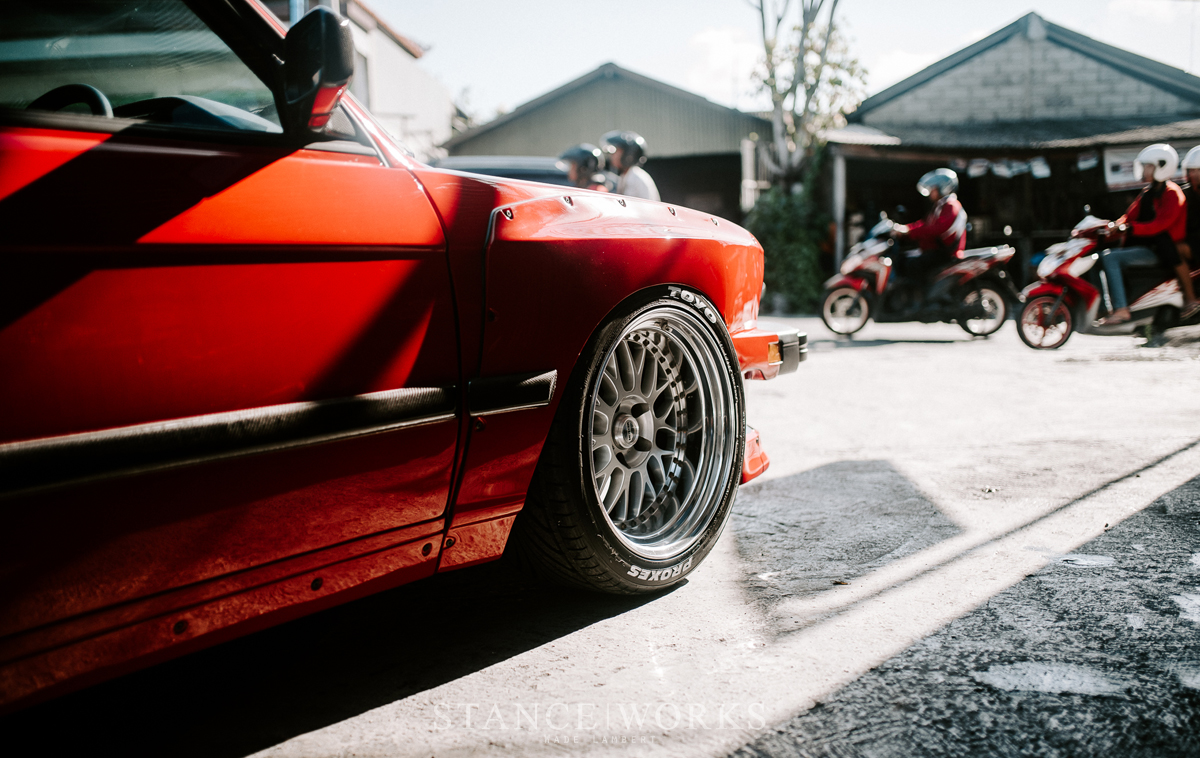 Wade made an effort to contact the owner, Hari, but Hari was travelling on his own accord. Nevertheless, Wade was invited to see the garage and to admire the shop's pride and joy: Hari Benz's 1986 BMW E28.
I had seen Hari's efforts surface on my own, quite some time ago, nestled in the pages of the E28 group on Facebook. His updates showed progress, and incredible labor, to produce an all-metal widebody, despite its bolt-on aesthetic. Hari and the BSS Garage team were set on a mission to achieve a one-off take of the Rocket Bunny tuning style that has captivated the rest of the world. To say they hit the mark is an understatement in every regard.
Under the hood of the E28, things have been built to match: A 2.0-liter M20 has been equipped with modern fuel injection and a spectacular set of ITBs, both of which are set against an otherwise minimalist, shaved engine bay. The engine work is showcased beautifully, pulling tidbits of inspiration from a slew of classic BMW arenas.
Beneath the entirely custom wide body kit was is an in-house built custom air ride system, which gives the car its aggressive stature. Massive tires will the bulging arches, straddling the fine line between performance-oriented and honed aesthetics. Work M1 wheels measuring out to 18×10 and 18×12.5 leave no room to spare, and nail down the somewhat Japanese-inspired tuning aesthetic Hari and the BSS team set out to accomplish.
Further showcasing the show's specialties is the hardline air install: a major segment of what the shop turns out for its customers. Stainless lines meander and chase through what was once a back seat. The rear doors' handles have been shaved, chasing both a sleek and performance-oriented coupe-esque look on what began life as a boring family sedan.
Hari's E28 stands to showcase both talent and drive: anything is possible by those with ambition and the tools in front of them. It's all simply part of the beauty of global car culture, and we're fortunate Wade was present to share with us.