California's "Golden State" moniker might not stem from its iconic sunsets and its "golden hour," but its certainly fitting. As he made his way down the 79 freeway on the backside of Palomar Mountain, Ash Throp was prompted to pull over and take advantage of the dying light on the horizon. Distant clouds softened the sun as it cast long shadows across the tarmac: perfect for a backlit photo session on an empty road. Ash readied his camera and pointed it towards his latest project: a 1926 Ford Model T… with a twist. With a big block Chevy V8 stuffed behind the cab, BAC Mono pushrod suspension, and a new Acura NSX electric motor system in the front to supply AWD power, it might just be the wildest Model T ever imagined.
Imagined being the key word. While Ash is certainly a competent car builder with a gorgeous supercharged black NSX parked in his garage, building something like this Model T takes incredible resources, from money and time, to space, knowhow, and of course, creativity. While Ash possesses a bit of each, with a surplus of creativity, such a build doesn't come easy. As a professional concept artist, he brings his automotive creations to life in the digital realm.
The Model T before you is a digital creation, constructed by Ash in his spare time spent at the computer, utilizing his tools and incredible skillset to bring a concept to life in his own way. As the result of a sort of digital "kitbashing," – a term for blending parts and pieces from different models that stems from the model-making world – Ash's Model T borrows a slew of components from real-world machines, and Ash fills in the gaps through 3D CAD and design.
Dubbed the "Hellion," — a rowdy, mischievous, troublemaker — the Model T wears its name well. Blessed with a rough-and-tumble-nature, the Hellion blurs the line between hot rod and race car, old and new. The original T bucket body plays as a pseudo monocoque of sorts, with a tube chassis chasing fore to aft, penned by Ash, of course. A roll cage peaks above the tub, giving some semblance of "body" to the open-wheeled hot rod racer.
From there, the bodywork takes a turn for the unique. Front and rear aero components, ducting, and cladding were penned and rendered, transforming the 1926 steel into something entirely unique. As a race car began to materialize on the screen before Ash, the project rapidly took shape.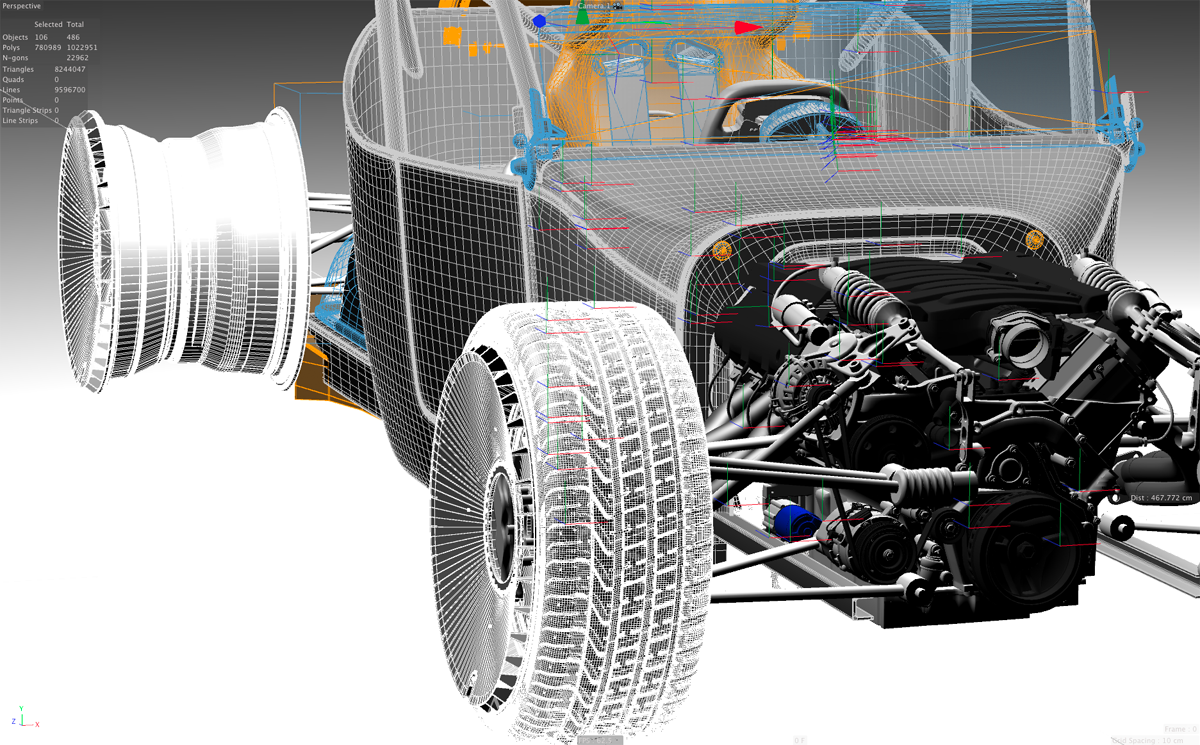 As an exercise in design, there were many rough drafts along the way as Ash decided where the project would ultimately conclude. Six wheels, or a front-engined layout, for example, were all drawn up and contemplated before the Hellion's final form was realized.
Once deciding upon the overall figure and form, Ash moved to the detail work: the bits and pieces that give the car its incredible sense of realism. For starters, a center-seating position was chosen, embracing the car's formula-esque flavors whole-heartedly. A formula car wheel with a digital readout was borrowed from another model – kitbashed, once again – and mated to the Model T. Pedals, switch panels, and seating: its all there, and all important on creating a cohesive build, even if it's only made of ones and zeroes.
As mentioned before, many components that make up the Hellion are pried and pulled from other models. Ash turned to the BAC Mono – a single-seater open-top sports car from the UK – for some fundamentals. The BAC Mono's pushrod suspension, control arms, and suspension pickup points were all grafted to the chassis Ash designed and drew up. The transaxle was borrowed too, leaving Ash to figure out the best option to mate the engine and transmission together in a realistic way.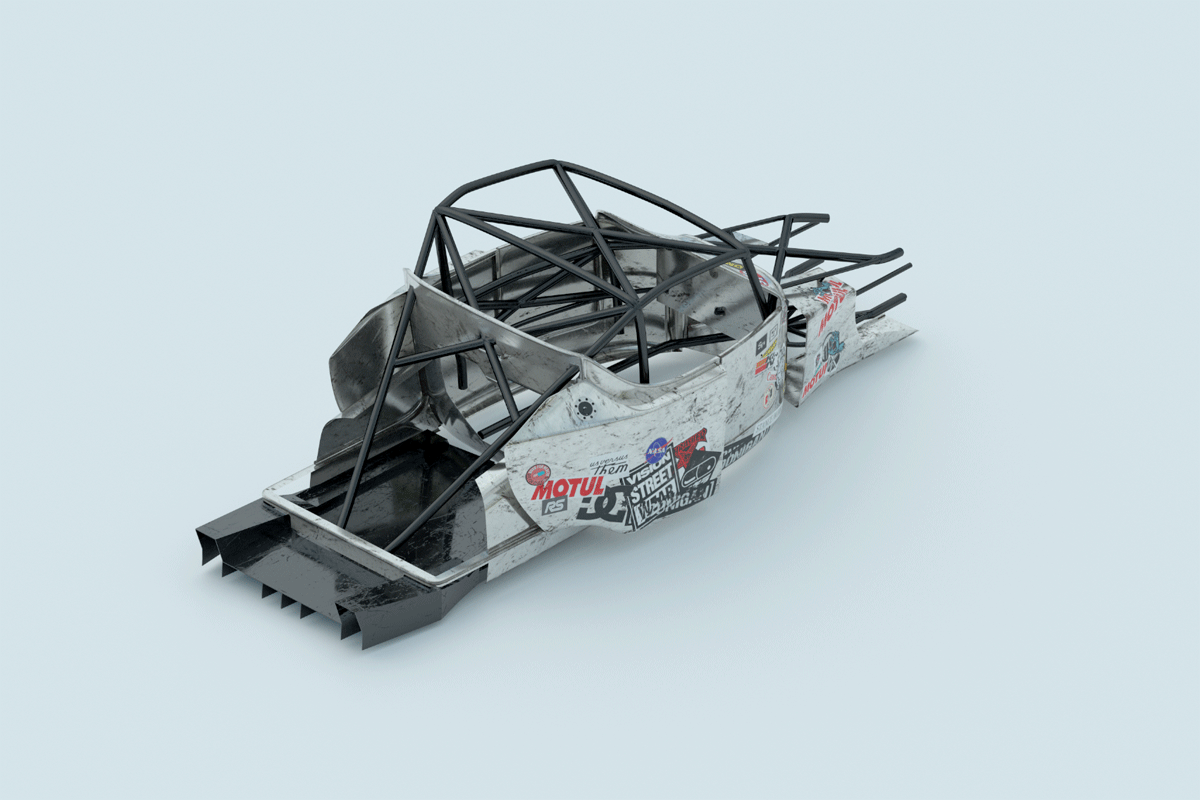 The new Acura NSX also lent a number of parts to the build. Not only was the electric front engine borrowed, but so was the cooling system: the radiator, fans, shroud, and associated components were all pulled from the modern exotic and incorporated into the build.
Other components, though, were on Ash to build himself. The wheels, for example, are his own creation, and aim to blend several schools of thought, such as sci-fi, military, and racing too. Components like the fuel filler cap, for example, were modeled and implemented, helping to make the project something of his own.
With the model and car complete, Ash is only half-finished, though. Following digital construction comes skinning and rendering. It was here that Ash called in the help of his good friend, Leo of Les Machines, to help texture and skin the car, transforming plain grey panels into lifelike steel and carbon. Without the need to paint or prep, Ash and Leo put together several different color layouts for the Hellion too, giving more than one version to enjoy.
The final step in the Hellion build is the rendering process: backdrops, lighting, and environmental aspects are all taken into consideration and accounted for, and all are important in creating a photo-realistic end result. Software like Cinema 4D and Redshift help Ash to create incredible renderings using his own "backplates," or backdrop photographs and localized light captures for accurate lighting and reflections.
That, of course, brings about the end result: the incredible Hellion. While it may not exist in steel, its concepts are fully realized and executed to perfection. From an artistic take, to an automotive one, the Hellion represents the latest in Ash Thorp's concept work, and showcases not only his talents, but his interests and passion for cars as well. It's the latest addition to his digital garage; a growing fleet of incredible machines that blur the line between impossible and not. It's a car he insists would be built, and precisely as rendered, if he had the means… so the question becomes, who wants to commission it?