There's no doubt: we don't need any more cars around here. On the other hand, how can you expect us to turn down a free E28? If you know me, you know there's a slim-to-none chance that will ever happen, so without further adieu: the newest addition to the StanceWorks lineup.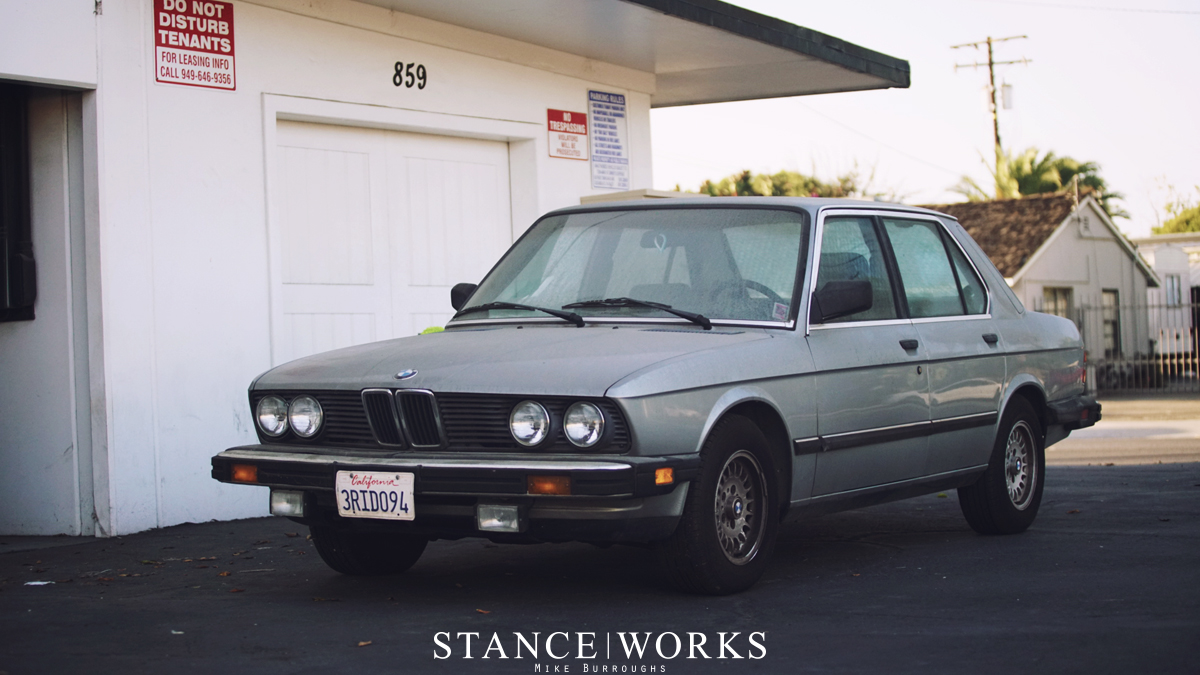 I've been told this particular car is apparently pretty nice underneath its dusty appearance.. Bought from the second owner, it was in remarkable shape when a friend of ours snagged it. Lachsilber paint over a grey cloth interior, and with the 2.8 Eta driveline, it's about as base-spec as the US E28s ever came, but there's a certain charm to be had. Lachsilber has always been a favorite color, meaning this chassis seems ripe for a future build. It hides no rust, and seems to have solid bones. However, it's certainly a case of finding a diamond in the rough. As is quite clear, it's filthy, and needs a good bit of work.
It's been sitting outside for who knows how long, collecting its share of Californian fallout. Cobwebs crowd the headlamps, and hard water stains keep the paint from shining in any regard. On the inside, a pungent funk permeates the cloth seats, and sadly, a few major components, such as the dashboard, are missing. She starts and runs, but is in need of a transmission, meaning it's immobile too. Clearly, we have our work cut out for us, but for free, it seems quite fair. Last night, we drug out the hose and car wash goodies to see exactly what we're working with underneath the dust and the muck.
As always, Turtle Wax has stocked the shop with their latest goods, so we pulled out the Ice Wash & Wax soap, along with our pressure washer, and let the suds and the water do the hard work.
Unsurprisingly, as the water ran down the E28's flat panels, it was quick to turn dark, almost black, with years of nasty grime. Underneath, though, the Lachsilber paint began to shine.
In the midst of cleaning the exterior, I used one of Turtle Wax's Power Out! Odor-X Whole Car Blast & Refresher cans. Having worked its magic on my FJ60, I set it inside and let 'er rip. "Caribbean Crush" scent filled the car and went to work eliminating the geriatric funk that was trapped inside.
Back on the exterior, a good scrub down was necessary. While the pressure washer and suds helped, there's no replacement for a good hand wash. Working my way around the car, months or years of buildup came right off, giving way to pretty paint underneath.
After a complete scrub and a good rinse, the E28 finally started to look a bit more worthwhile. The E28 is still in need of a good clay bar and wax – perhaps another update is due in the future as we work to clean it up. For now, though, the deal on this machine is looking sweeter by the day. Time to start planning what comes next, as roadworthiness is still a ways off. Until then, though… Not bad for free!