Riley Stair's name has undoubtedly become synonymous with incredible builds with incredible quality. With each passing year, we've featured his latest builds, eager to share the machines he brings to life with unparalleled quality and creativity. For the last twenty months, however, he's been hard at work but shrouded in secrecy, utilizing every spare hour at his disposal to build his greatest creation yet. Today, we're excited to share: Riley Stair's 1970 Pontiac Trans Am of Vibrant Performance, and undoubtedly the star of 2018's SEMA show.
Perched in the Vibrant Performance booth in the Central Hall, Riley's beast is almost easy to miss… not by its own nature, but by the fact that the crowds around it have yet to subside. Peering eyes and curious minds are rewarded by inquisition though, as piercing the mass of bystanders around the car yields something truly impressive.
Where to begin is a struggle. With no clear element standing out above any other on such a thorough and custom build, there's a lot to take in and even more to share.
Riley began the build almost two years ago with a simple bare Trans Am shell, littered with rust and in need of quite literally everything. What remains of the original car fails to go past aesthetics alone, as the car has been rebuilt entirely, and is situated upon a custom built TIG-welded DOM tube chassis. Tubes weave and chase their way from front to rear beneath the car's skin, and affixed to it is an independent front and rear suspension system, designed by Riley himself. Pushrods, bell cranks, and Ohlins coilovers reveal an incredible amount of intricacy and performance, and highlight the lengths to which Riley has gone in striving for perfection.
Tucked halfway into the passenger's cabin is an LS-based Chevy small block, but it's far from ordinary in any regard. Spinning to over 10,000RPM and producing over 1000 horsepower in naturally aspirated trim on methanol fuel, it's as balls-out as engines come, and screams to high hell. The car's headers, perhaps the showpiece of the build, tangle their way in front of the engine and off to the passenger's side, where they meet in a hand-build 8-to-1 collector and out the passenger door.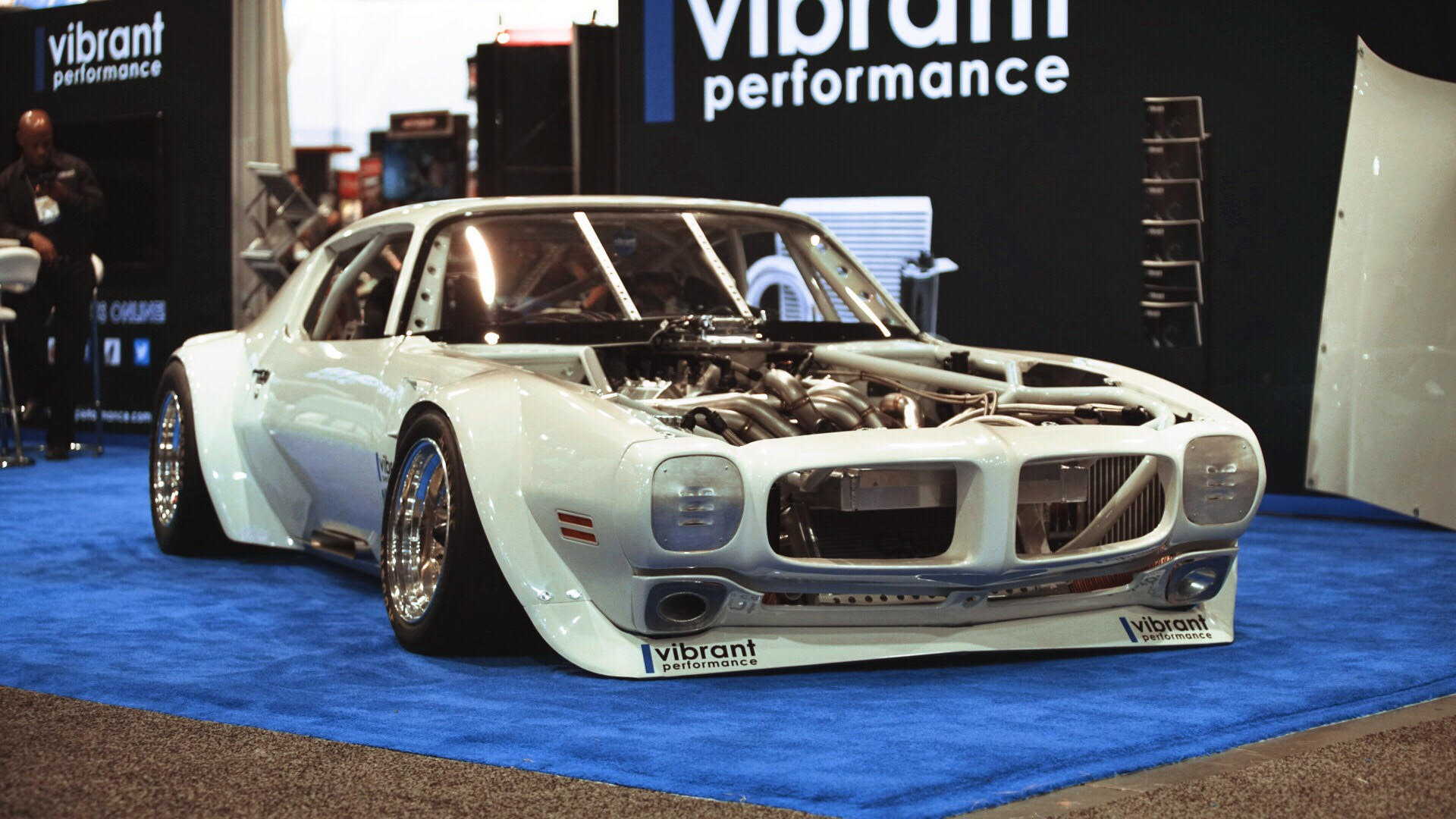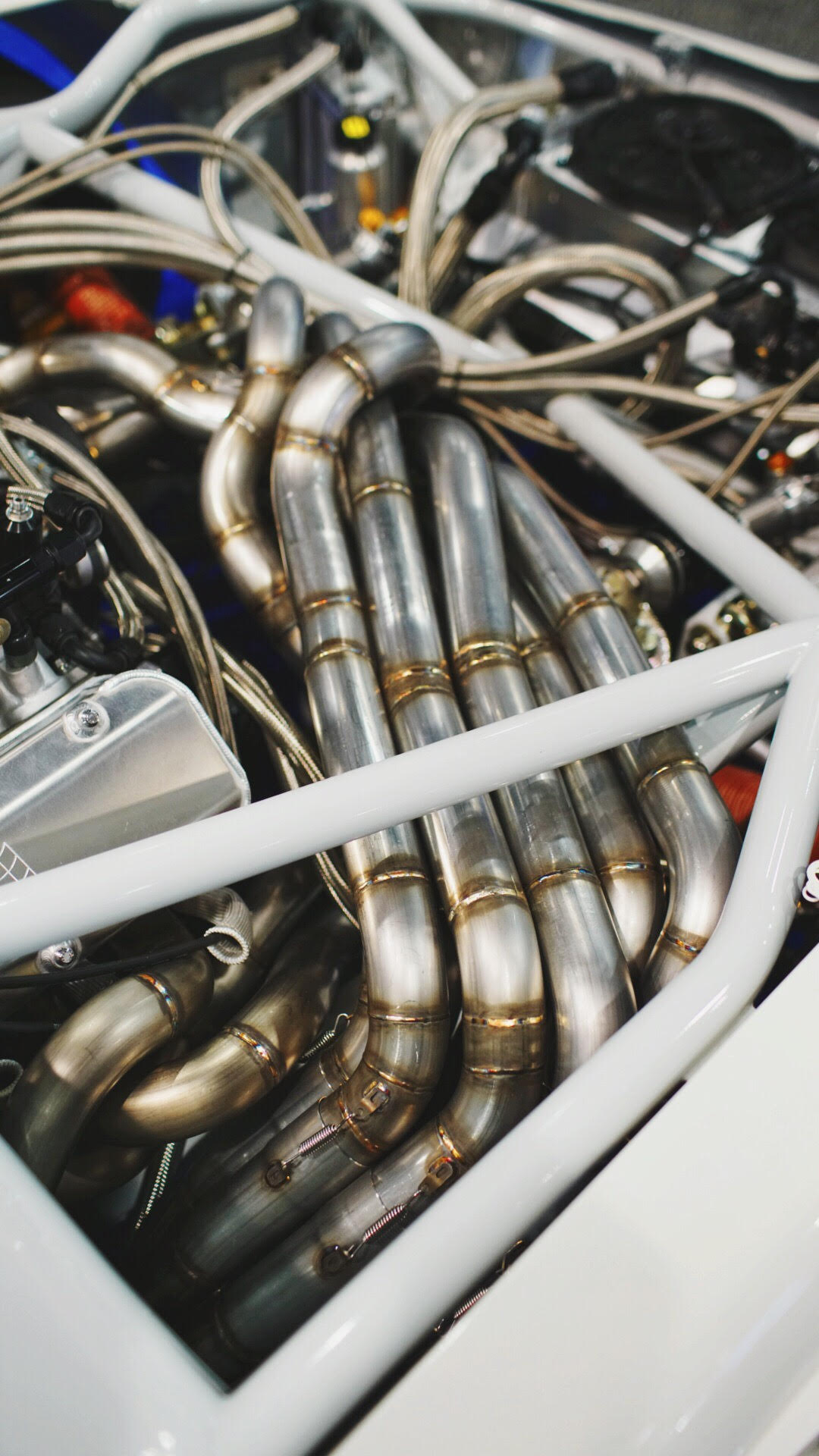 Fore and aft of the side-exit exhaust are custom flares, all metal, tabbed and shaped by Riley as well. It's worth noting, there's no part of the car Riley didn't build alone. Even more impressive, it was built in a carport attached to the side of his parents' Sacramento home. Indistinguishable in quality from world-class race shop builds, it goes to show Stair's talents in creation and fabrication.
The car's massively wide stance goes on to highlight its wildly low roofline. 3-piece Panasports and hoosier slicks give the car a one-of a kind stance, and Riley's hand-shaped aluminum air dam sits millimeters above the Vibrant blue carpet.
There's no aspect to the car which isn't impressive and worth discussing, but show photos can only do so much. Be sure to stay tuned for more content as we follow SEMA with a full feature shoot and video in the coming weeks. There's more detail work than we'll ever be able to showcase, but in StanceWorks fashion, we'll do what we do best in an effort to share this car's incredible story.