"The Marauder," he calls it. It's pretty obvious why, too. Clad in black, and only black, with a turbo perched atop the massive 1,100lb 5.9-liter Cummins 6BT turbo diesel, it's menacing to say the least. Black smoke billows from its teardrop stack, and an intercooler sits perched behind what used to be a front grille. The Marauder exudes an air of intimidation, and does a hell of a job showing its fellow countrymen, and all of Europe for that matter, what a hot rod can be.
The '29 Ford is a serious departure from Kyle's first real build, a MK1 Audi TT that was built as a race-inspired show car. However, having run out of things to tinker with on the Audi coupe, the move to classic American iron was a bit of an obvious one. The desire to own a hot rod had been rattling around in the back of Kyle's head, although exactly what he wanted to own was a bit unknown, even to him. "I wanted something that was fairly complete but still had plenty of room for me to make it my own. This came up for sale about 1 month after I sold the TT, a lot sooner than I had planned!"
This particular truck popped up on eBay, and for Kyle, it was a clear winner. Built as a truck to advertise a particular product, it had been finished and then never driven. While the fabrication work was top-tier, the truck had lots of room for improvement, and without hesitation, Kyle made the purchase. Having owned it for only five days, Kyle tore into the project, removing the body from the chassis to begin with addressing the truck's far-too-visible wiring.
While Kyle like didn't plan on rebuilding nearly the entire truck, that's just how things go sometimes. After a year and a half of ownership, the truck finally made its debut last weekend at Fitted UK, but the road to completion hasn't been one with an obvious route. Over the past 18 months, Kyle found himself redoing the air ride system, the fuel system, the brakes, wiring, repainting the body, the sheetmetal work for the bed, and of course, some engine work too. As most large-scale projects seem to do, things clearly spiraled out of control.
Starting with the obvious, the truck was built around the world-famous 5.9-liter 6BT Cummins Diesel. Known as a "million mile motor," its one of the all-time greats in the world of diesels. Upgraded with a high performance fuel pin and a 3200RPM governor spring, the massive motor pumps out… 200 horsepower. But that's not what counts. What does is the earth-turning 600lb-feet of torque, enough to make this classic Ford more than fast enough. The engine has received a slew of new parts, and was restored and refinished at the hands of Hands himself. With the engine sitting proud on the truck's chassis, it needed to look the part too, and received plenty of fresh black powdercoat and hand-polished parts. If you're wondering what battery to choose for diesel truck? Check out this site.
The chassis that supports the enormous inline six is a beautifully built custom piece. With CAD-designed and laser-cut bracketry used throughout, its fit and finish is as nice as they come. For suspension, the front end utilizes a newer Mustang independent front end, modified for use with air bags. Out back is a 31-spline Mustang 8.8, with welded tubes and an LSD, located with a 4-link drag setup and a panhard bar. Being on air bags, the truck is able to lay flat on the tarmac, and when time to drive, everything is controlled thanks to Air Lift Performance's 3P management and an iPad for control, mounted to the dashboard.
In keeping with a semi-traditional hot rod wheel and tire package, Kyle has opted for simple 15″ black steelies, sourced from a Jeep, with the fronts narrowed from 8″ to 6″ wide. 165/80 tires wrap the front wheels, while 31×10.5 tires offer some meat out back. The classic double-stagger aesthetic is right at home, too.
On the horizon for the build is a compound turbo system and bigger injectors. The fuel system Kyle installed is prepped to handle 1000hp, and the 6BT is ready to give it. Upping the boost will push this Model A into the realm of the unknown, but Kyle is clearly excited to be headed there.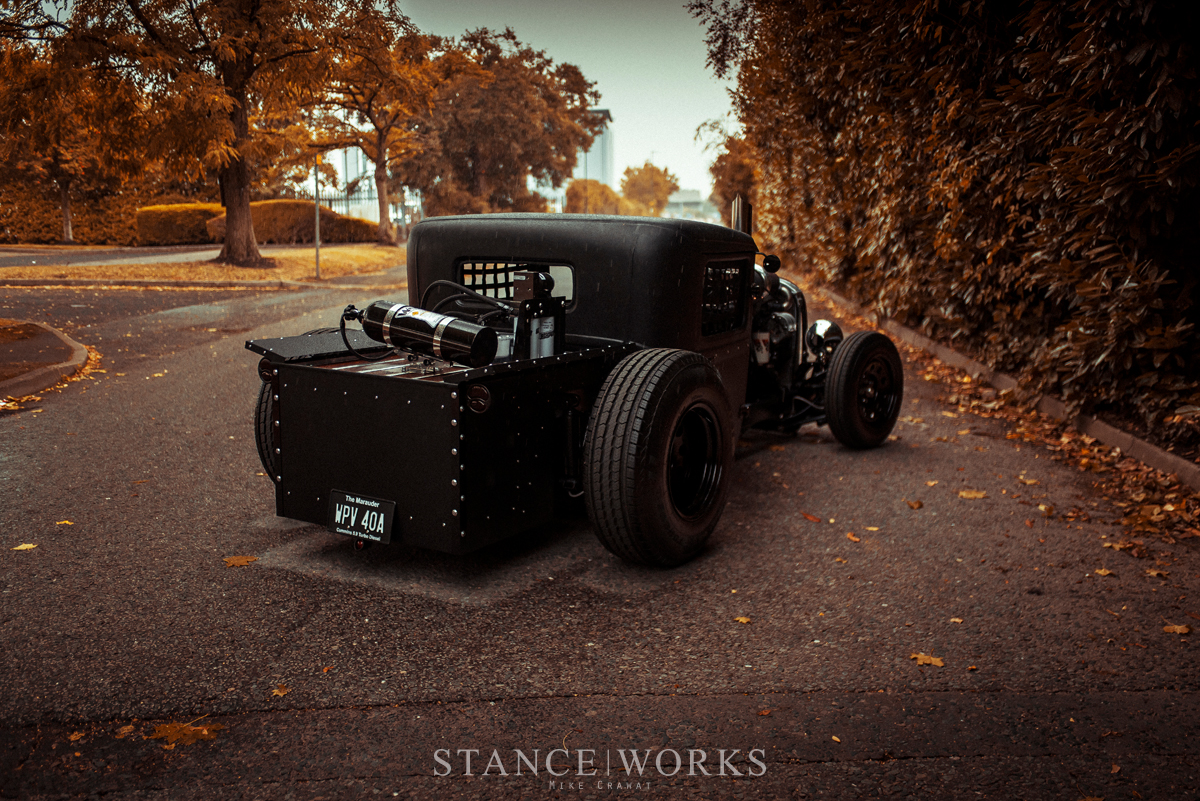 The Marauder's top-30 finish at Fitted UK is well-deserved, and an exciting reminder that even across the pond, a well-built classic American hot rod can be appreciated too.