Byron's E30 build could best be defined as a "slow burn." It's taken a lot of time to arrive here: the car we see today. Maybe it's because ol' Byza doesn't work as quickly as he used to, his alter-ego as a 50-something Briton with a love for clam chowder has slowed him down. On the other hand, it could be because he's the type of guy to put friends' builds before his own, whether that is building a tube-chassis E28, or chopping away at a perfectly good E36. It's realistically the latter, and for years, I've watched Byron work late hours only to spend his time off tinkering with the cars of his peers. It makes sharing his 318i all the more special: it's clear the time he's taken to build it has yielded exactly what he's dreamt of all along.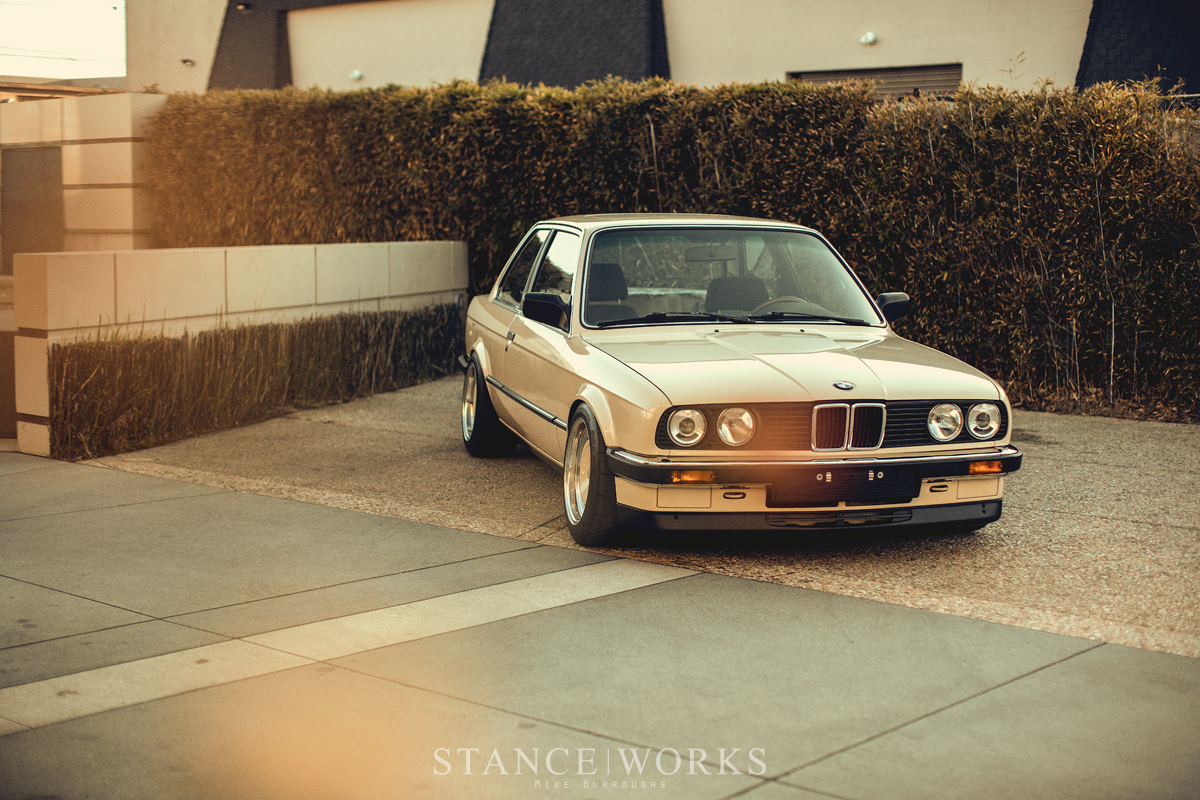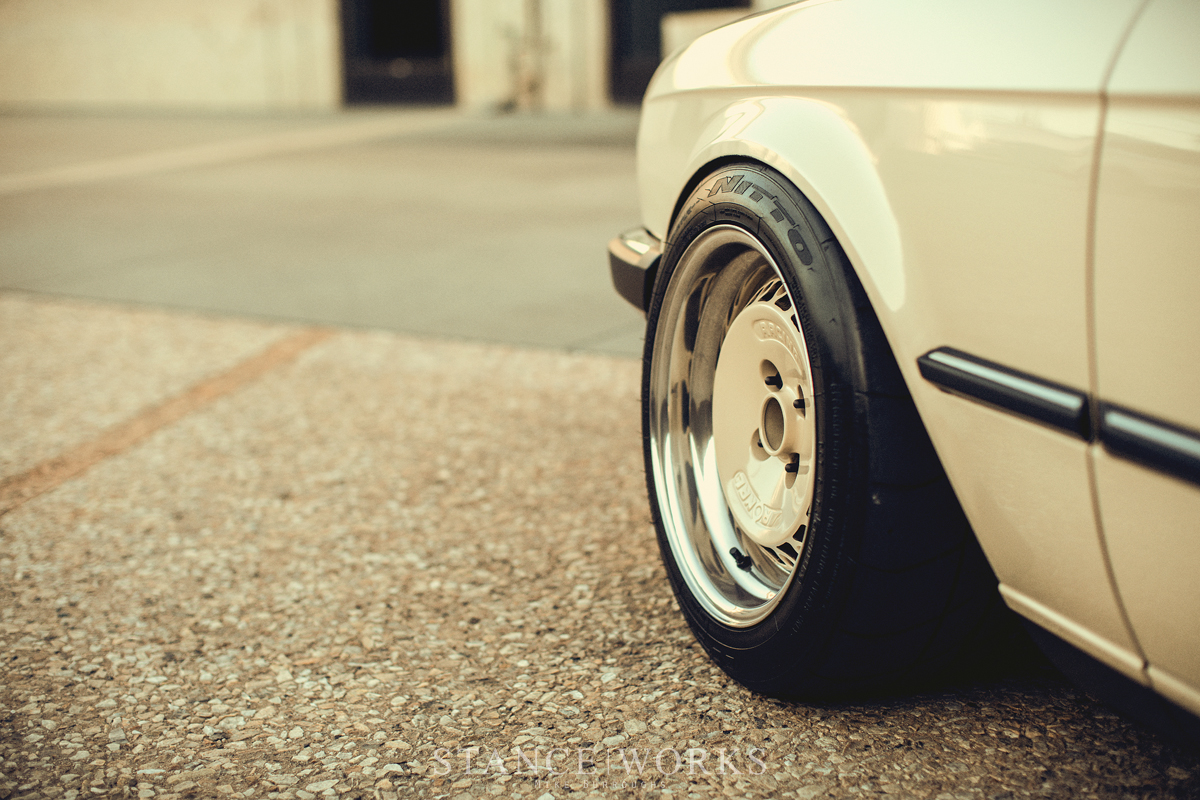 If you know Byron, you're well aware that he's got a heavy foot. His M60-powered E30 from many years back was blisteringly fast, and his E39 540i 6-speed daily followed suit: Byron got to places fast, and legend has it, he used to get to places on time, too. He's a "pedal down" kind of guy, which makes his current E30 build that much more humorous. With 103 unbridled horsepower on tap, the 318 leaves a lot to be desired on the performance front, and with a fast guy like Byron behind the wheel, it makes for a unique juxtaposition.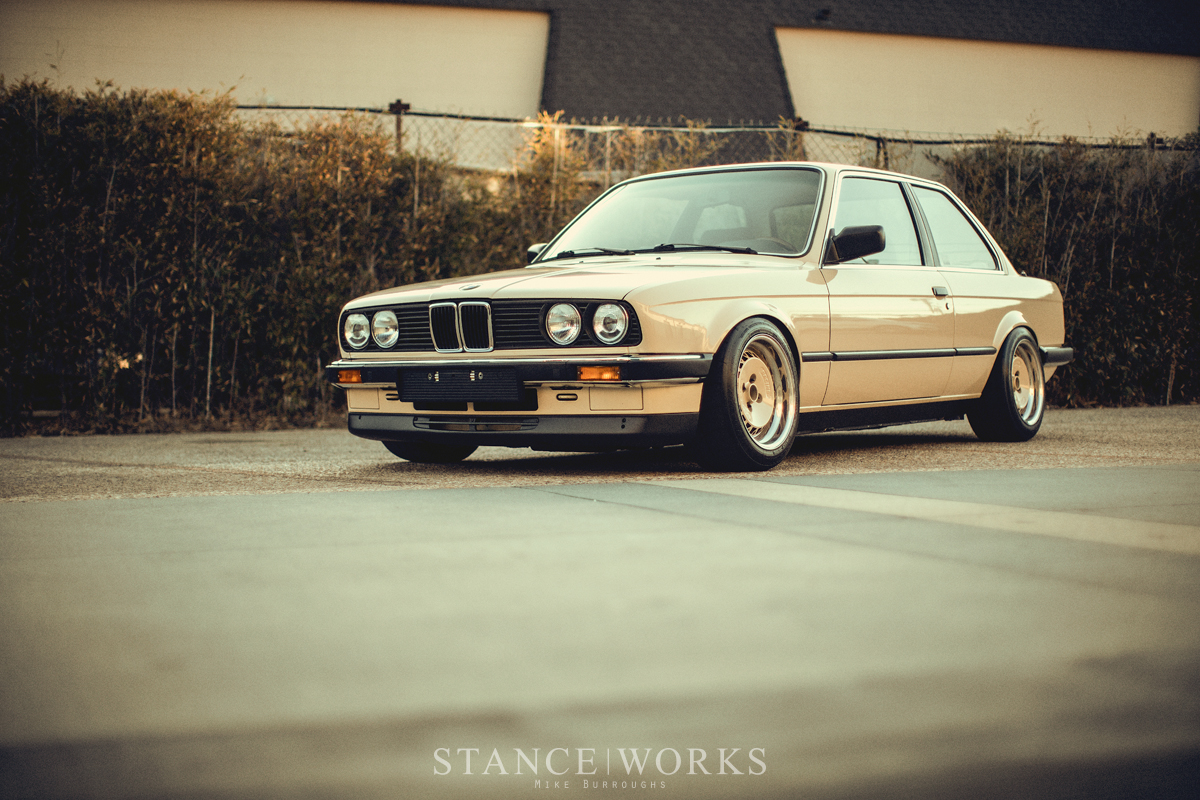 Byron has big dreams of making the E30 as quick, if not substantially quicker, than his last major build. As his daily driver, though, he's been forced to make calculated moves, stockpiling both parts and research for the engine swap to come. In the interim, though, he's been focused on aesthetics, aiming to build an '80s-inspired period-correct E30, with ideas pulled straight from the catalogues of yesteryear.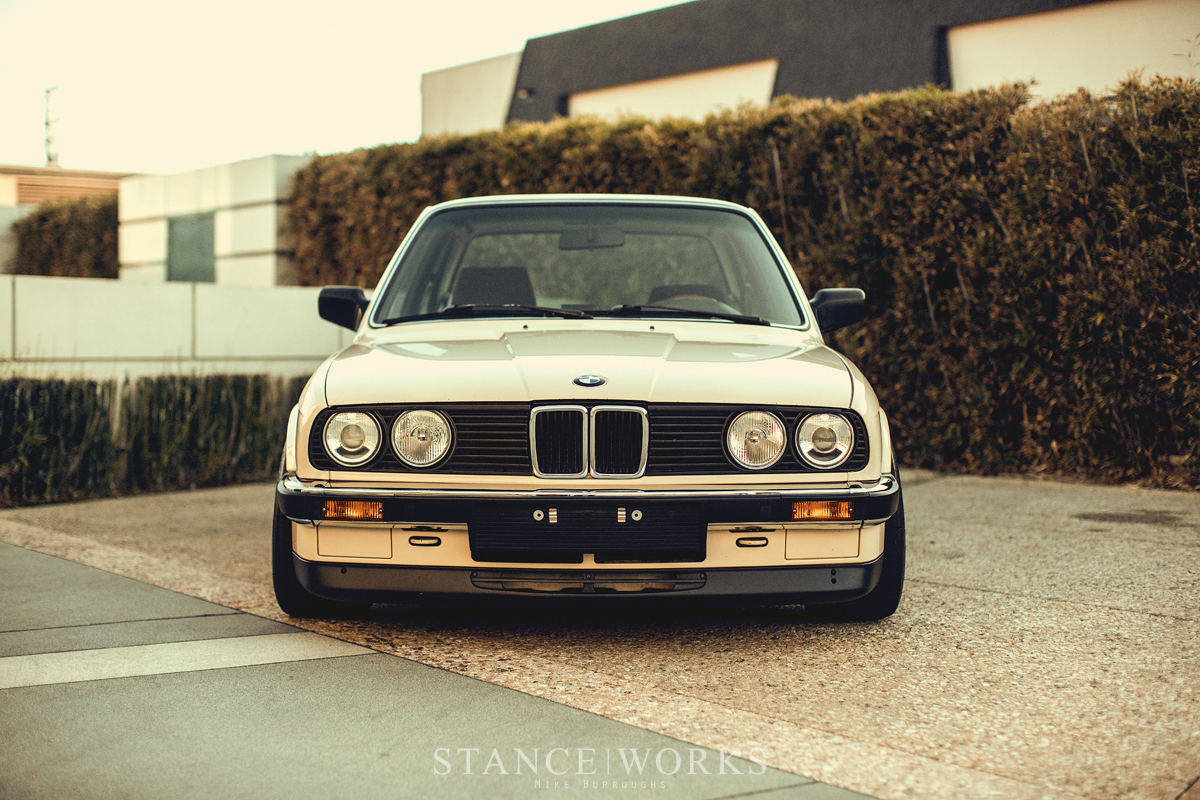 The Safari Beige paint sets the car apart, immediately, from the crowd. As a welcome departure from the more obvious hues of red, silver, white, and black that are so prevalent, its pigment is only enhanced by its condition. Byron pulled the car from a Los Angeles garage, parked by its original owner years and years ago. Following the tow home, and some serious elbow grease, the early E30 began to shine.
The Safari Beige paint lead the way for the aesthetic choices of the build. As one of Byron's favorite wheels, the Ronal Racing splits were an obvious choice from the get-go, and painting them to match the body was equally self-evident. Finding the wheels took time, as any fan of the old mags will know. As one of the more rare wheels of the era, finding a set in the proper PCD isn't exactly a straight-forward affair. Eventually, though, Byron sourced a set of centers, and proceeded to have 8 custom wheel halves made to suit the car. Requiring vintage BBS-sized halves, but with a custom hole count, there was nothing available as an off-the-shelf solution.
Amidst the long ordeal of finding wheels, and then building them, Byron turned to H&R Springs for a set of their complete bolt-on coil overs. With a few changes made to shock and springs lengths as part of a special project, the E30 was equipped to sit lower than ever imaginable within a day's work. While apart, the car's suspension was entirely overhauled, with new solid bushings fitted nearly everywhere, and custom-reinforced trailing arms were fitted to the rear. Camber plates, eyeball arms, RSMs… Byron didn't leave anything alone, it seems. With the lightweight magnesium wheels on the car, unsprung mass is at a minimum. When paired with good suspension and Nitto NT01 tires, the featherweight coupe tilts the scales at just 2400lbs. While it may be underpowered in the straights, it's a riot in the turns.
Finishing the suspension overhaul and the wheel install was an exciting moment, of course, but Byron refused to let me photograph the car. Up his sleeve was a complete conversion to european bumpers, with all new components en route from the motherland.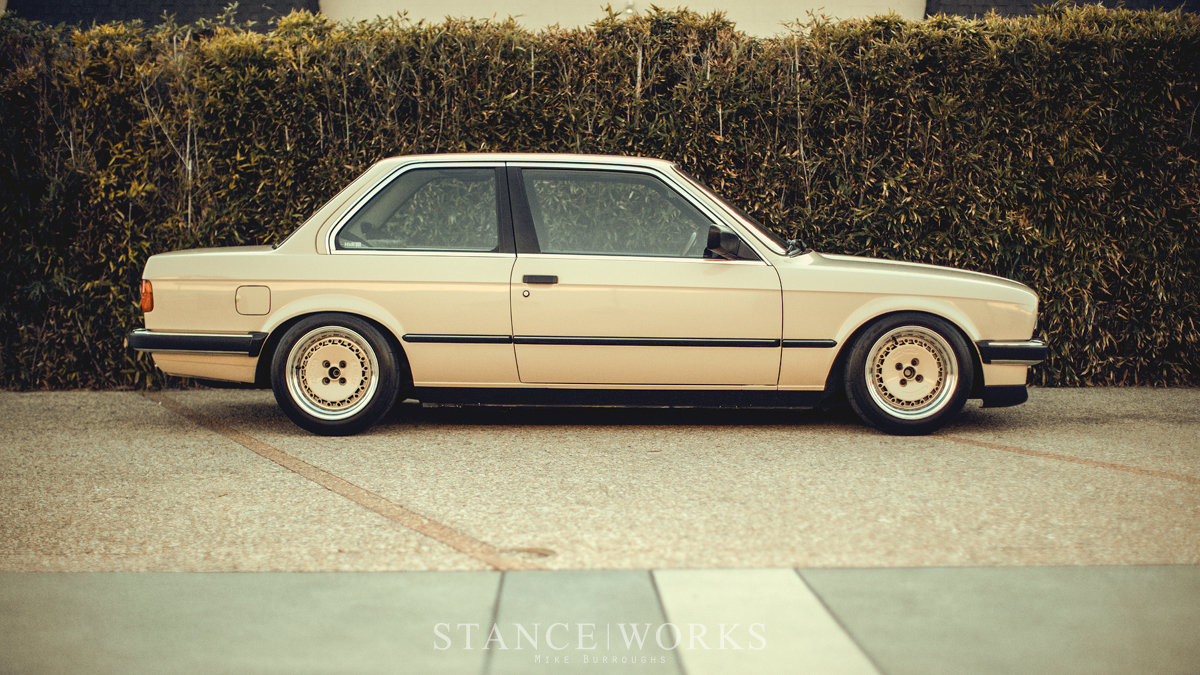 Chrome euro bumpers were installed along with a new euro valence and air dam. What little rust the car hid in its rockers was removed, and fresh sheet metal was welded in, breathing new life into the car's old steel, and preserving it for decades of enjoyment to come. Paintwork brought the new panels to life, and fresh black was laid on the rockers to finish out the installation. Paired with the euro grilles and ellipsoid headlamps, one might be hard-pressed to Byron's coupe as a US-market car, especially with such an uncommon color coating its body panels.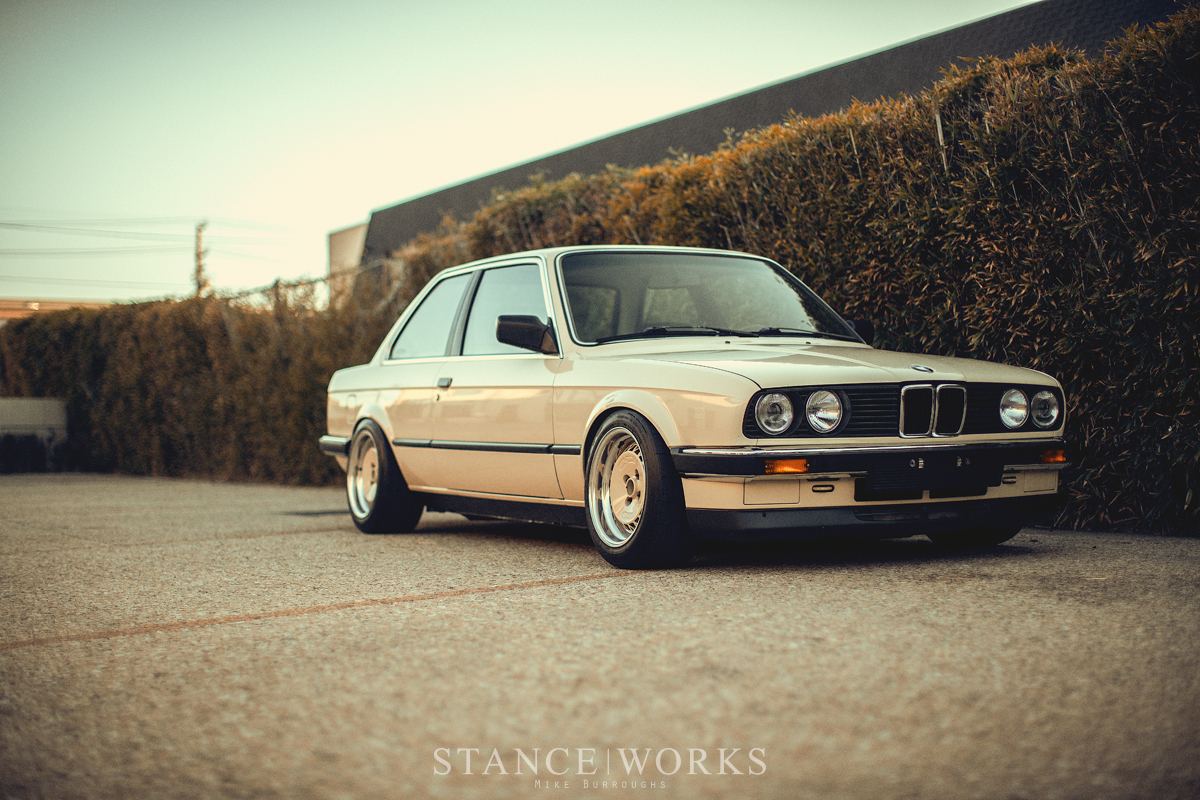 Byron's to-do list is never-ending, and what looms on the horizon daunts all of his work done so far. With that said though, it seems like he's filled with more motivation than ever, and with a bit of luck, it won't be long before we see the beige coupe on the StanceWorks homepage once again. Congrats, buddy, on the project so far. Now let's get you moving a bit quicker.