For many of us, finding a car is a pivotal moment in any build. For us, it represents a turn from dreams to reality, and represents a culmination of ideas coming to fruition in its earliest stages. There's always a long road ahead in seeing a build to completion, but it's a special moment of commencement for any enthusiast. Some folks, like Lawrence Lee on the other hand, are simply born into it.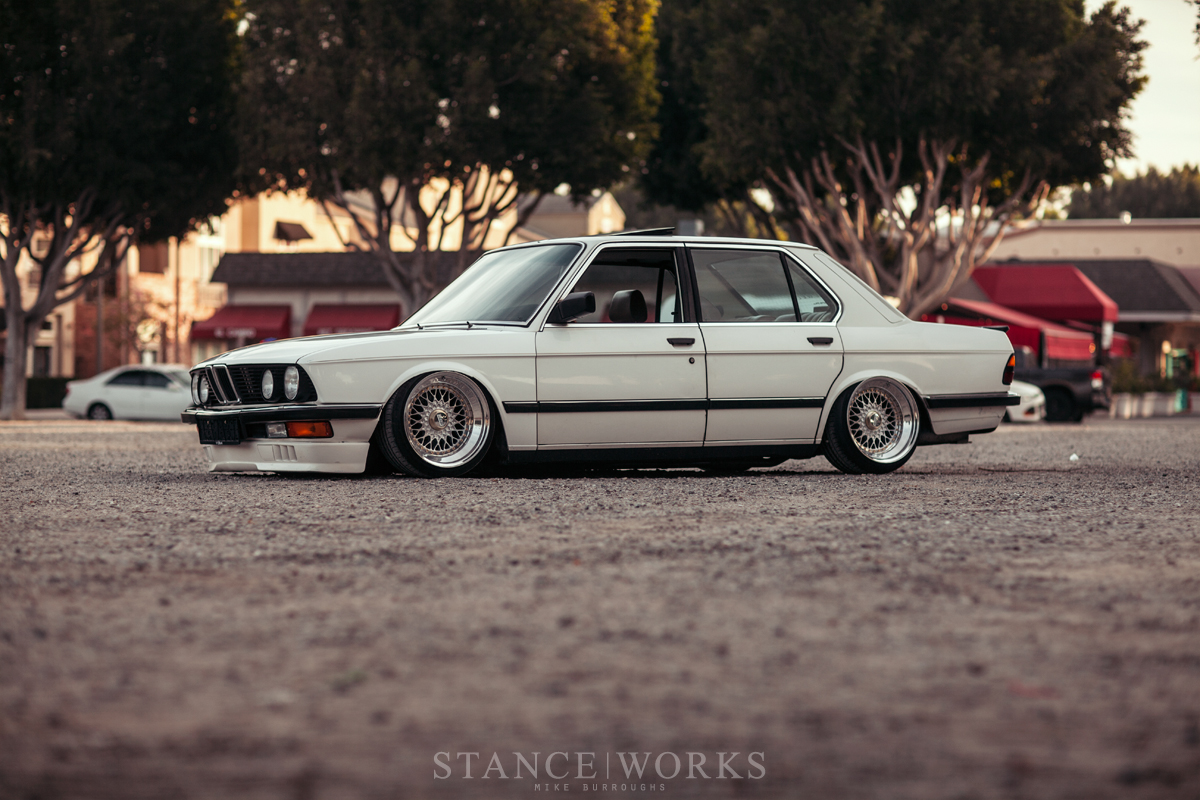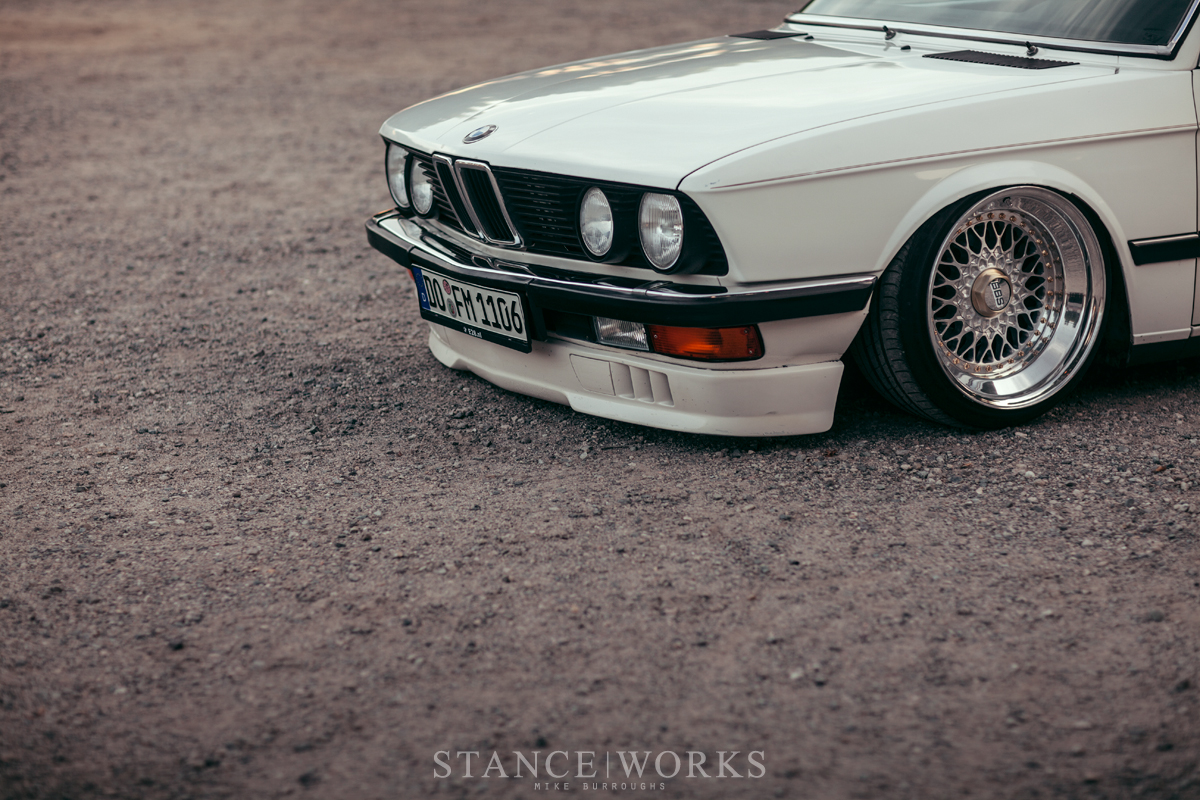 Years before he was born, Lawrence Lee's mother purchased this '87 535is new from the showroom floor. Although his early childhood is filled with vivid memories from the back seat as a number of landscapes passed by, his adolescence merely recalls a car that sat in the garage for almost a decade, plagued by maintenance issues, waiting for a new chance at life. "To be honest, I never had a crazy fascination for the car as a kid. It was just a "car" that we had in our garage," Lawrence tells me. However, that wasn't from a lack of enthusiasm for automobiles as a whole. Growing up, Lawrence was a tinkerer; he took apart model air planes, RC cars, and computers just as often as he put them together. Curiosity for the integral workings and the "brains" of his toys undoubtedly lead him to turning wrenches under the hood today.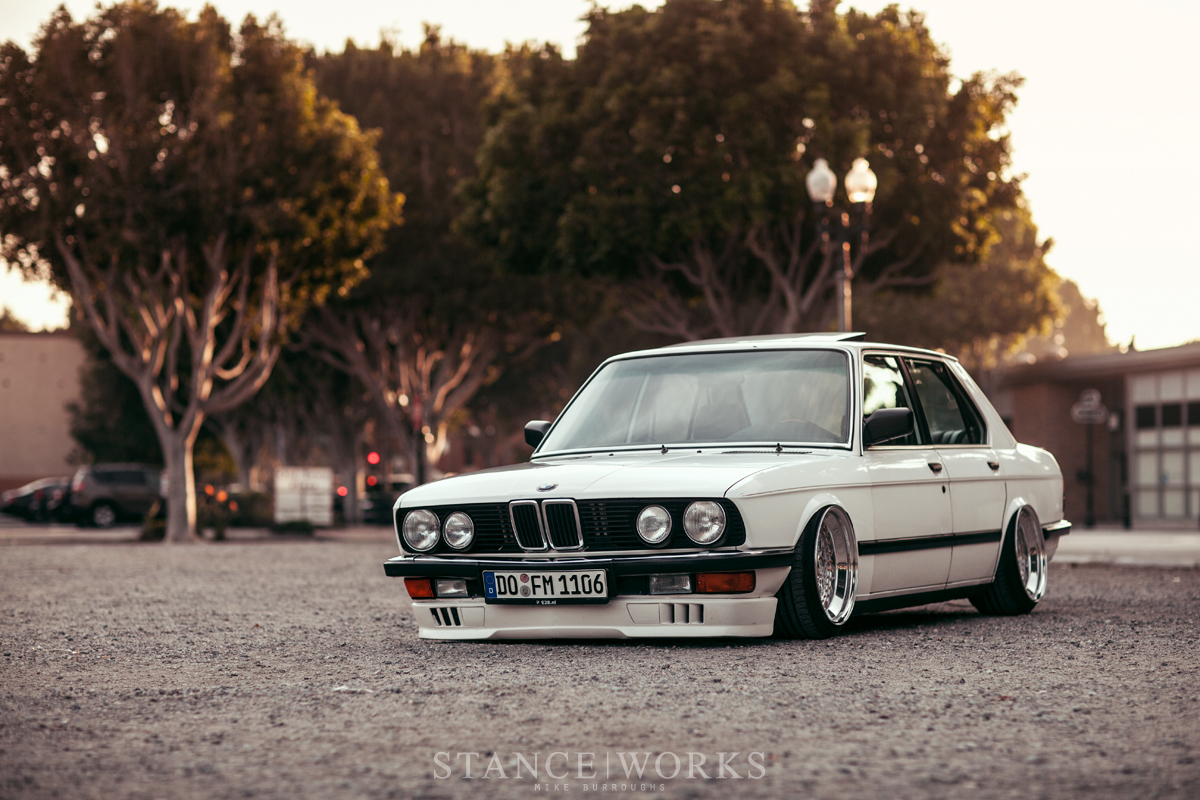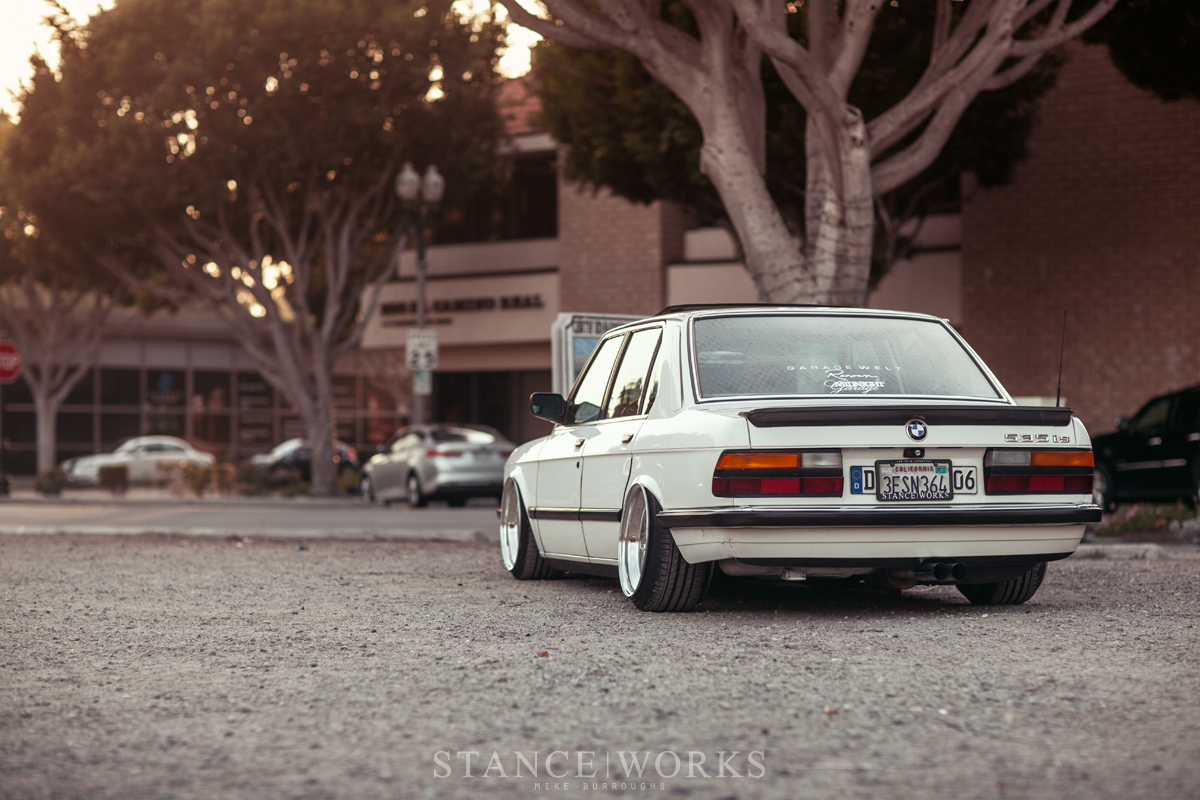 It wasn't until he got a bit older that Lawrence began to eye cars of a more classic era. While every youngster has a thing for exotics like Lamborghinis and Ferraris, there's only a select few that turn towards 1980s family sedans, and thankfully, Lawrence is once of them. He attributes his sudden love for the E28 chassis to the StanceWorks forums, quite understandably.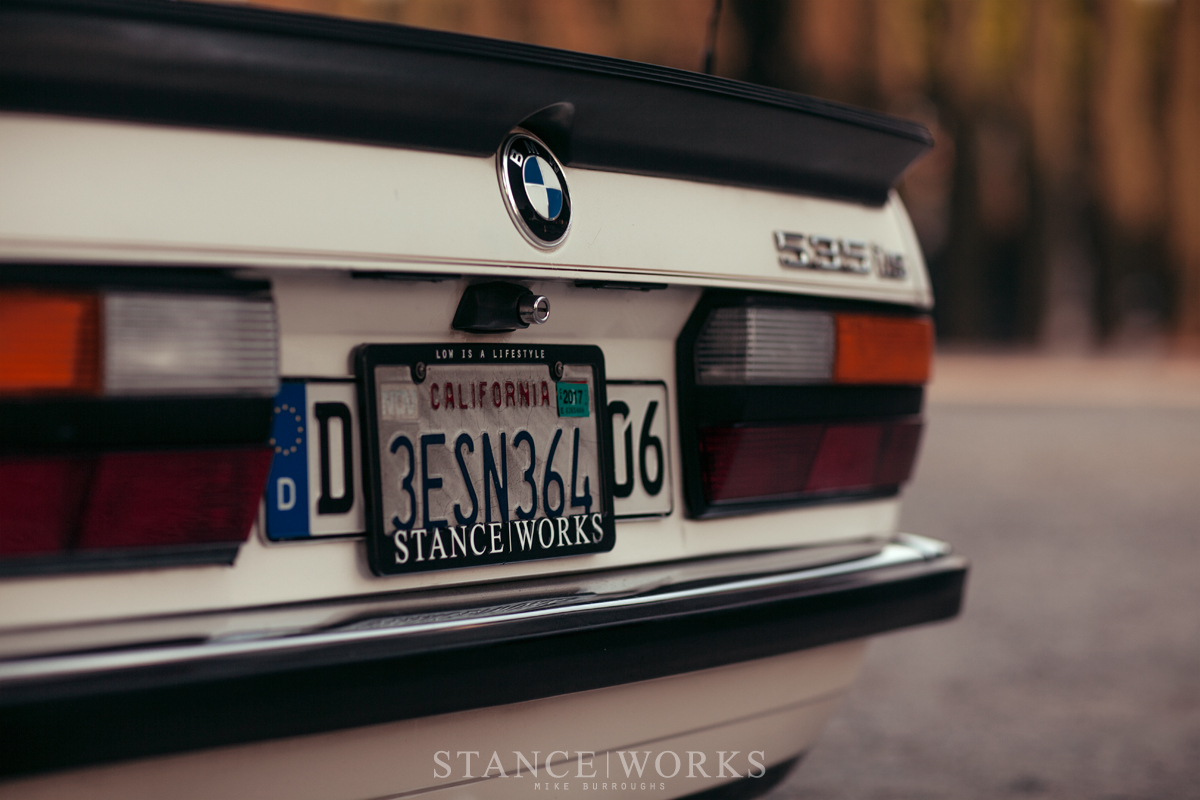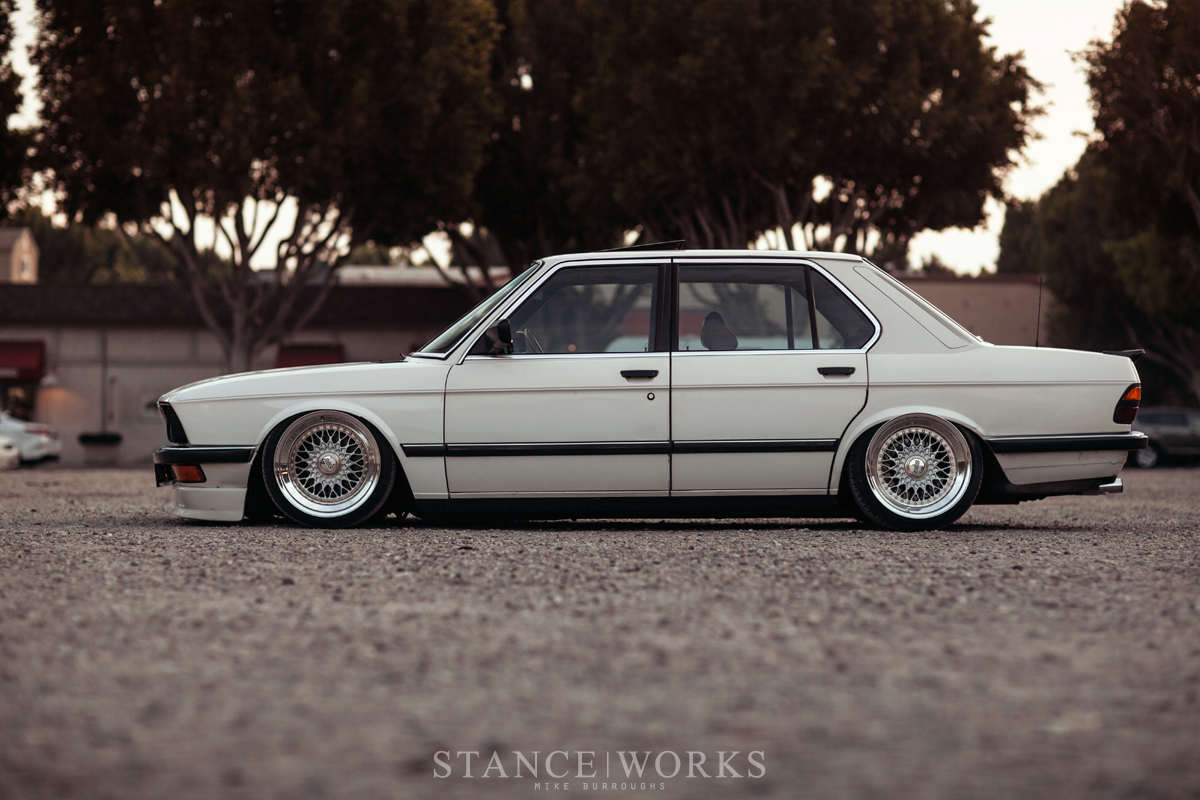 After coming of age, and after some parental persuasion, he was able to talk his folks into handing over the keys. "My mom decided that she wanted to retire the car, because of maintenance costs unfortunately, so the car sat for over 10 years. Growing up in the same home for the majority of my life, I always saw that car sit in the corner, just collecting more dust every passing year. In 2011, I finally asked my parents if I could revive that car." Clearly, the car was in need of a lot of love, both in terms of cleanup and maintenance. It was a bout of overheating that finally led to the car being parked "for good," as any BMW fanatic might guess.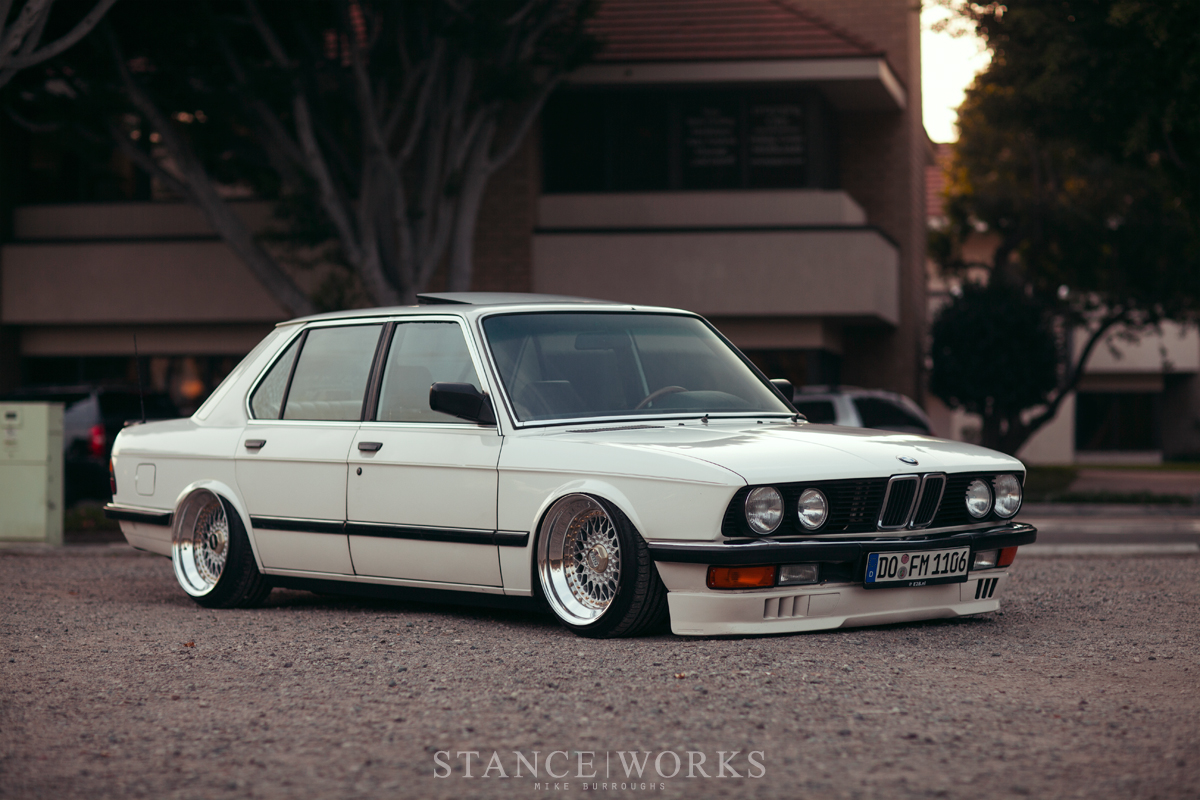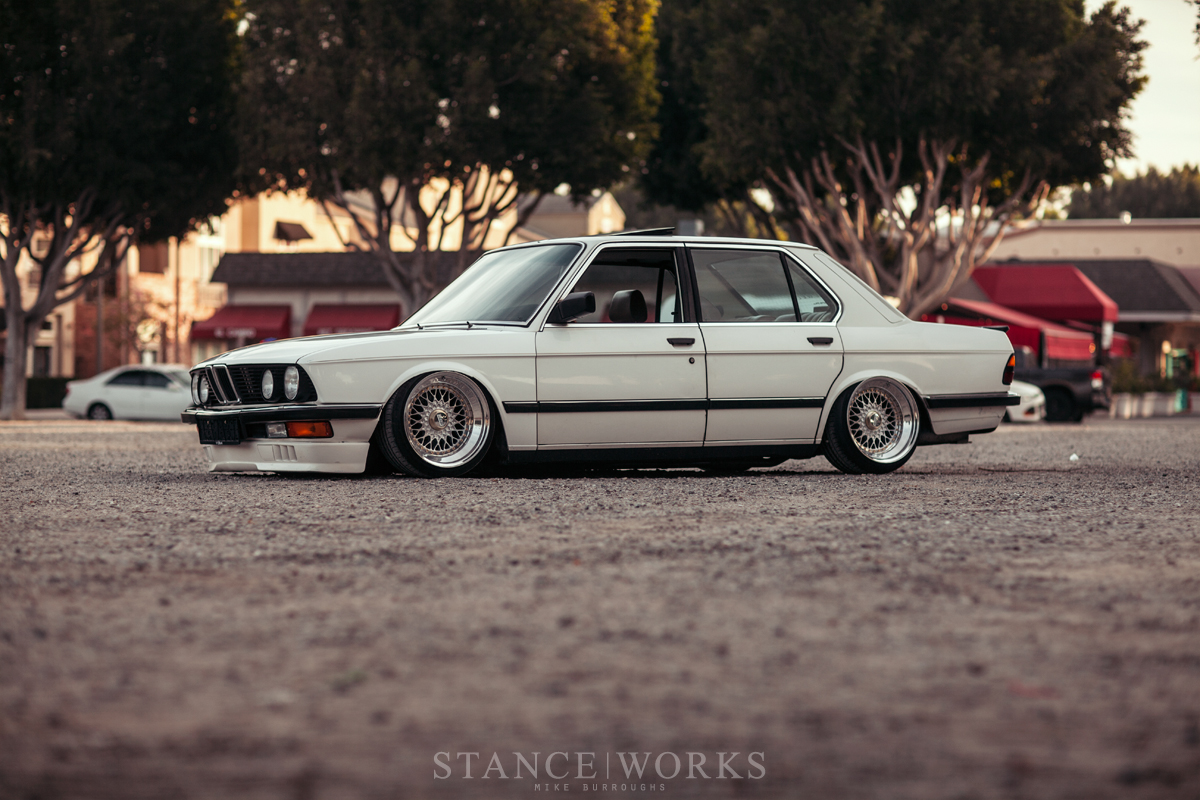 After a round of replacement parts and a change of all the fluids, the car roared back to life, and Lawrence wasted no time making the car his own. The most important order of business was to get the car sitting just right. Without the fabrication skills to build the suspension alone, Lawrence enlisted the help of Steady Garage, and together, they installed an Air Lift Performance universal crafter system. At the front, a double-bellows air strut replaces the factory unit, retaining the McPherson design, while out back, a simple sleeve-bag air strut bolts right in with a bit of welding. Including wiring, plumbing, and installing the management, the entire project took just twelve hours, meaning minimal downtime and a very short wait. Lawrence had to hold back tears of joy as he watched his car lay out for the first time.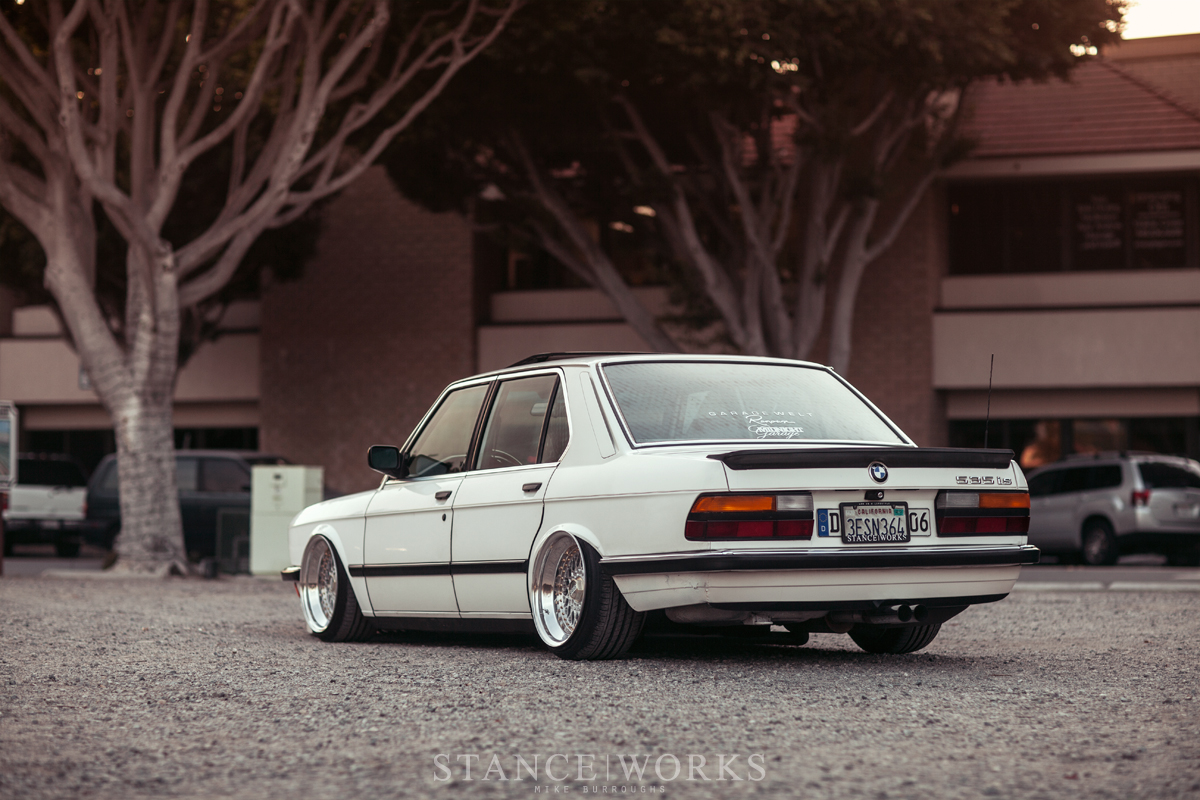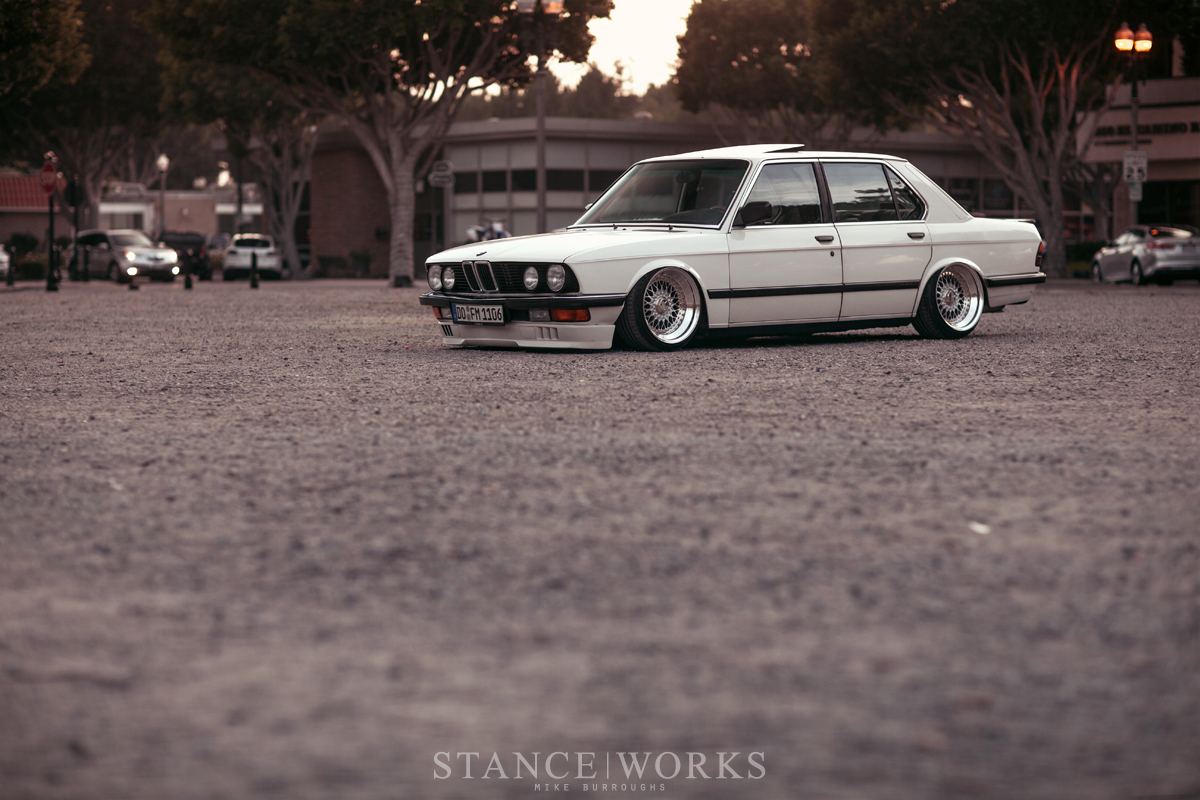 Following the suspension install, Lawrence sought out the perfect set of wheels. Knowing that there are few combinations better than BMW and BBS, he pulled the trigger on a set of 16″ BBS RS 005s and 006s. "I picked up the set off Craigslist from a guy who was taking them off his E24. The wheels were actually original to the car… but he didn't care to keep them any longer." One man's trash is another man's treasure, and with that, Lawrence began the teardown of an all-original set. Knowing he wanted to dramatically change their dimensions, he listed all four inners and outers, as well as the factory tires, for sale to help cover the costs of new hardware. While the wheels were split, he had the faces and waffles refinished to a brushed surface, and had the caps clear coated with a gold tint. Paired with fresh halves, the wheels now measure out to 17×10 et-1 in the front and 17×10.5 et0 in the rear, showcasing Lawrence's careful measurements to nail the perfect offset.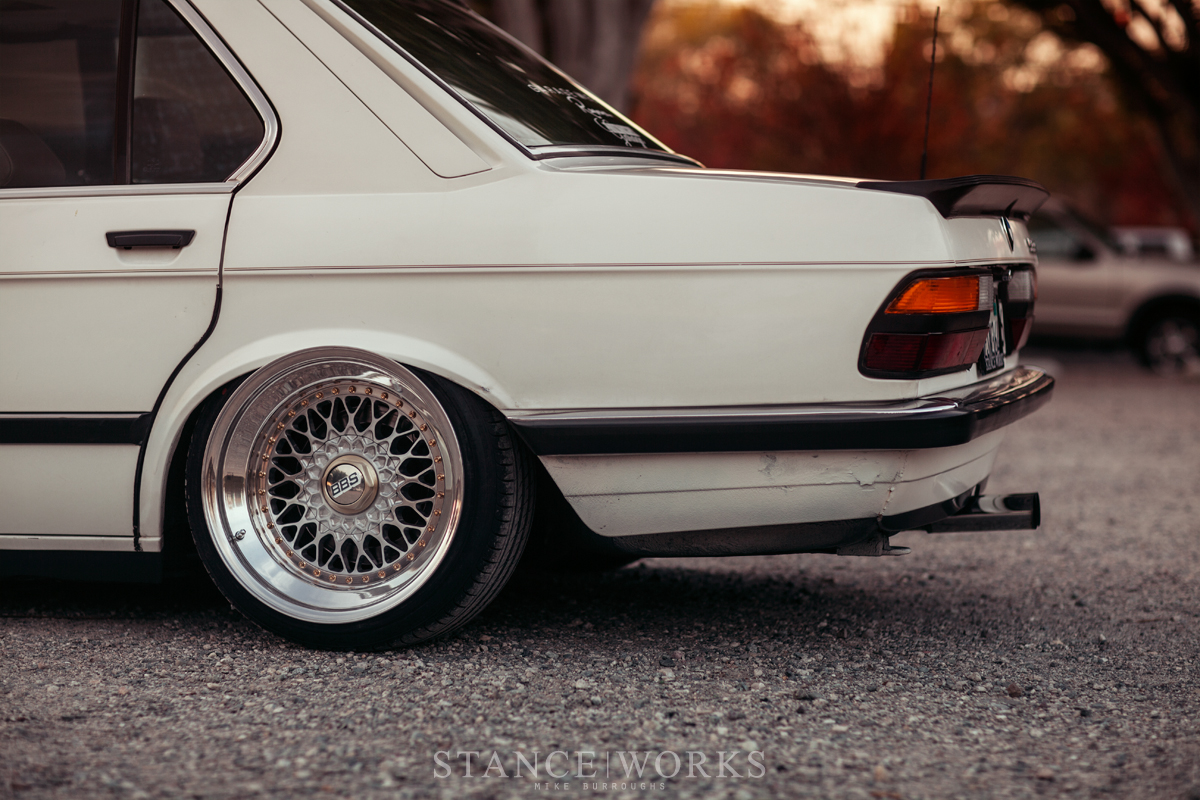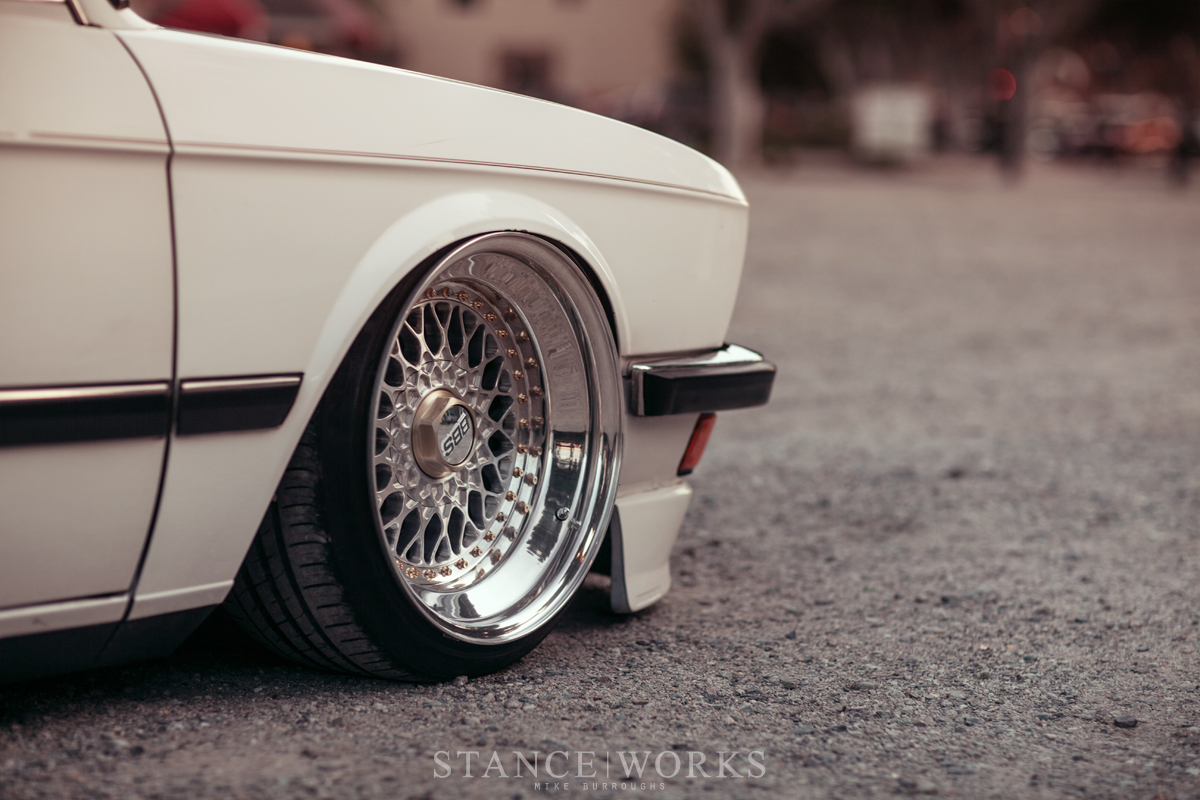 With the exterior of the car really taking form, Lawrence turned to the help of Ron Perry for a conversion to euro bumpers. The chrome bumpers themselves were sourced from the forums, with the install taking place at Ron's shop in Duarte, CA. To finish off the sleek exterior, a Pfeba front spoiler was mounted, adding a touch of aggression. Inside the car, the original Llama interior is accented by a Nardi classic wheel and matching shift knob, as well as a few accessories to suit Lawrence's style.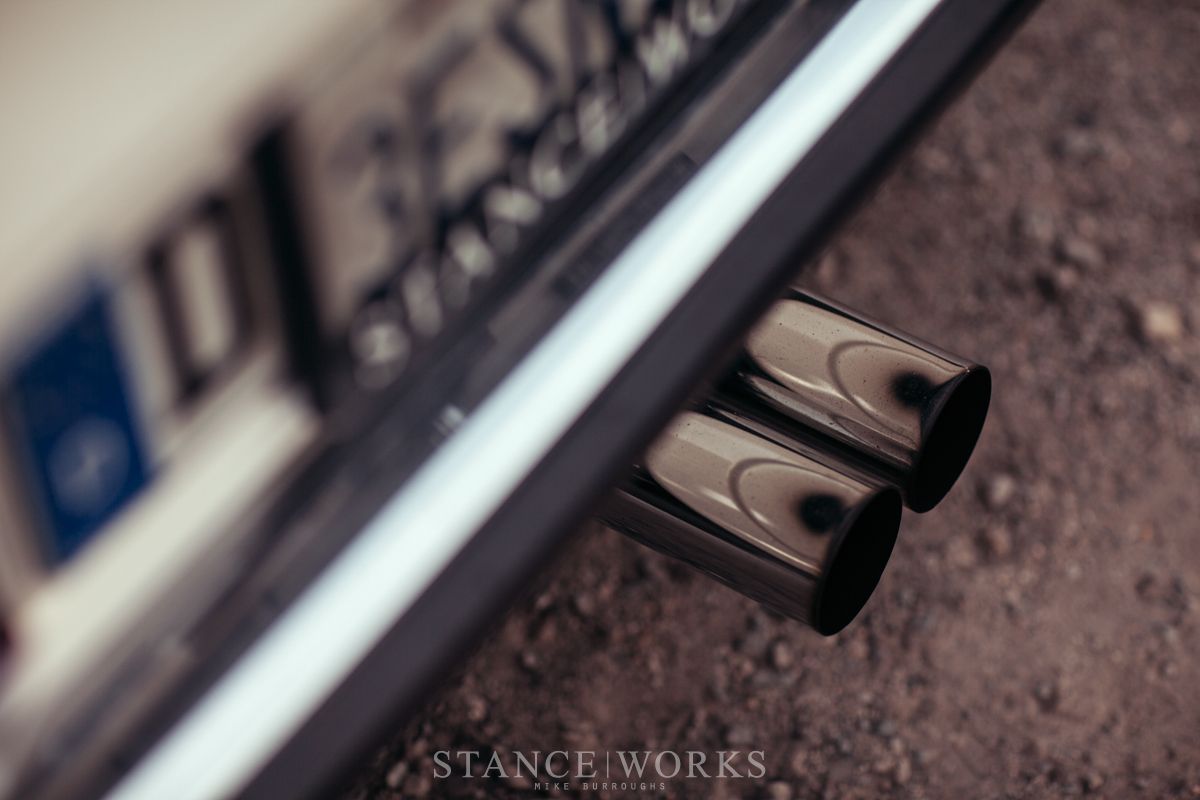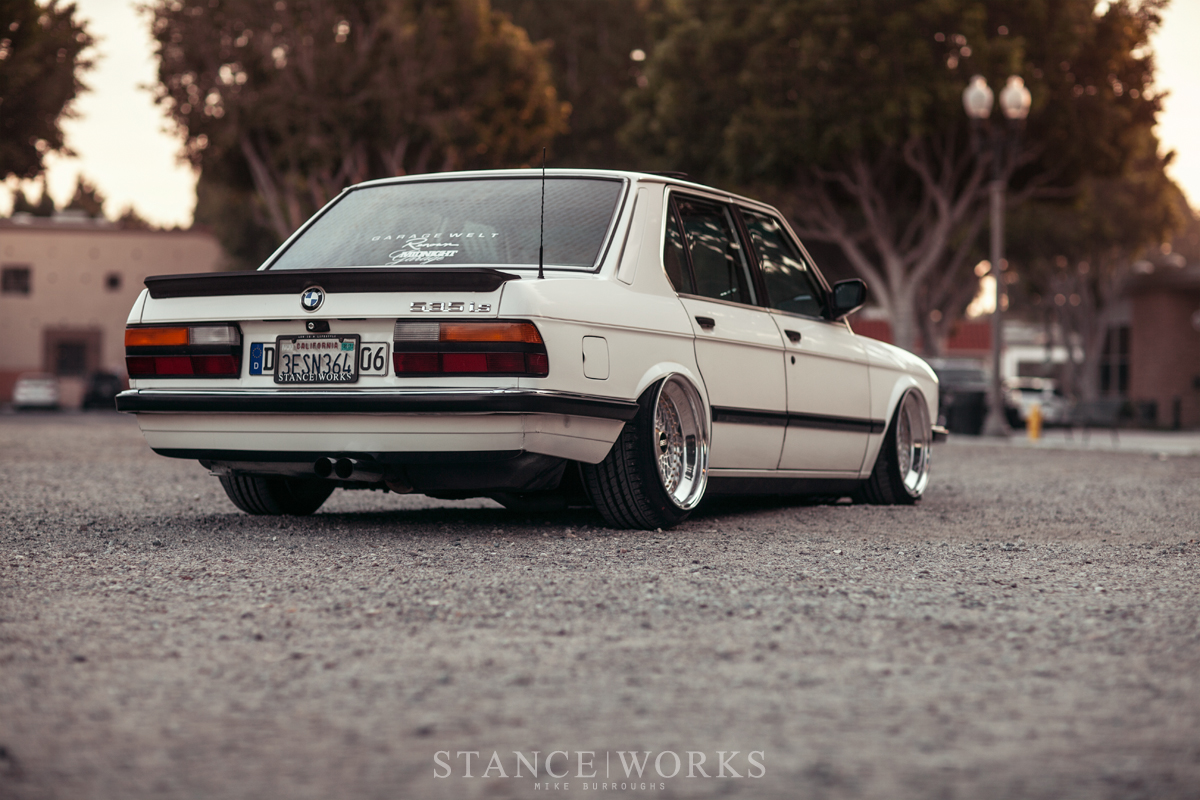 While he's incredibly happy with where the car is today, Lawrence insists there's still a long way to go. "I'm highly contemplating a full restoration that includes the interior being redone in either Alcantara or leather, and a respray. The one thing that keeps me back from doing so is that it's original, and I feel like that adds to the car." With any luck we'll see the car flourish, but if not, we've still been treated to one very cool car.