Photography by Courtney Cutchen
"When you put the 'CSL' name on your vanity plate, its not something to be taken lightly," Shafique Bhimani tells me with a humble sense of confidence. It's not as though pride has gone to his head; instead, it's clear he knows what he's built. Shafique's E36 leaves no bolt left unturned, and his widespread and comprehensive followthrough on the "CSL" mentality is clear: somewhere between power and prowess lies one of the best E36s we've seen.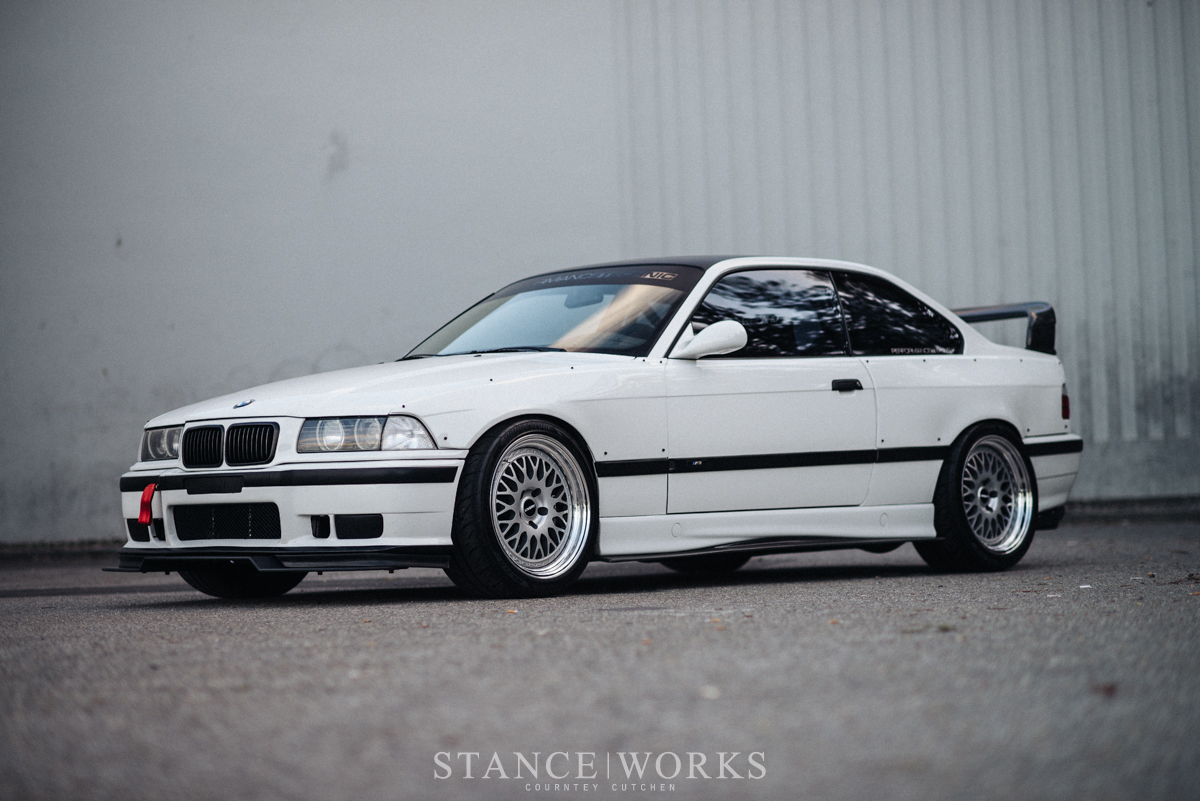 I began with Shafique where I do with everyone else, curious to know the ins and outs of his childhood, hoping for a glimpse of where his automotive passion began. Shafique recalled his early years: born and raised in Northern California, his bedroom floor was often scattered with HotWheels cars, proving that automobiles have always been an integral part of his character. He tells me movies like "Herbie" helped shape his childhood imagination, giving personalities to cars, which only seems to have evolved. While he may not anthropomorphize cars today, Shafique clearly looks to a car's persona for inspiration, leading to his latest build.
Come his teenage years, Shafique found himself behind the wheel of a 1999 Eclipse GSX, but the still-new E36 M3 continued to catch his eye. "Whenever I saw an E36 M3 fly by with an aftermarket exhaust making a deep roar that turned into a scream at high rpm, I knew where I was headed." Its aesthetics proved alluring – a shoebox-shaped luxury-minded angular coupe in an era of cars "styled to look like a bullet fired from a gun," as Shafique puts it, referencing cars like the MKIV Supra, the RX7, the SC300, Viper, Vette, and more. For him, it was an easy choice to make, and it was made all the more clear as the M3 out-gunned its competitors in every test it was thrown in to. At 16, he was hooked, and now, 17 years later, he's succeeded in building the car of his dreams.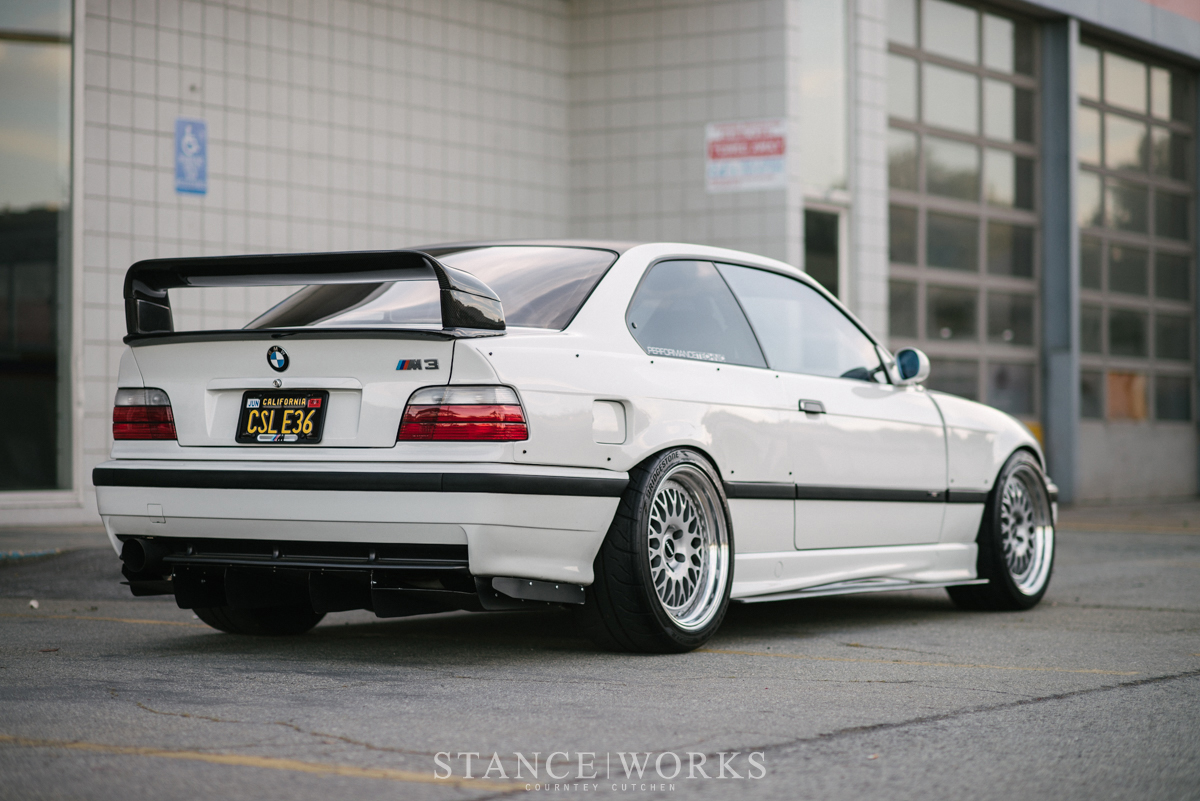 Sourcing the right example came as no easy task, but in 2009, the perfect car surfaced: a gorgeous '96 M3 with 54,000 miles, equipped with a supercharger and meth injection, was available at just the right price. The 400whp and boosted nature seemed perfectly fitting for what Shafique wanted… at the time. Seven years later, Shafique's "CSL E36" build represents a visible transition from his beginnings to the present, and the flawless yet balanced matrimony between function and form.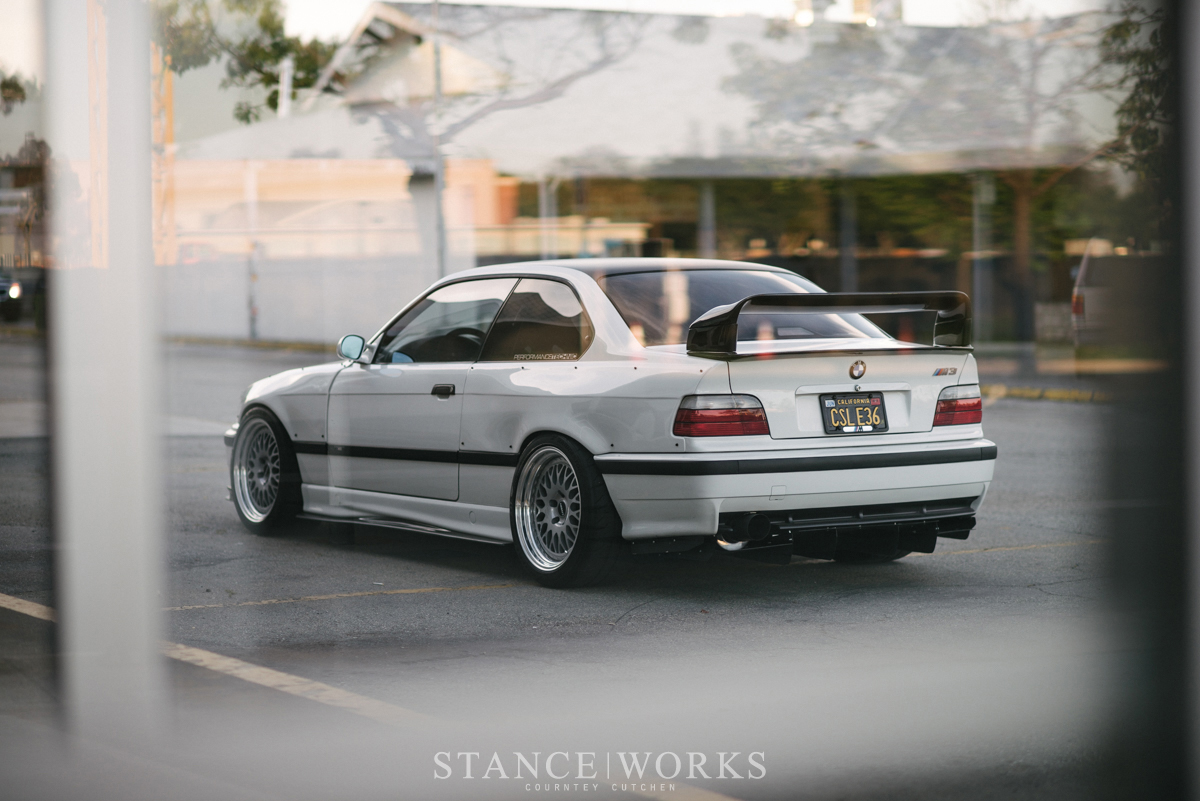 It took a lot of track days, and a lot of money spent repairing track day breakdowns, before a shift in Shafique's mentality occurred. "I began looking around the paddock and quickly understood that horsepower was not necessarily the only way to be fast around the track.  I also quickly realized that boost was something that only members of royalty track with. Needless to say, boost on the track requires a lot more attention, money, time, and more money." Track reliability rose on his list of importance, and the hunt for the right naturally-aspirated power plant began. Although the draw on an LS-based V8 was tempting, he insisted on staying with BMW blood.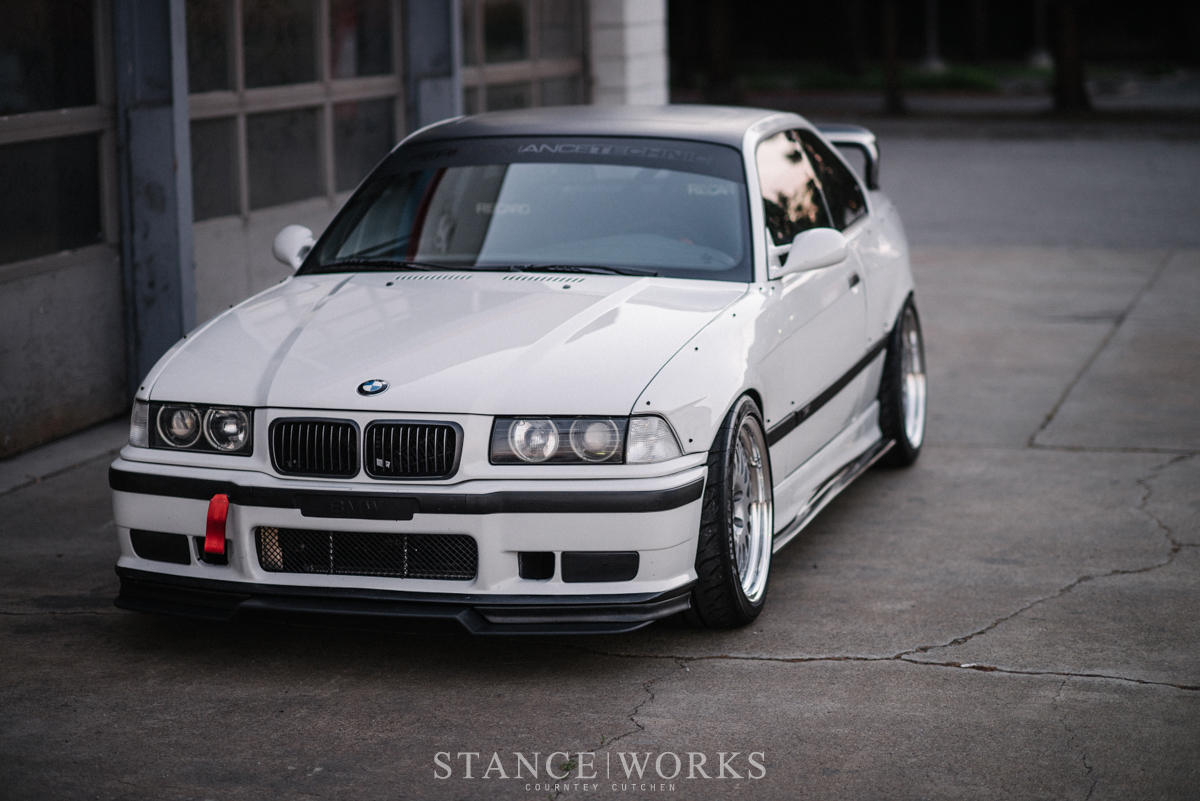 It was the team at Edge Motorworks that helped to shape Shafique's emphatic attitude for the track, but it was Castro Motorsport that pushed him to the deep end, towards the holy grail of BMW inline sixes: the S54. Shafique shipped the car to SoCal for the swap, letting the Castro team work their magic. However, with the car hundreds of miles away, and with nothing to tinker with, his aspirations for the car grew.
When the car was finally returned to him, Shafique wasted no time sending the car off to Performance Technic, to handle yet another round of upgrades – this time, Shafique sought to replace everything else on the car, all with the best components possible.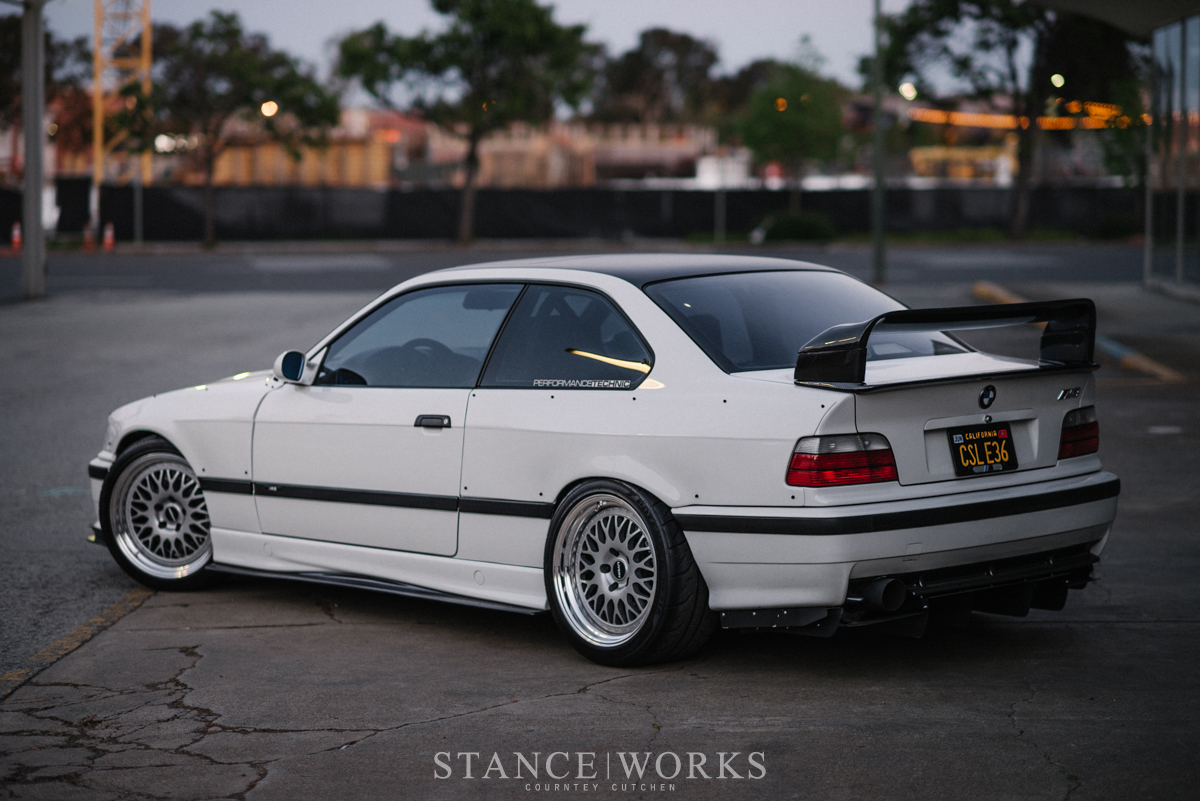 Under the hood, the S54 retains its stock internals, with air pumped in through a Bimmerworld carbon airbox, and out through Epic Motorsport race headers and a Performance Technic 3.5″ exhaust. An RKTuned Alpha N setup boasts a rather serious 341whp on 91 octane fuel.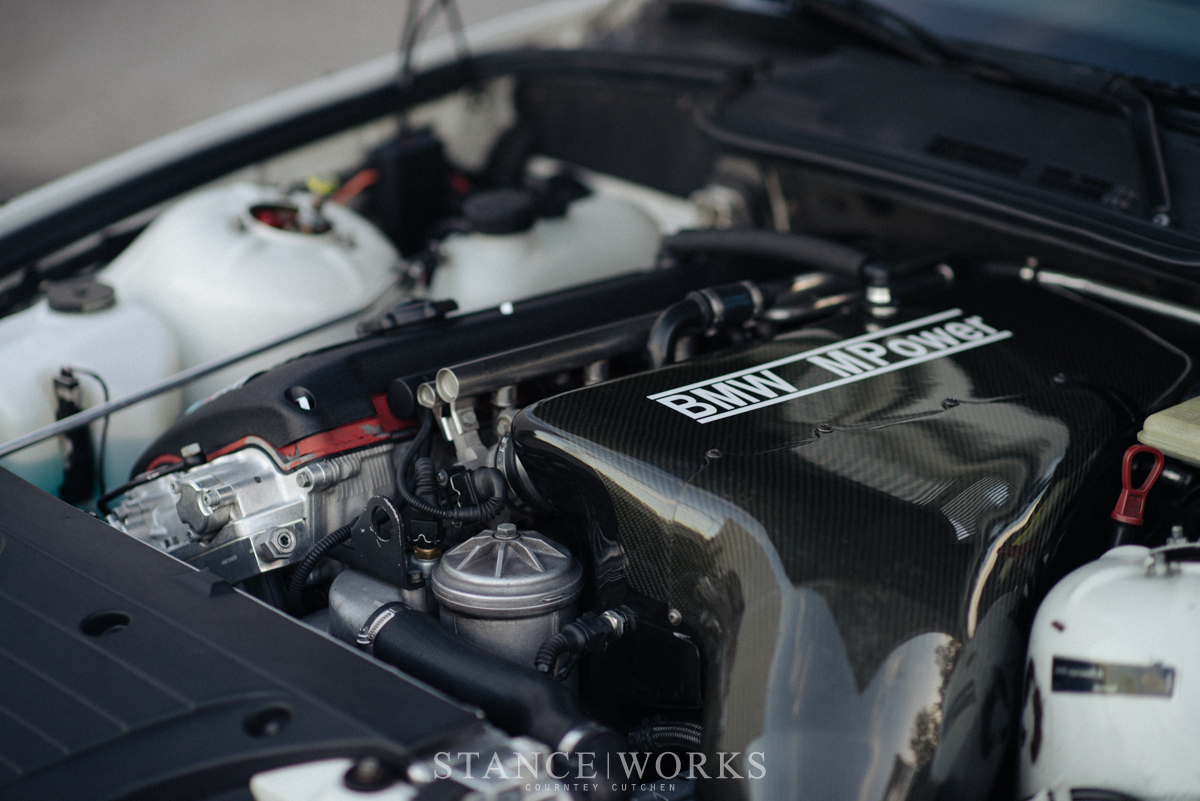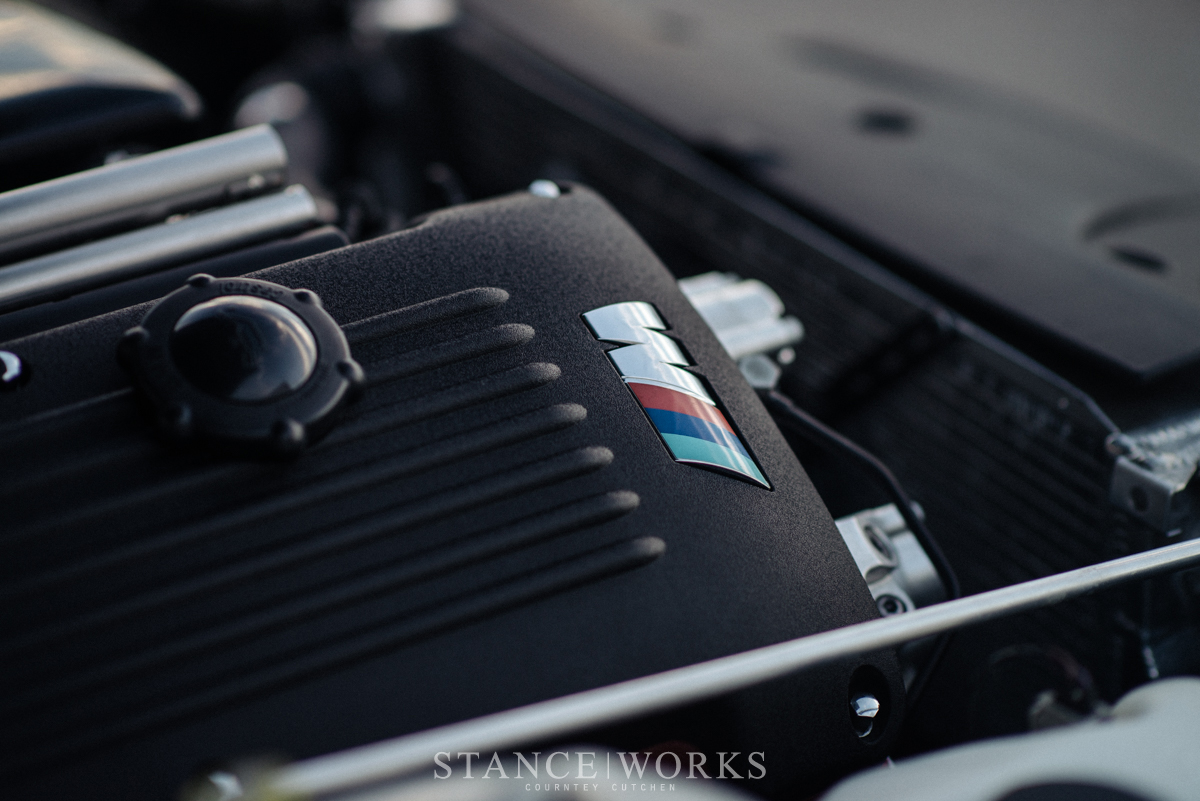 Power is sent out through a built 5-speed ZF transmission, used for its low weight and Shafique's lack of a need for 6th gear. At the rear of the car, the power is put down through a built 3.64 differential with 80% lockup.
For suspension, there's no holds barred. Motion Control Suspensions 2-way coilovers suspend the car, paired with Vorschlag camber plates. Turner Motorsport adjustable rear trailing arms and adjustable sway bars offer the necessary tuning adjustment to sort the alignment and handling characteristics out. A Z4 M Coupe steering rack was fitted, along with an OEM LTW lower front cross member. Stopping power is provided by StopTech, with a 355mm 4-pot kit in the front and a 328mm 4-pot kit out back.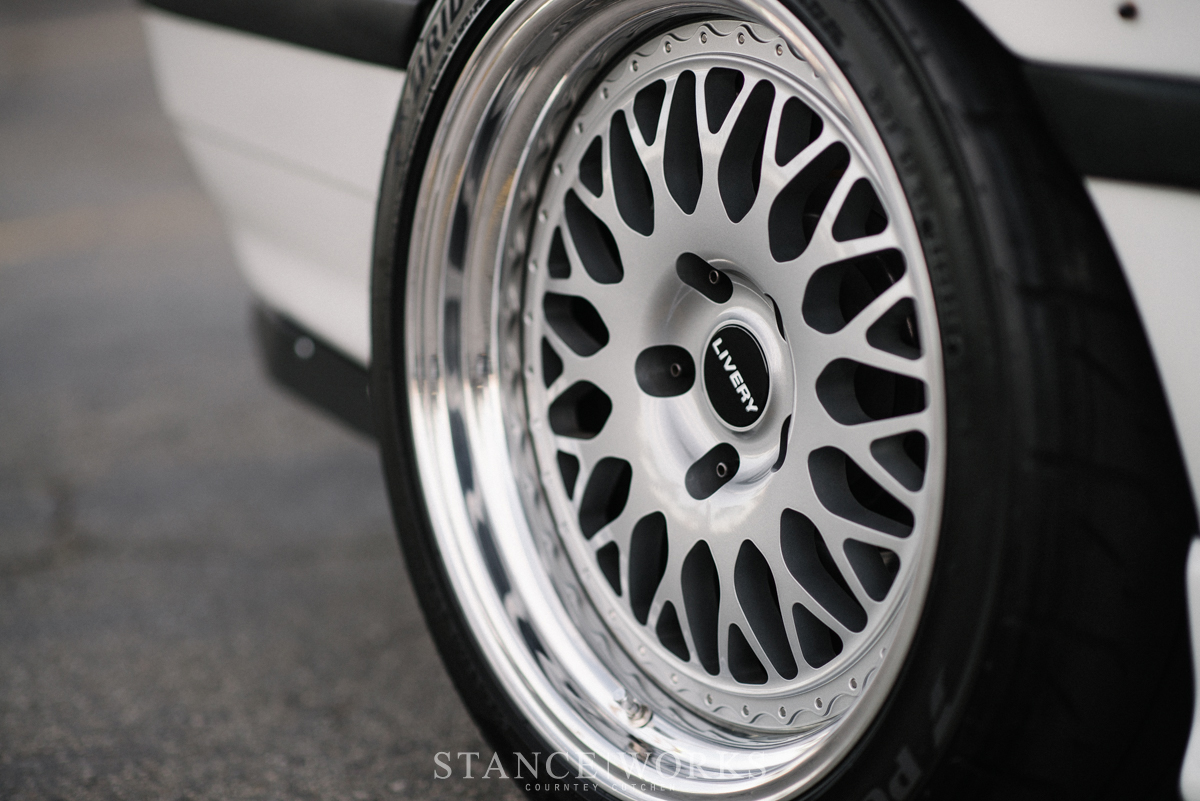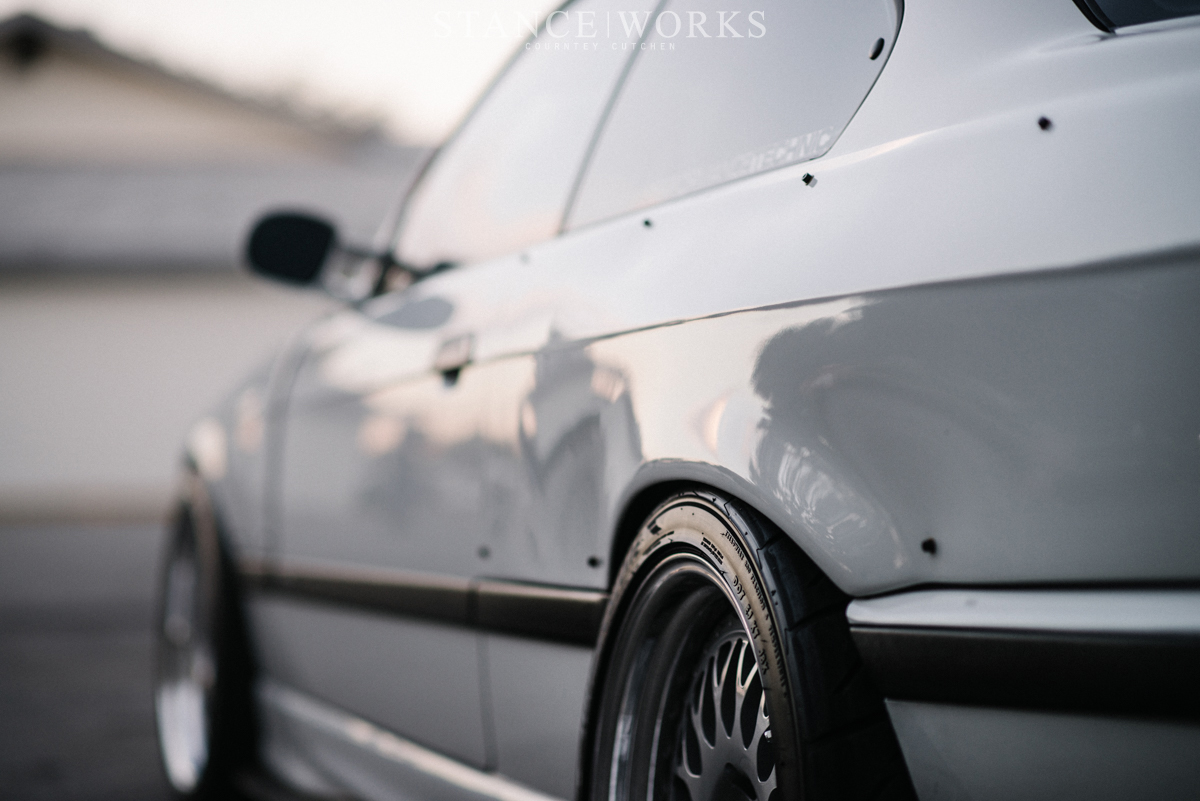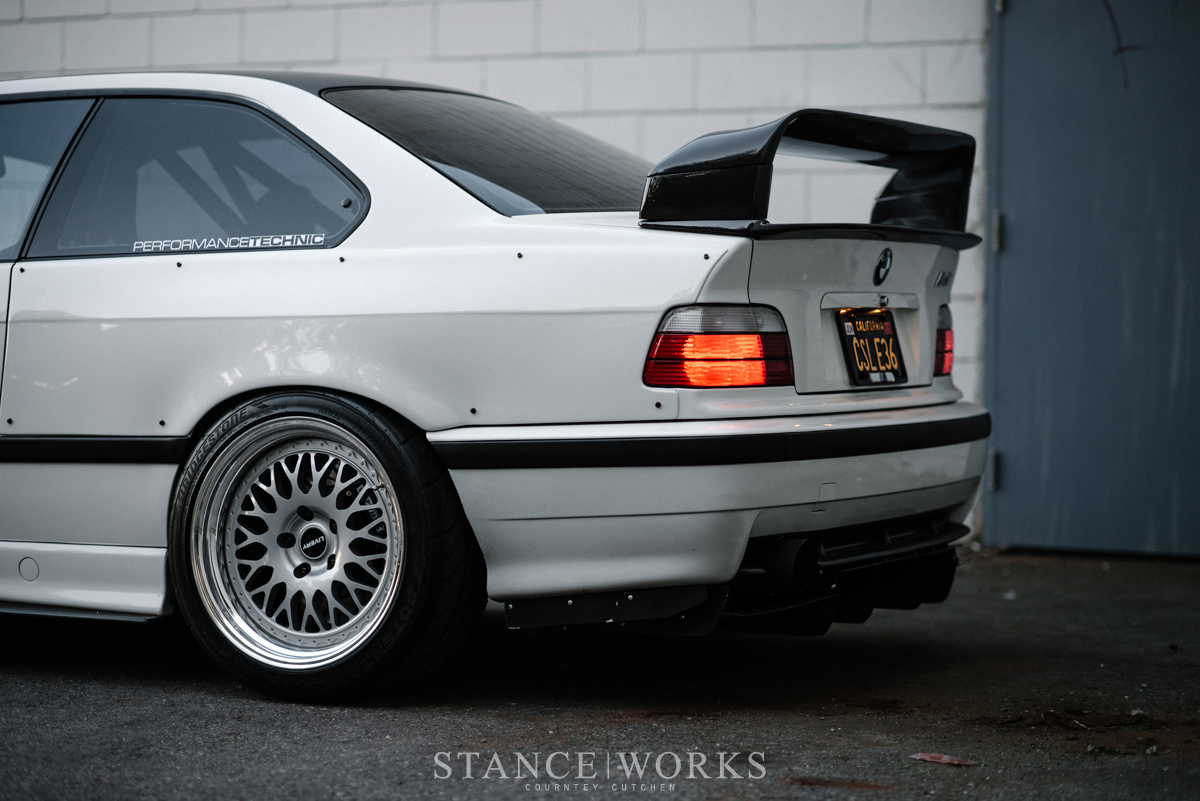 The enormous StopTech brakes are hidden behind a set of custom-built Livery Proto wheels, finished with silver faces and a polished lips for a classic, timeless look. The wheels measure out to 18×9.5 in the front and 18×10 in the rear, and are wrapped in Bridgestone RE71s – 265/35/18 and 275/35/18 respectively.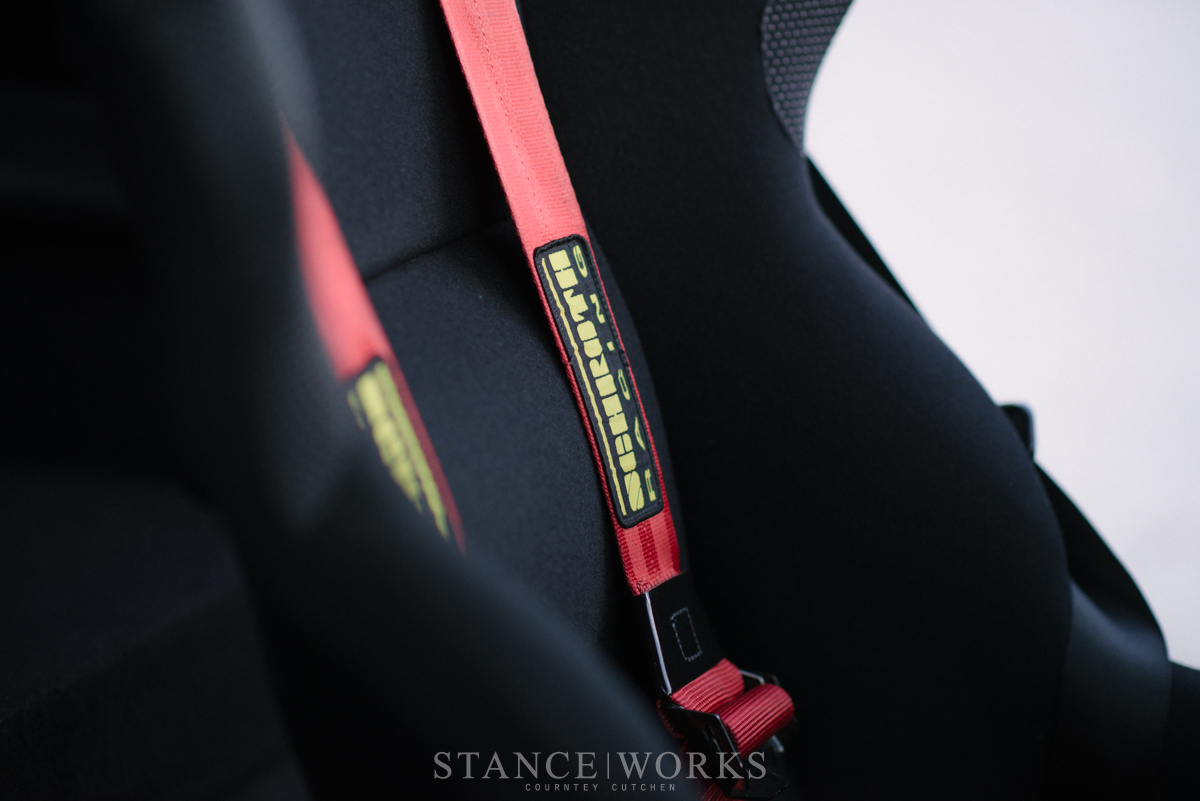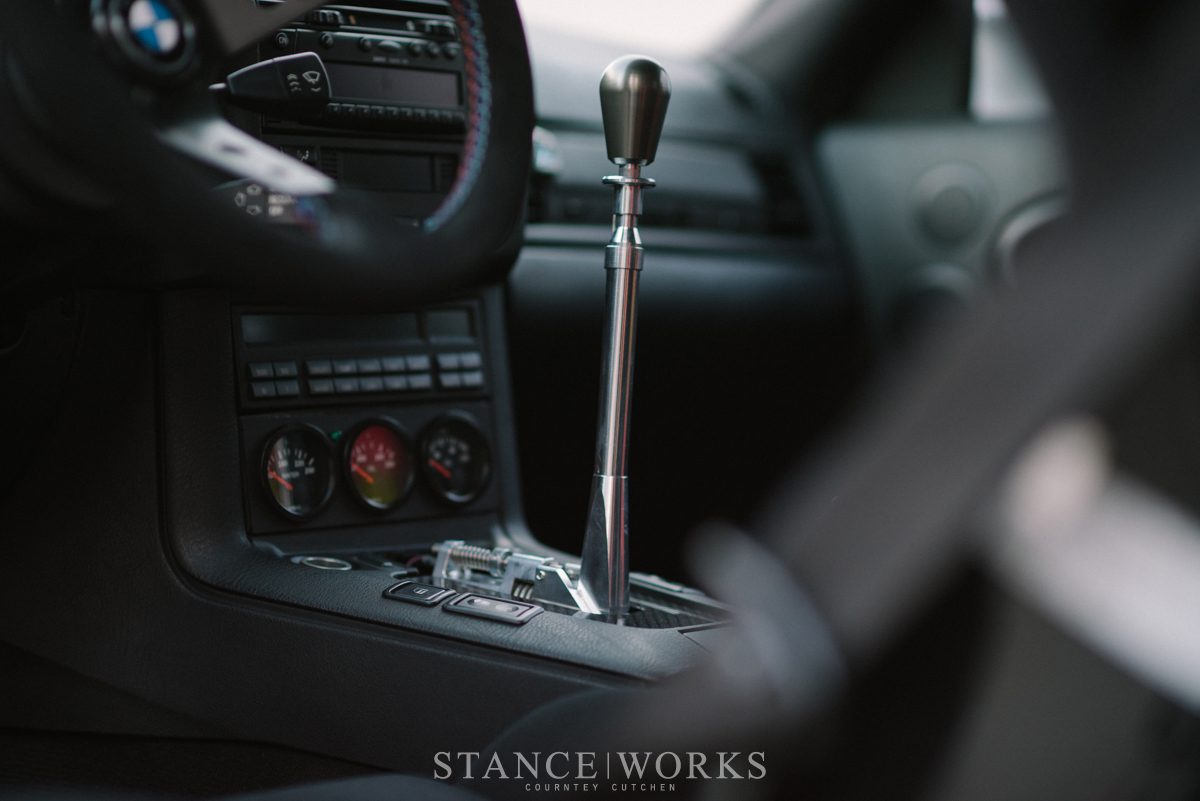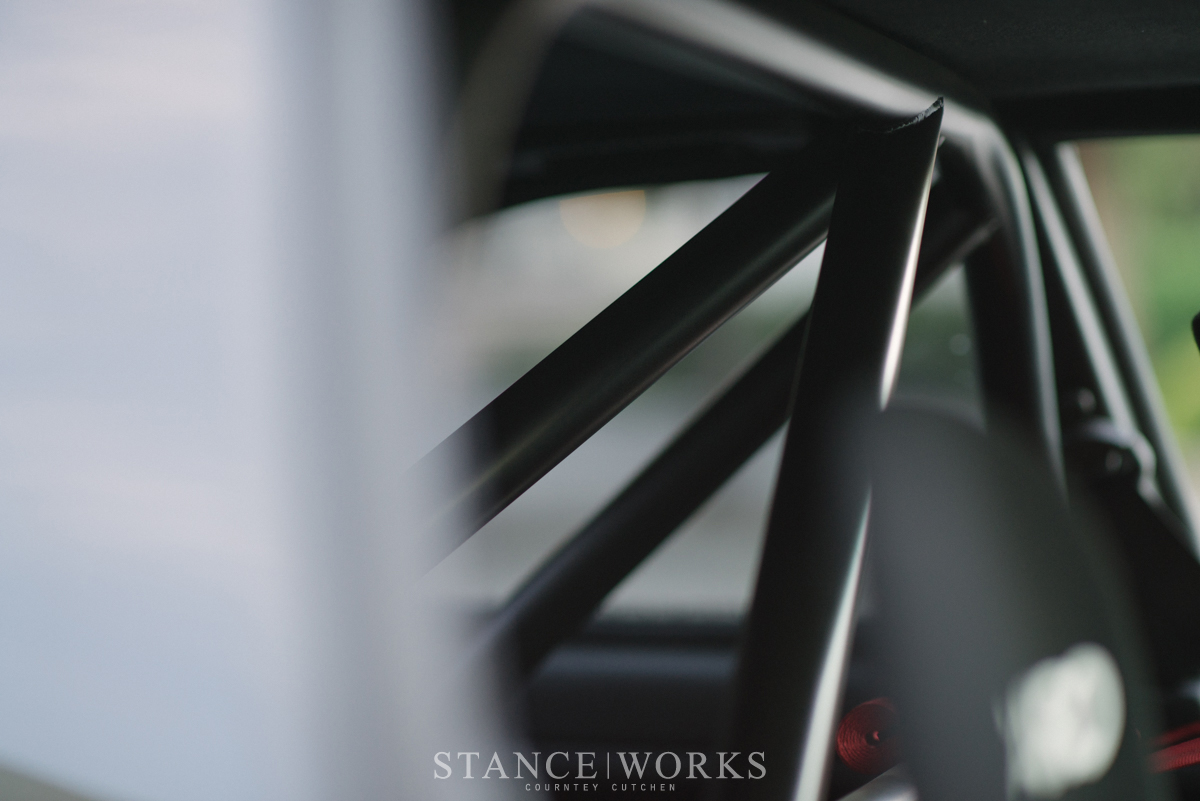 Inside the car, things are driver-centric. A Recaro Profi seat is fitted for Shafique, and a Recaro Pole Position for any lucky passengers willing to ride along on the track, with Schroth harness providing the required safety. The rear seat has been deleted and replaced with clean blank-out paneling, and simple touches like a suede wheel, arm rest, and e-brake handle clean things up a bit. Custom VDO gauges for oil and water are housed in front of the CAE shift assembly, and the entire interior is encompassed by a complete 6-point roll cage.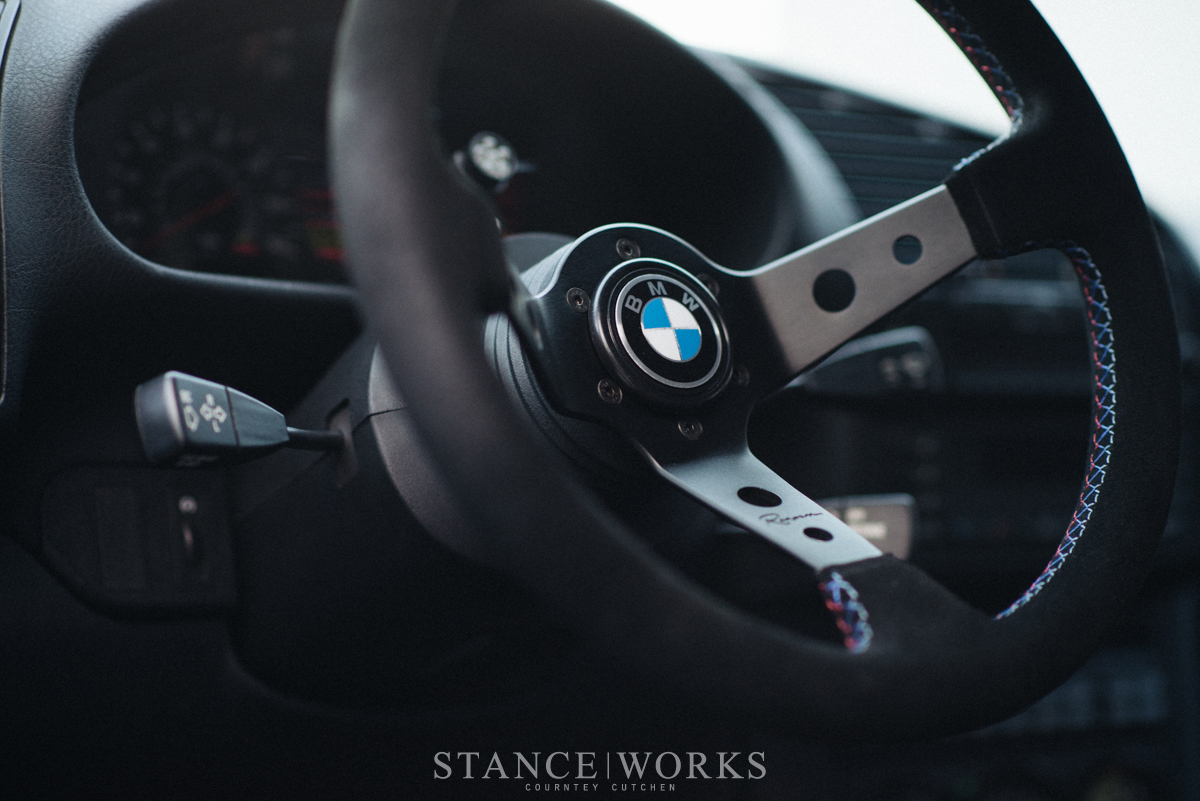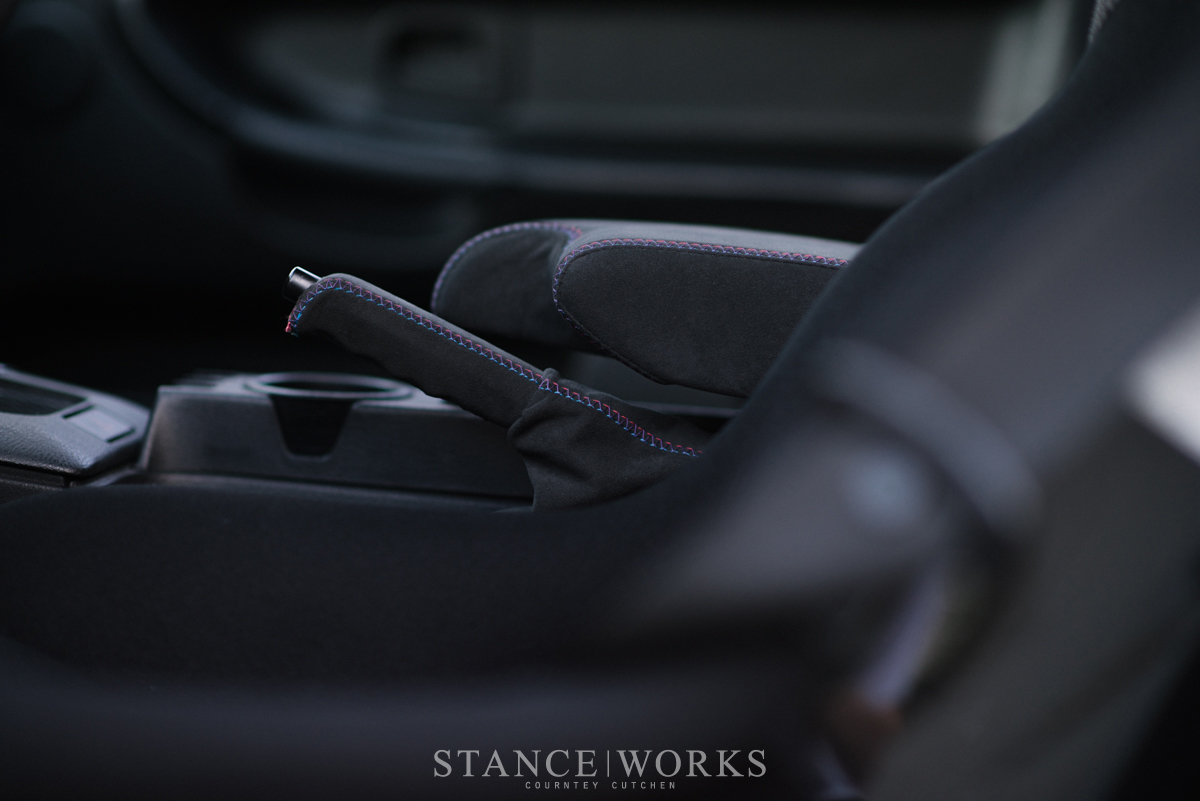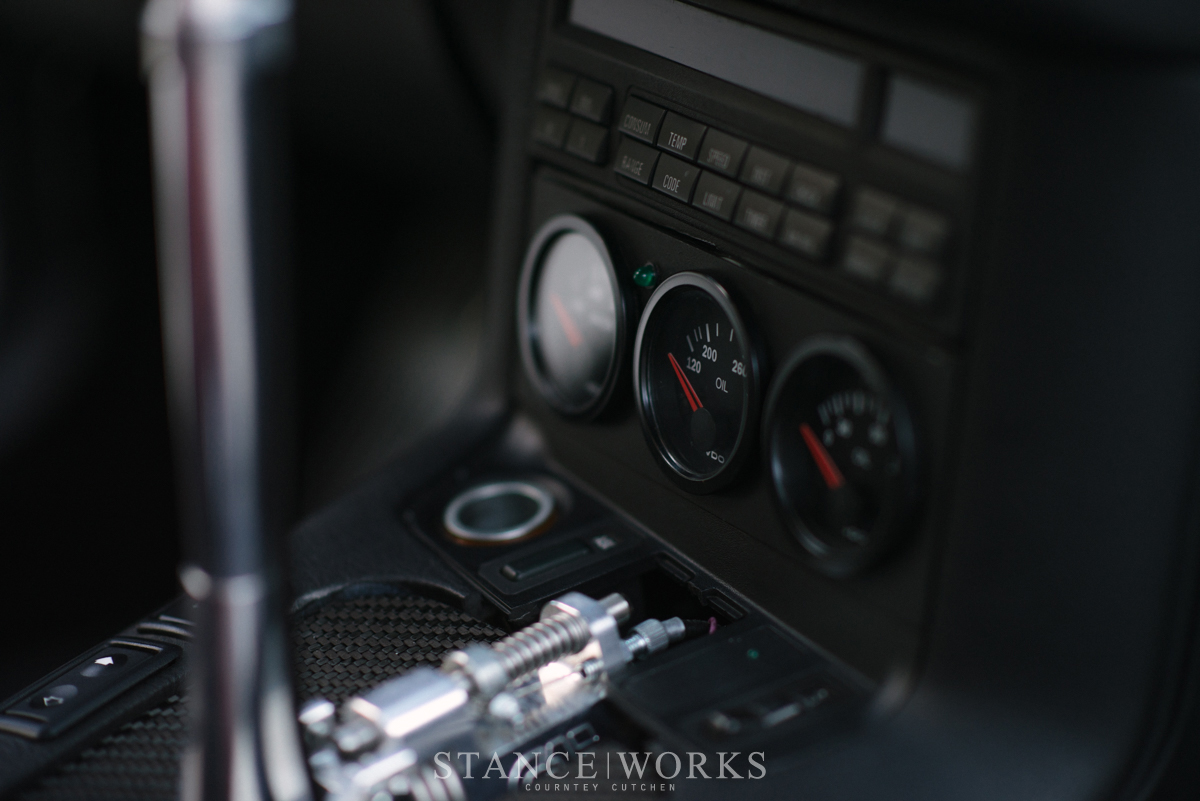 To complete his vision of the ultimate track-day E36, Shafique turned to the car's exterior, embracing the mantra "What's the point of going fast if you don't look good doing it?" The Livery wheels act as a centerpiece, hugged by a set of Felony Form overfenders. An OEM LTW front splitter, fog lamp delete, and tow hook accentuate the front end of the car, while a carbon LTW wing, Mateo Motorsports rear diffuser, and carbon side skirt splitters complete the rear end. Painted in white, the car harks to BMW Motorsport's color of choice, and the complete package creates a car that could have been a factory race option of sorts.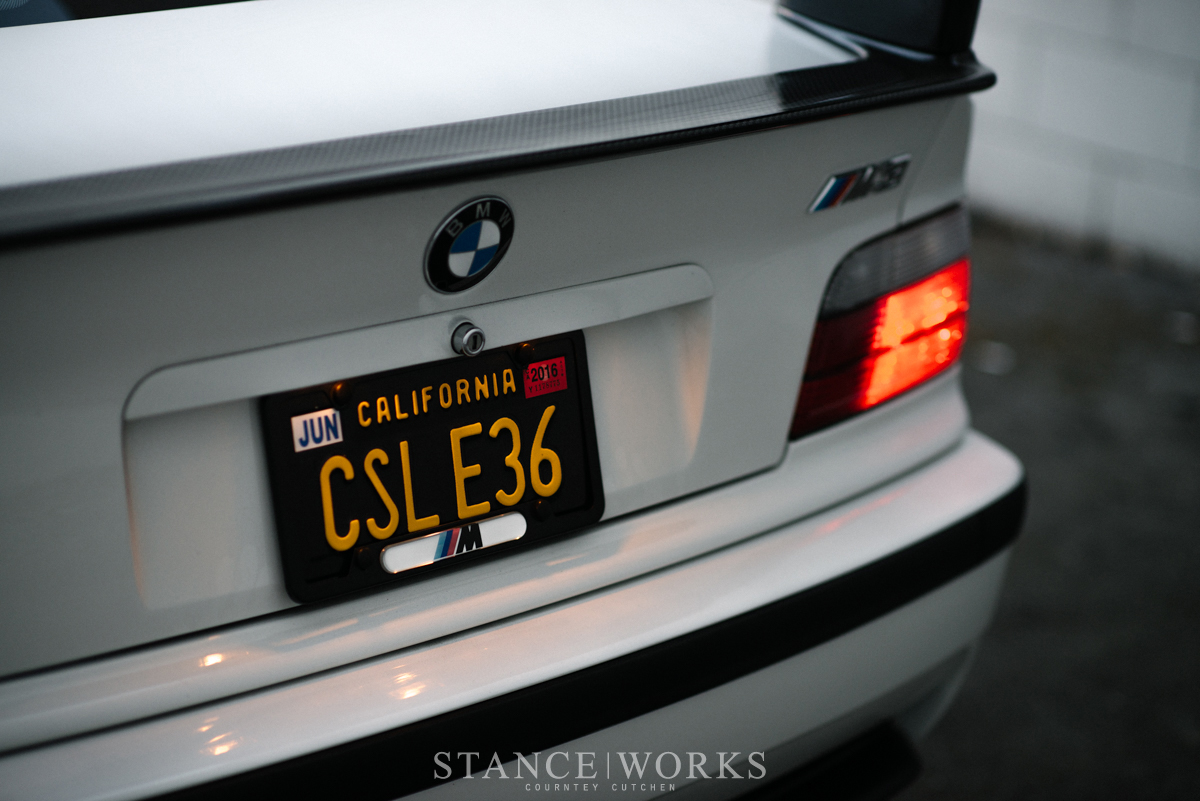 "When you put the 'CSL' name on your vanity plate, its not something to be taken lightly," Shafique Bhimani says, and we're inclined to agree. However, between the refined motorsport styling, the powerhouse S54, the trimmed weight, and his sheer passion for the E36 itself, we'll give Shafique's CSL plate a pass, and we bet you will too.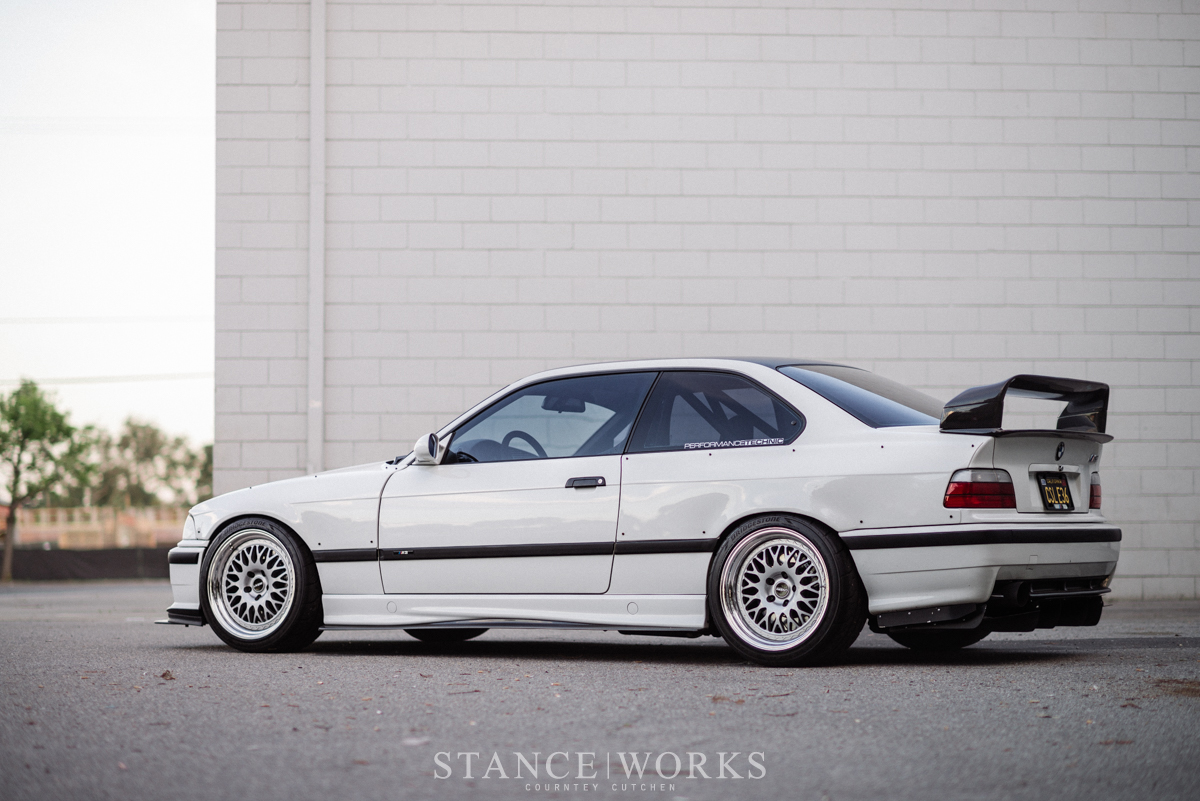 Photography by Courtney Cutchen – follow her work on Facebook and instagram!