It was more than a year ago when we first saw Blair Peterman's '78 Audi Fox as we drove down Ocean City's main strip. H2Oi presents a chance to find some of the community's best and most feature-worthy cars each year, and our afternoons are sometimes spent hunting down OC's best. One of 2013's most alluring cars was the white-topped Fox coupe, parked outside of Blair's hotel. In the parking lot he stood, talking shop amongst friends and fellow gearheads, presenting the perfect opportunity to strike.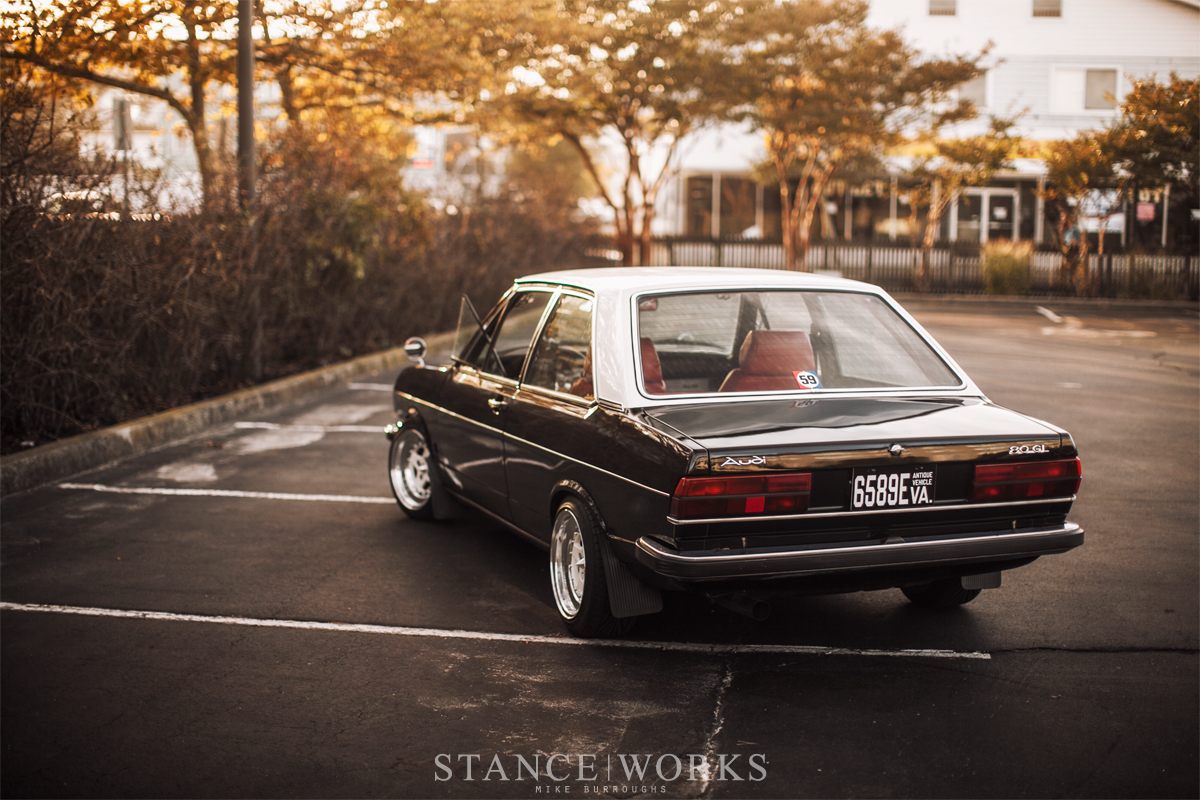 I introduced myself to Blair and made the pitch. Typically, it's an exchange that immediately flourishes with excitement, but on rare occasions, there are other factors at play – having recently shot his car for Performance Volkswagen Magazine, Blair was apprehensive to shoot with anyone else until the feature went live. The risk of the publisher denying the feature he had worked so hard for was far too great – and as fans of Elliott and the team at PVW, we were fully understanding. Blair was excited nonetheless, eager to be on the pages of StanceWorks.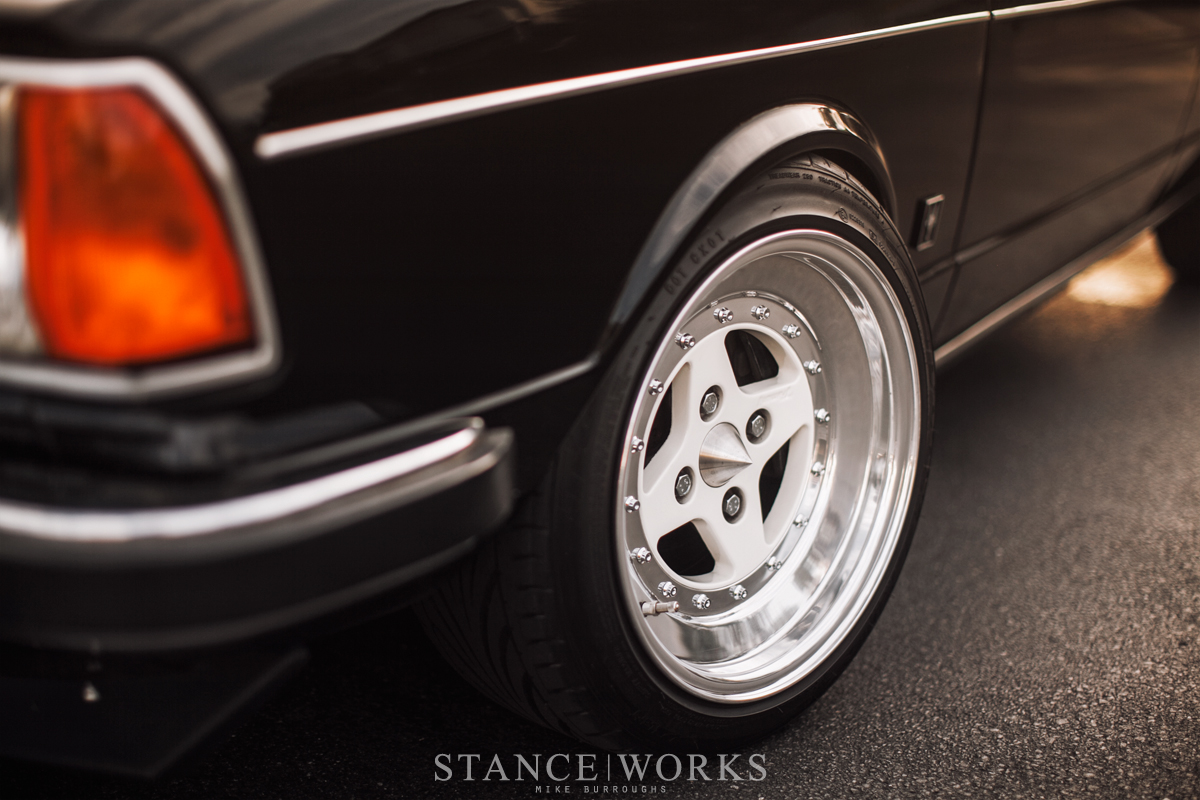 Just a few days before H2O was upon us once again for 2014, my phone lit up – "Hey Mike, It's Blair. Let's get together at H2O!" After a few brief texts, plans were made: our first shoot in Ocean City for 2014, and one that had been a full year in the making. Our interest in Blair's car was of no surprise to Blair himself; such a car has earned him some recognition amongst his peers. At face value, Blair has built a beautiful car, but its underlying history and rarity help to separate this "B1"-Chassis Audi from its MK1 Volkswagen counterparts.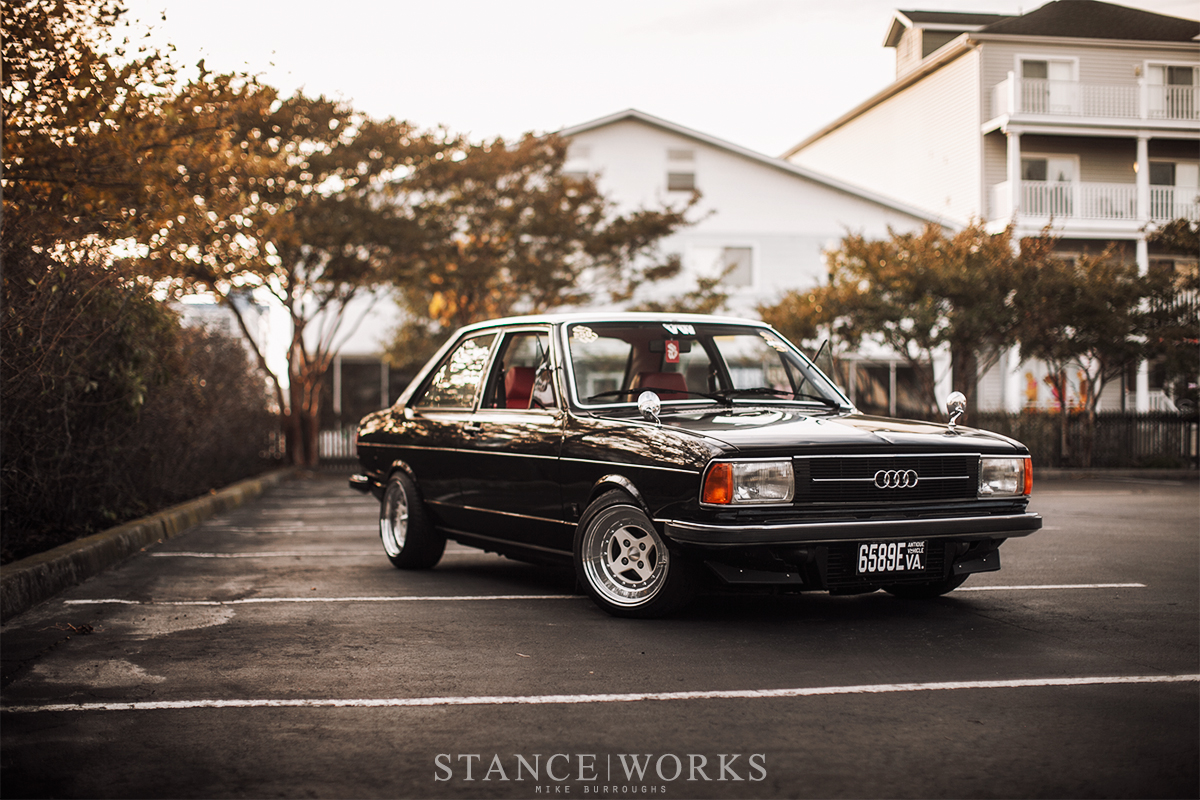 Unveiled in 1966, the Audi 80 served as the company's "compact executive" car, and in 1972, the B1 chassis was introduced, known as the "Fox" to the American market. By its final year of production, the Audi Fox was equipped with a 1.6-liter engine that produced 83 horsepower. It was, by all counts, a respectable car, if not relatively forgettable compared to many other cars that the late '70s had to offer. Today, the remaining Foxes are few and far between, and when this example surfaced, Blair made moves to make it his. After three years of ownership, the car is finally complete, and it has been a worthwhile wait.
PVW Magazine is known for the caliber of cars of which it features. As one of the few remaining magazines that has retained every bit of its clout from the magazine "golden age," a PVW feature is typically defining of the community's best, and Blair's car fits the bill. His B1 began life as a tan-over-brown car, reminiscent of the '70s drab, earthy & pastel-ish tones that we've either grown to love or hate. In the case of Blair's fox, tan wasn't in the cards, and a color change took place, initially to gloss black, and later capped with a white roof.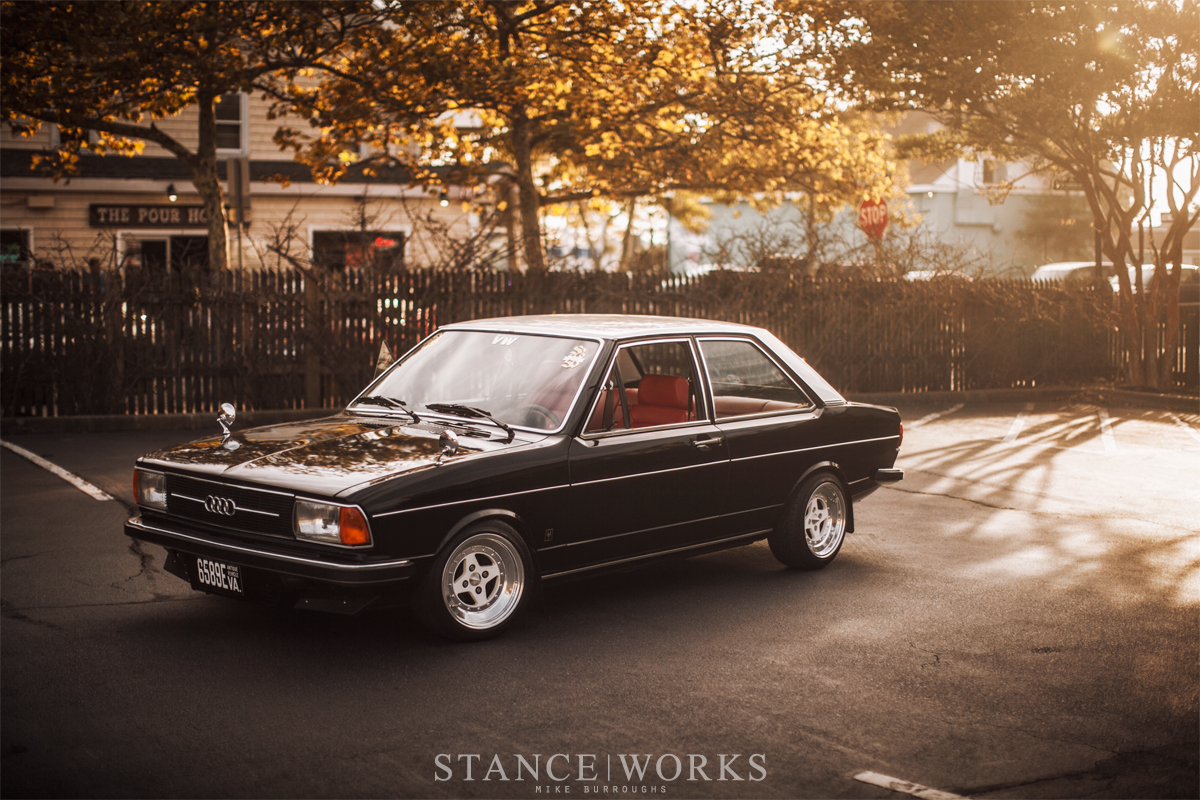 The euro-spec front end, consisting of lights and grills, as well as euro bumpers, helps to refine and smooth the overall look of the car, tying in with the two-tone paintwork to create a timeless, classic aesthetic. In keeping with the authentic styling, 14×8 Tremont TY2 3-piece French-made wheels were sourced and mounted, painted in white to match the car's upper-half. The only thing hinting at the car's further workings lurks under the front bumper.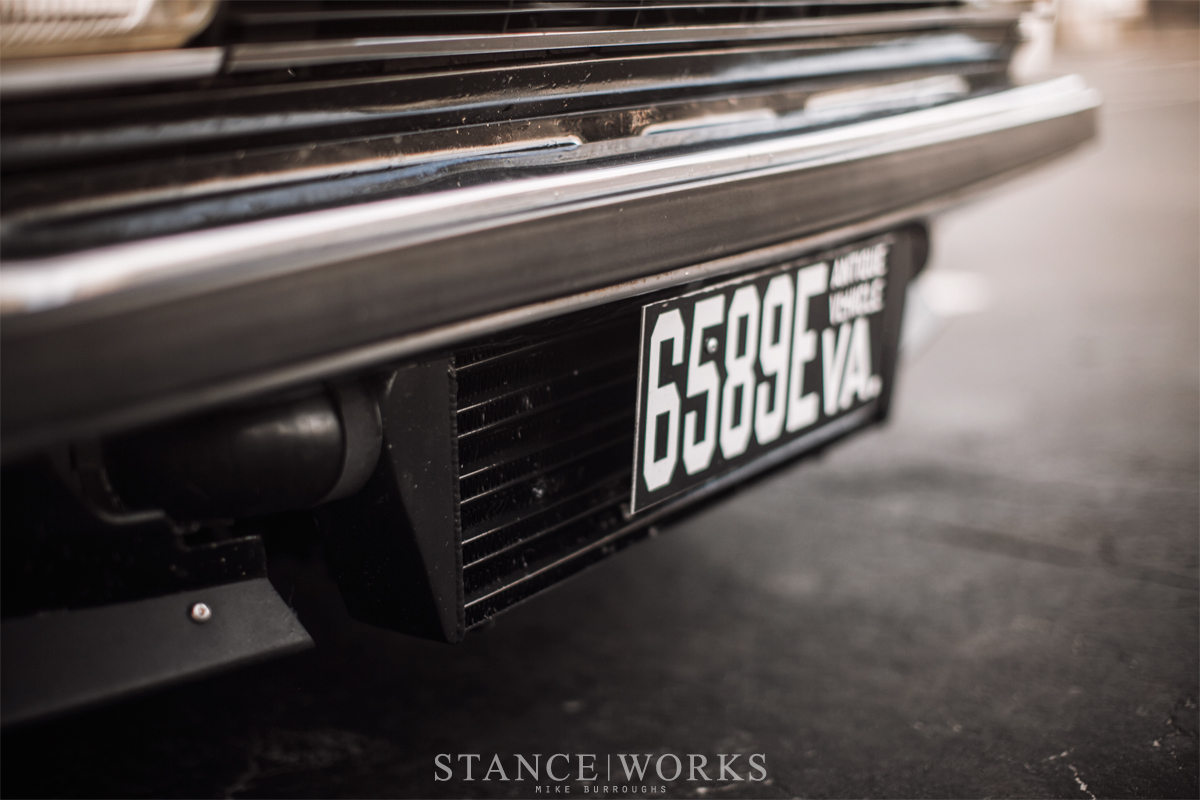 Tucked behind the antique Virginia plate, a black intercooler alludes to the car's stout heart. Almost unnoticeable to those without attention for the details, it's a subtle, shadowed touch. Under the hood, a 8.1999 1.8T AEB motor, mated to a '91 VW Fox 5-speed transmission, gives the 2,000-pound car more than 200 horsepower to play with, which keeps the wheels spinning.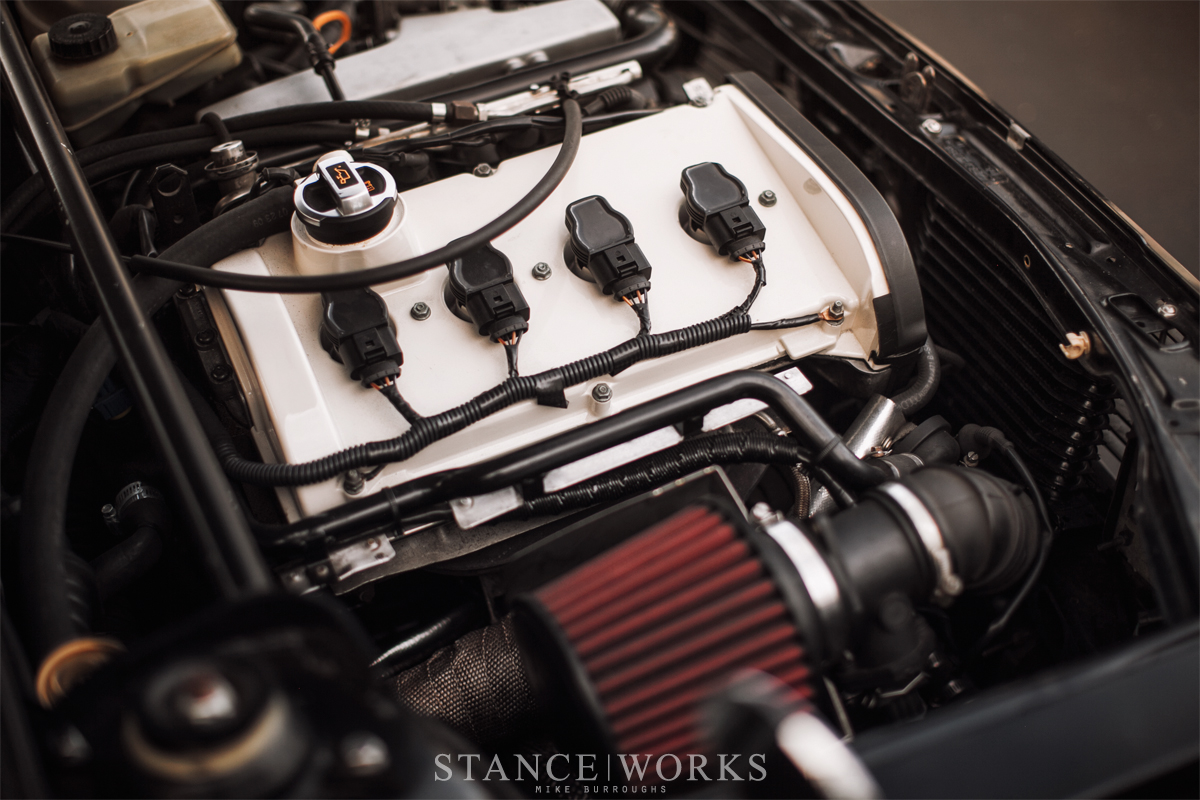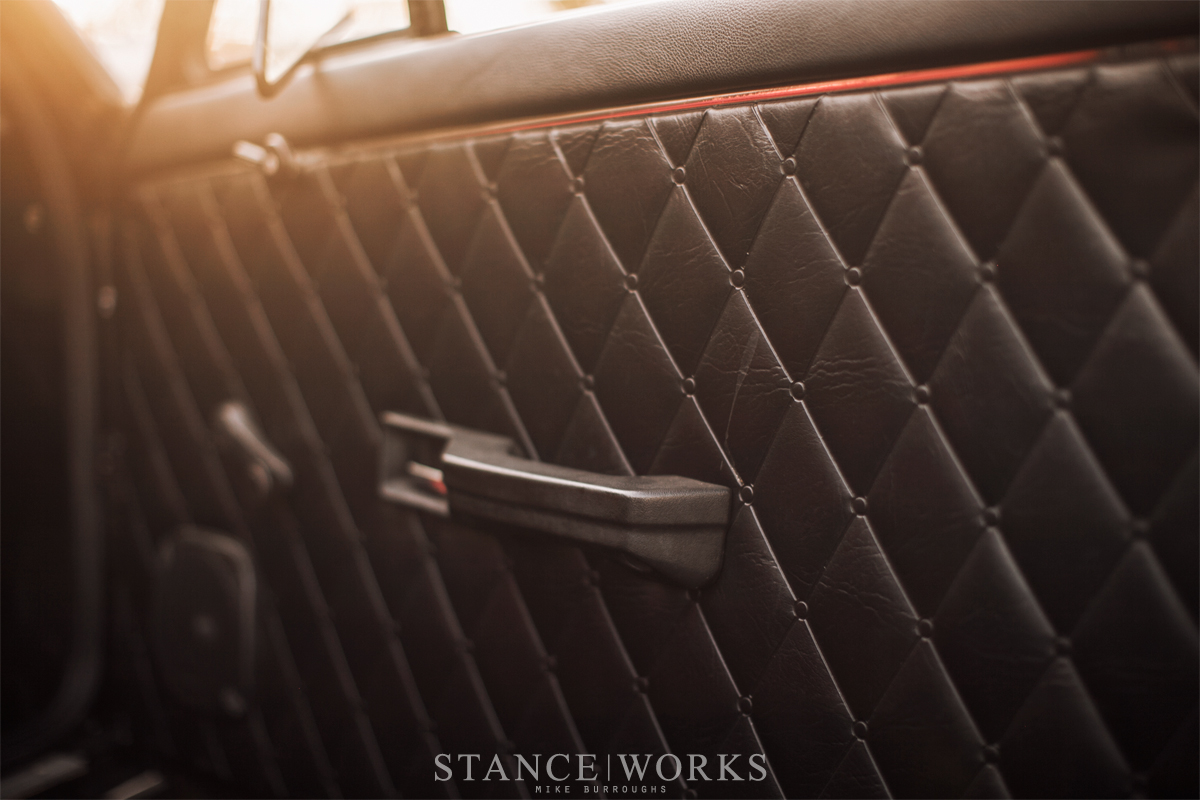 With such a small aftermarket available for the B1 Fox, Blair was forced to source and create many of his own parts. The suspension is comprised of custom shortened front struts and coilover sleeves, and sleeves in the rear to keep things level. Inside the car, custom door panels and a flocked dash ensure that the inside matches the out. Red leather MK2 Recaros act as a centerpiece for the interior, adding a heap of contrast to the monochromatic exterior.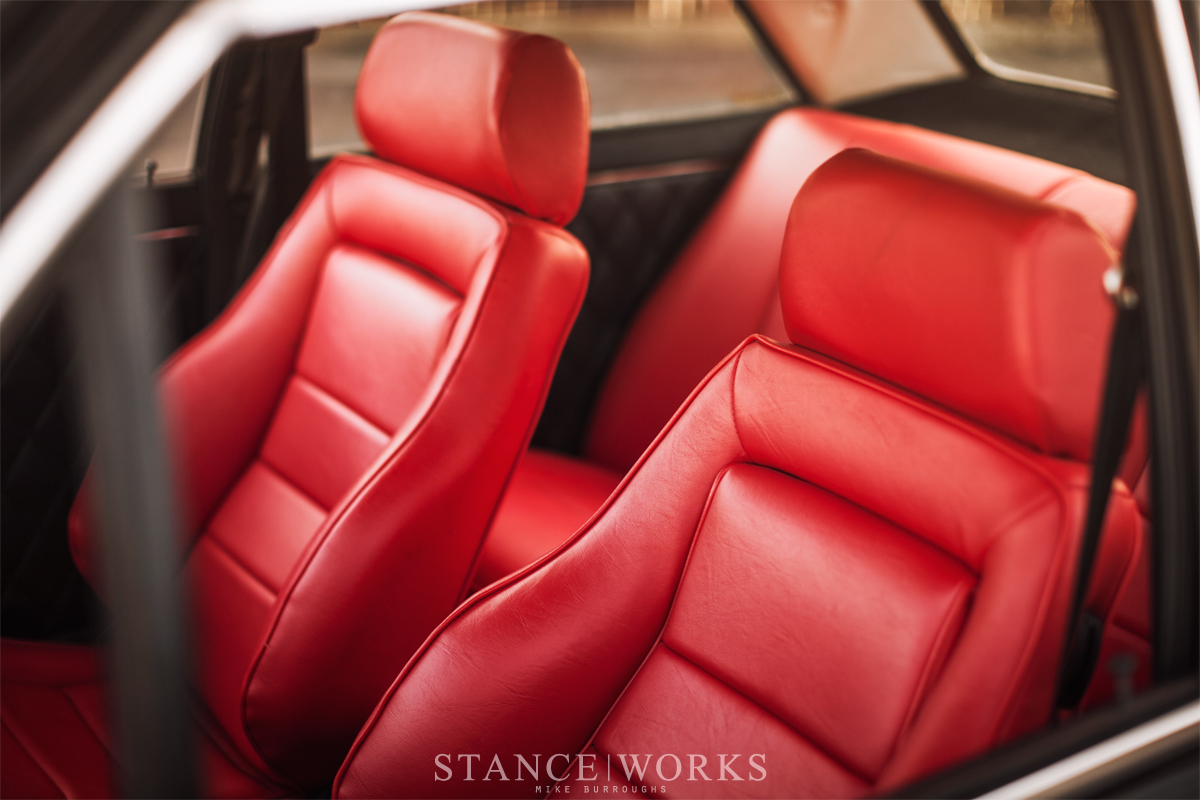 With the car complete, he's now hoping to help it find a new home, but for an understanding reason – his latest purchase. Referred to as his "dream car," Blair is bringing his own flavor into the Porsche 964 ownership demographic. "New suspension, wheels, and a respray will be all the car needs. Not much else is needed for a 964!" But with that, he also hints at future builds. "I'm already planning my next big build for 2016. It's old and rare, with a cool driveline. It's going to be awesome." So, we waited one year. How about two?