As photographers, Andrew and I discuss others' work at great length. We enjoy the work of those who inspire us; who push us further as photographers. There are more than we can count, each of us with our own preferences towards style, color, composition, editing work, and others; however, there's one name we both agree on each and every time. The work of Jonathan Szczupak leaves us with a burning drive to take a new look at the way we shoot. It was more humbling than ever to find that a man of such talent had felt a particular love for the style and passion behind StanceWorks, and I leapt at the chance to share his work with our readers. Where most articles come together as a mix between storytelling and personal thoughts, I couldn't help but to keep from dissecting Jonathan's story. Instead, I had to share it as it is.

STANCE|WORKS: So, for those unfamiliar with who you are, Jonathan, tell me a bit about yourself. Where does your story as a photographer begin, and where is it now?
Jonathan Szczupak: Ever since I was born, I was destined to have cars be a large part of my life. Born in England in a car loving family, I learn't a lot from my Father and Grandfather, whether helping my Grandfather in his garage or tagging along with my Father to racing events, I got hooked at a young age. A family move to America with my Father's job gave me the opportunity to pursue my passion as a career. I attended ArtCenter College of Design in Pasadena, California. There, I studied automotive design, and since then, I have been working for Ford as a designer on various programs ranging from the Explorer to the recently released 2015 Mustang. For the last 2 years I have been working for our European design team in Germany. It's been a fantastic ride so far!

As far as my photography, it is hard to say when it really started. My Father gave me a cheap camera to take along to racing events in England when I was not much more than a toddler. I still have a picture somewhere of me holding that camera while standing next to a Ferrari F40; my head was just a few inches below the spoiler. It's only in the last few years that photography has become more a part of my life. Being surrounded by so much automotive goodness in Europe, I have been inspired to push my work further. I would say right now I am still just at the beginning of what I want to explore as a photographer and I think 2014 will be an exciting year for me.


S|W: Your photographic work stands with the best out there, however, it's also immediately recognizable. What are some of the key elements to your own style? What do you look for in taking a photo?
JS: That's very kind. In the last year I have worked hard at creating my own style. Not just in the way I edit photos, but in the way I capture the subject. I think my design background really has a large influence on my photography. I am drawn to specific design elements of the car and tend to see things that most people would probably skim over. I love detail shots and playing with composition. When taking a shot I often think about how to compose it different from the last and how I can capture the car as the designer would have intended it.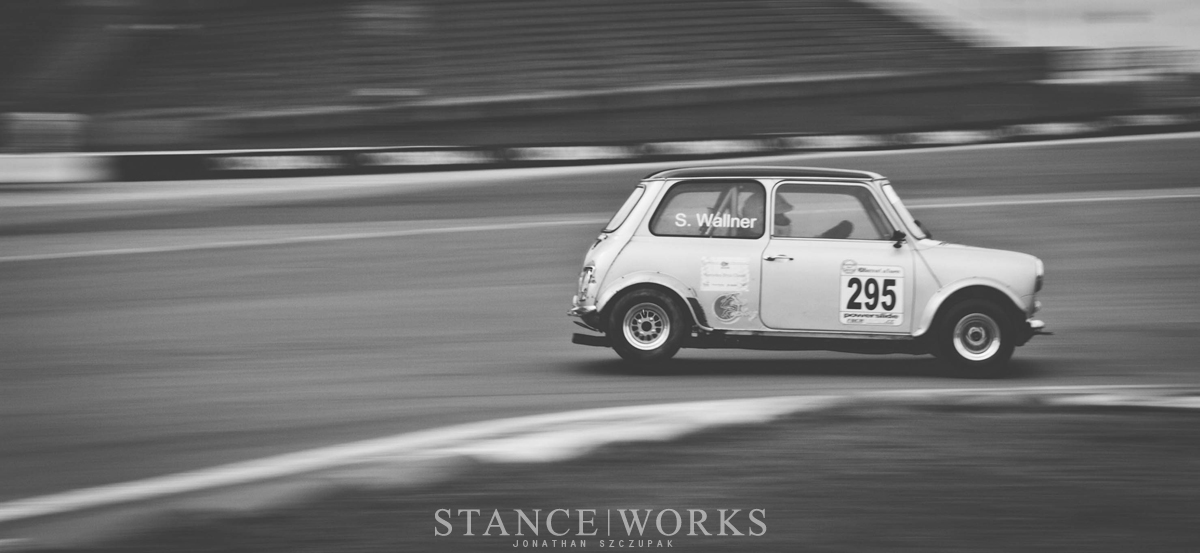 As of late, I have also been playing with high speed panning, with a very low shutter speed. I love the emotion that it gives. The emotion also really comes out in black and white as the color doesn't distract from image. You just get this moody feeling that draws you into explore further. This allure, maybe sets me apart from other photographers.


S|W: What artists and photographers have served as sources of inspiration for you?
JS: I love diverse styles of work and recently I have been following a lot of international fashion and motorcycle photographers. People like Jose Gallina, Garrett Meyers and Neave Bozorgi have a unique style and constantly push the boundaries. The variety of subjects and styles really inspire me to push myself to experiment. I often get bored of seeing the same types of photography in the automotive fields and I am constantly looking for ways to diversify my style.

S|W: What comes first? Your passions for automobiles, or photography?
JS: Hmmm, now that's a tricky one. Without my passion for cars I don't think my passion for photography would have come about. Cars will always be a huge part of my life. I am a total gear head and a massive sucker for classics!  However, working closely with cars on a daily basis can sometimes narrow your view.  As a designer it's important to be influenced by all aspects of the world. Photography helps to inspire me and is an outlet to share my passion of cars with the world.


S|W: What kind of photographic equipment are you partial to? Film? Digital? What cameras and lenses could we find in your bag?
JS: Though there's a lot of photography equipment on my wish list at the moment, for now I really love my current simple set up. I shoot mostly digital with a Canon 7D which I love for the fast focus and crop factor.  My go to lens is usually the 70-200mm because the image quality is just superb and the depth of field is stunning. It's so versatile as I use it on the track as well as photo shoots.  For tighter situations like the pit lanes, my 24-70mm is just perfect. It lets me get up close and personal and also captures the emotion in these situations. That said, nothing beats the basic 50mm for detail shots and street photography. It's fixed focal length forces you to hunt for the perfect composition rather than relying on the zoom.


S|W: What niches in the automotive world get you most excited?
JS: For the last ten years or so I have been surrounded by American Muscle in Detroit and it is a breath of fresh air living in Europe as I get to experience something completely different. I will always have a soft spot for a classic Mustang, but at this moment in time I am all about European classics. Being 1 hour from Spa-Francorchamps and the Nurburgring, I have plenty of classic events year round to keep my mouth watering.
I have always loved motor racing and seeing such things as a GT40 firing to life in the pits or 8 GT40s flying through "Eau Rouge" will stick with me for a lifetime. I guess like most car fanatics, the next logical step would be to own a piece of this History. I have been scanning the classifieds almost daily looking for a clean Alfa Romeo GT Junior. I love the simplicity of the Bertone lines. The smile the car puts on mine and others' faces is just priceless. You might notice if you follow my work, that my feeds are cluttered with shots of this stunning little car.

S|W: Are there other realms in which you often find yourself photographing? Fashion? Landscape? Found photography?
JS: Since moving to Germany my wife and I have spent every free moment traveling. We have managed 20 countries and more than 30 major cities in the last 2 years. Naturally, the camera is in hand every step of the way. You only have to take one look at my instagram feed and it looks like something from a travel channel. I love shooting architecture and the culture that surrounds these historic locations- it is just fascinating to me!
Throughout my photographic journey I have become increasing captivated with lifestyle photography. I love the interaction of people with their machines, architecture or products. It takes the coldness out of the image and gives it life. This year, this interaction is something that I will be focusing on a lot more basically combining all my photographic adventures into one.


S|W: What tidbits of advice would you give to fellow gearheads whom may want to pick up a camera?
JS: I say go for it. It gives you a new perspective on how you see cars. It takes you away from their functional purpose and you see more of the beauty that makes them so iconic. As you start, you don't need expensive gear to take great pictures, even picking up your camera phone or an entry level DSLR will be enough to test the waters. Just start shooting and challenge yourself to find interesting subjects, angles and compositions. Every shot I take I ask myself questions like, is it worthy of being in a coffee table book? Does it capture a feeling and emotion that might take my viewer there? There are so many photographers out there, that you have to set yourself apart. The only way to do this is to try new things.

You can find more examples of Jonathan's work and follow his travels by clicking the following links.
Blog: http://btwlphotography.tumblr.com/
Facebook:  https://www.facebook.com/BetweenthewhitelinesPhotography
Instagram: http://instagram.com/jszczupak_btwl
Flickr: http://www.flickr.com/photos/betweenthewhitelines/