When someone has built a truly impressive Volkswagen, one that has graced the pages of PVW, you expect them to be of a very particular breed of Volkswagen fanatics. Better yet, when they've owned the car since new, it takes it one step further. When I asked Michael Houck if he's always been a Volkswagen guy, I was expecting something that iterated the idea of  "of course." Instead I got something a bit different, and perhaps that's part of what makes Michael Houck's MKIV so unique.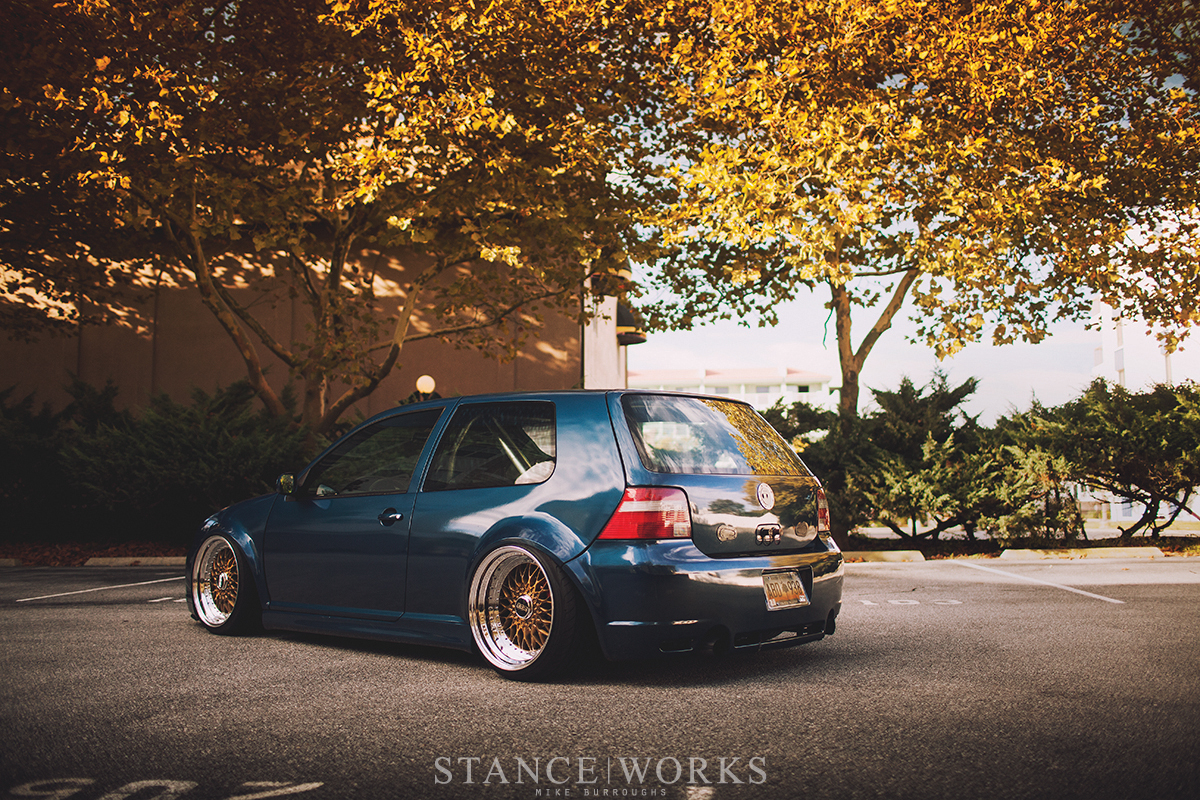 "I have not always been a VW guy, and to this day I still consider myself a "car guy" at heart. I still love the American muscle; I would love to build a '69 Camaro COPO/Yenko replica or a '69 GTO Judge with my father someday," says Mike. He grew up with a father that owned a handful of muscle cars; the family garage housed a '69 Camaro that he dreamed to one day make his own. But as time went on, the northern winters proved too harsh for the Detroit sheet metal, which more closely resembled "swiss cheese" as he puts it, than it did an actual car. So he moved on to other options. 
Mike wound up on a truck kick. His first car was in fact an '83 Chevy Silverado 4×4, which received a 4″ lift, 35″ tires, and new gearing – the exact opposite of where he is now. But gas prices were climbing, and the big truck wasn't easy on the wallet, so Mike made a 180-degree turn: "I built a 1994 s-10; bagged with polished aluminum wheels," a very SoCal-styled build for a boy living in Ohio where 100-spoke Daytons were still a craze.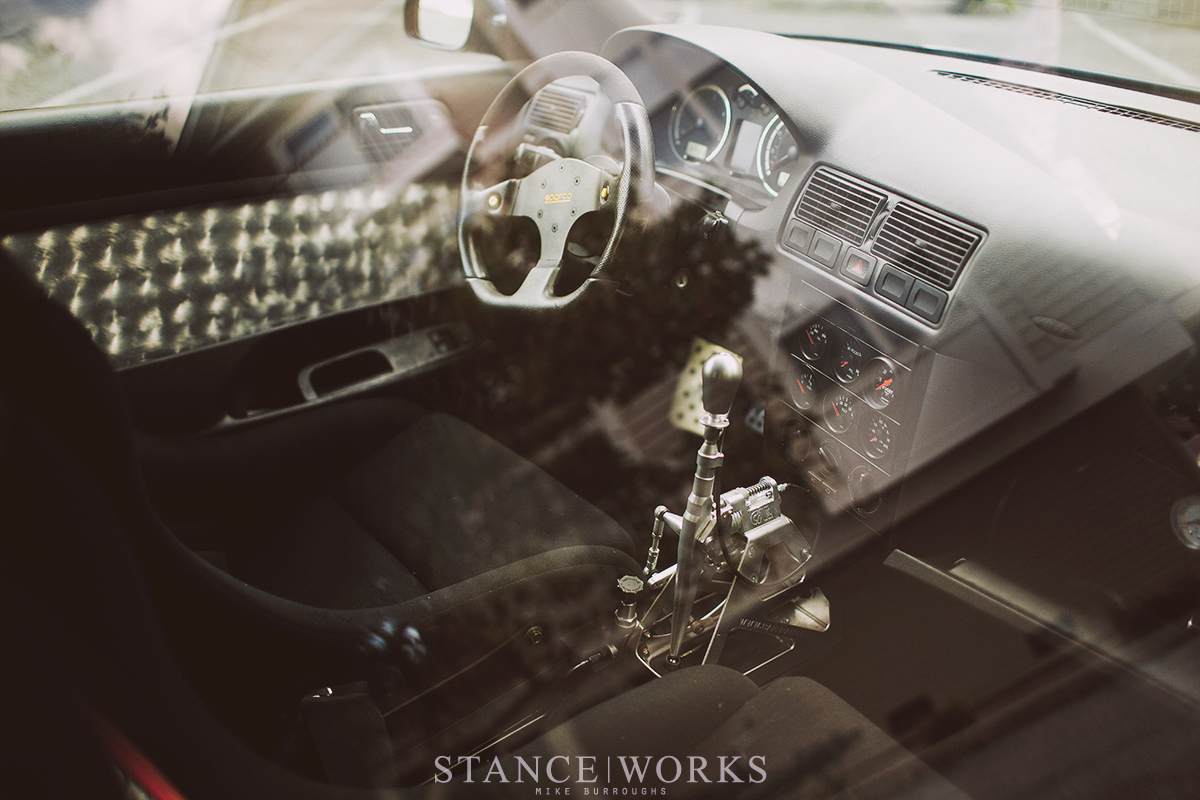 It wasn't until college rolled around that Mike started experimenting. He was trying new things, broadening his horizons… And by that, I mean that he happened upon Volkswagens. "I happened into VWs while attending college. A buddy had an MK3 GTi, 2.0L 5-speed; when he was still in the dorms he would park the car at my house, so I would end up dropping him off at his dorm and driving the car back to the house. It was a blast, fitted with all the Neuspeed bits, it was too much fun to drive!" And like that, Mike was more or less hooked. Another friend picked up a VR-powered MK3, and with just a year left in his college career, he decided to start looking at new cars. The MK4 GTi was, as Mike says, the "new hot shit" with a thriving aftermarket, so he dove in head first.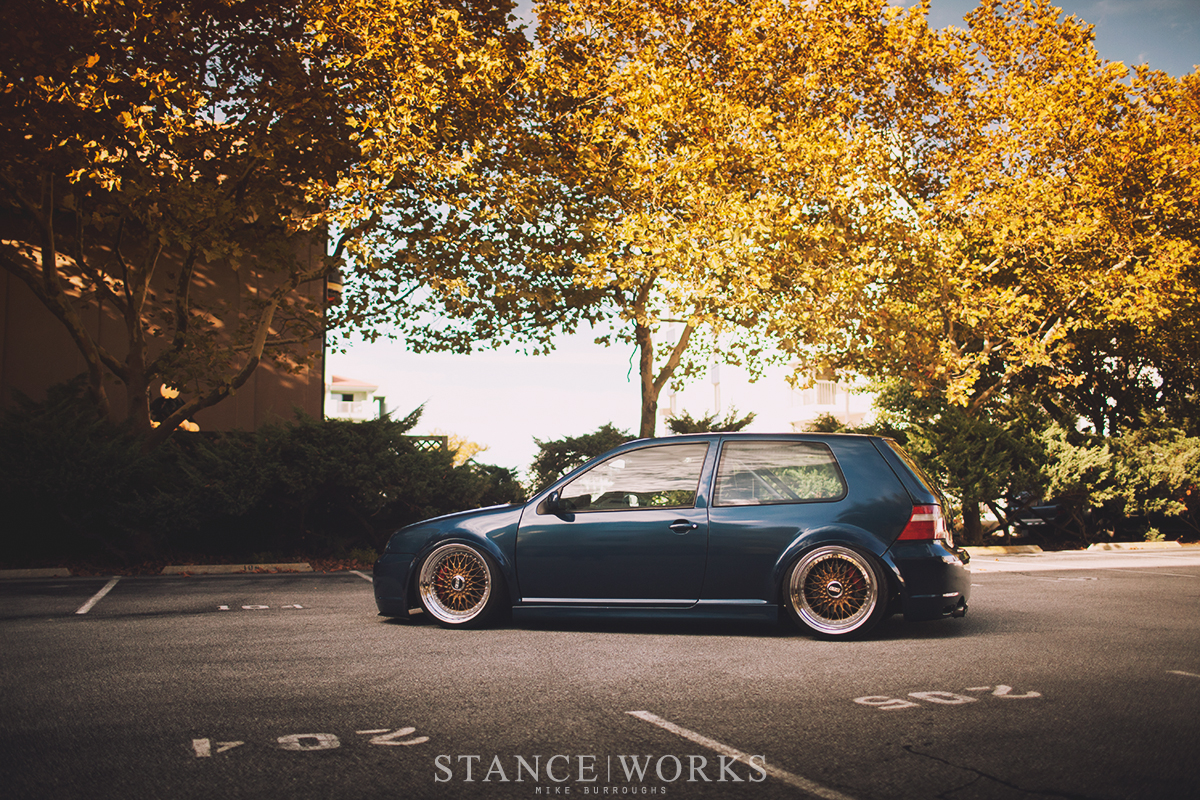 Mike found himself at the dealership purchasing a 2002 1.8t GTi in Reflex Silver. A 5-speed transmission and cloth seats tell of a car that wasn't heavily optioned, but it was all Mike could have wanted. The car remained stock until it was paid off, when Mike started throwing parts at it left and right. H&R suspension, an Oettinger body kit, Corbeau race seats, and the like. Before long, Mike was working on pulled fenders and wide steelies, but was struggling to achieve the look he wanted. With the wheels bolted up and the coilovers bottomed out, the fender gap was far too much, so he went back to the drawing board. "I purchased another set of front fenders and rear quarter arches to begin to graft these back to my new, overdone pulled-fender adventure, which led the car to the shape that it currently still holds."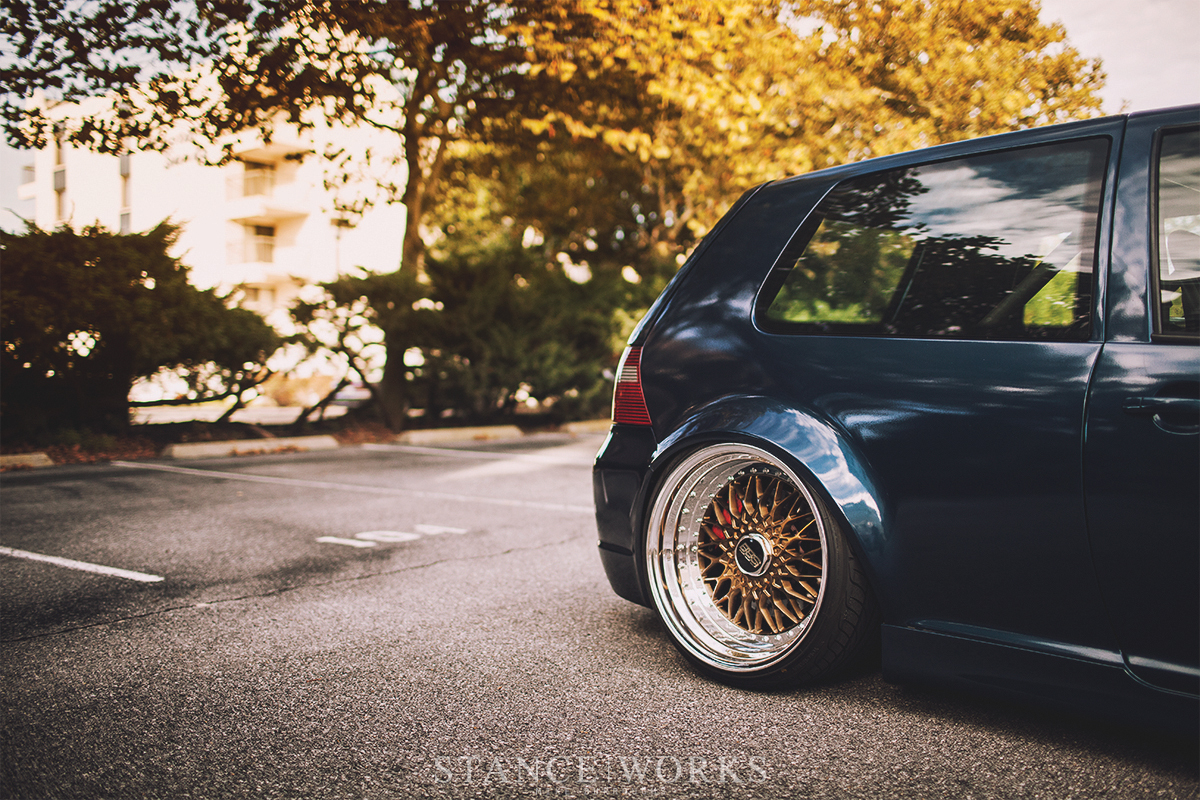 Fast forward a few years to 2008: primer covered the tidied bodywork while Mike began a big turbo build for the 1.8t. A Garrett GT2871r turbo and all of the goodies to go along with it were mated to the factory lump, and an Audi TT O2M gearbox backed it, out through a limited slip differential. While that in and of itself sounds like plenty for a build, it was merely to tide Mike over. Meanwhile, he had also found all of the parts to support a Haldex AWD swap from an R32. Big dreams indeed.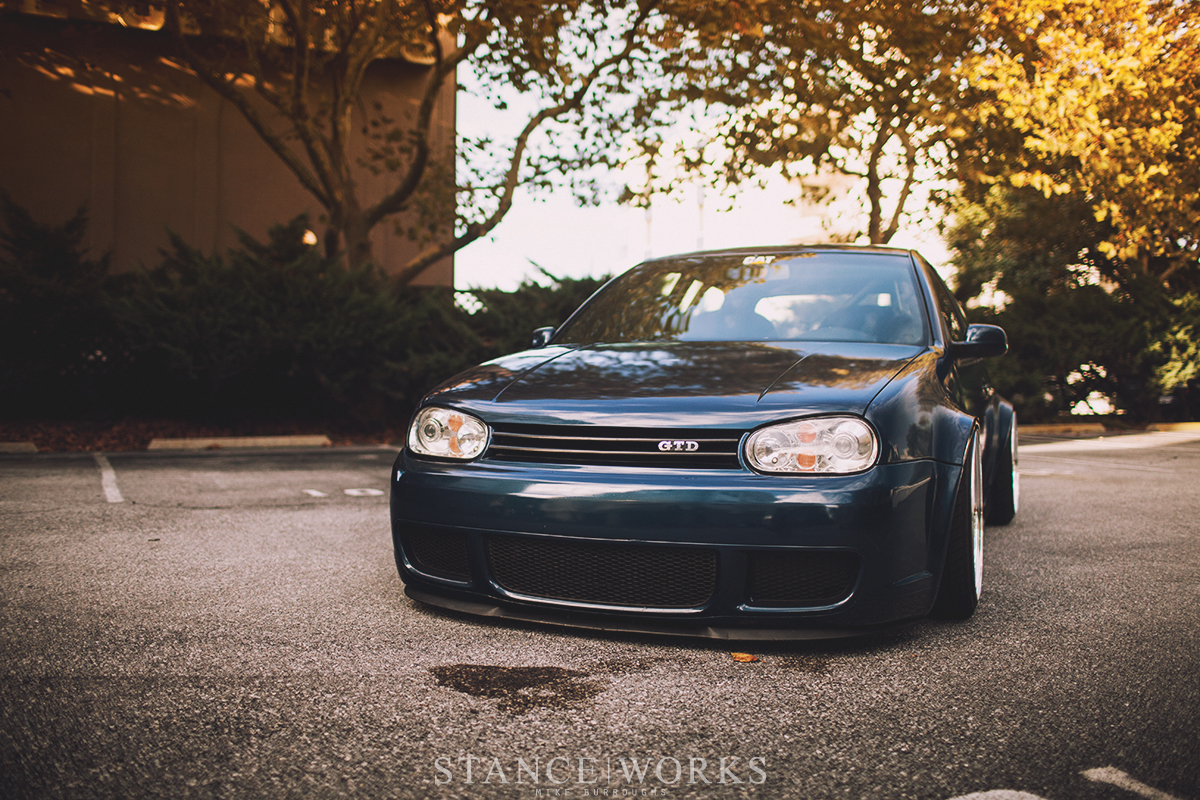 Southern Worthersee in 2009, and then H2oi later that year set Mike down a new path. The awards he had received and the caliber of cars he had parked with inspired him to push onward and upward. "Upon arriving home from [H2Oi], plans were made. The car was all but parted out: wheels, cage, seats, and suspension were all up for sale, and preparations were being made for the Haldex swap, air ride suspension, new seats and a fully custom legit roll cage." The AWD swap and the cage to help support it were finished just in time for Mike to take the car to Southern Worthersee in 2010 the following year. After returning home, more changes were made, including a set of Recaro seats, and then he was off to EuroWerks 4. "I was back home with the car only to realize the roof rack had come loose on the return from Minnesota, this left the roof in a bit beat up and resulted in the car getting parked for rest of the summer."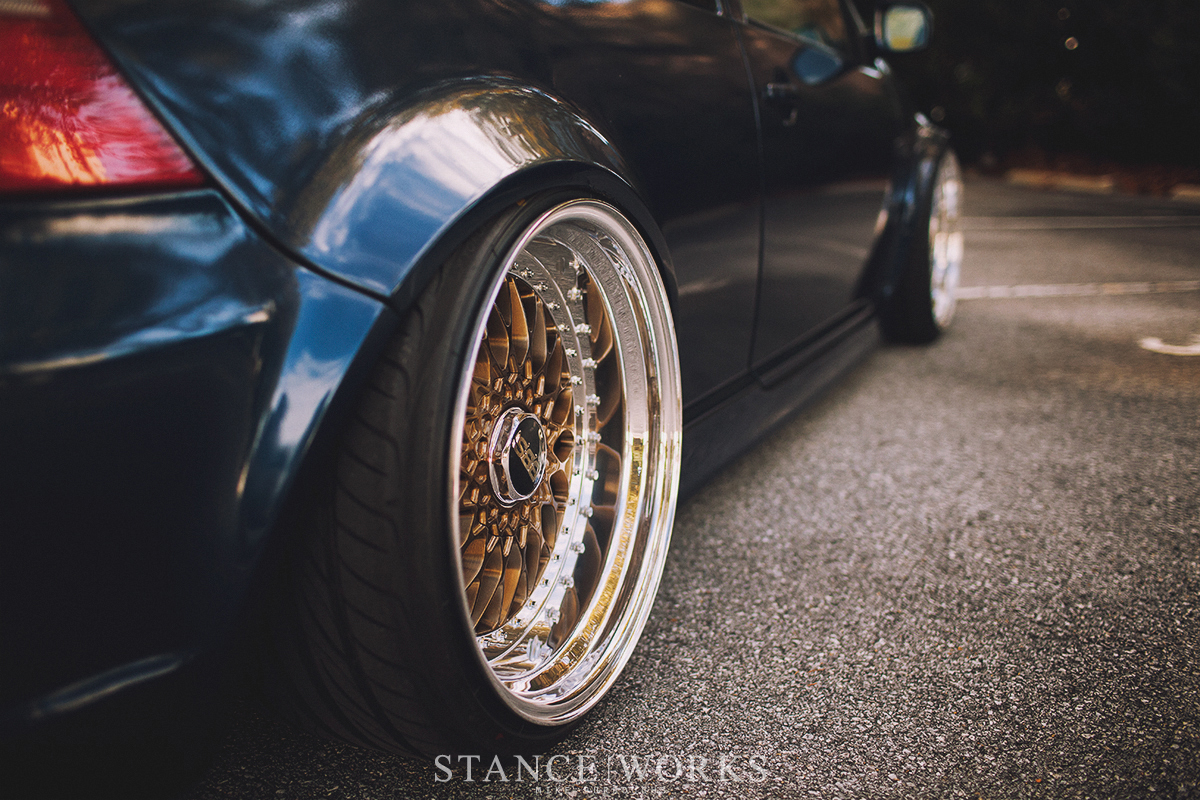 It was only a brief hiatus before Mike was back at it. After attending H2Oi, he was inspired once again. Unsurprisingly, the GTi was torn down once more: the engine was pulled, the turbo kit was parted out, and this time, Mike began to hunt for a TDI motor. "I chose the Pump Deuce for many reasons: compatibility of electronics, potential for power, and cleanliness of the engine itself when stripped of all the OEM plastic." His sights were set, but it took months of planning and searching before the right PD100 (Pump Deuce 100) engine was found. The engine swapped in mechanically without much effort, but the electronics proved difficult. Mike stated that Volkswagen wiring harnesses had little continuity between engine types, and a mishap between the wiring harness and a rogue pair of wire cutters resulted in a longer swap timeline than expected.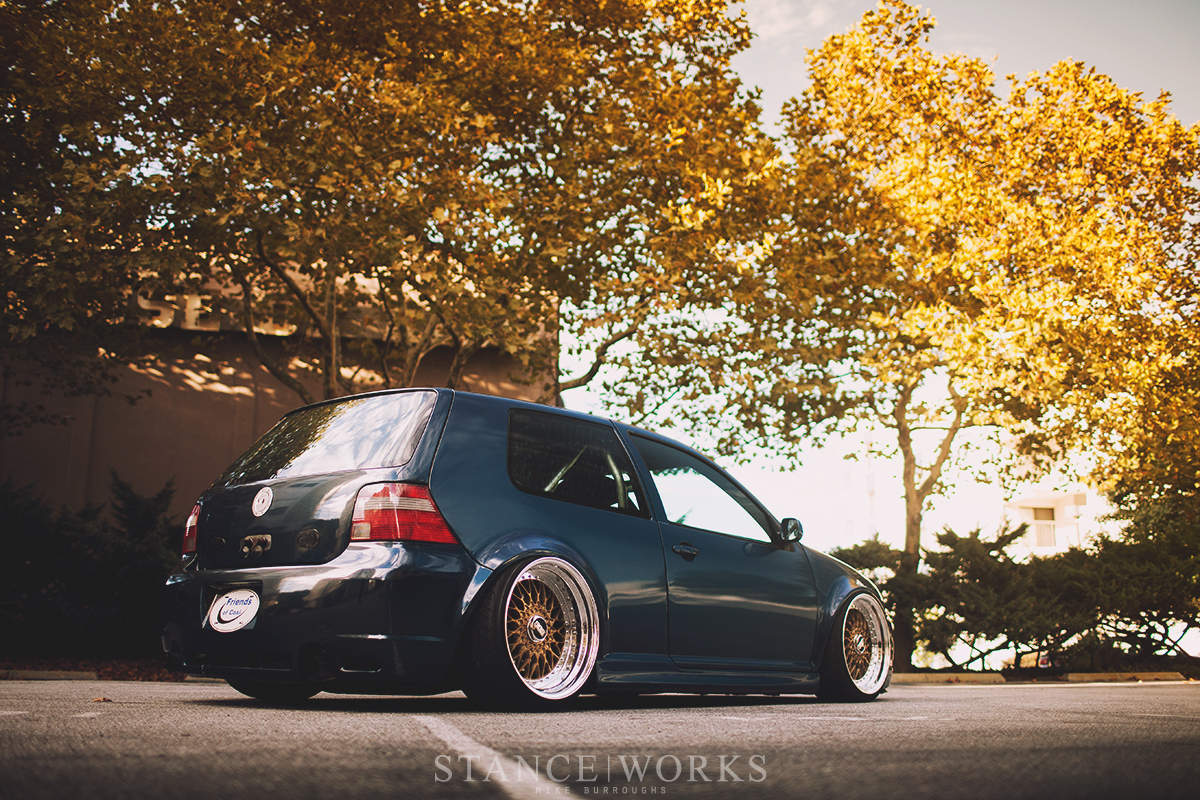 Once the diesel heart was in and running, Mike hit high gear. "All of the planning and searching was coming together. During all this time, much research had gone into the potential for compound turbo setup for the TDI. Compound turbo setups are very common in the US in the truck tuning world, but very little has been done to VWs." Compound turbocharging differs from a standard twin-turbo system substantially. While a twin-turbo system often uses split manifolds to feed two turbochargers directly off of the engine's exhaust, a compound turbo system, somewhat common in the diesel world, uses one large turbocharger, fed off of the exhaust, to drive another smaller turbo. To simplify: twin turbos work in parallel, compound turbos work in series. "Fortunately for me, there was a build happening here in the US that was very similar to what I wanted to embark upon, so with the help of the tdiclub.com group, I had my baseline established."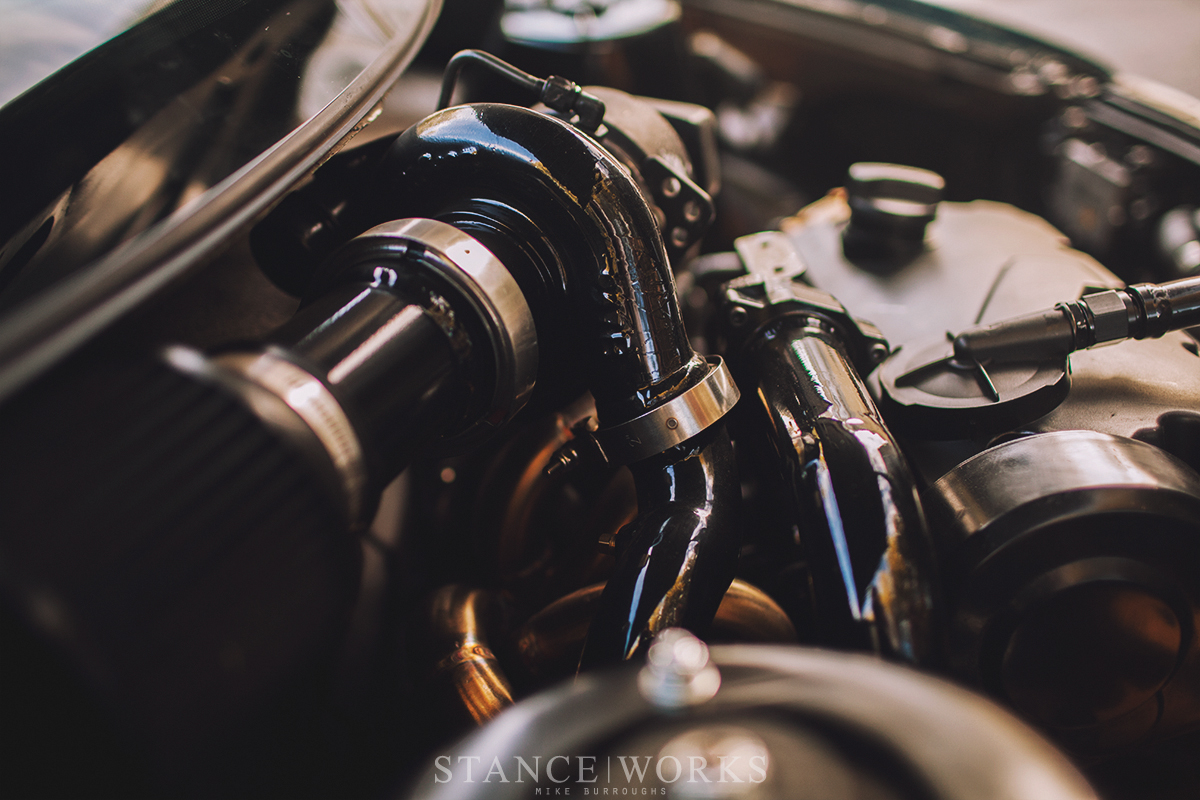 Ryan Parkin at Dark Side Developments was contacted to source the high-pressure turbo, a Garrett GTB2056vk, and Bullseye Performance supplied the low-pressure turbo, an S247. As luck would have it, Mike's good friend Lee Brozyna had a brother that fabricated custom exhaust manifolds and was going to be in town just in time to lend a hand. The two mocked up the turbos in the engine bay and began to construct the one-off manifold. After a day and a half, the two had what they needed, and it was passed off to Jesse at JDL Auto Designs for final welding.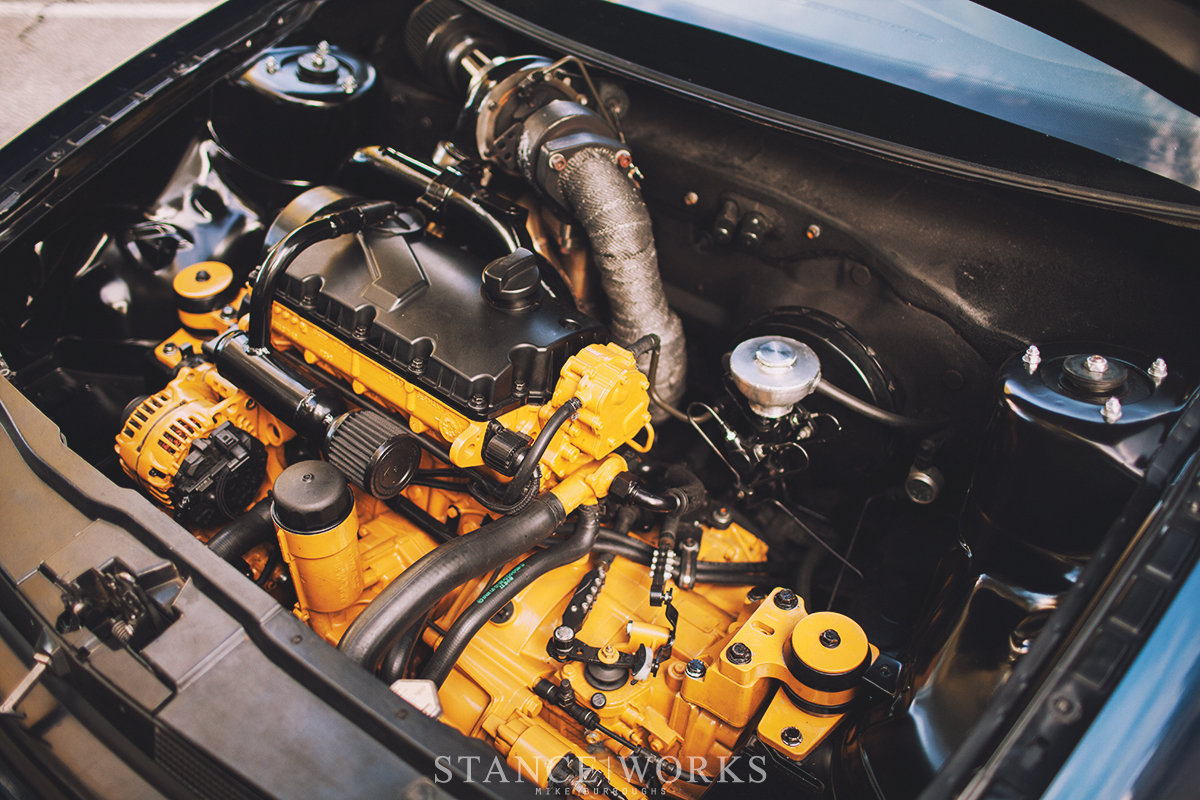 With the engine build completed, mated to the Haldex AWD system, and painted to match the iconic Catarpillar diesels, Mike moved on to the aesthetics.  He had previously wanted RSs, but this was before the step-up craze had hit full-force. 19s were required to meet his needs, yet BBS's Super-RS simply wouldn't cut it. The lack of style the stepped lips provided left him wanting more. But once the engine build was complete and money had found its way back into his pocket, he knew stepping up a set of 18″ Super-RSs was entirely possible. He sourced a cheap set from VR wheels, had them filled-and-drilled by Mike at EuroWise and then contacted James Candor at Floss Designs for the custom halves.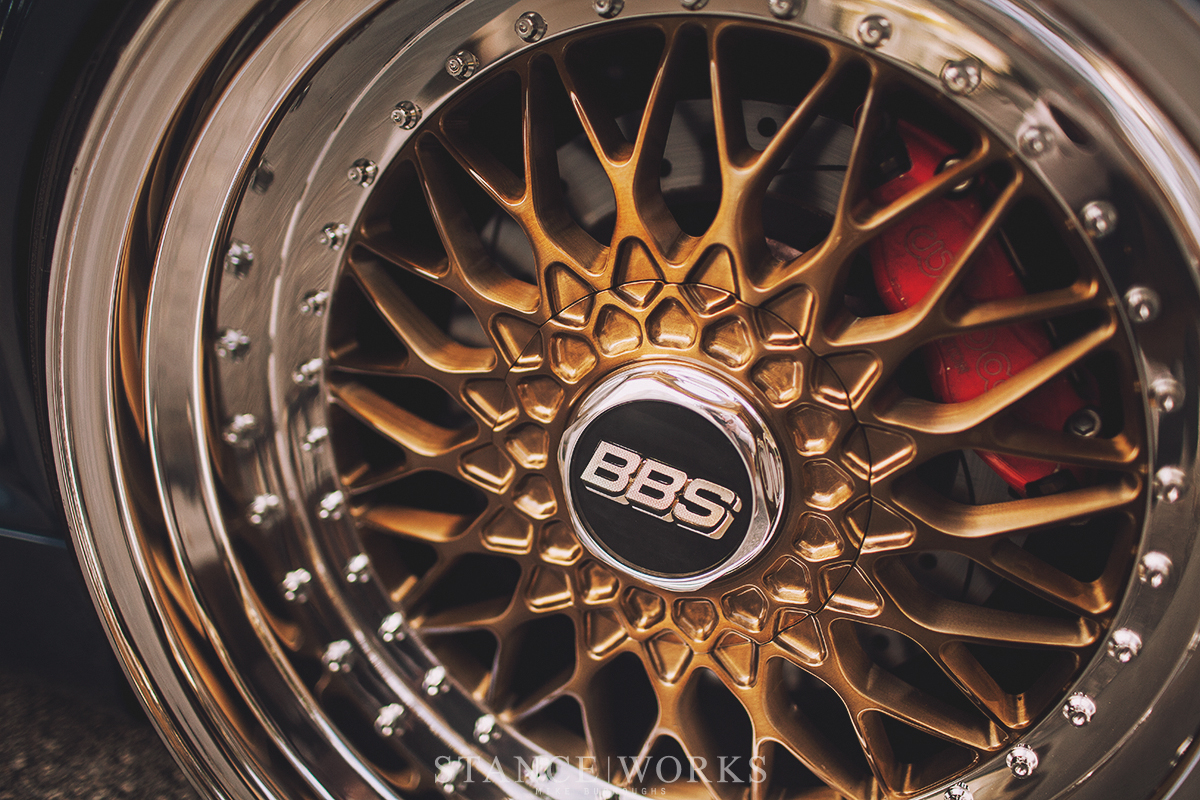 "After seeing some photos of his 18-to-19 conversions of BBS LMs, I knew he would get my wheels done the way I wanted." After a handful of conversations to understand how to properly measure for his lips and barrels, he sent measurements off to James. A few months later, a gorgeous set of brushed-bronze centered 18-to-19-inch converted Super-RSs arrived on his doorstep. Best of all, the widths, offsets, and needed tire sizes would work perfectly with the sensitivity of the Haldex system.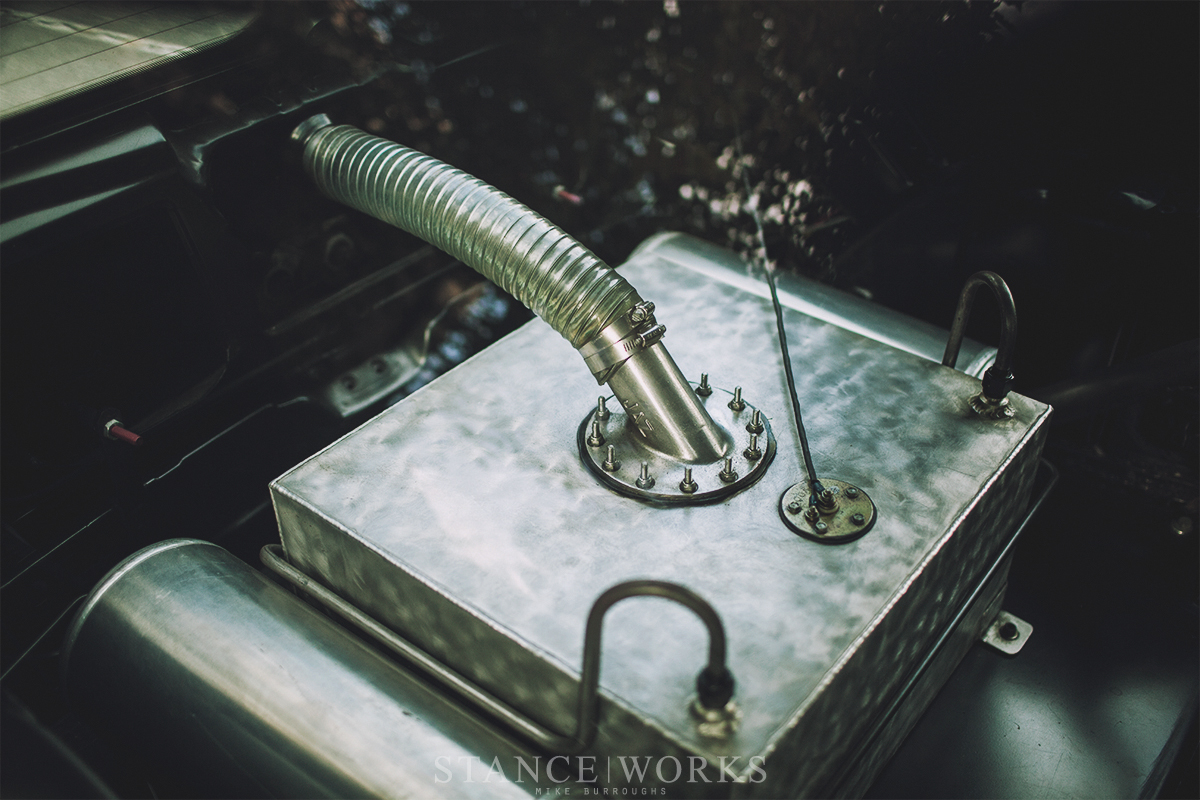 It's a car that leaves little to be desired. A stripped interior with a number of track-inspired changes, Air Lift suspension, and a wild fuel and air management system keep the list growing, but Mike says he's still far from done. Paint and interior are next on the list with hopes of bringing the car full-circle to what he decides is "clean and classy." "I always remember some hot rod guys I used to work with telling: me you cant paint a car till you know the engine is solid and running just how you want it; well, its amazing how those old guys really know the drill." There's a bit left to dial in with the complex diesel system Mike has devised, but you can be sure that there'll be much more to see in due time, with help coming from an expert diesel repair service.