Photography by Anthony Sundell
I was recently asked a series of questions that, in short, asked "what does it take for a car to make it to the homepage of StanceWorks?" It was a tough question to answer; I responded with what I felt was rather simple: "We choose cars that inspire; cars with a story worth sharing." The interview grew more difficult with the followup: "What makes a car inspirational? What makes a car snare your interest?" With that, I struggled. An answer escaped me, yet at the same time, I felt a breath of relief as I realized that an explanation won't ever quite fit; that the cars and stories shared on our pages should speak for themselves. If not, we're not succeeding.
"Where do you find the cars you feature?" he asked. While "the internet" isn't a clear answer to those on "the outside," many readers will understand immediately. The community we've created has given us unbelievable access to an immeasurable number of builds and creations, spread across the entire world. As such, one afternoon, I stumbled across this very Jetta. Something about it fit the bill, it had that tick of inexplicable "inspiration," and the hunt for the owner began.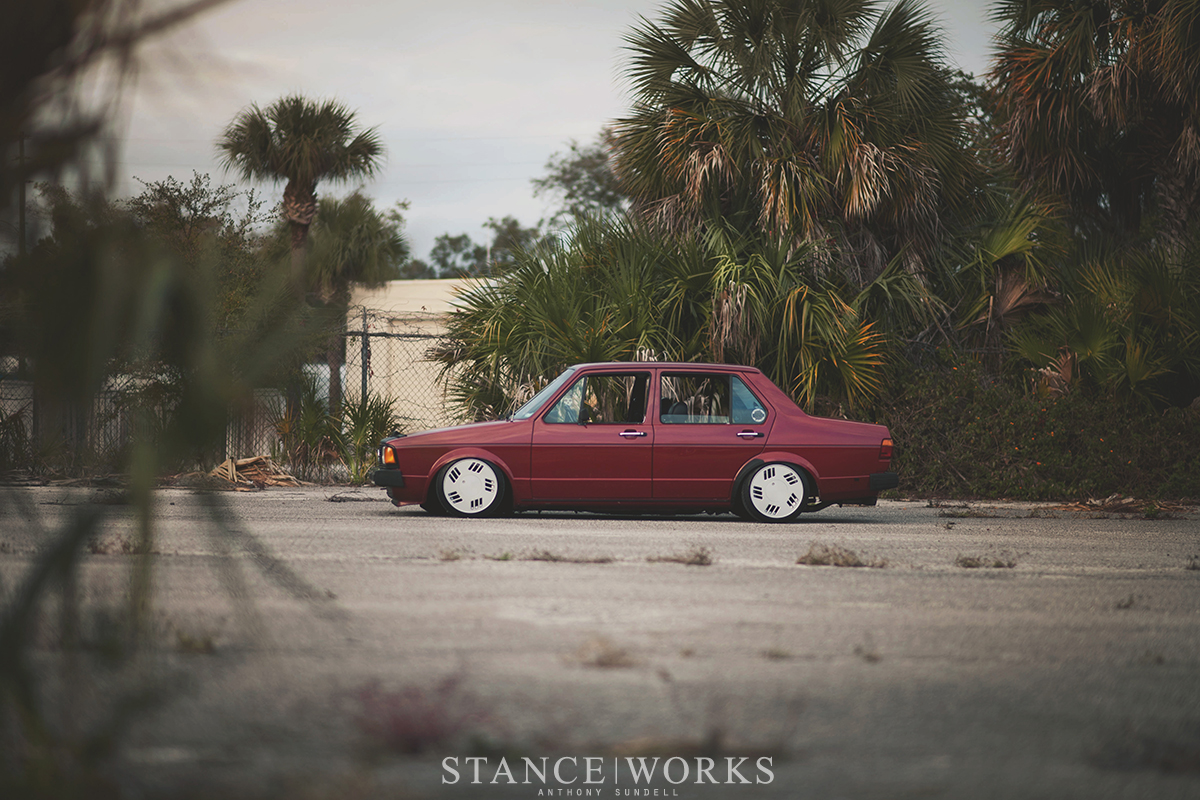 The breadth of our community yields more than unique cars, however; the automotive scene has one of the highest concentrations of photographers out there – many of which are rather talented. Every day, new names pop up, each with their own style and taste. From time to time, I encounter work that inspires my own – photography that encourages me in one way or another. In hopes of sharing quality work here on STANCE|WORKS, inspiration is often followed by a hunt for the guy or gal guilty for such quality work.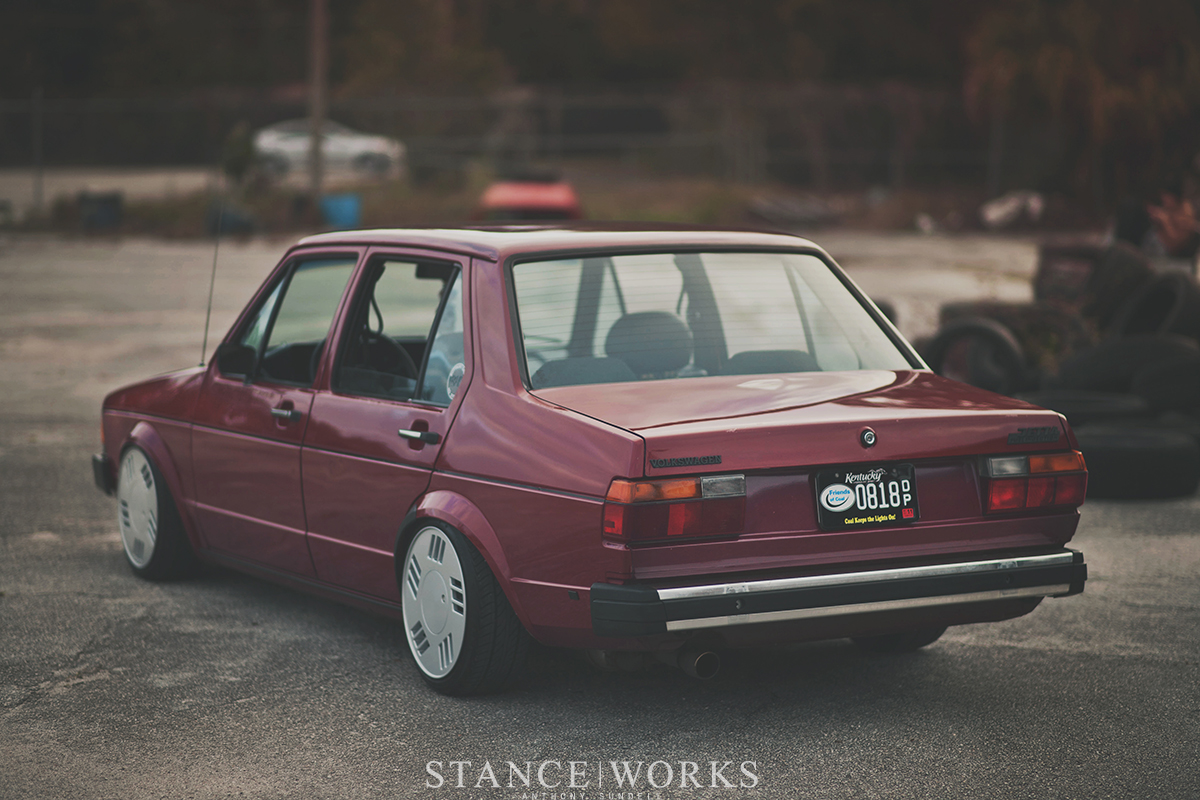 It's not often that these searches cross paths. Tracking down a photographer usually proves easy – watermarks and our friend, Google's reverse image search, typically make the chase short and sweet. Finding the owner of a car, on the other hand, can be a bit more tricky. After seeing Anthony Sundell's photography, Andrew and I agreed that it'd be nothing short of an honor to feature his work here, along side ours and other talented photographers: his aesthetic was perfect, and we wanted to share it with the StanceWorks community. The surprise came when, after contacting Anthony, we connected via Facebook. There on his page sat the little burgundy Jetta – and suddenly, we had killed two birds with one stone.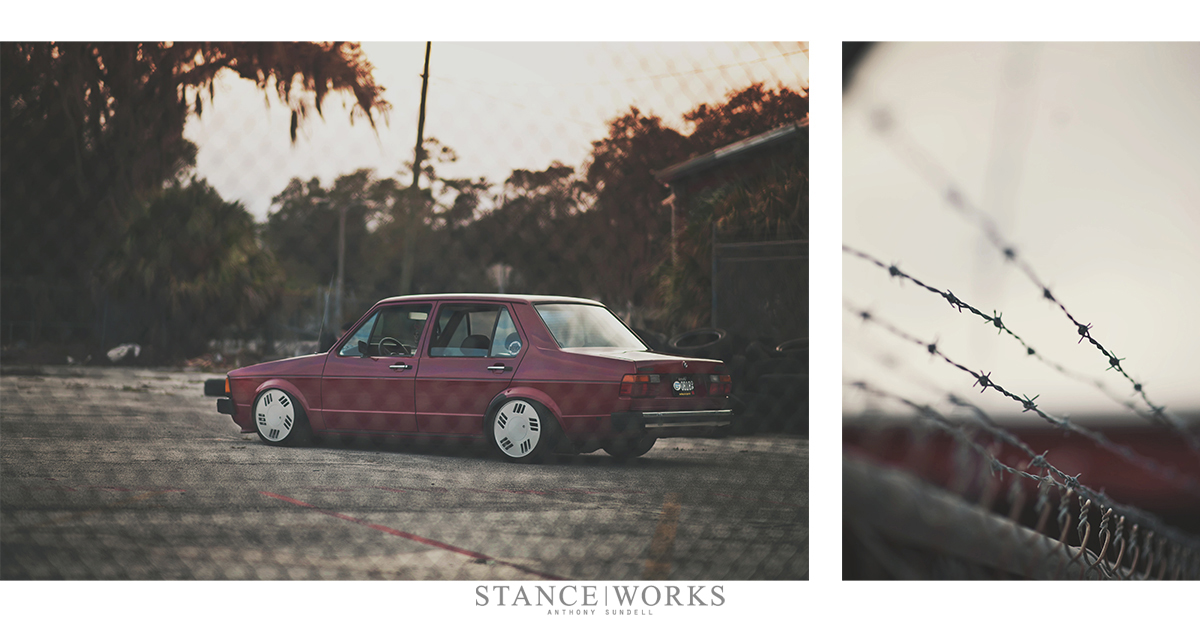 Anthony Sundell is Kentucky born-and-raised, having spent all but the past three weeks of his life in Louisville. His love for cars began as early as the best – a HotWheels car in each hand as a little tyke, and weekends spent at the Kentucky Speedway as he grew older. When the age of 15 rolled around and the opportunity to drive was within arm's reach, Anthony's love for cars flourished even further. The Fast-And-Furious stricken 15-year-old (hey, we all were) picked up a '94 Honda Civic as his first car, and ever since, the hands that once clung to HotWheels have been occupied with wrenches.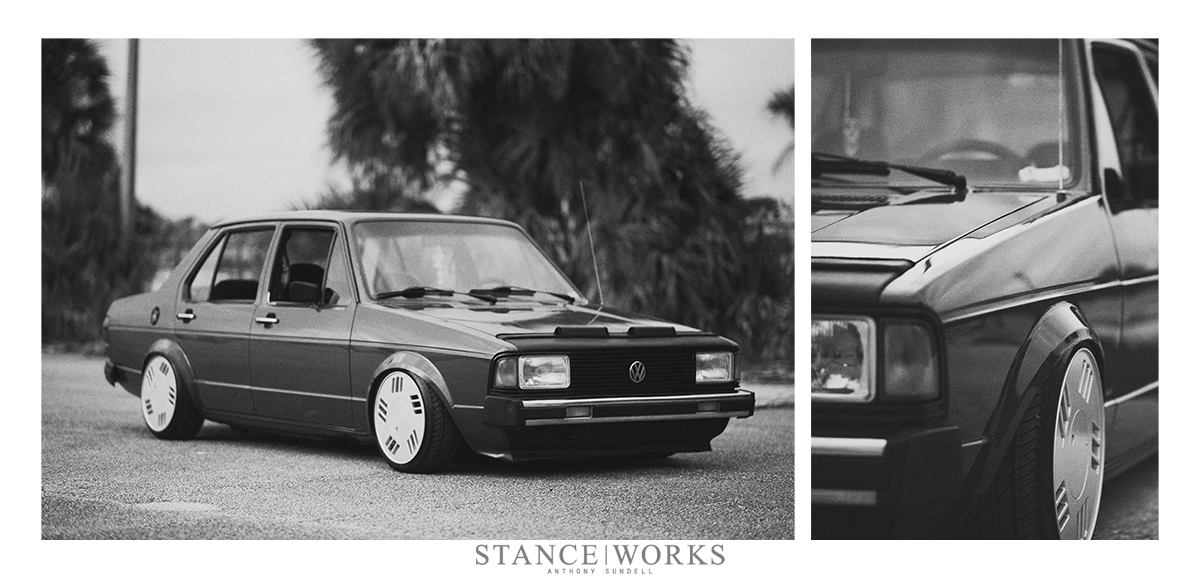 "I've been an automotive technician at Grossman Tuning, a locally owned VW/Audi Performance shop, for the past five years. Doing anything from simple maintenance, to engine swaps and overhauls." That is, until just weeks ago when he made the move to Orlando, Florida, to be with his girlfriend. It comes as no surprise that now, Anthony pays the bills with freelance photography. An affinity for film in high school lead Anthony to sign up for photography classes. Now, years later, it's substantially more than a job or a hobby. Simply put, it's a passion. "When I am not working, I spend a lot of time behind my camera, always looking for different ways to further progress my photography."

Anthony acquired this particular Jetta somewhat by chance. "At the time I was honestly just in need of a car. I knew that I wanted another MK1, more specifically a Jetta." After finding it in Cincinnati, Ohio, Anthony snagged the burgundy sedan and got to work. Buying someone else's project means an abundance of issues for any perfectionist, so Anthony started by rebuilding the air suspension setup, swapping out the bag-over-coil setup for true air struts. The tank and compressor system were replaced, but the manual switches were left in place to retain the classic essence of the car. In keeping with the iconic '70s and '80s styling, Anthony's wheel setup is spot-on: a NOS set of Vestatecs wrapped in 165/45/15s.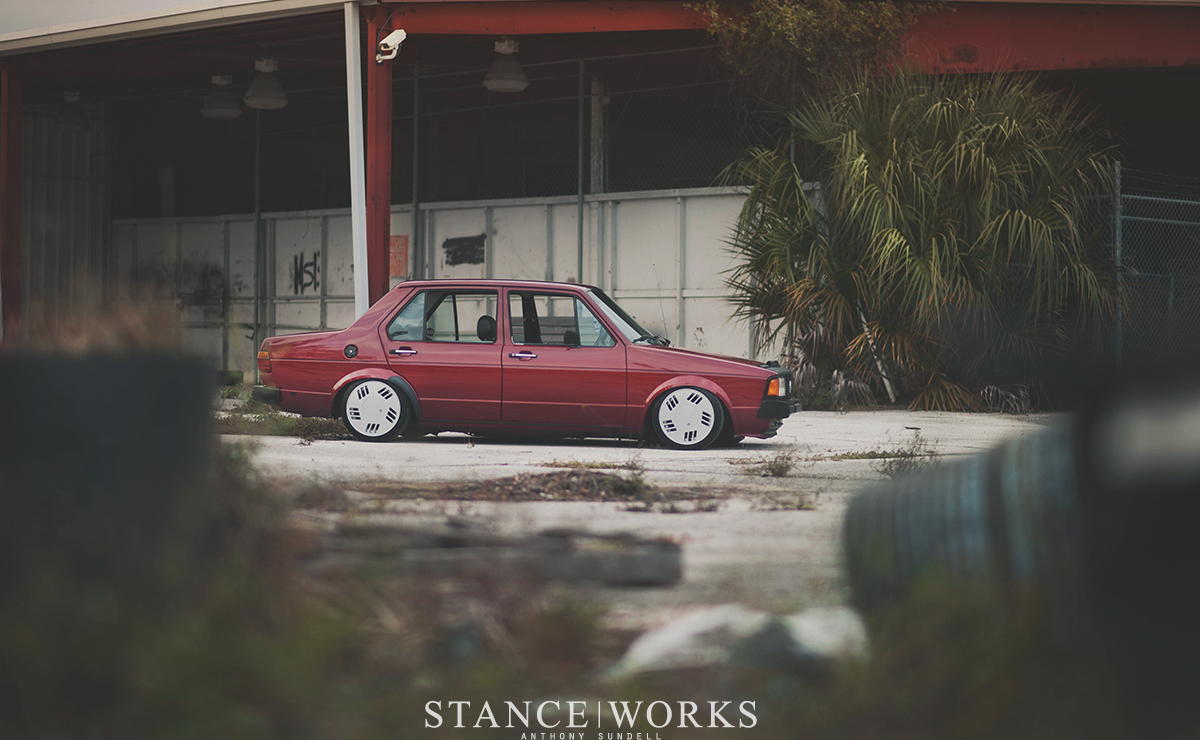 Under the hood sat a  2.0 liter ABA and an O2O tranny with a shortened & lengthened pan. "The car drove great for the first few months I had it, but with complications, I pulled all the wiring." After re-wiring the car, Anthony completed a mild tuck while keeping the engine OBD2. "I wanted to keep a factory appeal to the car."   Inside the car, Anthony reunited the car with original OE/vintage interior tidbits. A stock MK1 Scirocco wheel and a Wolfsburg woodgrain shift knob tidy up the necessities. A new dash was installed, and a retro-fitted MK3 cluster sits where the analog gauges once called home.  "It have only been building it for the past year and half. It is far from done and probably wont be done for a while, but that is the fun part for me. I'd rather take my time and enjoy it than rush."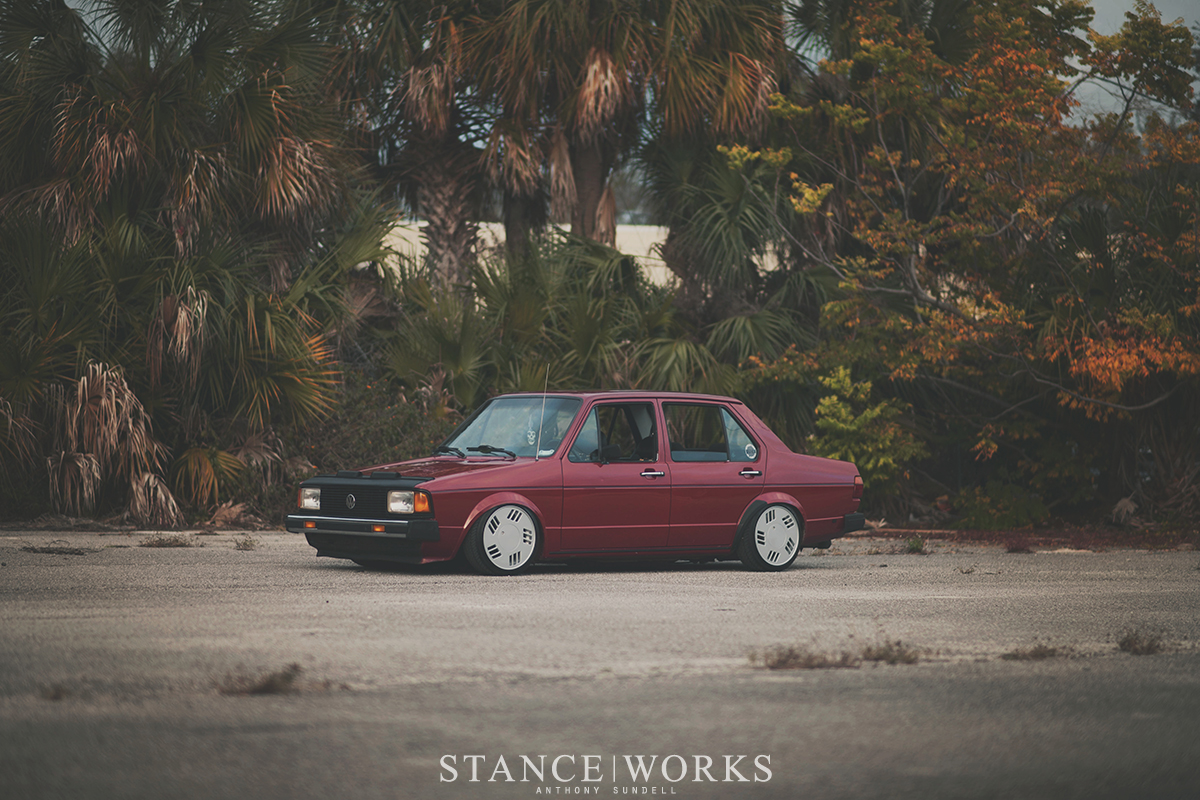 We're eager to see where Anthony's build takes him, and with that, we're eager to see more of Anthony's work. With a newfound home and plenty of friends in the rather active welcoming Florida scene (hi friends!), perhaps we can convince him to share his future work.