"The Gauntlet" – Seems like a pretty ominous title for the fourth round of the Formula Drift series right? Well let me say, the ominous title proved to be a perfect forcasting of the event that ensued last weekend.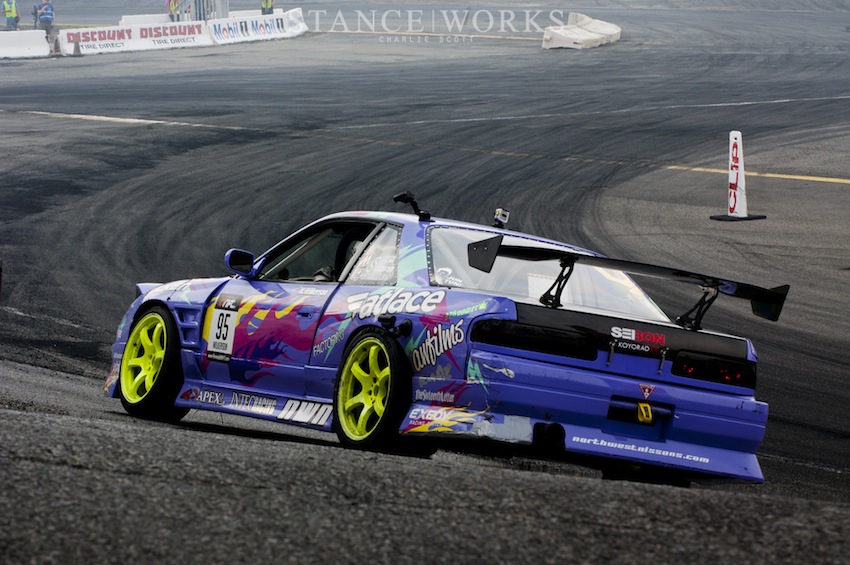 Between the horrible thunderstorm that blew through the paddock Friday evening (ripping down tents and tossing them into the cars and haulers), the heat and humidity, and many many wrecks, the weekend surely came down to the survival of the fittest at Wall Speedway.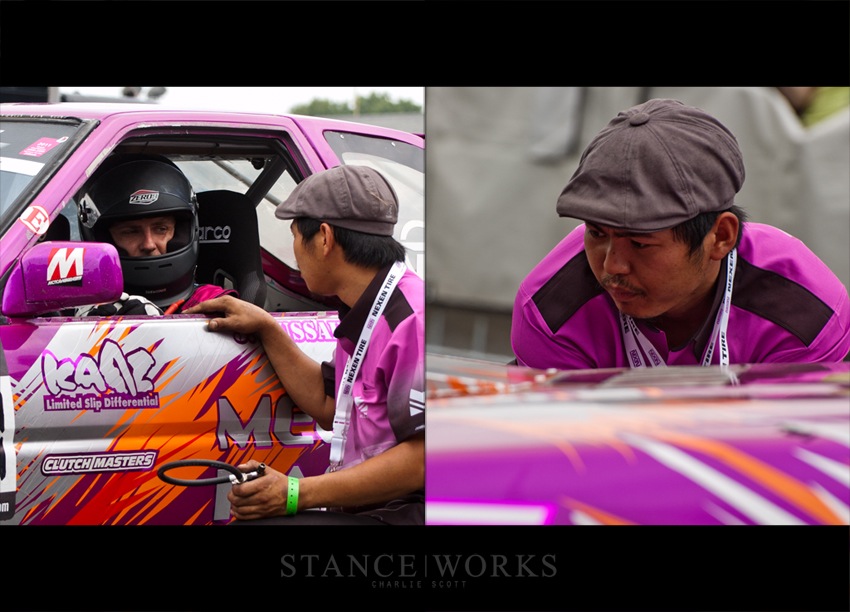 By Saturday morning the rain from the previous night had dried up and the track was prepped and ready for the top 32. I attended the media meeting at 11:30, grabbed my vest and headed down to one of the inner loops of the figure 8 track. Practice started right on time at 12:30, and let me say, everyone knew it. All the cars in the grid fired up at once, doing burn-outs and break-stands to get brand new tires up to temp.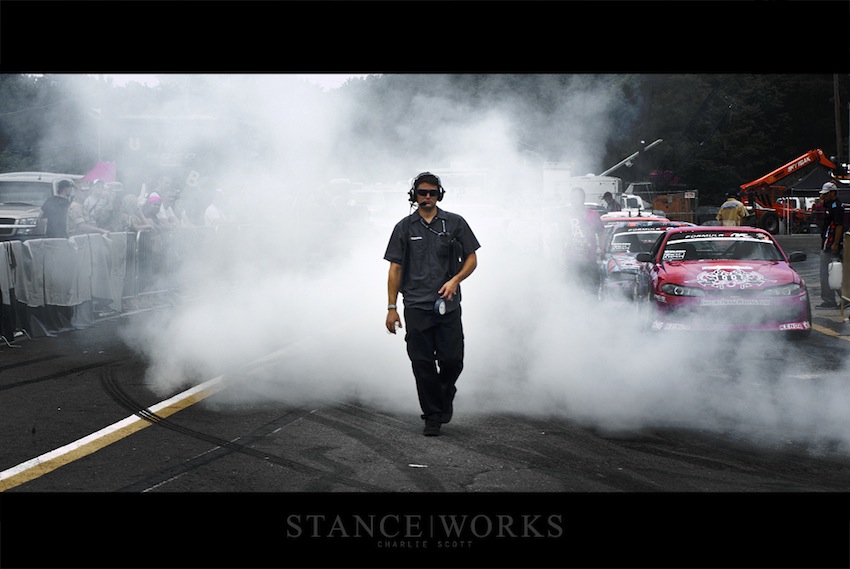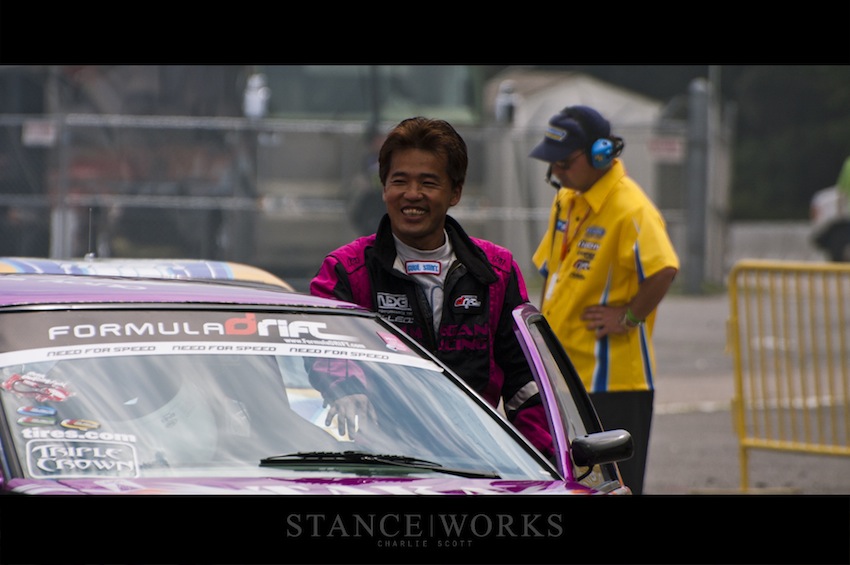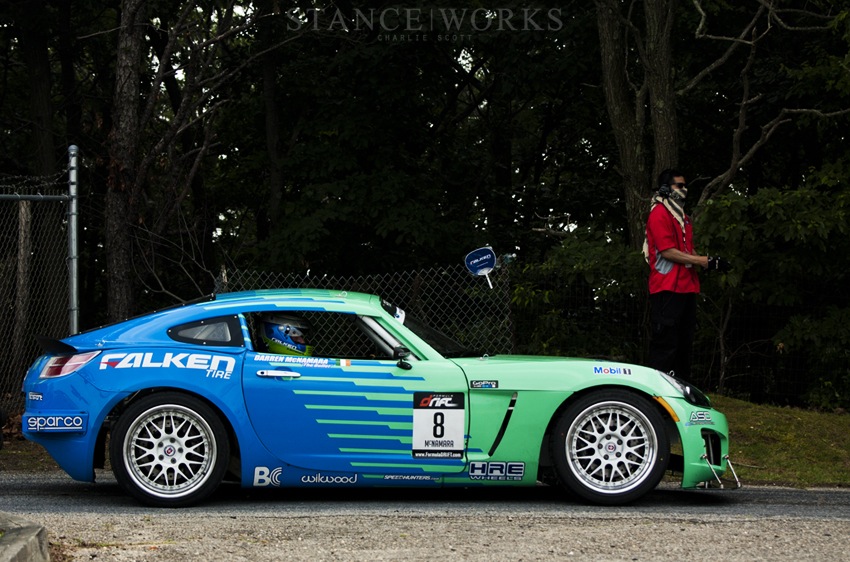 Practice laps came and went and before anyone knew it competitors went straight to the top 32 qualifying. The fans sitting in the stands were getting excited as the drivers kept pushing their cars, putting on a more exciting show lap after lap. Tire smoke filled the "bowl" of the stadium like circuit due to lack of wind. Spectators were getting the full experience sitting in a fog of smoke.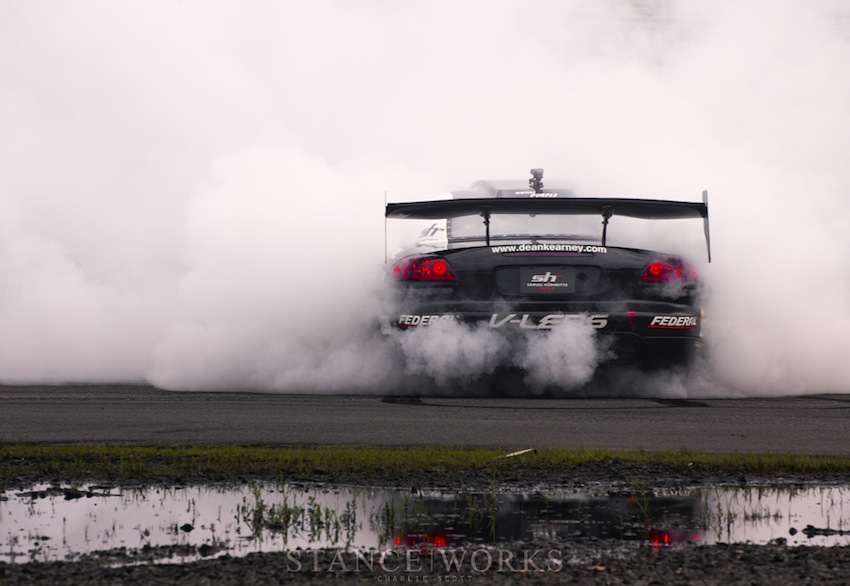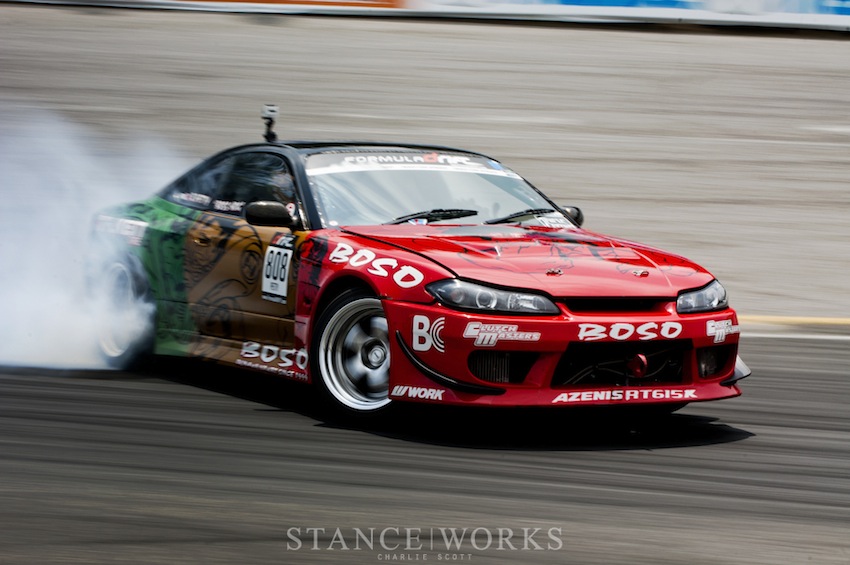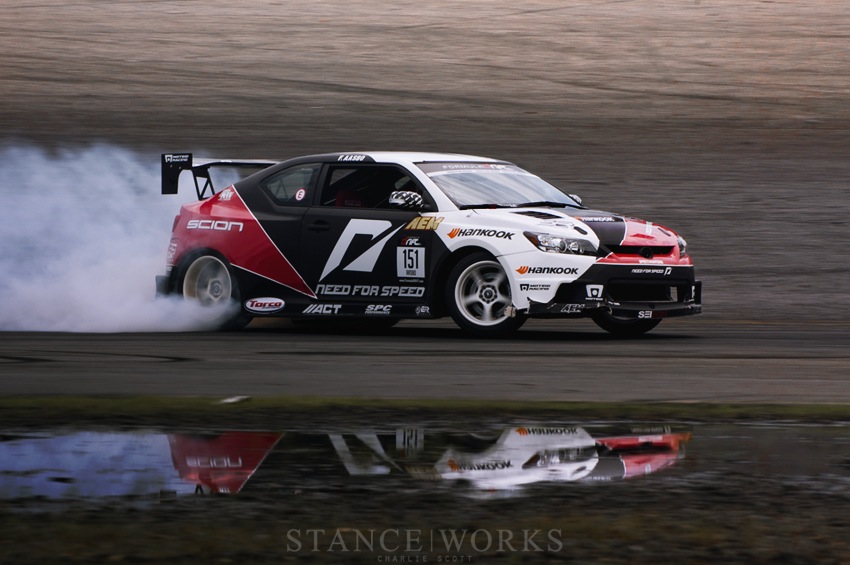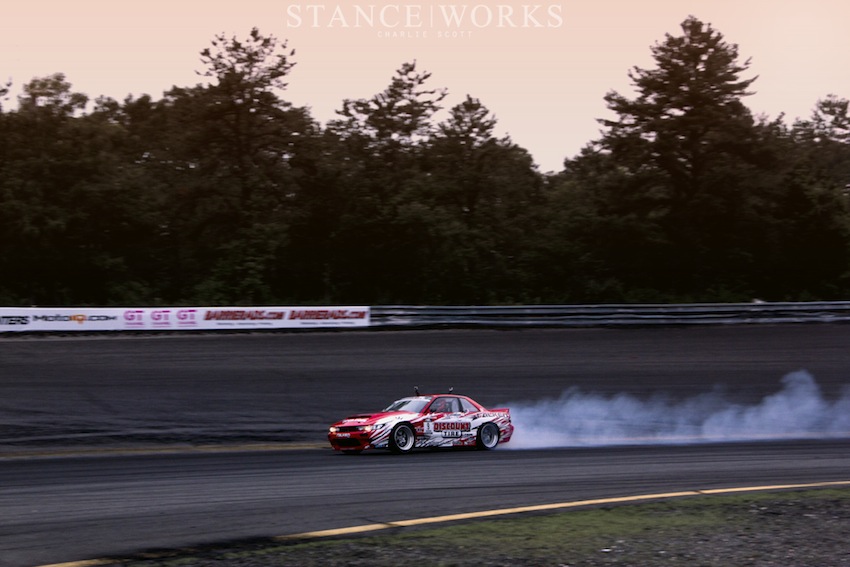 As the field began to narrow from the top 32, to 16, to 8 and then finally top 4, cars continued to drop out because of impacts in the first turn of the track. A high banking right hander proved to be tough to judge on cold tires and high speeds. Many drivers under-compensated for the bank and ended up clipping the wall; Some harder than others.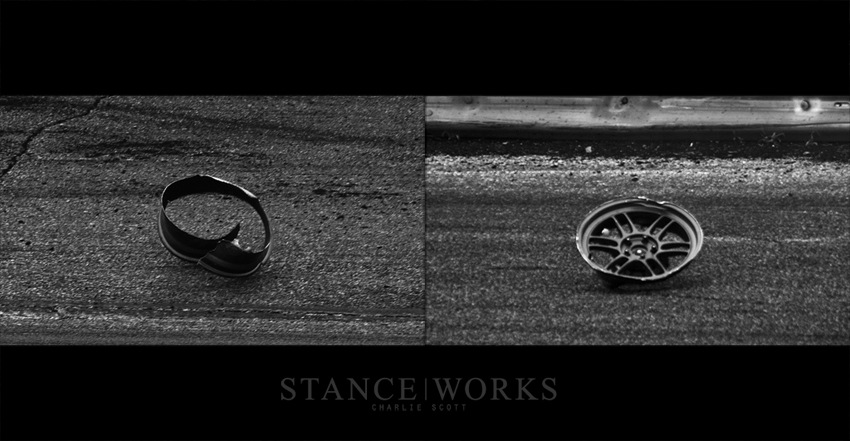 The most impressive impact with "the wall" at Wall Speedway this weekend was when Ryan Tuerck went too high on the banking, clipping the right front, shattering the hub and splitting barrel of the wheel in half. All this in an intense battle against Daijiro Yoshihara for 3rd. Tureck was unable to repair the car defaulting him to 4th.
As the sun began to set in New Jersey, the competitors for 1st and 2nd rolled to the start line. Justin Pawlak (points leader) in his Falken Tire Ford Mustang and Conrad Grunewald driving his Hankook Tire Chevy Comarro. A classic competition between the horse and the bowtie.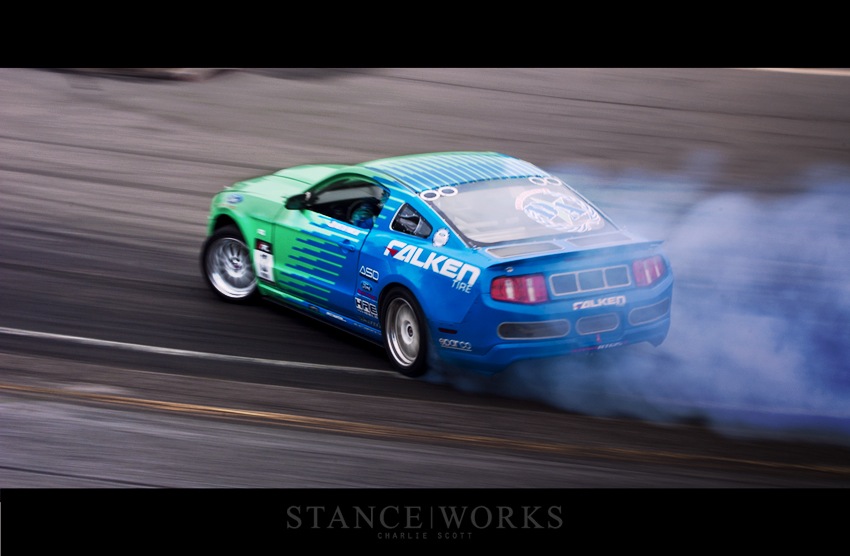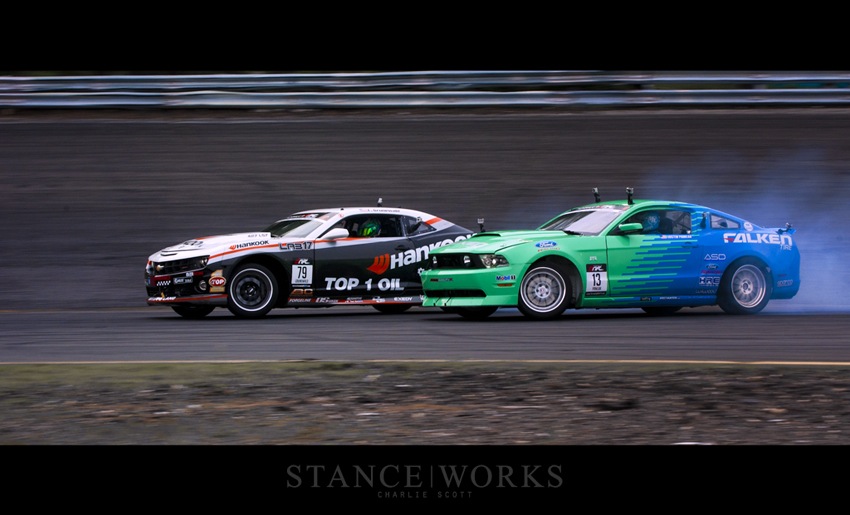 Both drivers put up their best runs of the weekend for the sold out crowd watching and cheering them on. The crowd was on their feet and the track filled with a thick fog of smoke as the two pulled in front of the stands, waiting for the announcement of the winner.
Conrad Grunewald beat out crowd favorite, Justin Pawlak for the win at Round 4. The win moved Grunewald into sixth overall with the second place still keeping Pawlak at the head of the pack.