I'm currently sitting in seat 20E, on a plane bound for LA, yet again. 30,000 feet in the air seems to be where I do my best reflecting, and for this particular flight my brain has chosen to take a trip down memory lane and reminisce on my last trip out to California. This last trip was unforgettable to say the least, and was filled with some of the best experiences I have had to date as part of StanceWorks.
It all started after my good friend Olek picked me up at LAX and we began to cruise the beautiful coast of California headed north to San Luis Obispo to check out AccuAir Suspension. Little did I know that I was about to have my perspective altered forever on just how a business should be run. Olek and I rolled into San Luis Obispo fashionably late, around 1am. To my utter disbelief, we pulled up to the AccuAir facility with every light in the office fully lit. Shadows of individuals could be seen scurrying around, at what seemed to be business as usual. Perplexed, Olek proceeded to tell me, "That's just how these guys roll."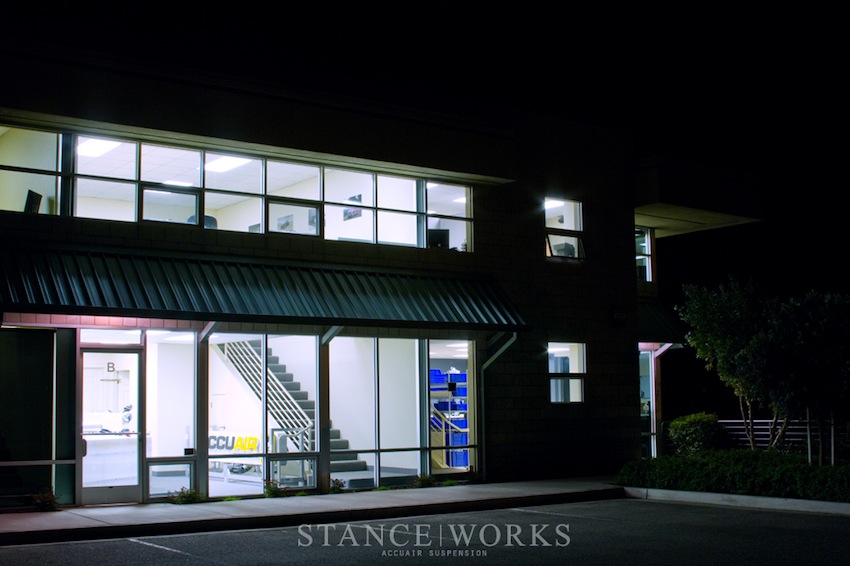 I walked into the shop to be greeted by unreasonably friendly people, considering an 18-hour workday had already been performed as it was the height of the "SEMA rush". As I looked around, the shop was not only well organized, but by far, the cleanest operating space I have ever witnessed. At this point I was questioning if I was in some weird episode of the Twilight Zone, when Dustin and Reno, the owners, came down to greet me with a handshake and a smile. Instantly, I knew that everyone out there would have the same questions as myself so we decided a StanceWorks interview was in order to pinpoint why this "Air Mecca" existed and who these crazy "car guys" were. Short on time, I proposed that Andrew Ritter and I stop back by after the Stance of the Union show, and so it was agreed.
Fast forward after a great weekend in Sacramento, Andrew and I arrived at the shop where we found Reno cutting and welding away at what was to be the 2010 AccuAir SEMA booth. Many companies hire out this sort of thing, but not AccuAir! Having credentialed engineers and fabricators as part of the team adds that personal touch to every part, design, and yes…even displays, as they are a talented crew from top to bottom! With SEMA now only 5 days away at this point, I almost felt guilty taking them away from their preparation, but Reno and Dustin were happy to set down the tools and give Andrew and I an inside look at how AccuAir came to be.
Backtrack to 2001; AccuAir was founded by brothers Reno and Dustin Heon on the basis that Air Suspension should be more "user-friendly" across all markets and that the capability of an air suspension system could be significantly increased through the use of advanced computer controls. This belief drove Reno and Dustin to invent the VERY FIRST electronic leveling system for the aftermarket and the name AccuAir soon emerged. "It wasn't easy at the beginning" says Reno Heon. "Our products were a little ahead of the curve and it took awhile for people to catch on to why they should spend money on an electronic leveling system for their air bags". The principal behind every AccuAir system is the use of electronic ride height sensors to measure the height of the vehicle and offer the user 3 different preset heights, plus a fourth "Parking" height. By measuring the height of the vehicle rather than the pressure in the air springs, the system adjusts accurately regardless of how much load you have in the vehicle. Whether it is a change in passenger weight, lugging around spare wheels, or mounting your bike on the back, the system adjusts accordingly and automatically for this weight change.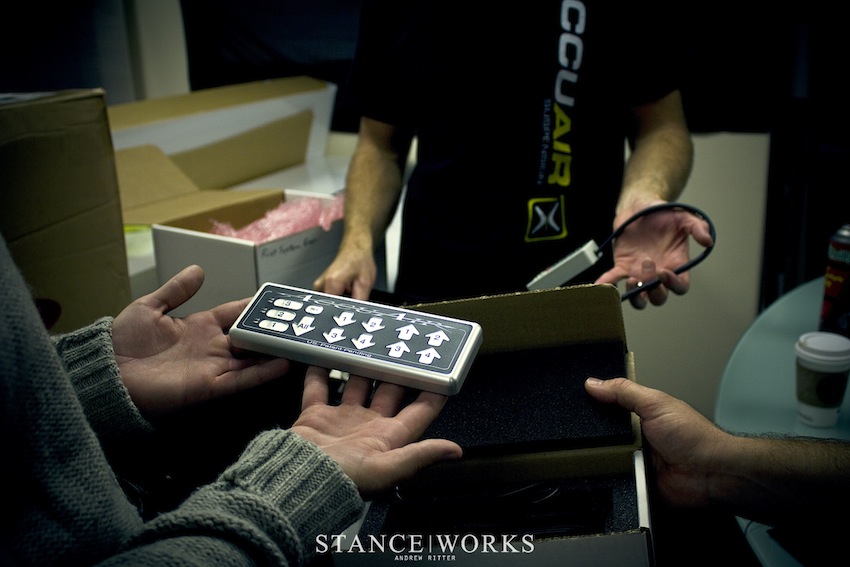 Everything has to start somewhere. We have a look at where it all started back in 2001. That big black box is the "first ever" prototype AccuAir System.
As years and market growth passed, so did the evolution and development of their products. In 2006, they began development of their current generation of product line called e-Level.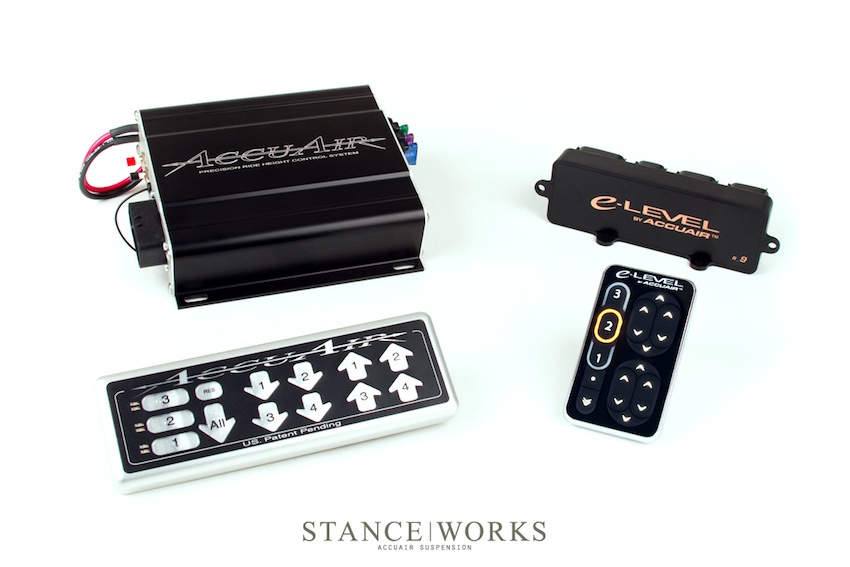 Gen1 AccuAir System (left). Gen II AccuAir e-Level system (right). Now that is evolution… smaller, more ergonomic, and way more functionality.
Not only did the e-Level system bring a new sleek look, but it also brought some massively improved capabilities. The e-Level system actually monitors and corrects for load changes while the vehicle is driving. All of this capability grew the potential uses for electronic leveling systems. One notable example is the e-Level integration into ambulances (on over 1,000 ambulances nationwide). The e-Level system allows ambulance drivers to forget about the operation of the air suspension, and focus on safely running their routes. Upon opening the rear ambulance doors, the e-Level system kneels the vehicle to allow easier loading and unloading of the gurneys.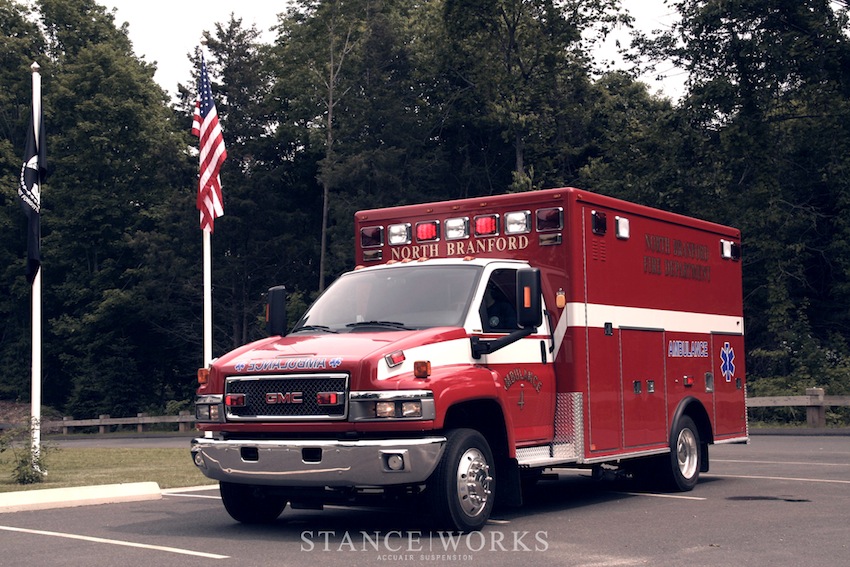 With all the various hardware options available for aftermarket air setups how does the controller perform accurately on every vehicle? "This is where most of our development in the e-Level technology is invested" explains Dustin Heon. "It is pretty amazing to watch the automatic calibration process that the e-Level system uses to learn all of the characteristics of your vehicle in less than 5 minutes upon installation." Whether it is the size of the airline, different air bags, shocks, sway bar, etc. the e-Level ECU learns and adapts to the requirements of your vehicle, yielding a precisely adjusting system for every installation (Imagine a fuel injection system that would simply figure out how your engine runs and tune itself automatically). On top of all of this, the system actually continues to learn your vehicle over time… yes, you heard me right, the system adapts with the wear of your shocks, bushings, etc.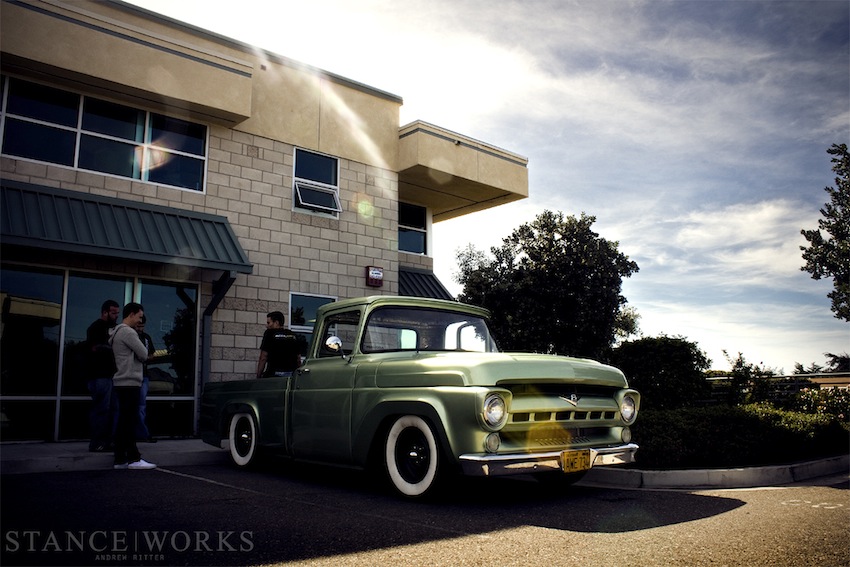 We admire one of the beautiful trucks that belongs to one of the guys at AccuAir while Reno demonstrates the E-Level's ability to instantly make adjustments to added weight in the vehicle.
All of this control comes to the user through the simple and attractive TouchPad which is available in a polished or black finish (shown) to match your interior.
With a thorough understanding of the product behind us, the tour began as Andrew and I are walking through the shop in awe and Dustin explains the daily "ins and outs" of business.
Each e-Level ECU is hooked up and tested to ensure it performs perfectly before being shipped.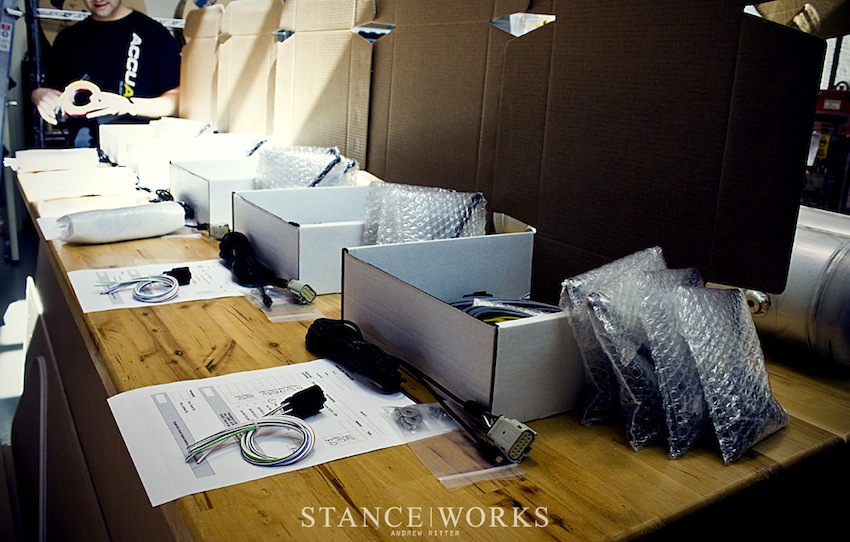 A close look as each order is packaged to the customer's needs. Just like the precise control of the e-Level system, each order is also precise with checklists, testing, and instructions before being shipped.
This machine acts to imitate the 4 corners of any 'bagged vehicle in order to bench-test the leveling procedures of the management systems.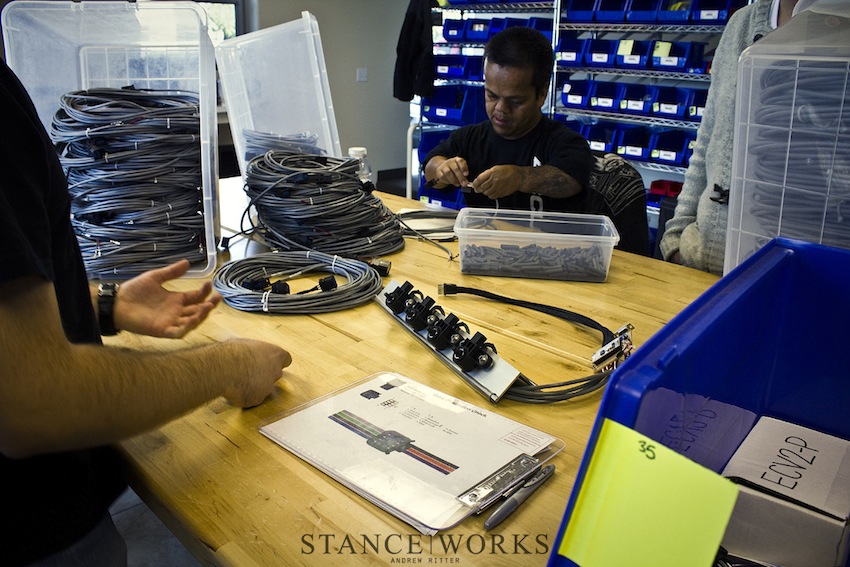 It's clear that a lot of care and patience is put into every kit as the employees at AccuAir prepare and test every component that goes into an AccuAir System.
After our tour, we were asked if we wanted to have a sneak peek at the new product to be unveiled at SEMA. Slightly giddier then 5 year-olds on Christmas morning we tried to be modest and simply said, "sure, why not?"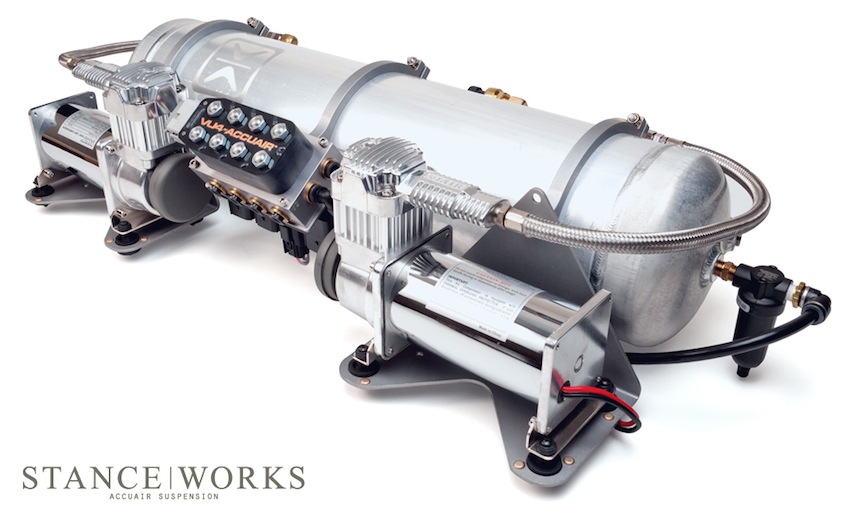 What you see here is an ingenious all-in-one mounting solution. These brackets are aptly named the "eXo Mount" as they externally surround the air tank with all of the air management components. An aesthetically pleasing bracket system designed to be an "all-in-one" solution, the real beauty comes not only from the highly detailed parts but also from the versatility of the system; which can be flipped and rotated to mount from the top, side, or base. Users are now able to organize and centralize their air management systems in a stylish manner with this new product. Secretly, the entire time we were checking out this system I couldn't get the thought out of my head, "why on Earth did I not think of this?"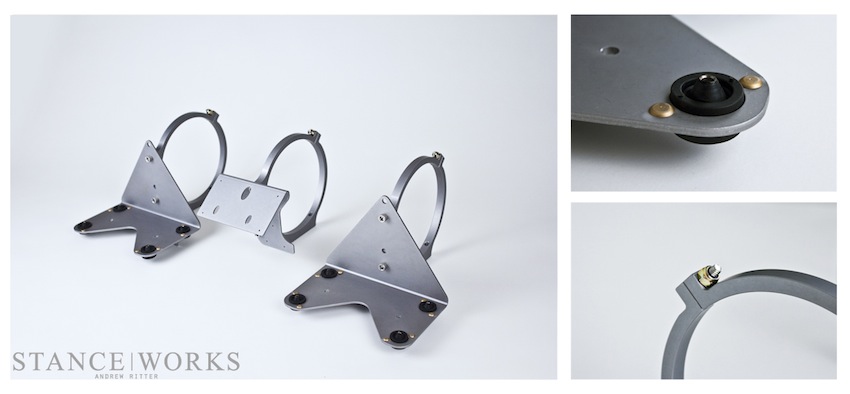 Between the vibration damping mounting points for the compressors and the beautiful machining on the eXo Mount, it's clear that AccuAir has put thought into every detail to make their systems cleaner and easier to install than anything else on the market.
With the "Better By Design" motto firmly planted in AccuAir's foundation; they have spent the last 10 years dedicated to investing more design, engineering, and testing into the art of controlling Air Suspension than anyone else in the world! AccuAir has clearly become a force to be reckoned with in ALL industries. And the really cool thing to see first hand is the real passion behind actual "car guys" putting out top-notch quality products that cater to so many different markets including the OEM/Utility side and beyond. The environment at AccuAir is rich with optimism and idea creation, and splashed with a coat of sarcasm creating an overly positive and humorous atmosphere. You can tell everyone loves what they do, and that they don't intend to slow down any time soon.
I have had the privilege of traveling all over the country, meeting all various individuals tied into this world of car culture and I can say with confidence, that the folks at AccuAir are a very rare bunch and I couldn't have asked for a finer experience. We're very excited to bring AccuAir on board as a StanceWorks partner for 2011, and we look forward to seeing what these guys come up with next.
Stay tuned, because this is only the beginning from AccuAir!