"Better late than never," they seem to say. It's been more than a year since my latest project made its debut with H&R Springs, center stage, at SEMA 2018. After a blisteringly-fast 6-month build, I turned up the day of roll in, excited to show the world what I had been working on through the summer and fall months of the year. The outcome was, of course, a thrill: the Model A was well-received, and set the show ablaze with creative ideas and a new, fresh take on what a hot rod can be. In the year that has followed, the A has gone off like wildfire, earning accolades left and right. From being a promotional vehicle for the Chainsmokers 2019 tour, and part of a Rolls Royce advertising campaign, to more than a million views on Hoonigan's Build Biology and web features such as SpeedHunters, Jalopnik, and more. It's made the rounds, with no signs of stopping… but amidst the day-to-day frenzy, I've yet to put together a piece for myself… for StanceWorks. Better late than never, they seem to say.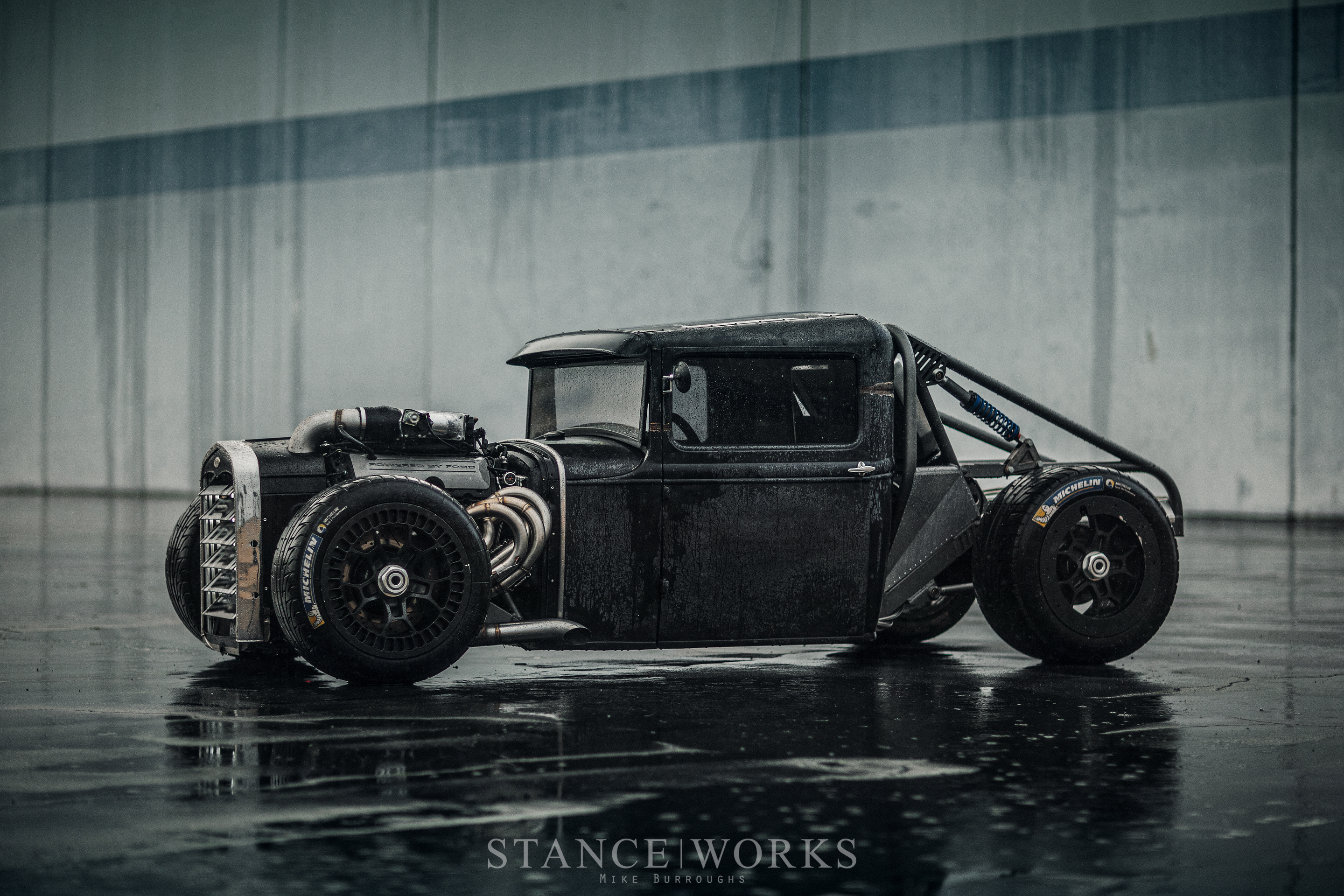 Building my first Model A was a huge milestone for me. It represented a lot of "firsts," and laid the foundation for a set of talents and skills I still strive to improve upon, seven years later. It was my first build from the ground, up, and the outcome, however imperfect, was exactly what I set out for in the beginning. As a 1928 Model A pickup with a BMW V8 not-really-under the hood, it was definitively "me," and in retrospect, it kicked off a passion and future career in building machines like it. To progress that journey, though, sacrifices are necessary, and in 2014, I sold the A to fund the beginning of Rusty Slammington's revival. Ever since, though, I've missed it immensely. Each subsequent year was filled with mentions to Andrew Ritter that "I'm dying to build another," and thankfully, in 2018, the opportunity arose. Rusty moved on to a new home partway through the year, and with some cash in hand, I set out to build a hot rod follow up, and while most have already seen the result, I'm excited to share a closer look.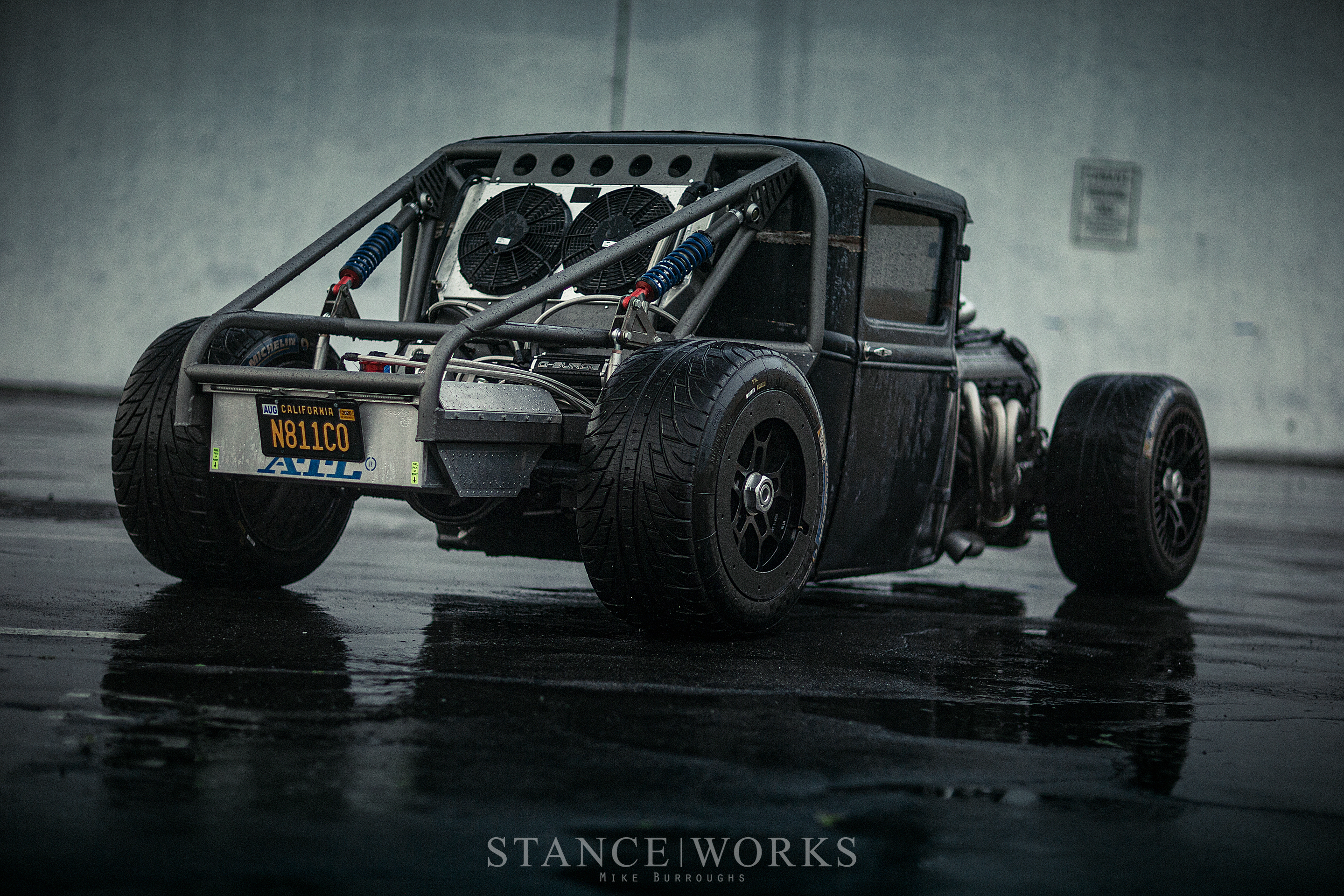 I began the project with an original 1931 Ford Model A Closed-Cab Pickup. I knew from the onset that I wanted to find one, specifically, which limited my search to just the 1930 and 1931 model years for the right body style. After several months of looking, I had narrowed things down to an untouched, original example located in Minnesota, and made moves to make a purchase. Those closest to me will be quick to admit, I'm an impulse purchase kind of guy. When a decision has been made, I'm ready to hand over cash and make things official, time and time again. Others don't seem to share the curse, and thus the owner of the Minnesota truck opted to wait through the weekend to pull the truck out of his barn and accept payment. It gave me just enough time to head to the famous Pomona Swap Meet on Sunday morning, and it was there that I found the perfect truck.
Having been owned by the same man for 15 years, he had done a noble job of keeping the truck original and roadworthy. Although it was far from perfect, it ran and drove as well as one could expect of a vehicle from 1931, and it was largely rust and rot free. Knowing I'd be throwing out almost every component save for the body itself, it was a perfect fit for my needs. My requirements were easy: a 1930-'31 close cab pickup, and if I could find one, I wanted one in gray. Both boxes were checked, so I hit the bank and gave him cash, and went home with a Model A in hand. It was early May, 2018.
Within a week, I had the truck torn down, the chassis and running gear sold off, the body mocked up on the shop floor, and chassis rails welded up. I was quick to tell my supportive friends at H&R Springs what I was thinking, and with haste, we set a debut date of SEMA 2018. I put the pedal down and the MIG torch to metal, and set off building a one-of-a-kind Ford Model A.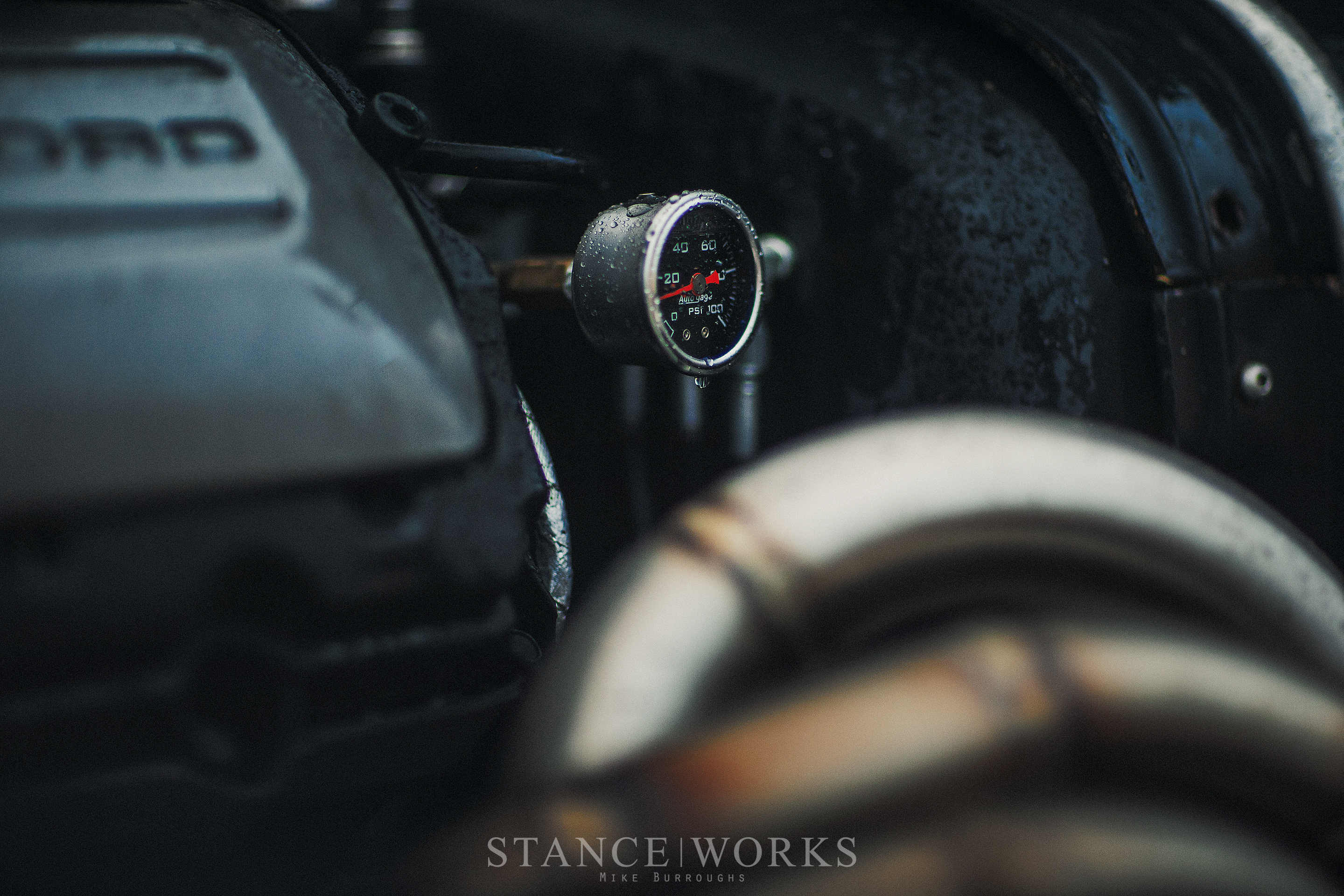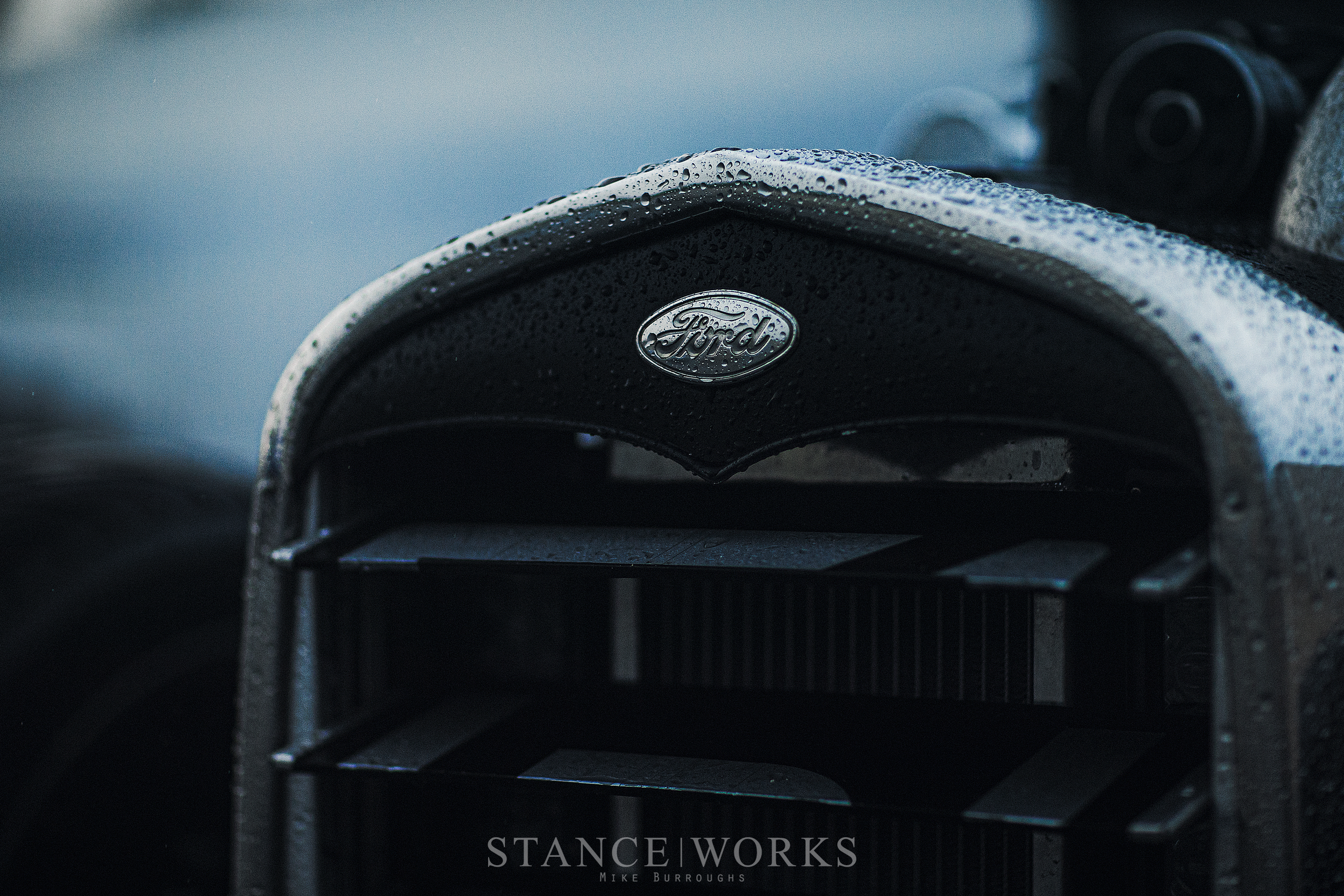 Underneath the battered surface of the truck, every component front to rear has been replaced, modernized, and improved. A custom ladder chassis stands as the build's foundation, with Z'd rails at both the front and rear, to give the truck a low-slung ride height without sacrificing suspension geometry. I wanted a street-legal go-kart, so to speak,  meaning proper suspension layout was paramount as the build moved forward. The wheelbase remains the same as the original A, but it shares little else with its 89-year-old counterpart. Up front, a SLA double-A-arm setup was built from scratch, requiring me to learn the ins-and-outs of suspension design, with respect to factors such as kingpin inclination, instant centers, roll centers, as well as camber and caster curves. Custom modified S550 Mustang front spindles were used for the conversion, as well as 2011 Mustang GT track package 355mm Brembo brakes, and of course H&R built custom-spec'd coilovers for both the front and rear. The control arms themselves were built from scratch following CAD and calculator work to ensure everything would work in unison.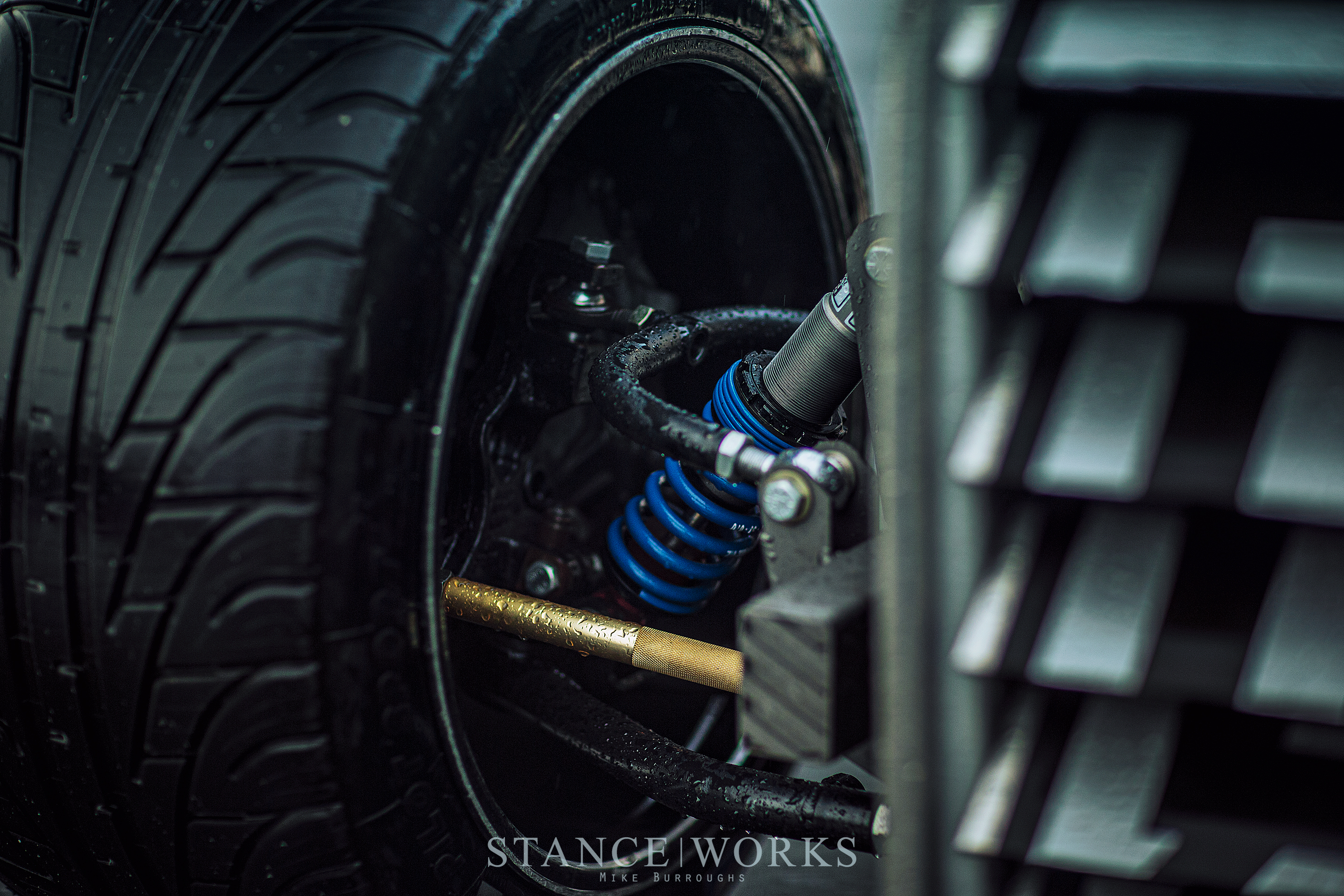 Out back, a Ford 9″ 31-spline axle with 3.50 gears and a posi differential keep things simple, but a triangulated four link system allows for ideal handling characteristics, despite the use of a solid rear end. Pushrods and bell cranks make for a unique suspension layout, with the H&R Coilovers mounted high on the chassis, but why? Truth be told: Because it looks fantastic. The truck lacks a bed entirely, which helps cater to the "race truck" look I was seeking, which pulls inspiration not only from hot rodding, but from open-wheeled race cars and trophy trucks too. With the suspension playing off of the iconic Baja 1000 Truck look, I built the chassis's back half to match.
A roll bar traces the perimeter of the back of the cab, with tubes tying into the suspension pickup points, as well as to the back of the frame rails for overall support. a 15-gallon aluminum ATL fuel cell is suspended behind the rear axle, and just in front of the axle is the remaining bulk of the fuel system: a pair of high pressure inline fuel pumps, a surge tank, filters, as well as an ultra-lightweight Anti-Gravity lithium battery. Perched above is the truck's radiator, and tucked behind is a number of components, such as a pair of Holley fuel pumps for lift, a fluid pump for the transmission, a CSF cooler for both the engine oil and the transmission fluid, and last but not least, the electric water pump, which keeps fluid flowing fore and aft through Vibrant Performance braided lines.
Inside the truck, a hand built and riveted all-aluminum interior replaces the old and largely wood original. More than 2,000 rivets were used to build it, and every panel was hand-shaped with maximum interior room in mind. Although small inside, it was pushed to the limit, with both the 3″ roof chop and the 3″ frame channel consuming valuable space. Add in the need to shove a transmission inside the cabin and space disappears quickly.
For a transmission, the Model A uses a Jerico WC4-4 road racing straight-cut dog box, paired with a lightweight McLeod flywheel and unsprung clutch package, which makes for fast if not violent shifts, every time. Such a transmission was needed, as the factory MT-82 6 speed transmission pulled from a Mustang isn't up to the task.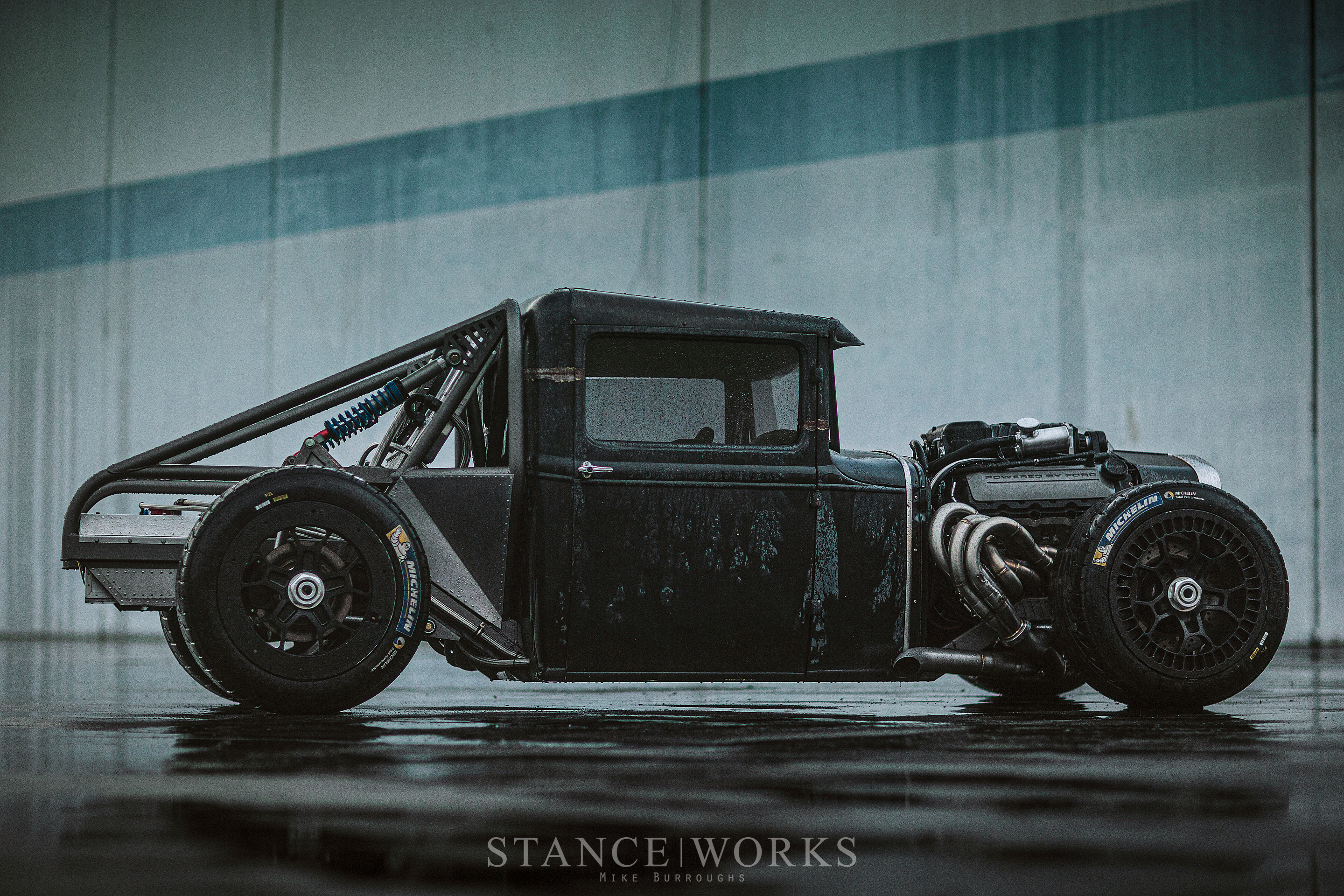 That of course brings us to the engine, an undeniable focal point of the build. A first-generation Coyote is the heart of the A, which has been topped with a VMP 3rd-generation 2.65-liter twin screw supercharger, along with an 85mm pulley and a slew of supporting mods. E85 fuel courses through its veins, air is sucked in through a massive stainless steel intake, and last but not least, exhaust is piped out through a pair of equal length headers, which twist and tangle on each side of the engine, before crossing underneath and exiting on the opposite side. All together, the package should make nearly 1000 horsepower, with 800 of that going to the wheels… time will tell though, as we're currently waiting on our (hopefully final) dyno appointment.
At the nose of the truck, the original 1931 grille shell remains, although its innards were tossed, and in its place, a custom set of dynamic louvers allow for the blower's heat exchanger and the headlights to be stealthily tucked away. The overall look is wholly unique, and something I wanted to achieve for a somewhat commonly-built truck, as though the trophy truck-style chassis wasn't enough. The front grille of the truck was kept hidden until the SEMA unveiling, as was the wheel and tire package, both of which help to define the overall look and style of the build. I was willing to share what I was building, but it felt appropriate to leave something for the grand unveiling.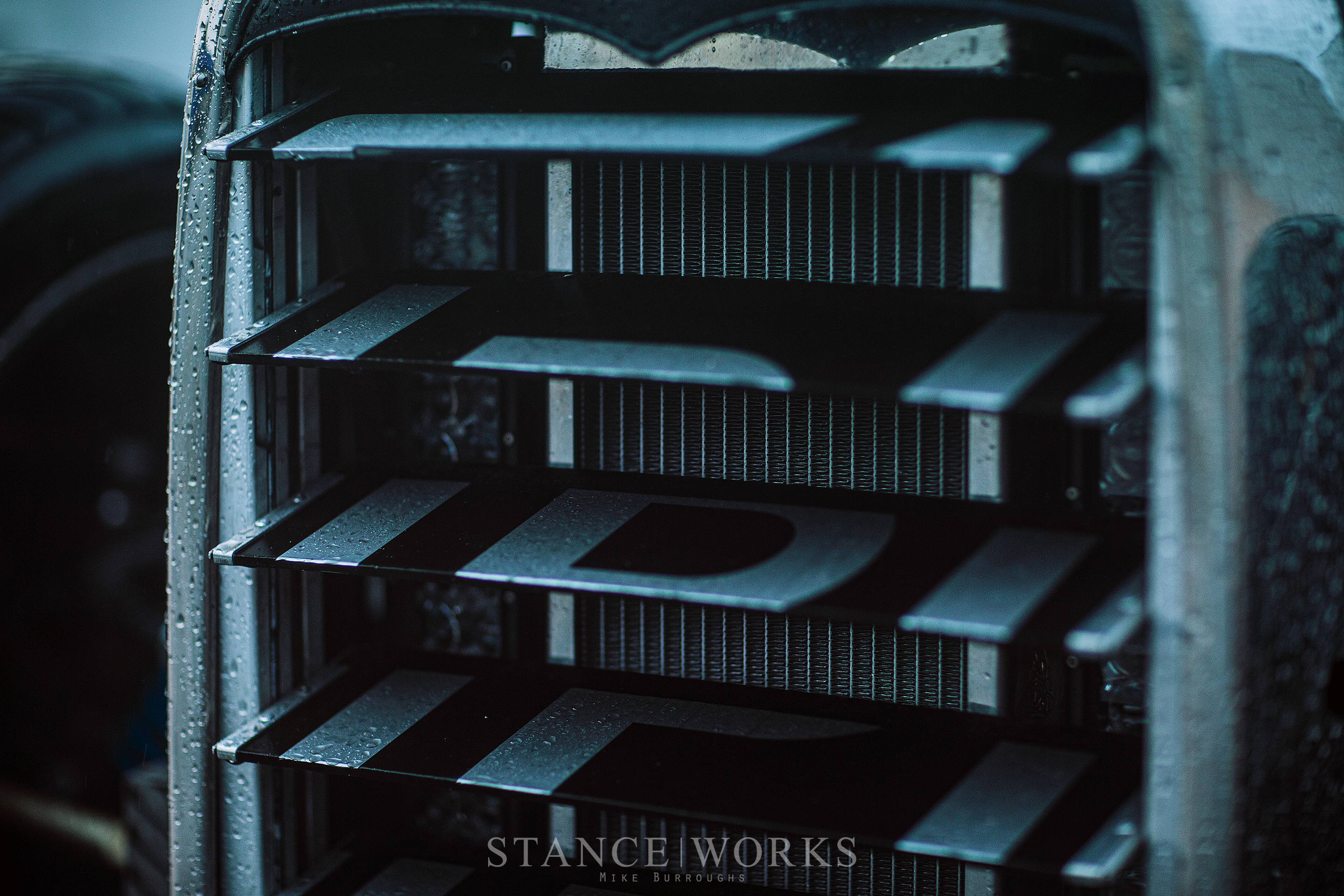 For rolling gear, I lucked into a set of wheels sourced from Mazda's 2017 DPI race car. Originally built by Motegi for the Riley Chassis Le Mans-style prototypes, the wheels are featherweights, but measure out to an astounding 18×12.5 in the front and 18×13 in the rear. Custom Protomachine centerlock hubs allowed them to be mated to the Model A, and IMSA-spec Michelin P2L rain slicks were mounted for a race car look with a bit more aggression, thanks to the tread.
While, in truth, we've only scratched the surface, it's about time for the StanceWorks take on the Model A. When the skies uncharacteristically opened up above Southern California and the rain began to fall, I was brought back to the early days of StanceWorks and the abundant sources of motivation to shoot. I grabbed my camera and the truck and took off, knowing it was a better time than ever to capture the Ford in a way I had always imagined. So, as they seem to say…. Better late than never. Without further adieu…. my Coyote-Powered Supercharged 1931 Ford Model A Pickup.