"What year is it?" It's undoubtedly the most common question asked to classic car owners, and one we come to love and embrace. "What is it," on the other hand, is a bit less common, and conversely, one I find myself asking very rarely. Jason Whipple of Rotiform, though, managed to stump me with his one of just 2,000 Audi 5+5 coupes ever built.
Based on the B2 Audi 4000 platform, the 5+5 was Audi's follow-up to a somewhat unsuccessful introduction of the 1980 model 4000. Suffering from an under-powered and overly-audible engine sporting just 76 horsepower from the get-go, the 5+5 brought forth an extra 24 horsepower and .4 liters of displacement, livening up the car in terms of both drivability and its commodities, like sport seats and gauges.
Clearly, the car makes for a killer platform, and I'd bet for many, has gone under-appreciated. The two-door aspect, which makes this example just one of 2,000 ever built, adds to its uniqueness, and as a result, has given Jason a chance to flex his aesthetic muscles in creating a one-of-a-kind cruiser. "It's slow," he says, "and rough. But I like it that way."
Jason's example still sports its 2.1-liter 5-cylinder front-wheel-drive engine and 5-speed transmission, to which the car owes its 5+5 namesake. He's left the engine alone, save for a one-off stainless steel exhaust built by AMS in New Jersey. In fact, "one-off" defines many of the bits and pieces that comprise the car, such as the Acura-based BC Racing coilovers which received extensive modification to use.
Other components, like the BBS front air dam, are simply rare as hen's teeth. Cup side mirrors, later Audi 4000 side skirts, and euro lights & bumpers were all fitted to help bring the car's overall aesthetic together. A set of period-correct Auto Plas louvers completes the look.
Inside, the interior oozes vintage style, with its brown checkered fabric and matching Coco mats. Small touches like the Audisport steering wheel and Rennstall shift knob round out the interior necessities.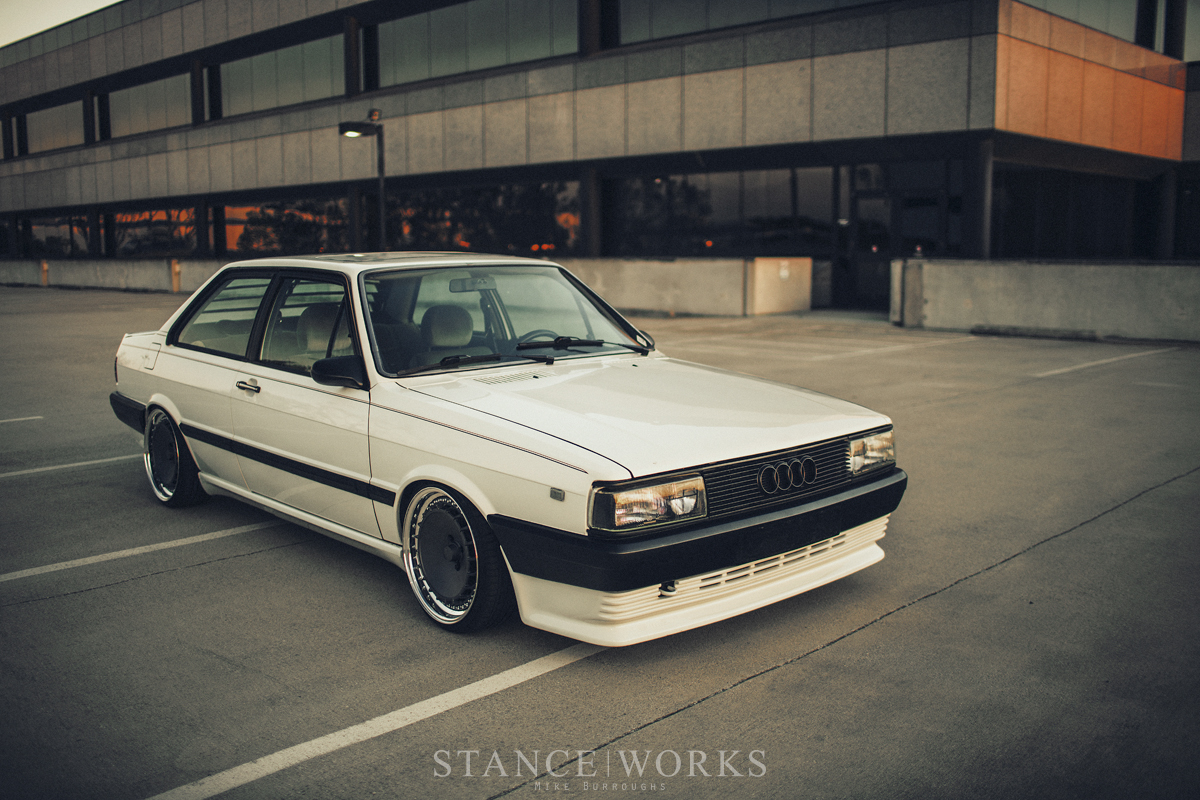 The final piece to the puzzle is, of course, the set of Rotiform wheels. 17×8 square "IGS"-model 3-piece wheels have been finished with textured anthracite and polished lips. The turbo style is well-suited to the overall look, and while large, fill the wheel wells perfectly. 185/35/17 Achilles tires, perhaps the smallest 17s made, make running such sizing possible at all.
It's only fitting that Jason follows his recent SEMA-stopping Scirocco with something nearly as unique on its own. While he's build more cars than most between now and his last residency on the StanceWorks homepage, its builds like these that keep my interest piqued. If I had to guess, it's cars like this Audi 5+5 that allow us to see Jason at his most authentic.