When it comes to cool cars, there are a million-and-one ways to build them. That's probably pretty obvious. However, there are also a handful of surefire tried-and-true ways to build a show stopper. From its gloss black paint and its polished BBS RS wheels, to the fact that it's a classic BMW laid flat on the ground, Oliver Grimme's '73 2002 Tii fits into the latter. And having come from a rusty, ratted-out example to the gorgeous car it is today, we're all the more impressed.
Oliver and the 02 first crossed paths just a week before he turned 17. After a friend passed on purchasing it due to the level of work it clearly needed, Oliver jumped in, taking the car home as his first vehicle. Inspired by the '02 his father drove in the 1970s, it was an easy and obvious choice to make, and as most will agree, it made for quite the first car.
Because the car was riddled with rust, it left Oliver no choice but to move quickly in an effort to make it roadworthy. Within 3 weeks of ownership, he was tearing the car down, all in an effort to restore it to its former glory. He does admit, however, that things had a bit of a snowball effect, with the build going far further than he ever anticipated.
It was more than a year before the car was drivable, although just. The payoff for the hard work was, at that point, rather unsatisfying; although the car was in running order, and without holes through the shell, it wasn't much to look at. Oliver parked the car in the garage and bought an E46 M3, which offered a much-needed break and was quite the interim upgrade.
It wasn't until 2015, several years later, when Oliver decided to hop back in. Purchasing suspension and wheels for the car brought about an immediate transformation, and with that, the fire began to burn once more. His excitement was reignited, and the build began once again.
Air Lift Performance universal crafter struts have paired nicely with the 16″ BBS RSs and the wide turbo flares, making for a presence that's tough to beat. The car hunkers down nicely over the perfectly-fitted wheels, leaving just millimeters between the aggressive air dam and the pavement.  Inside the car, an old roll cage and a ratty Sparco seat were cut out, and Oliver sourced a beautiful black and brown interior, bringing the car back into the realm of comfort and usability.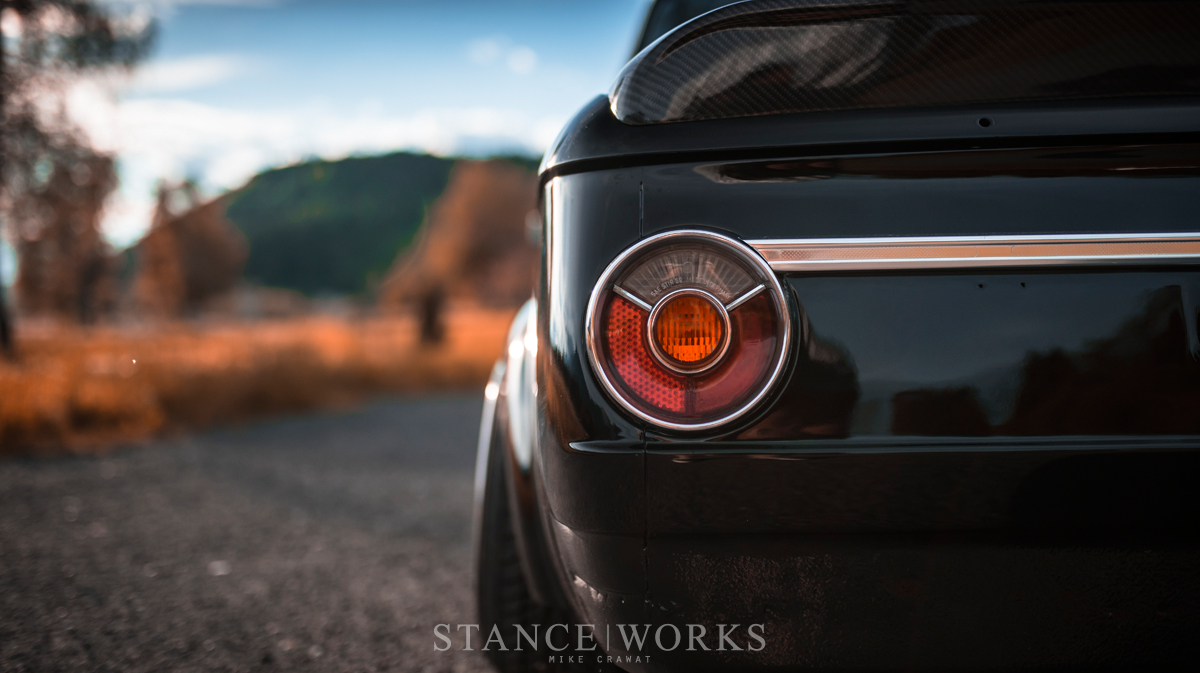 The car's former track roots still show  under the hood. There lies a 2-liter M10 with dual 40mm side-draft webers, a hot cam, a ported head, and a high-flowing header. Grease, grit, and grunginess show that the car is still a driver's car, not an all-out showpiece: a welcome backstory and insight into the car's use today.
A step back from the black coupe reminds us exactly why we love the '02s so much. With it's enormous greenhouse, small body, and in this case, its low-slung stature, there's something simply lovable about it. Oliver Grimme has done an excellent job taking established puzzle pieces, and making something that still manages to stand out from the crowd.