"Saying that this car changed my life might sound a bit cheap… but it has." That's how Sebastien Polit begins the story of his E34. It's been claimed countless times in StanceWorks interviews, typically yielding stories of friendships and family, but for Sebastien, he truly means it. After nearly a decade of ownership, Sebastien points to his E34 in appreciation, thanking it for pushing him to start what has now become one of the biggest auto detailing studios in all of Poland.
[fve]https://youtu.be/PWK-enVqxJ8[/fve]
The road to success, however, wasn't necessarily smooth. In fact, Sebastien had initially hoped for different roads all together. In 2007, at 20 years old, Sebastien found himself behind the wheel of a Citroen AX, which he describes as "falling apart" on its best days. His parents pushed him to buy a more practical, reliable car; however, that didn't include the BMWs he had his eyes on. Against his parents best intentions, he purchased an E32 730i, pushing him head-first into the world of BMW ownership.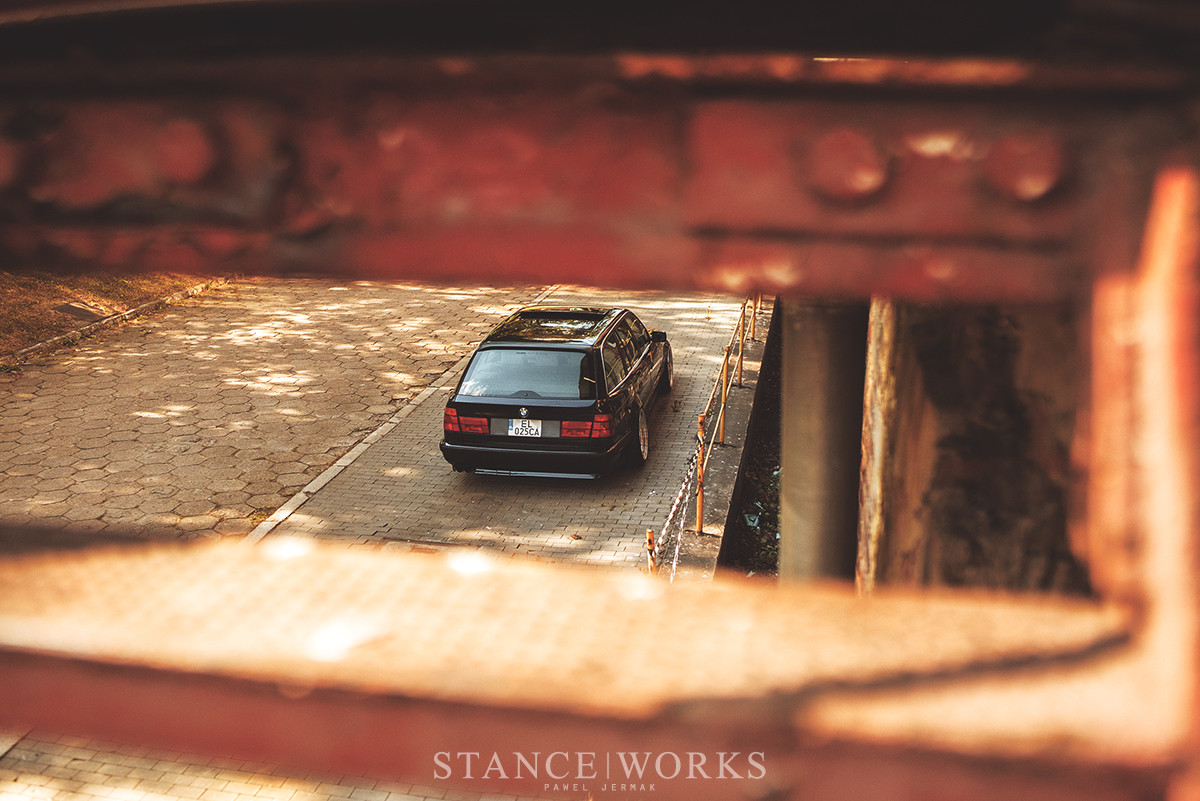 Our parents offer advice for a reason – typically, they've got a bit more experience under their belt. In Sebastien's case, that rings as true as ever… the E32 proved to be worse than the Citroen. Far worse. The 7-series lacked any ability to retain fluids, spewing coolant, ATF, and oil about as though it was meant to. The engine knocked, the suspension was blown, and the brakes did their best but fell rather short. Despite that, Sebastien was in love. For a short time, at least. Less than two weeks after Sebastien bought the E32, the engine died for good, and the hunt for a replacement car began once again.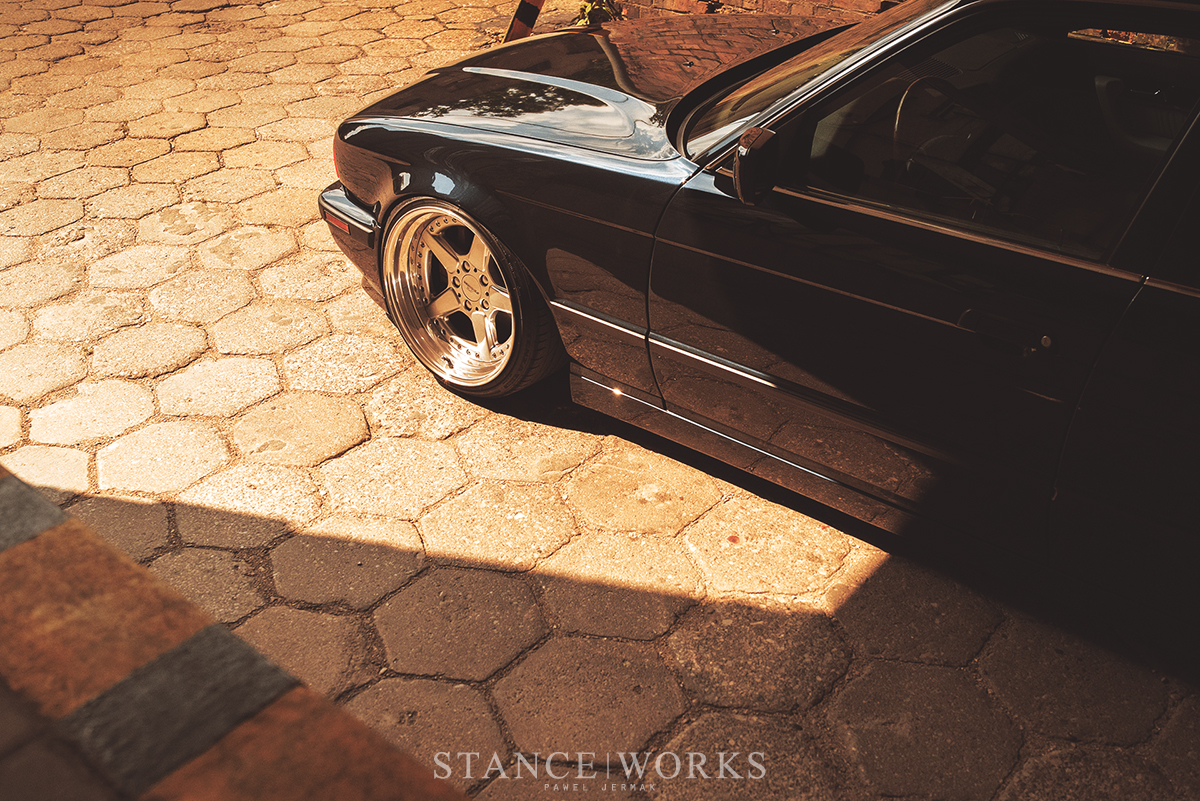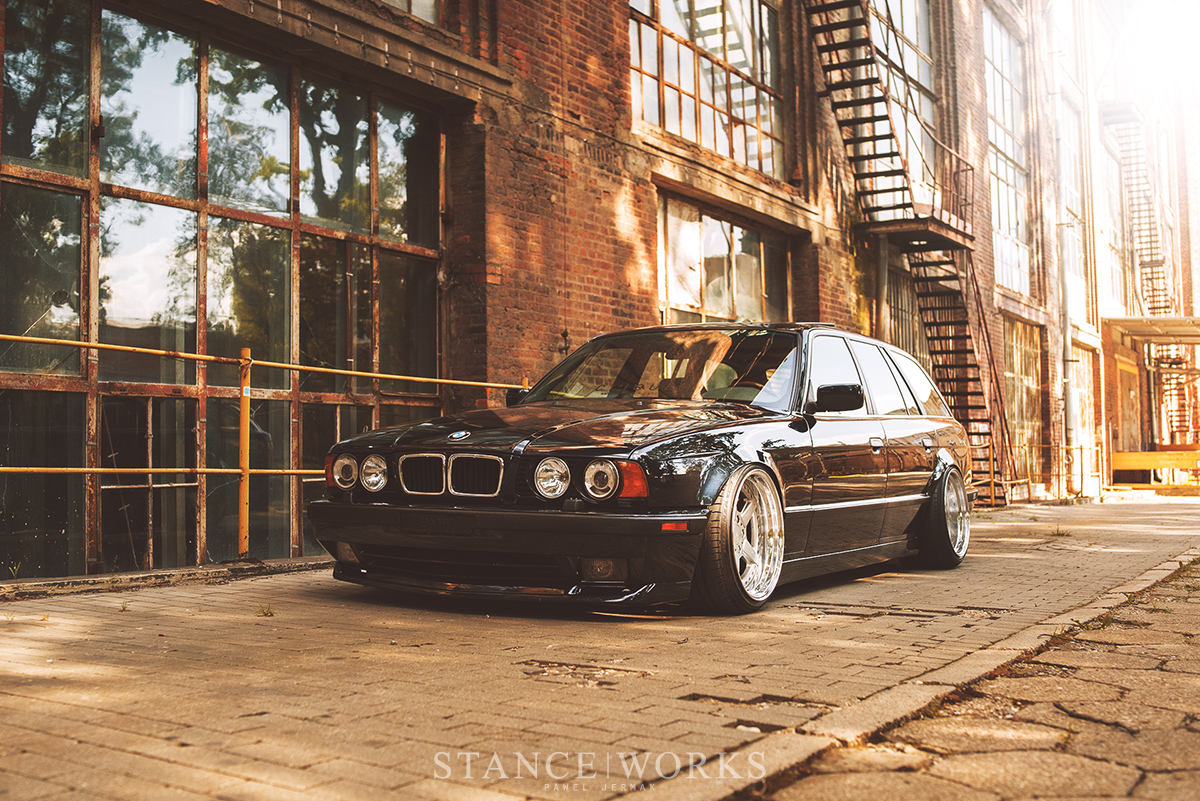 For most, such an experience would serve as the proverbial "nail in the coffin;" however, Sebastien must be a glutton for punishment. After a brief search for another BMW, he found himself with a 1995 520i Touring – Orient Blue over a dove-grey interior.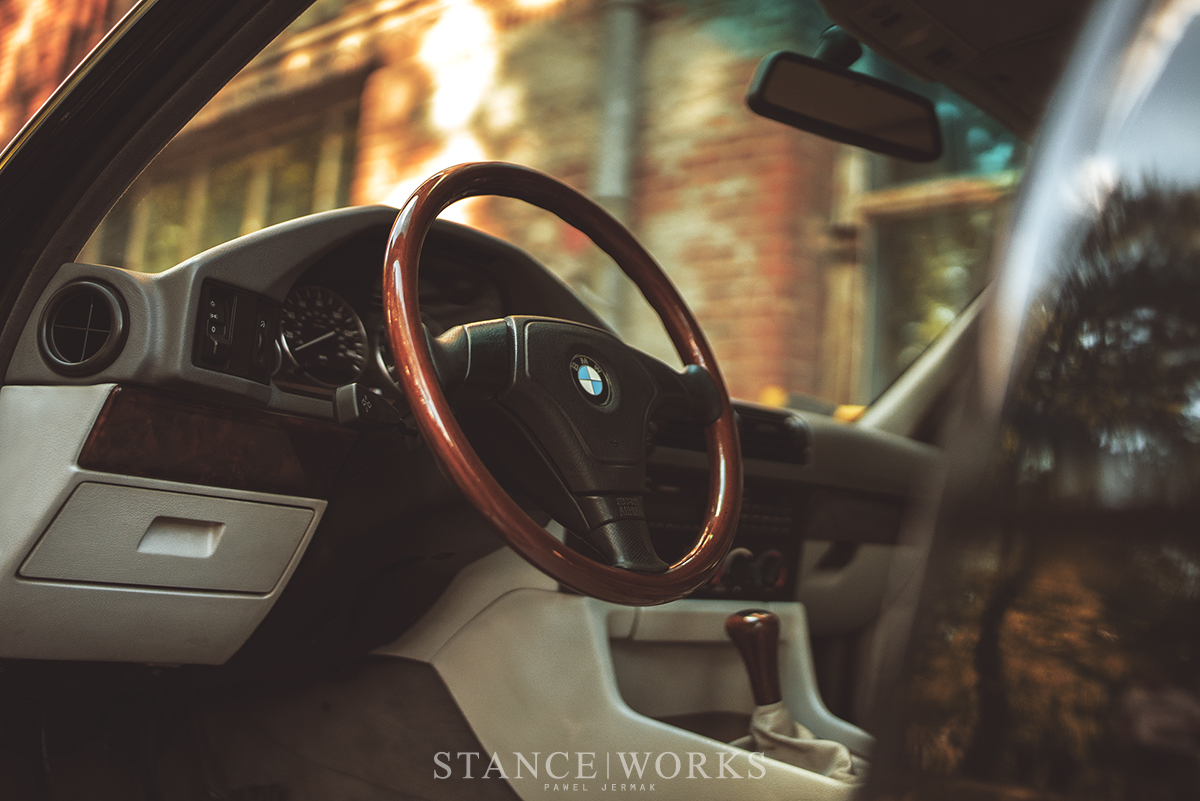 It wasn't his first choice of BMW. An E46 coupe, or even an E36, was more in line with his ambitions and goals as a car enthusiast. Even a handful of Volvos and Hondas were a bit more alluring than the estate wagon he wound up with. In all, it was the lack of a "sporty" stature that kept Sebastien at bay. In due time, however, he began to fall for the grand tourer: the comfortable heated seats, the AC, the large sunroof, and even a GSM phone made for several enjoyable road trips. His enthusiasm for the wagon led to car care and cleanup, and before long, an all-out detail was in order.
Living in Poland's third-largest city, Sebastien was surprised by his struggle to find a quality auto detailer nearby. His solution? Depart from school as an architecture student and open his own detailing studio. "If I had chosen something like a silver E46 back in 2007, today I'd be an architect driving a Saab."
In the years that have followed, the E34 has undergone a number of changes – mostly in the wheel department. Style 37s, MK Motorsports, Throwing Stars, and Schnitzers have all graced the estate, but it wasn't until the car was rear-ended that Sebastien took things a significant step forward. With the car in need of paint work, Sebastien found the silver lining, and took the opportunity to further the car by widening the arches on all four corners. The final result is an E34 that sits atop 19×9.75″ and 19×12.25″ AC Schnitzer Type IIs, wrapped in 225 and 285 rubber.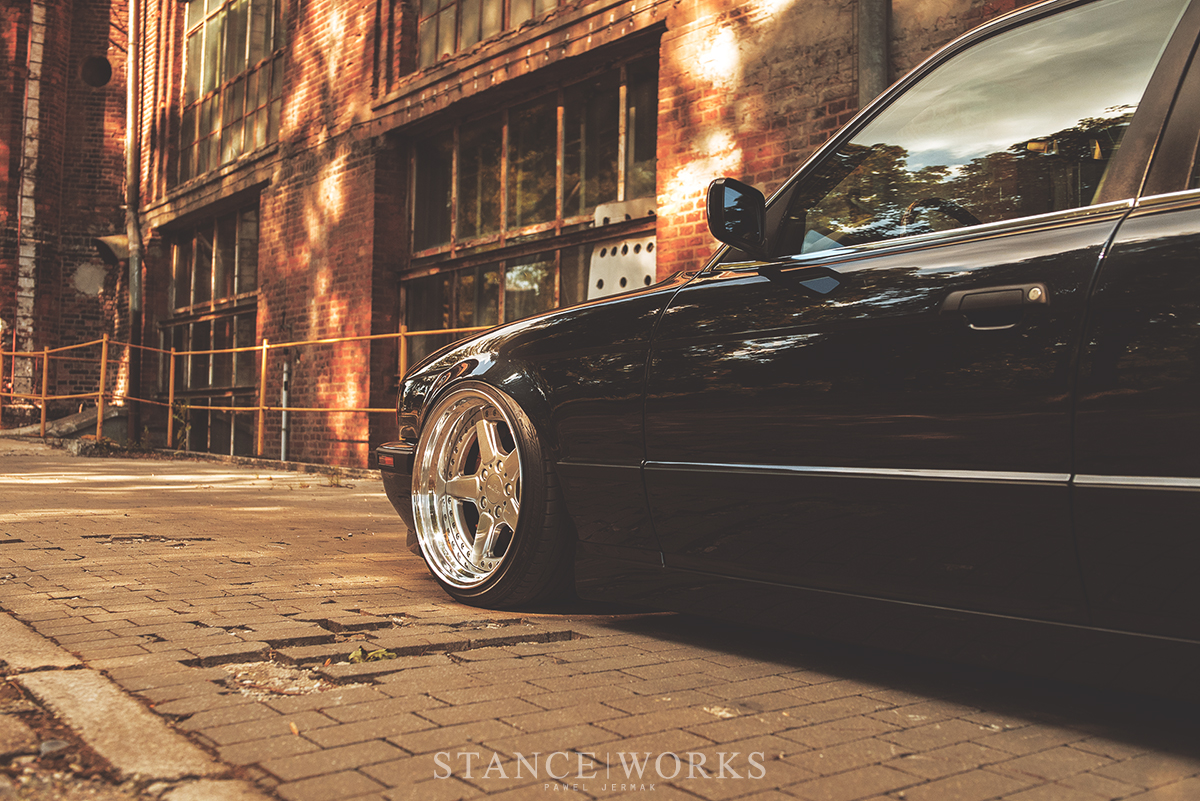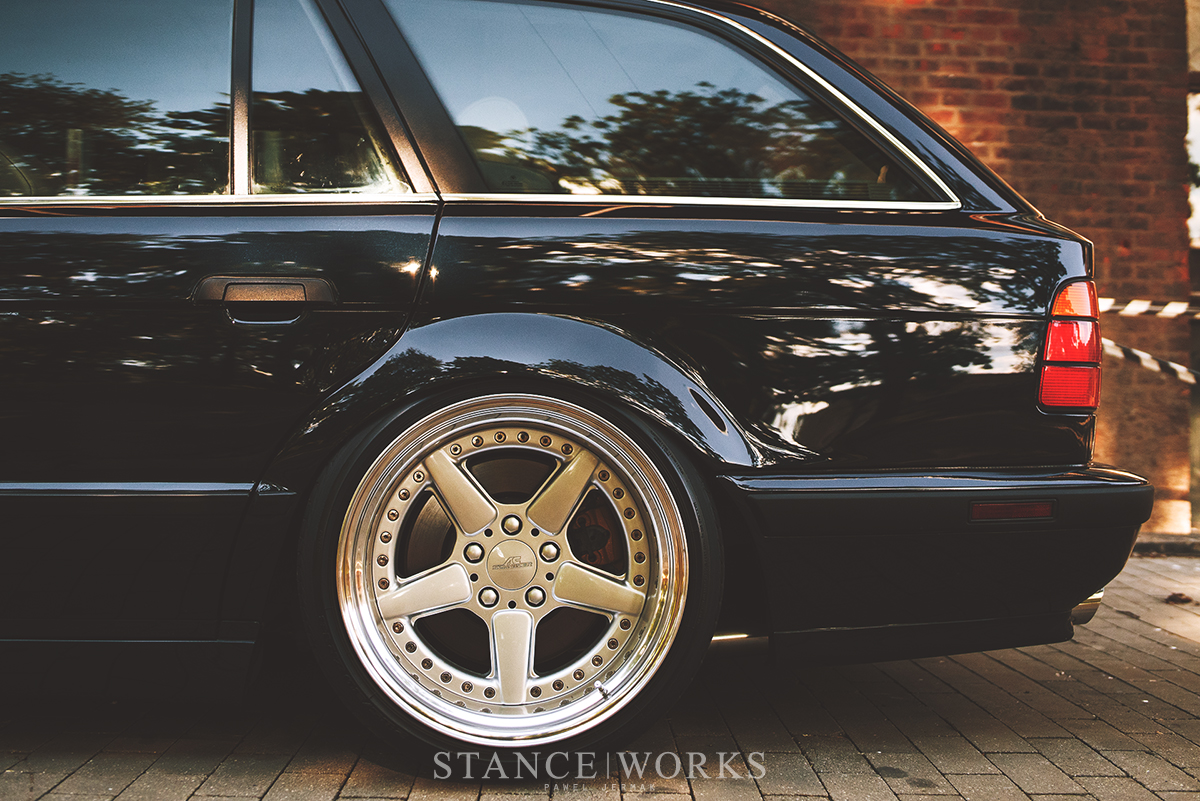 The arches were also radiused, allowing the car to sit lower than ever, and to better accommodate the newly-built wheels. FK Highsport coilovers help to provide perfect fitment, and E60 M5 brakes are tucked nicely behind the wheels. Sebastien's car isn't just wheels and a drop either… a 2.5-liter swap and mods bump the power output 35%, and of course, there's the M-Technic bumpers too. Overall, the package exudes the elegance of the car he initially fell in love with: the touring limousine.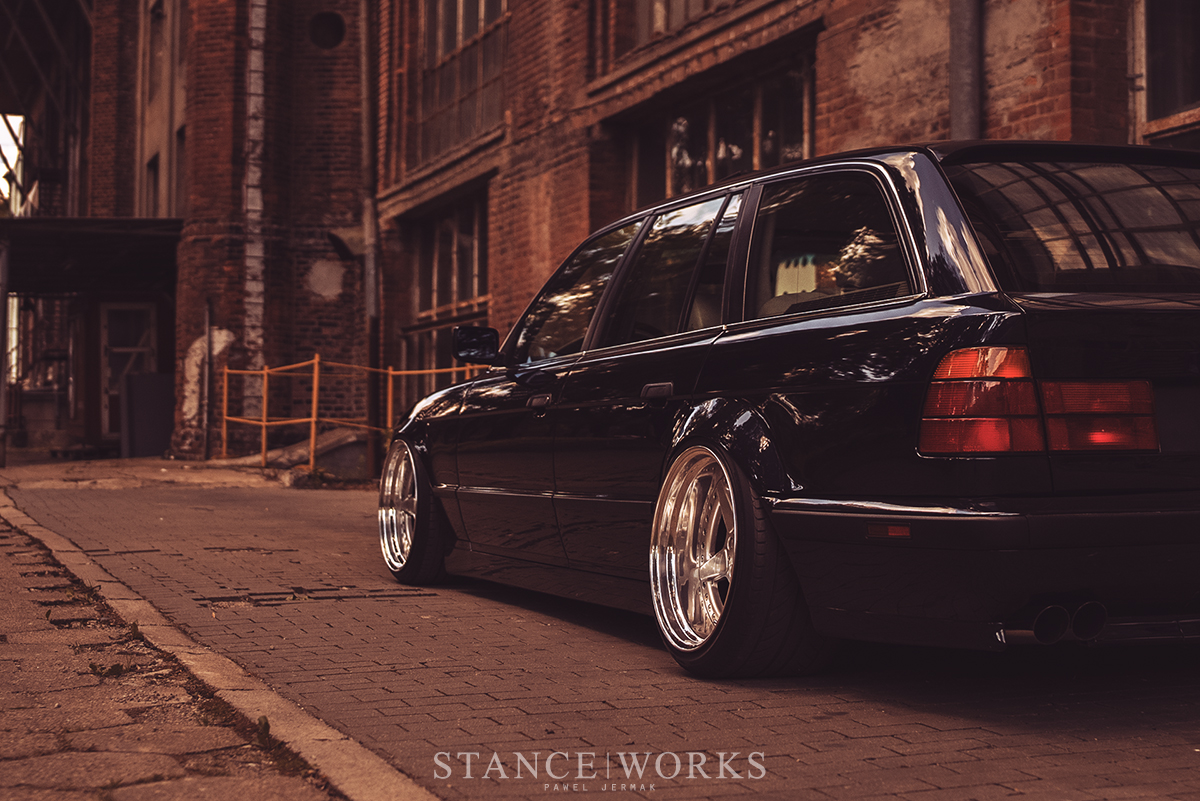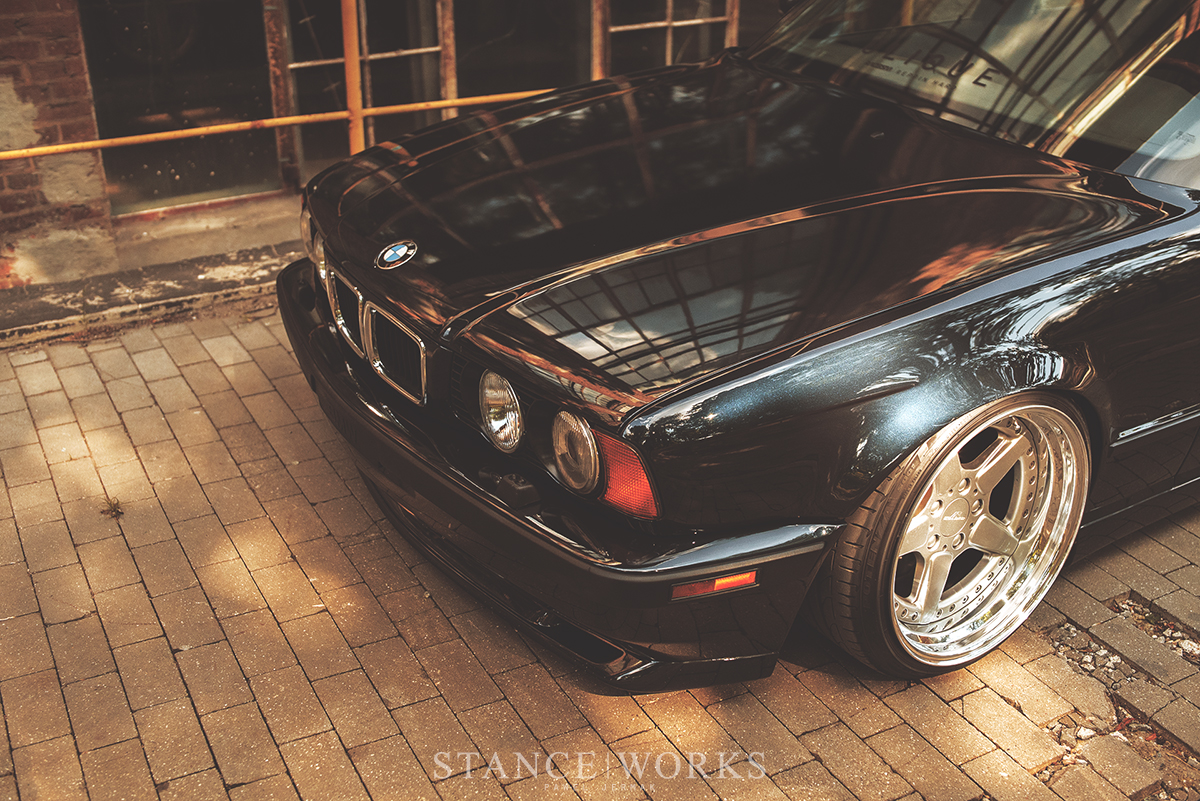 Since opening his detailing studio, Sebastien has built a number of project cars: all BMWs, and all with fond memories. Nevertheless, it's the E34 Touring – the car he didn't even want to begin with – that has grown to be his favorite. Sebastien Polit's story is one that inspires; from learning to love a car, to achieving dreams, anything is possible, and we're glad to see it happen here on StanceWorks.