Jonathan Braswell isn't a name that rings with the sound of e-fame and notoriety. It's likely a name you've never heard before, but that doesn't mean it wasn't intentional. While much of the car scene is built around those who are after trophies, features, and fame, it's worth celebrating those on the other side of the coin. Jonathan has been lurking in the shadows for years, building his cars for himself and himself only. From track cars to cruisers, he's done it all, and for those lucky enough to know him, he's certainly played a role of inspiration.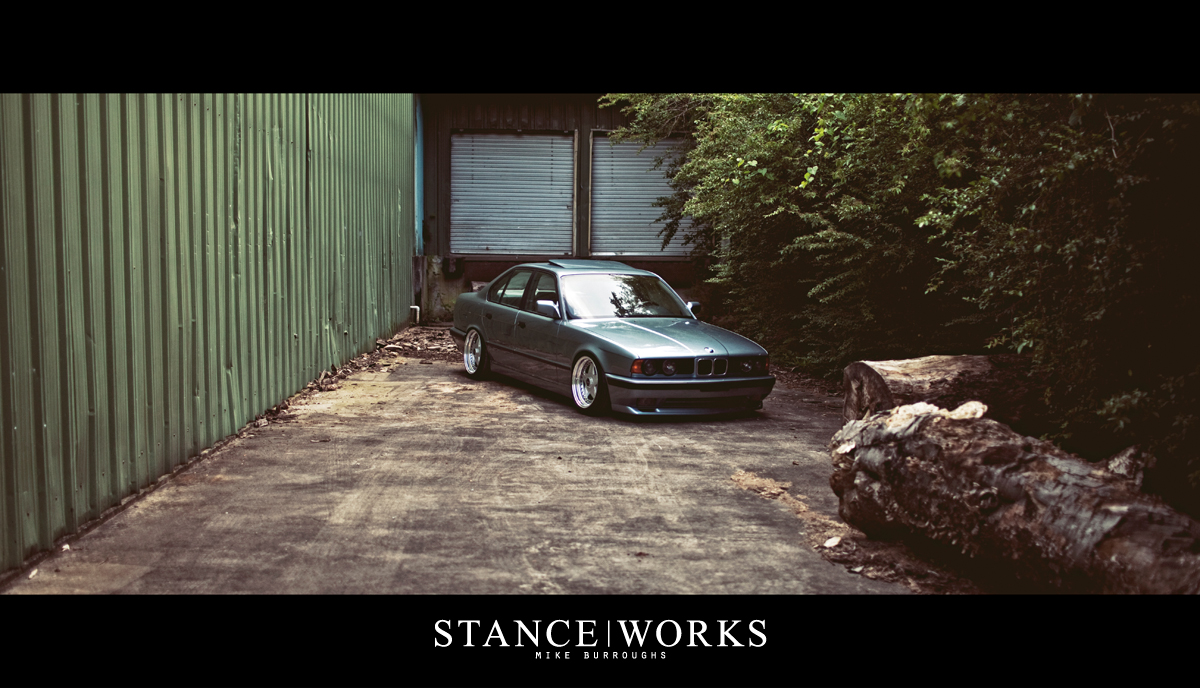 I've known Jonathan since the end of 2008, and we've been online acquaintances for even longer. I've seen several of his cars come and go, a slew of E34s with a few E30s and E28s in between, each one unique in its own right. He's always had exquisite taste, and he's always done a fantastic job of balancing performance with aesthetics.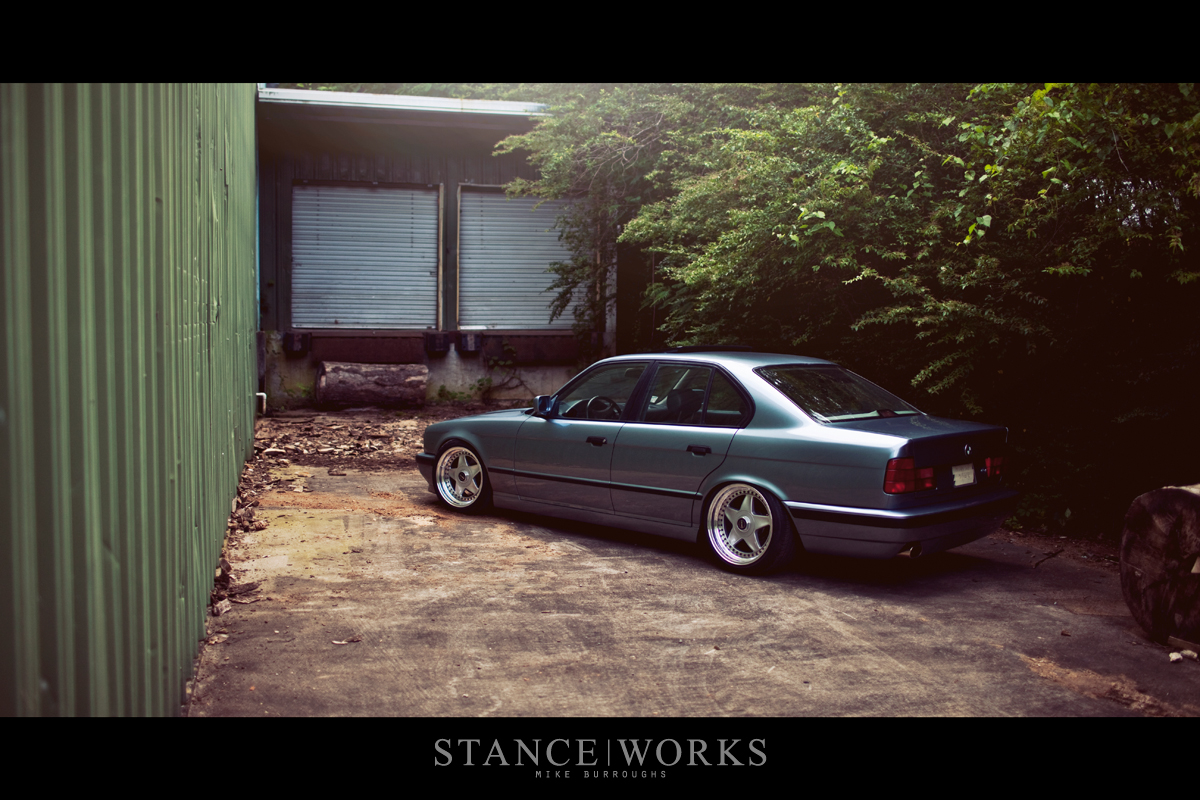 When I finally had a chance to put a face to a name in December four years ago, Jonathan was driving the best E34 I had ever seen– gloss black with a set of original HRE 505s wedged under the fenders, and from beneath it burbled a fully-built M30, and it may have sparked my love for the engine. In fact, all of Jonathan's cars have been noteworthy: a red E34 540 sat atop gold 17″ RSs followed by at set of incredibly wide HRE 504s, both of which I couldn't help but purchase from him. The M30 from his black car wound up in his E30. There's an E28 that rests behind his garage door and I'm sure that only scratches the surface.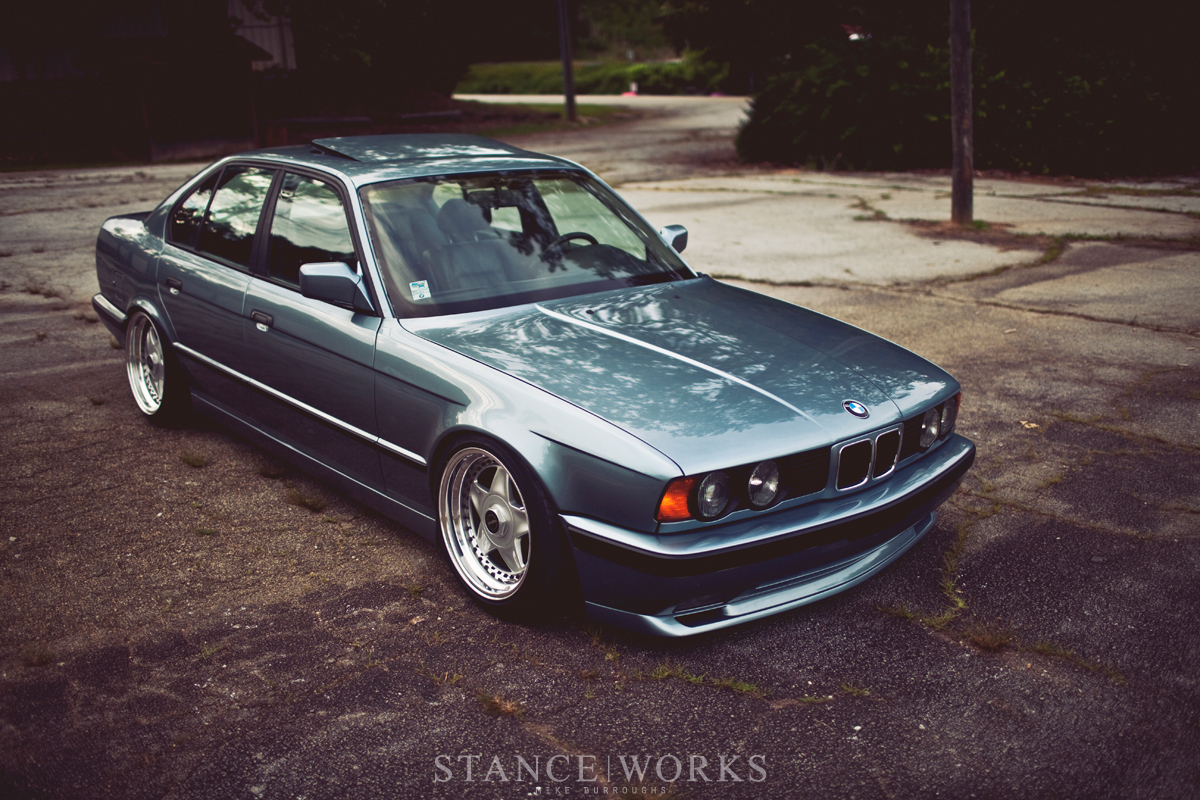 He's been in the game for a long while, supporting StanceWorks since the start yet successfully removing himself from any and all drama the online car scene can provide. Simply put, he knows what he likes, and he goes with it. He's never sought approval from anyone, and for good reason: when you can build a car like this, do you really need it?
Jonathan's triumphant return to the E34 world comes in a special color: Cirrus Blue. After regretfully tearing apart the black E34 he had built prior, he was eager to start again. After finding this particular Cirrus Blue '89 535i, he couldn't help but take it home, despite needing a lot of love.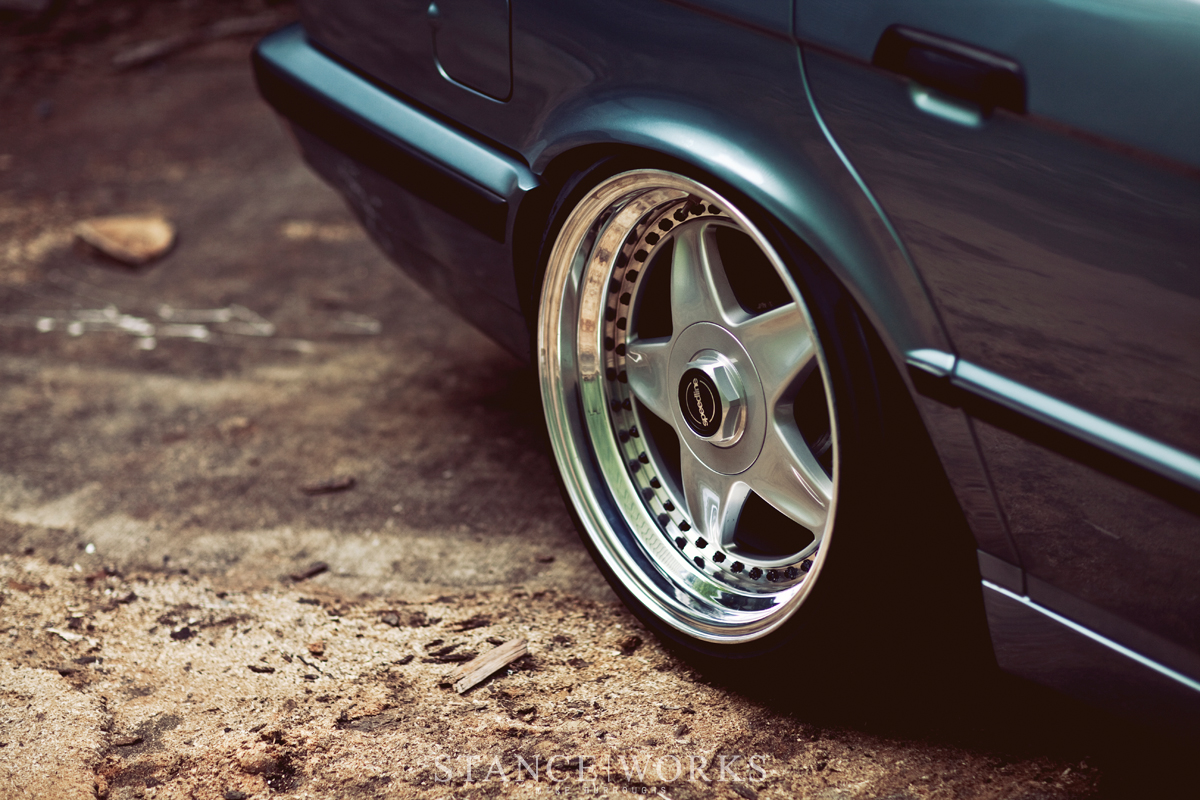 The car had been neglected, like most E34s, and had its fair share of dings, dents, and rust, as well as a blown headgasket. It was, in all respects, an entirely run-of-the-mill 20+ year-old car. To many, it have been deemed entirely un-worth saving, yet Jonathan was ready to take on a challenge. He yanked the head only to find out it was warped, so he did what any E34 enthusiast would do.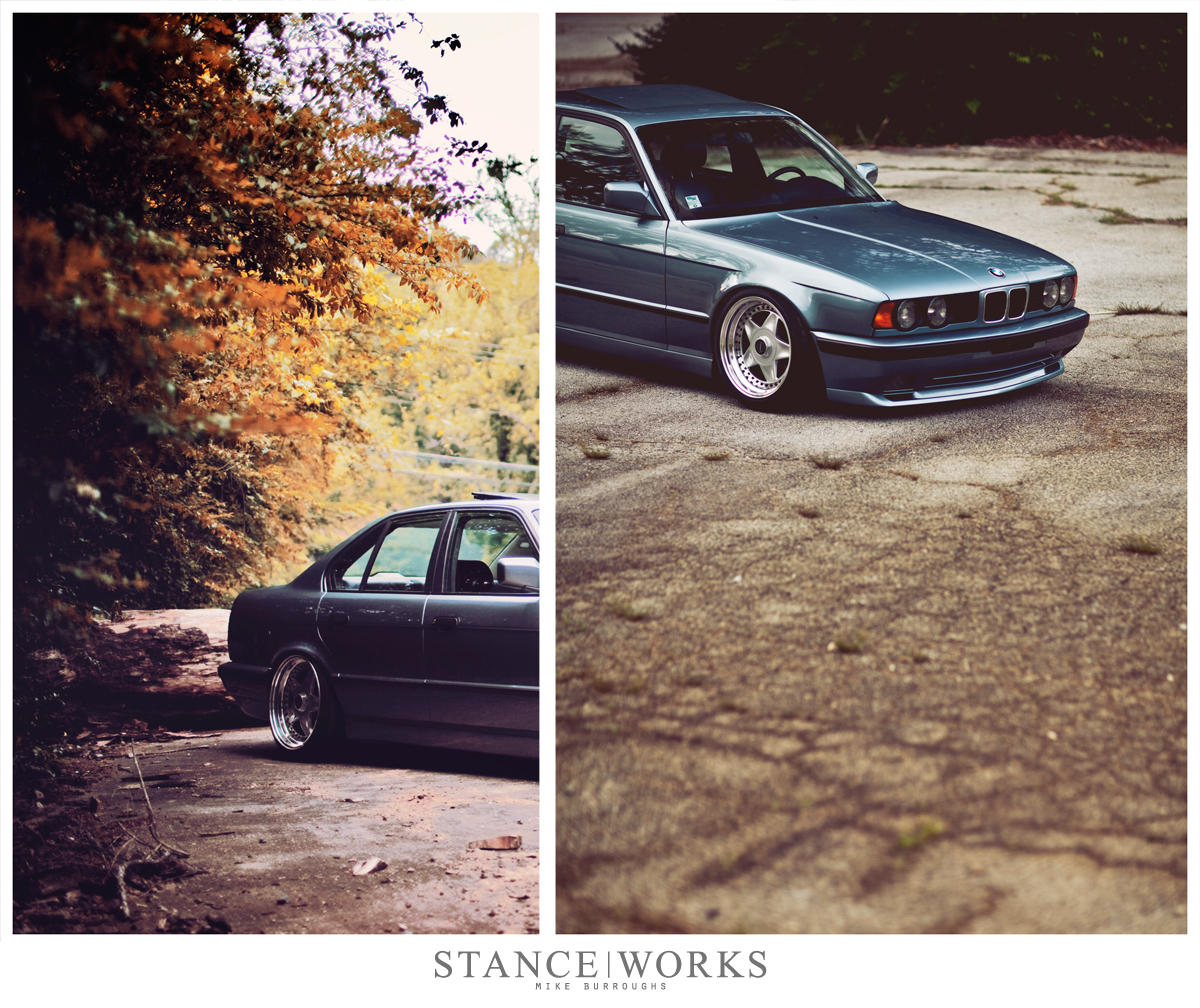 He walked to the other side of his garage and prepped his spare M30 for installation. He then proceeded to strip all of the paint off the car and began the bodywork, a skill he taught himself through the tips and tricks from friends and the internet. He slaved over sanding and prep work, which shows in the final product. He built his own coilovers, an amalgamation of circle track and volkswagen parts, all in the name of getting the car to sit perfectly.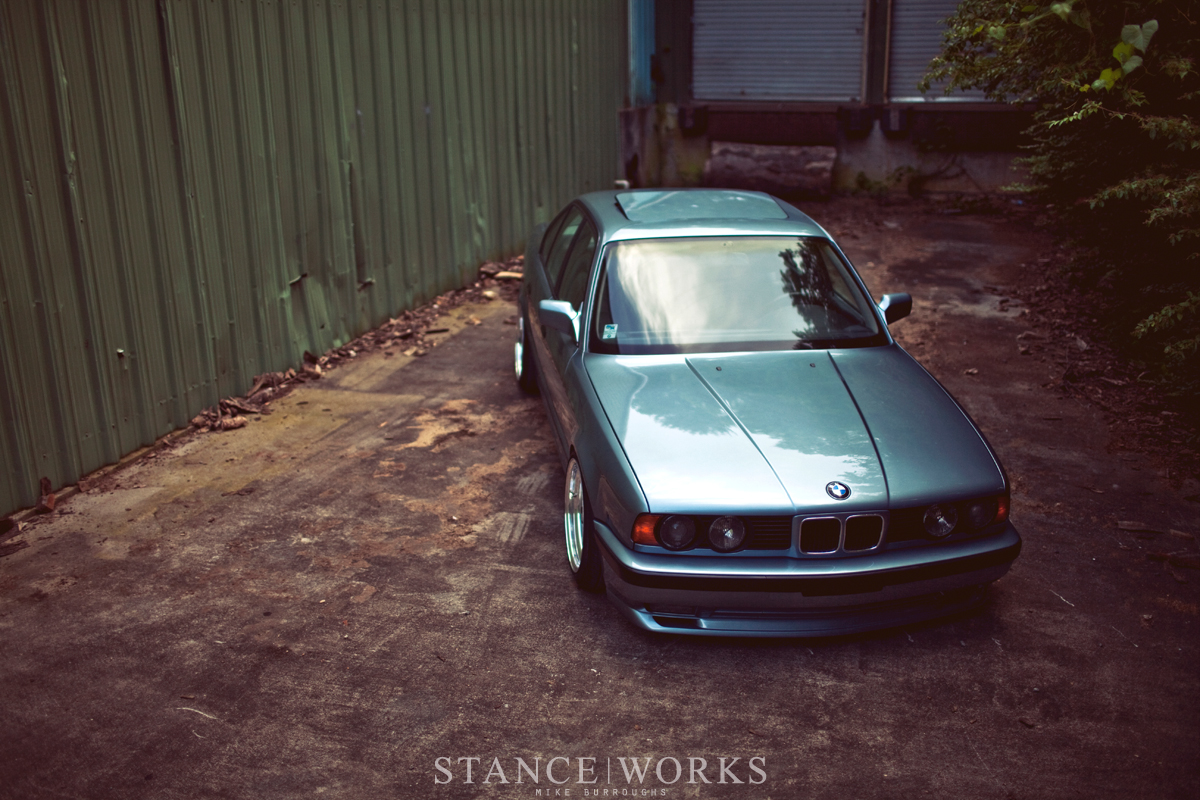 If it wasn't apparent, Jonathan's taste in wheels is up there with the best of 'em. A beautiful set of Speedline Mistrals are executed perfectly. His E34 is one of the few cars I've seen that pull off a double-stagger, 17×9.5 fronts and 18×11 rears, flawlessly. Fully polished lips, silver centers, and metallic black hardware compliment the beautiful blue of the car in true elegance.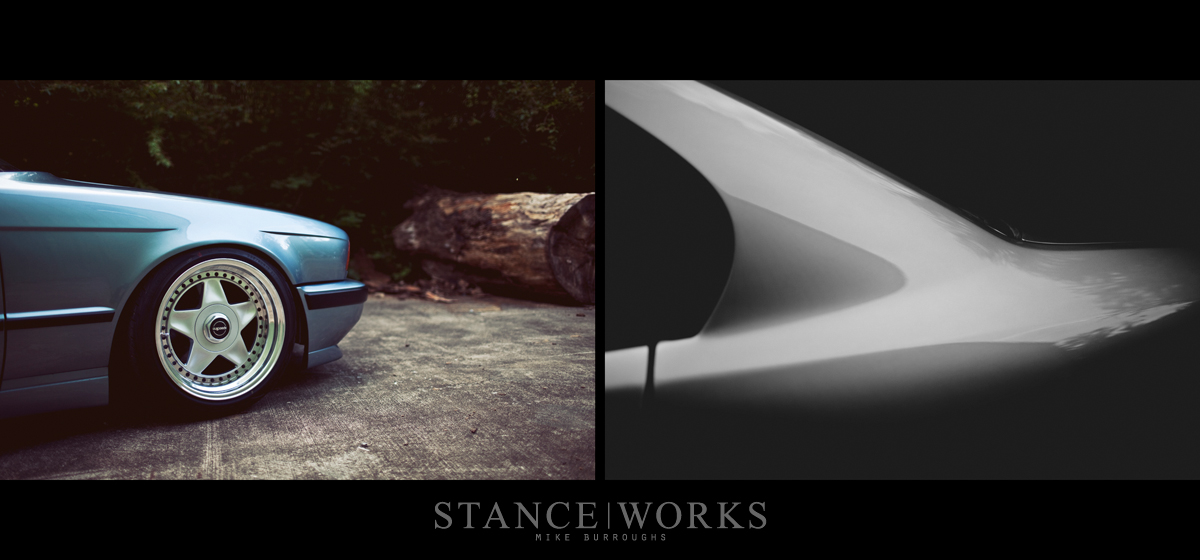 Despite the car's beauty, Jonathan has built it to be a daily driver, which is complimented by the car's exquisite simplicity. It's an E34 to be envied, yet Jonathan  is willing to drive it every day.  Its premier at Southern Worthersee in May led to more than just a couple of comments; he arrived a day late and still captured the entire town's attention.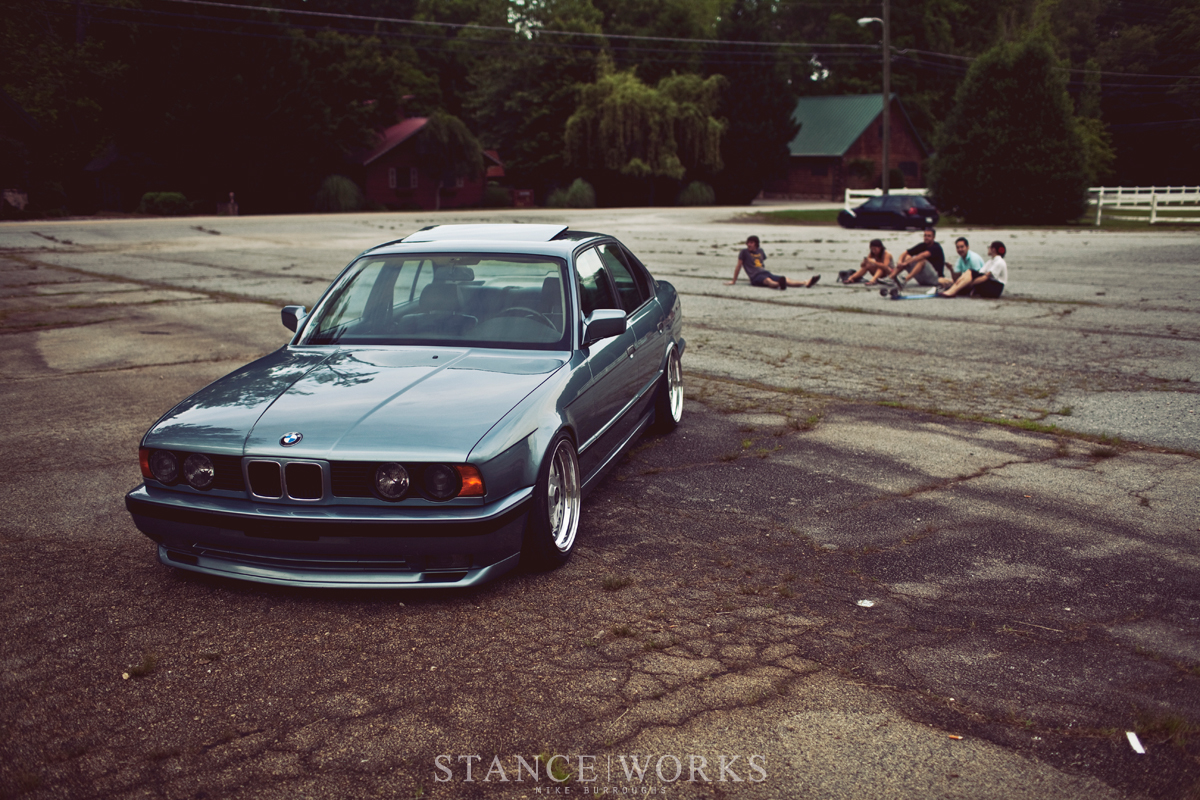 We spent our Sunday evening shooting the car, and the opportunity to capture and showcase Jonathan's E34 was in its own right, special. Jonathan certainly isn't the kind of guy to seek praise, nor would he aim to share with the world. In fact, if I'm not mistaken, he's turned down magazine features in the past. Yet for his own reasons, he's willing to share with the StanceWorks family. In some sense, it made the trip; as everyone sat and enjoyed the reasons we all made the journey to Helen, Jonathan's car was simply the icing on the cake.