Stance|Works has been built on the mentality that if a car has an attractive "stance" then it's something that any enthusiast can appreciate, no matter the make, model or decade in which it was built.   The reality is, stance is far from anything new.  Over the various generations of car builders, since the beginning of the Model T, the overall appeal of the vehicle inevitably correlates with how it's wheels sit in relation to their fenders and how far the body is distanced from the road.  As cars have evolved, so has the need for "styling" to differentiate a make and model from it's competition.  Naturally, the stance of a vehicle is a strong variable in the pursuit of an aesthetically pleasing design and it's something we want to take a better account of.
With the above in mind, it seemed almost like a omen to start from the inception of automotive styling,  when Nic Jiminez of eGarage asked us if we were interested in helping him debut his 1927 Ford Roadster.  When I talk about the "inception of automotive styling," I probably should preface this with a bit of  history for reference.   The Ford Model A was built from 1927 to 1931, and was the successor to the outrageously successful Model T.  The Model T holds a nostalgic aspect that is irreplaceable, but it's intent was to function more then anything else, as Henry Ford had a particular disdain for cosmetic differentiation.   Henry's son took the helm, with a small team, to add a level of aesthetic appeal to the overall design.  When it was completed, the Model A represented an evolution in considering the function and visual elements of a vehicle and how they could work in harmony with one another.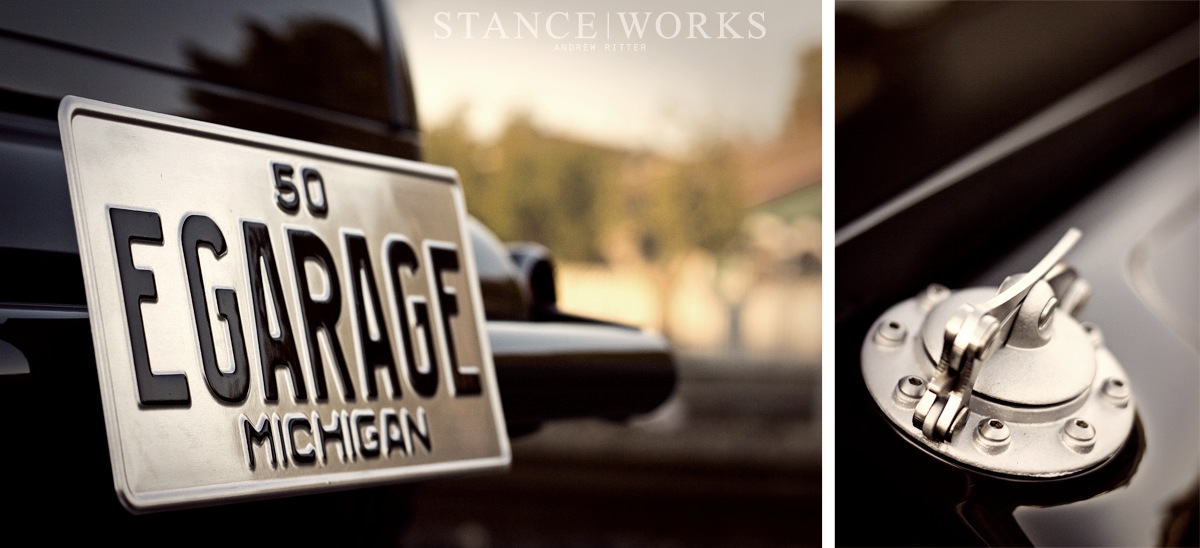 The Model A proved to be quite the followup for Ford, selling just shy of 5 million cars within 4 years.  They built nine various styles of the Model A, with none being more captivating then the Roadster.  The notion of a car having such a singular purpose with just a small bench seat, no B pillars and a sloping trunk, really made a statement.  The roadster was intentional instead of multi-purpose, and I'm sure a bit of a gamble in it's inception, however it's probably noted as the quintessential platform for building a hotrod to this day.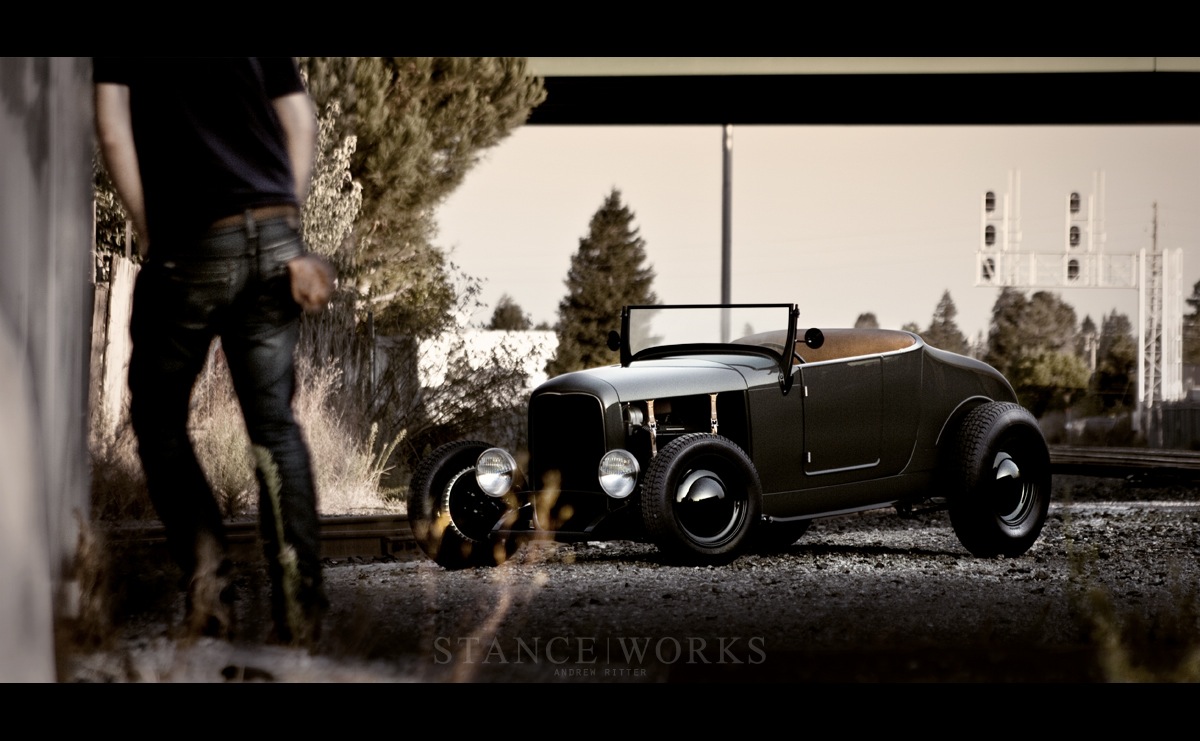 The interpretations of a modified roadster are as wide as the stars are vast.   The combination of variables is a never ending formula, only left to the individual builder to determine.  It's probably easy to presume that after 80 years of rodders building Roadsters, the possibilities for something unique are rather exhausted.  No doubt it takes a knowledgeable and creative mind to approach an over-utilized chassis, which is precisely why Nic enlisted Zane Cullen of Cotati Speed Shop to manage his vision.
If you aren't familiar with Mr. Cullen and his award-winning operation, then what you need to know is that he doesn't cut corners. Period.   If a build is going to receive his stamp of approval it not only needs to function superbly and glisten with graceful appeal, but it must do so harmoniously.  A build can't solely excel in one area alone and truly differentiate itself into notability.  It must organically fuse all aspects of itself  in order to evoke that raw emotion that awakens only in the presence of greatness.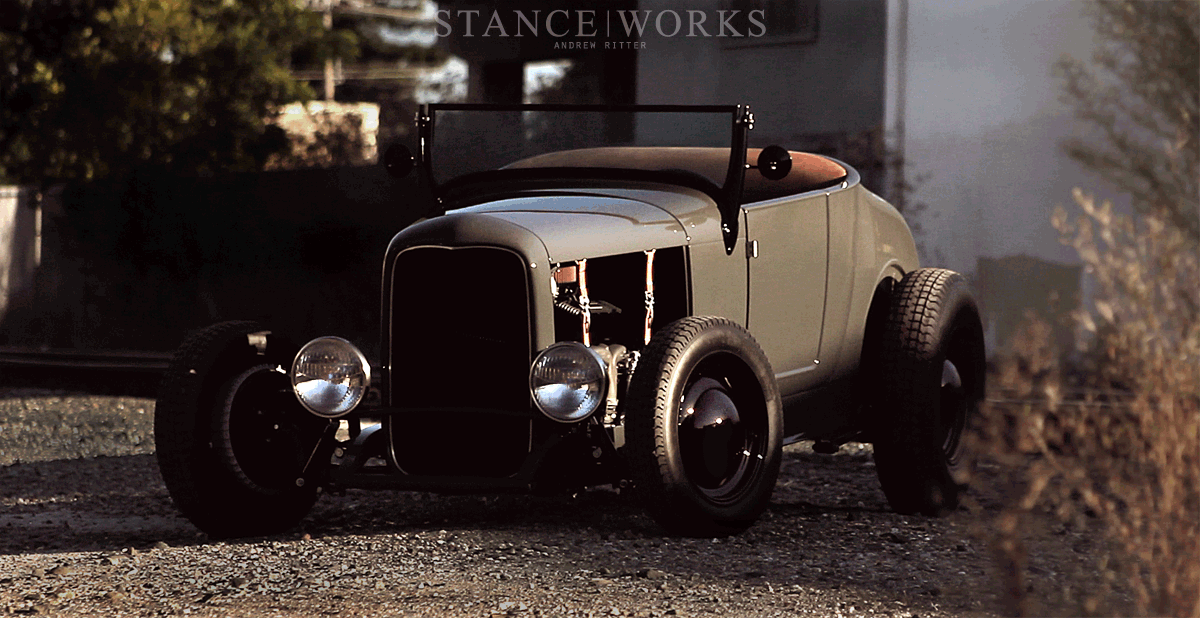 The standard in play is enough to turn ambition into defeat, but that's not a option when challenges have to be met.  The first Ford roadster was produced in 1927, so it was determined to maintain the visual cues of a Model A with the comfort of a Model B. Nic and Zane opted for a Shadow Rods XL27 body which equates to 3″ taller, 2″ wider, and 4″ longer doors all while retaining the overall visual cues of a '27.  The steel body was built with the intention of mating to a '32 Ford frame, which Cotati built in-house.  Remember this is a "fusing of worlds" we are dealing with; bringing modern technology and comfort seamlessly with heritage fit for a museum.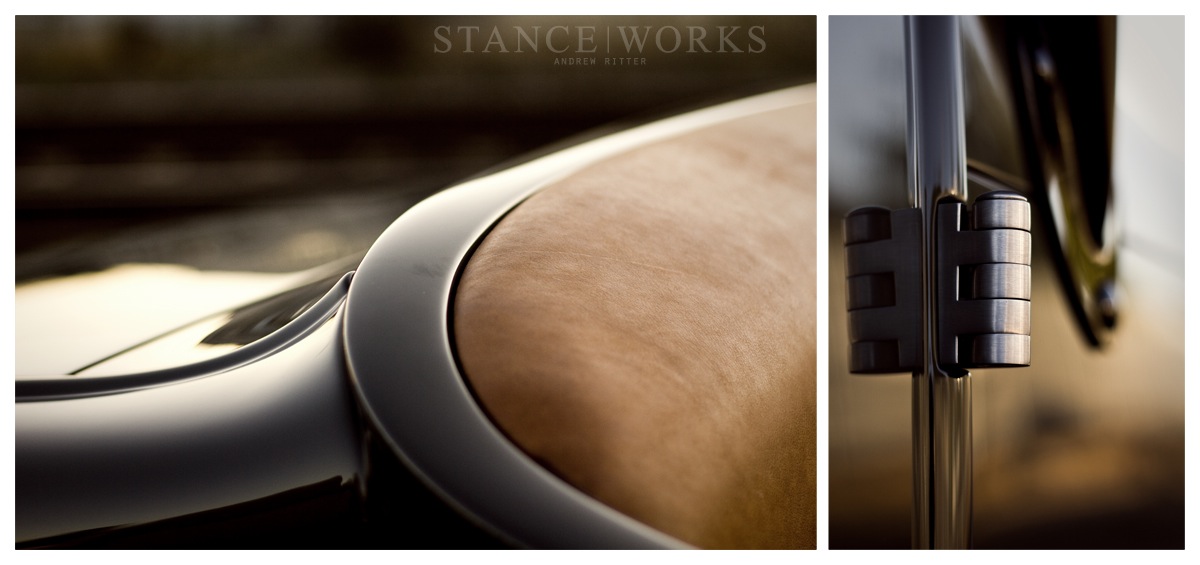 If you are a suspension guru like we are, this is where it starts to take off.   To finish off the custom frame, tubular double cross members were added for rigidity.   A triangulated 4-bar system was chosen for the rear suspension, in helping with getting the roadster sitting right.   Ford originally used "bones" to keep the axles in place, but when people started modifying the frames and lowering the bodies, the bones would get in the way.   To remedy this, a 4-bar solution was developed to allow the axle to move up and down freely with the outer bars pivoting at both the frame and axle, while the center torque arms keep the axle from rotating.  This ensures that the axle doesn't bind under duress.   Bilstein Coilovers round off the rear, mitigating any discomfort that might be found on the open road.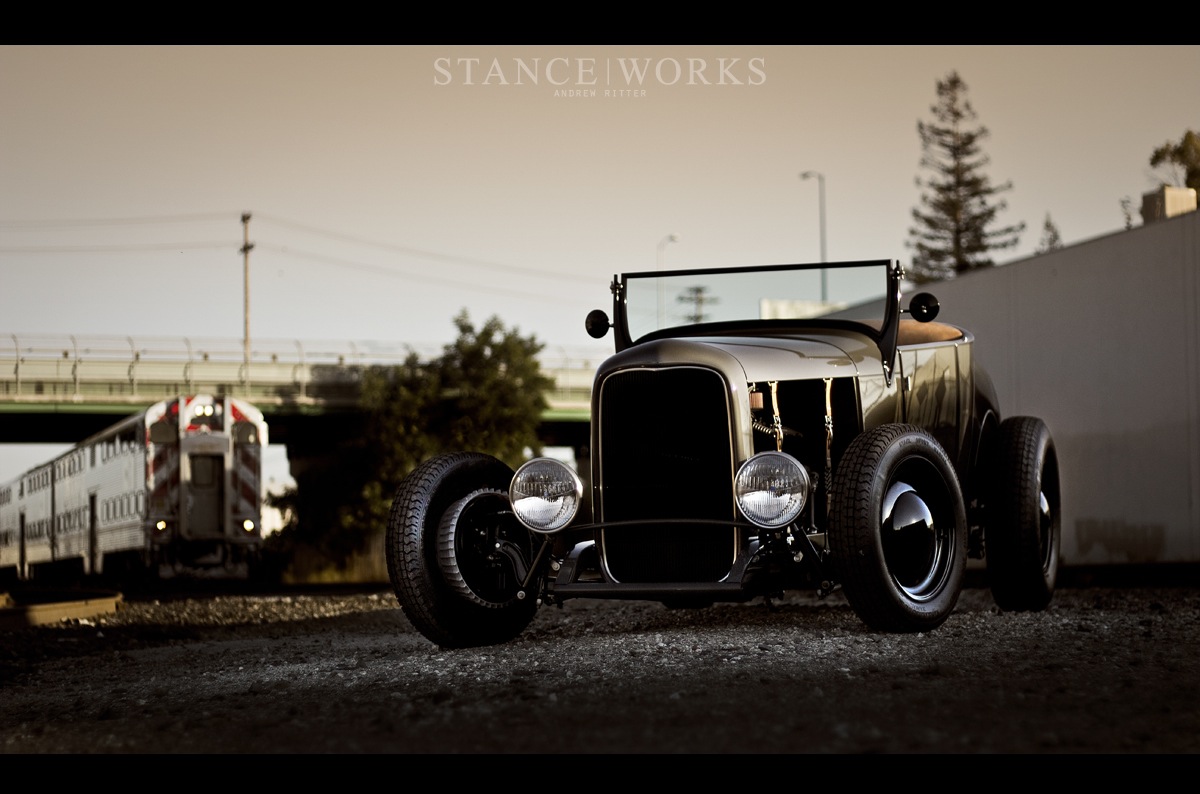 The front suspension is setup with a combination of Bilstein shocks and Durant mono leaf springs.  This is chosen to position the front end at a low ride height.   Wilwood disc brakes were used for quick stopping power, but they lacked the historical characteristics being applied to the overall theme of the build.   In Cotati Speed Shop fashion, Buick drum brake covers were mocked up to fit over the disc brakes to bring back some of the visual mystique without sacrificing the performance aspect of the Wilwoods.   Solutions like these are a testament to the endless possibilities of "form" coexisting seamlessly with "function."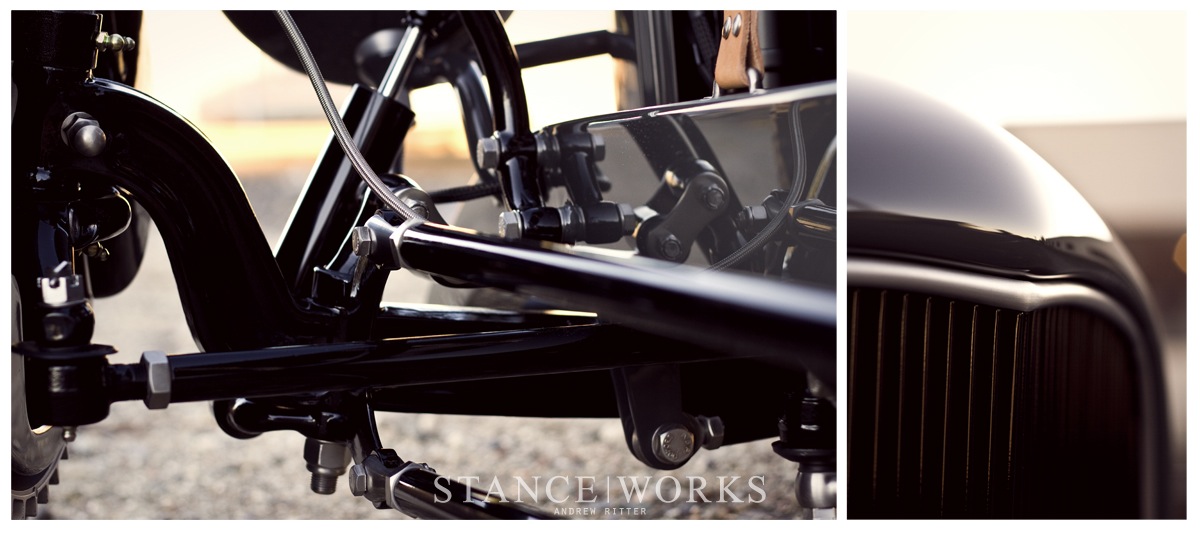 The drivetrain is always an interesting variable in builds of this nature.  It's typically safe to assume one would go with the litany of Ford power-plant offerings, but we all know what "assuming" gets us.   Nic and Zane chose to go with a fully-built GM Performance 350 HO Deluxe Engine mated to a GM 700R4 automatic transmission with a B&M Torque Converter to light the Coker 16's.  While you grandfather is rolling in his grave, Nic will be trying to contain 330 hp / 380 tq within a hotrod that hovers around a featherweight of 1800 lbs.   You don't have to be a mathematician to figure out that the power to weight ratio makes for some adrenaline-pumping thrill rides, especially with a Ford 9" rear differential and limited-slip helping plant the power.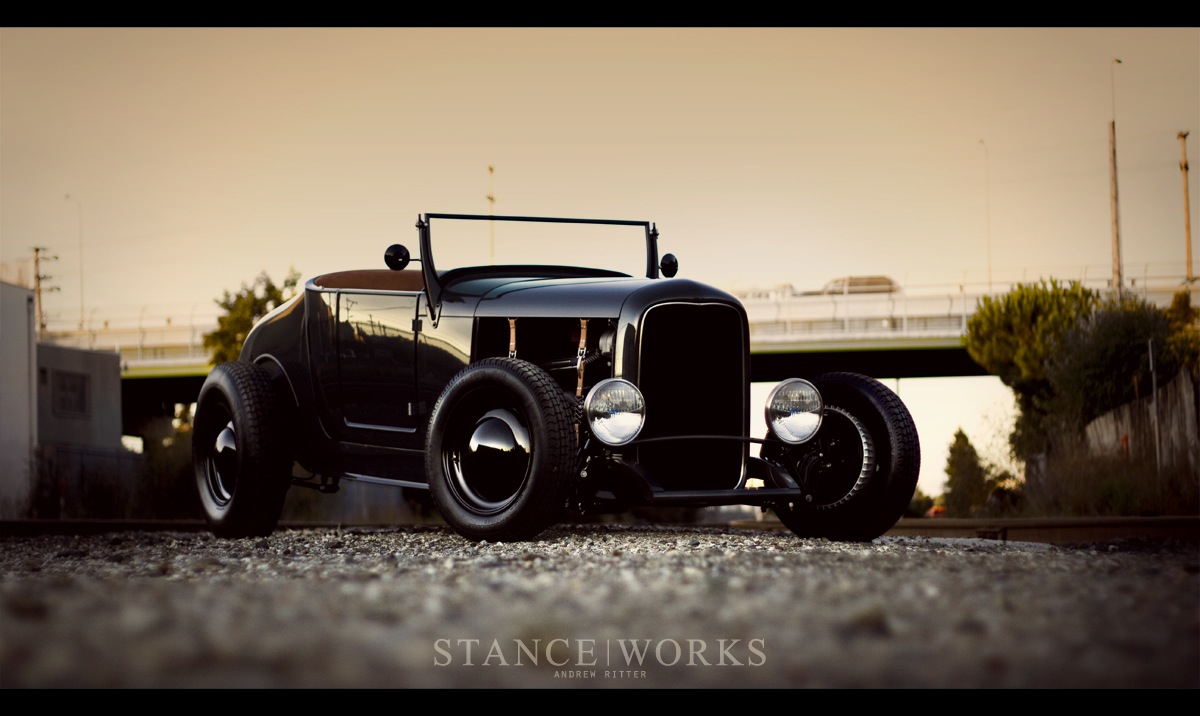 The details are not left-out with the drivetrain.  Nic had custom valve covers made up by C. Cook Enterprises, emblazoning the eGarage mantra boldly.   The chosen breathing apparatus was a Holley 670 Carburetor shooting air down through 2.5" exhaust manifolds that lead to a full dual 2.5" Flowmaster HP2's.   From the mufflers lead straight pipes out the center of the rear-end to expose custom tips that can only be described as the barrels of two machine guns. Details for days.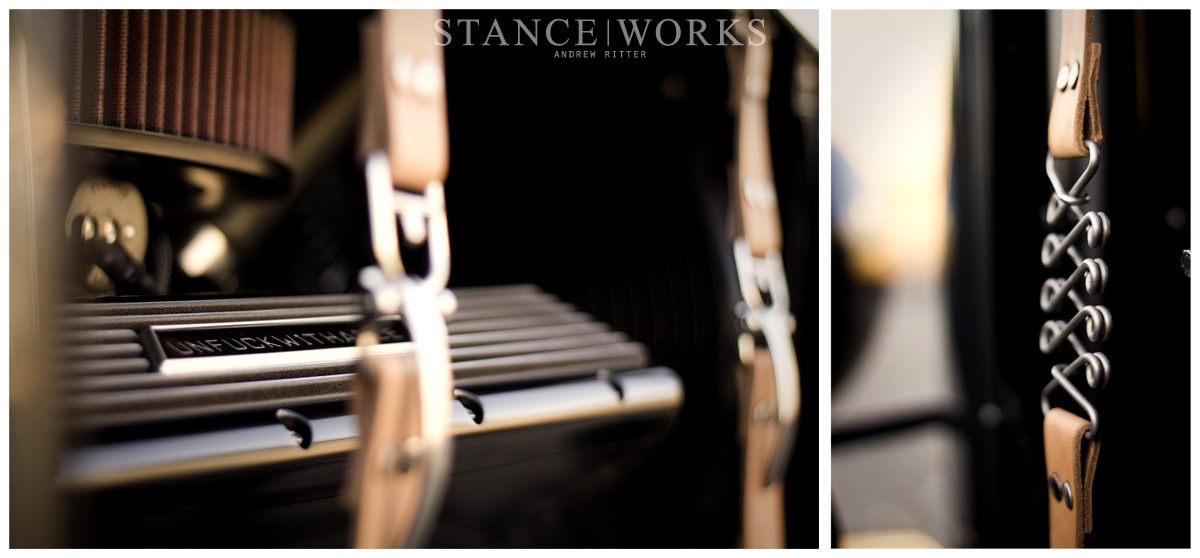 You could really call it a day at this point and feel good about building a nice interpretation of a '27, but we still aren't quite to that point of mesmerization you felt after your first kiss.   HotRods are about as American as baseball and apple pie.  Enthusiasts tend not to venture outside of traditional color themes, and frankly wouldn't have it any other way.   However, if you are going to combine a Ford body with a Chevrolet drivetrain then you might as well keep going down the slippery slope of experimentation and hope for the best.  Some call it gambling; Nic calls it vision.   The man has a thing for Italians and mono-chromatic color-ways, so what better place to look for obscure paint codes then through Ferrari's database.  You can't blame the guy for having taste.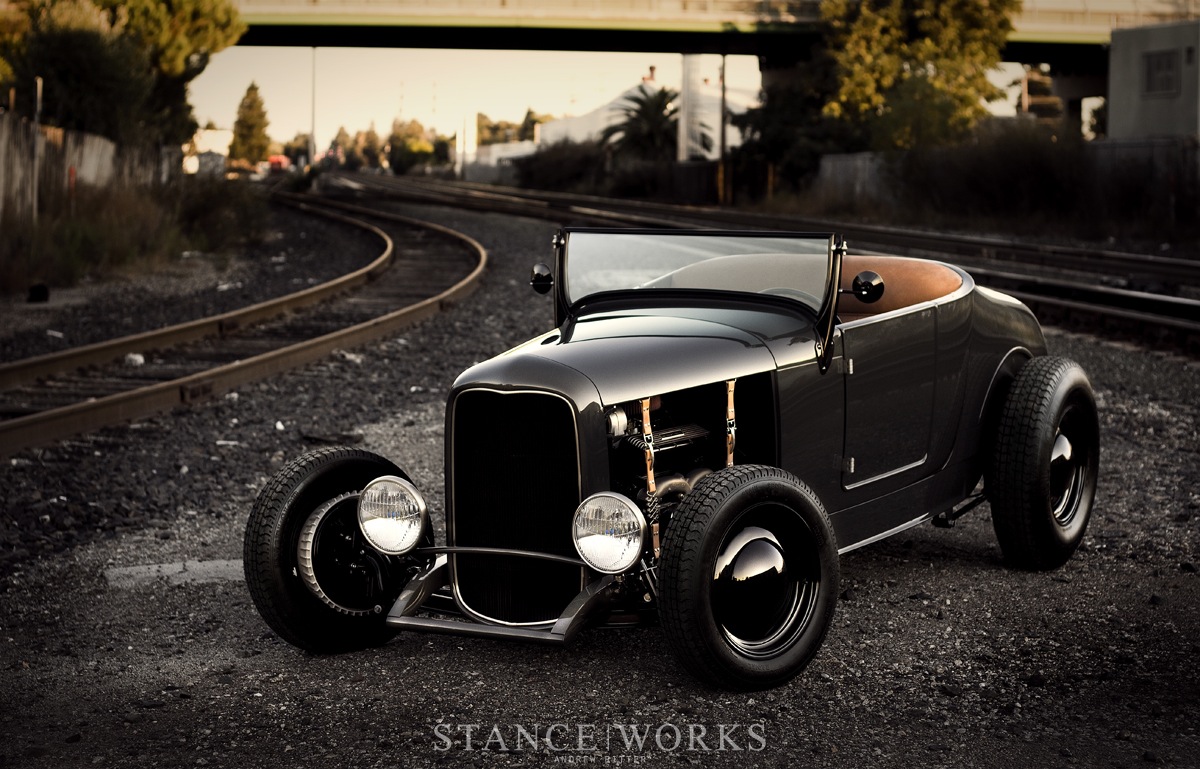 If you would have told me that you were building a Ford Roadster with a Chevy power-plant that is going to have a Italian theme to it, I probably would have mentally written you off for partaking in too many extra-curricular activities.   This is where "commitment to vision" comes hurdling at you with conviction.  That moment you jump off a cliff, trusting that a smooth entry into the water below awaits you.  "Ferrari Grigio Scuro" was the name of that cliff, and man did Nic stick the landing.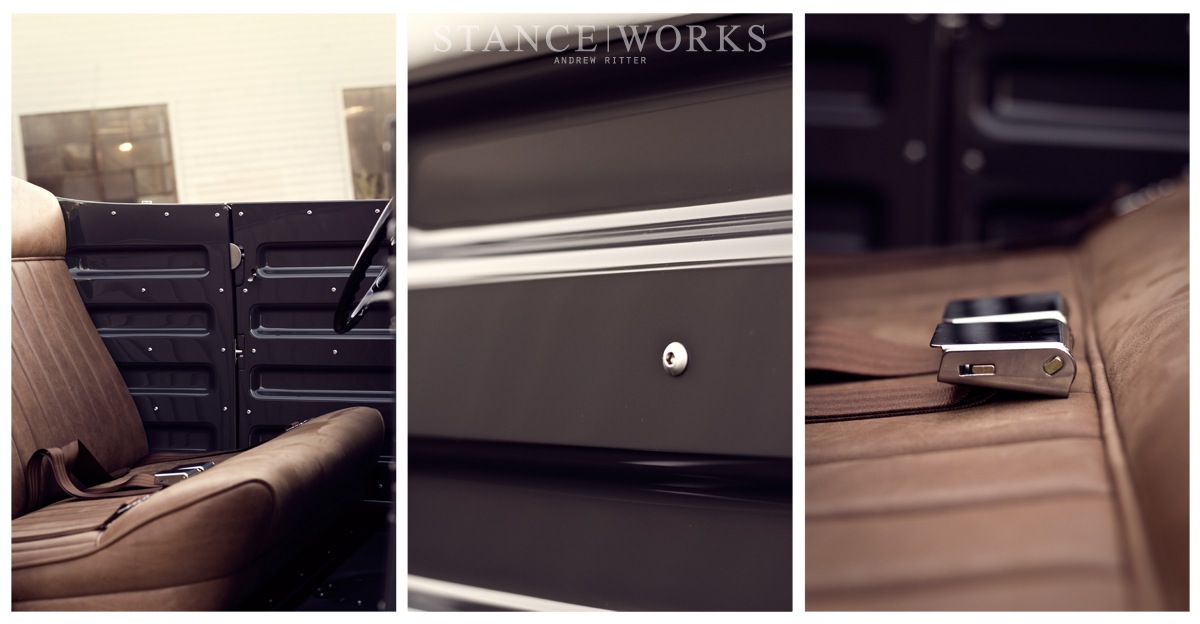 Not to be outdone was the choice of Hersey Milk Chocolate distressed Italian leather to contrast against the rich paint.  Even more so, the custom remnants of an aircraft interior that lay poignantly positioned throughout the cabin.  The centerpiece would most certainly have to be the custom gauges produced by Classic Instruments to, once again, be branded with the eGarage mindset.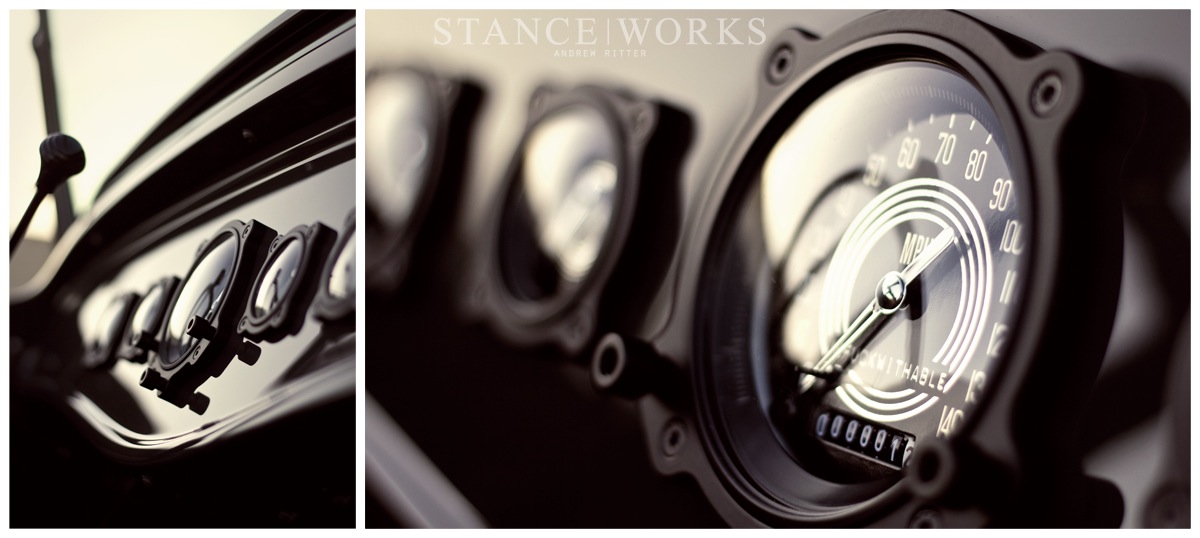 Thus, you have the eGarage '27 Ford Roadster.  A car with stance and prowess that is only equalled by it's inward rage that commands your respect.  Builds like this should not be defined by an aspect or feature, but rather by the sum of all it's variables.  It's how the build equation is designed, so that all parts might work in union to showcase the vision in it's entirety.
If you are reading this as it goes live, eGarage is unveiling the Roadster in the B&M booth at SEMA. That's right, you have a front row seat to the action; Not bad for a Tuesday afternoon. We want to thank Nic Jiminez of eGarage, Zane Cullen of Cotati Speed Shop, and all the fine folks at B&M Racing for allowing us to have the editorial debut of this exquisite piece of machinery.  As a bonus, we have a short video of the Roadster shot by our own Paul Nguyen of Analog Holiday.  We hope you enjoy it as much as we did shooting it.