If there is anything we've been pushing as a website in 2011, it has been that this scene is as much about the people that make it up as it is about the cars. Sometimes we share the stories of new faces, bringing to light the fresh ideas and builds they are contributing to the scene. However, sometimes we share the stories of those who have helped build the scene we know and love.
Chances are that Sean Landregan is a familiar name, but whether it is or not, he has a story worth sharing.
Sean isn't widely known for building a car. He's known for having built several, each one as impressive as the one before. Perhaps the one that speaks the loudest, is his Corrado. It was Sean's first car and began life as a G60 automatic, but as I am sure many of you are quite familiar with, once the mods began, they didn't stop.
More or less every nut, bolt, and gasket on this Corrado has been replaced; the epitome of a true build. Detail was paramount, but what makes Sean's car more impressive than most is that he did the work himself.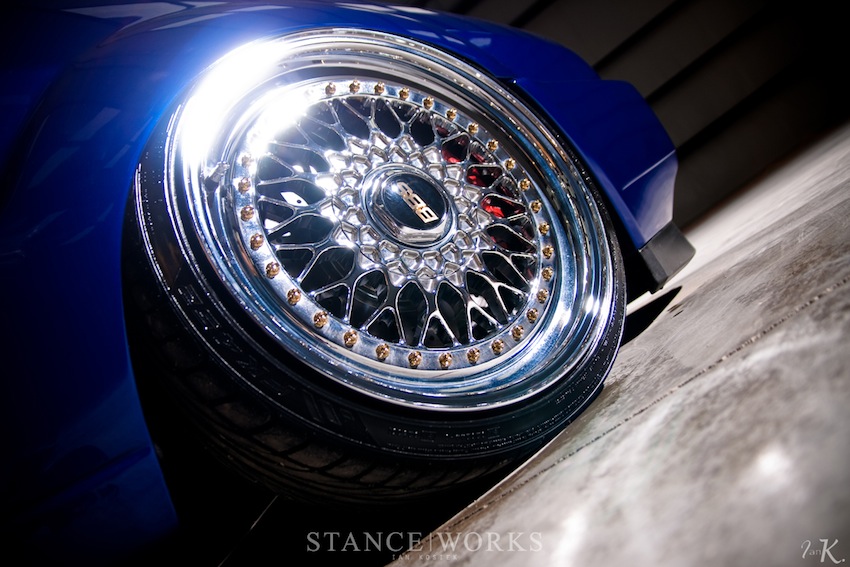 It all began with a blown transmission… and to make a long story short, a new transmission lead to an engine swap, which led to a turbo build, which lead to, well, you get the idea. And in and amongst the engine shenanigans, Sean decided he would take autobody classes entirely out of the desire to learn. The rule of the shop was "if you can carry it in, you can work on it." Sean started with the fenders, taking them in individually to practice and learn the bodywork and paint prep. But if you can carry a fender in, you can carry a door in, right? And in great fashion, Sean eventually managed to get the entire car in, and whether you believe it or not, the Corrado was the canvas for his first full paint job.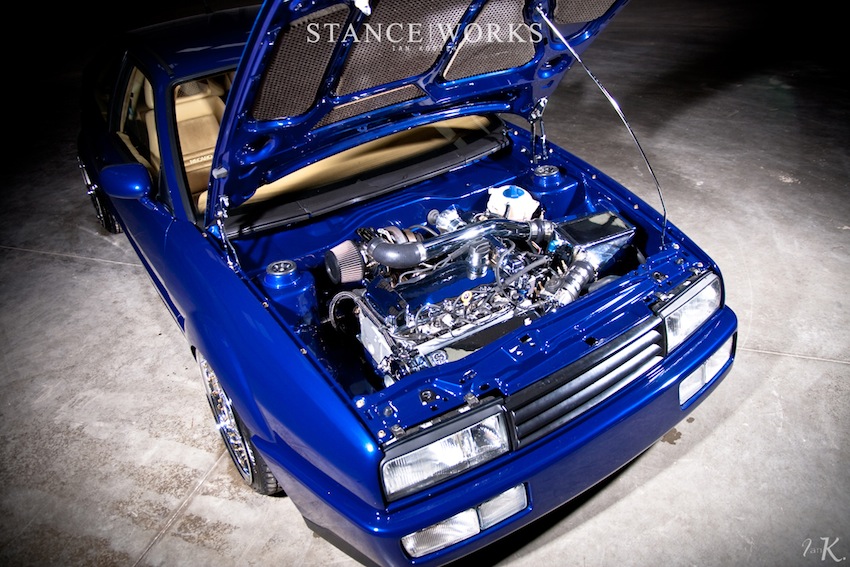 His engine of choice was a VR6, which took more than one attempt to get right; but the final product seems equatable to a champion prizefighter in Adriana Lima's body. If 400whp isn't a slap in the face to those who say "stance kids" don't care about performance, well…
And so that left his interior, which was wrapped in a beautiful leather and suede combo to play off of the outstanding blue exterior. It wasn't an exaggeration to say Sean's car was built to the highest caliber possible. He's the kind guy who raises the bar. A lot.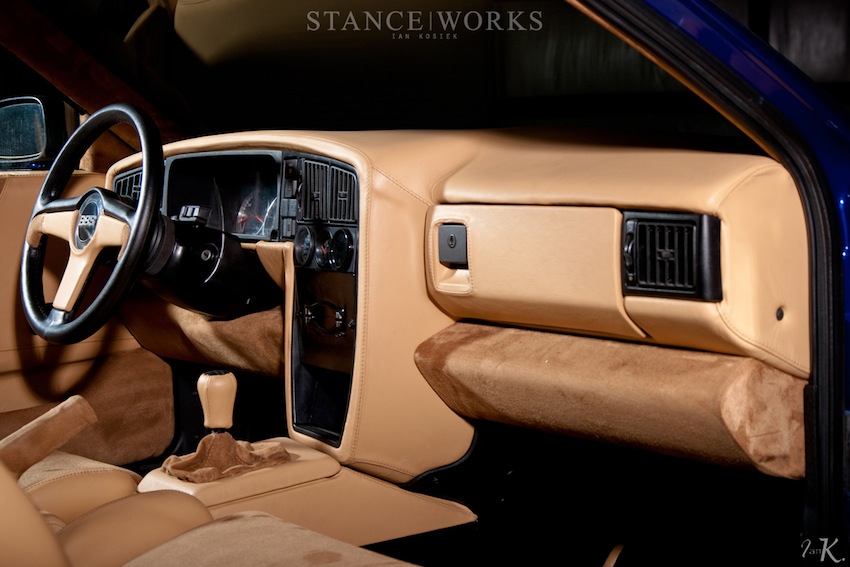 But this story is about much more than just Sean and his Corrado. This story is about Sean and his fiancée Kayla Colbert. But Kayla is much more than just Sean's fiancée; she's just as much a part of the scene as he is.
You are seeing that correctly- that's a MK3 Jetta coupe, and it is Kayla's creation. She originally bought it as, you guessed it, a sedan, and found herself getting involved in the VolksWagen scene. Unfortunately, the car was t-boned and totaled. But unlike your girlfriend, she bought the car back and decided to bite off more than most can chew. After sourcing GTi pieces from a friend, Kayla put together a one-of-a-kind creation. It wasn't until H2Oi 2009 that Sean and Kayla met. Sean flew out to Seattle and bought car paint supplies to paint Kayla's car for her, and well, you can see where that led.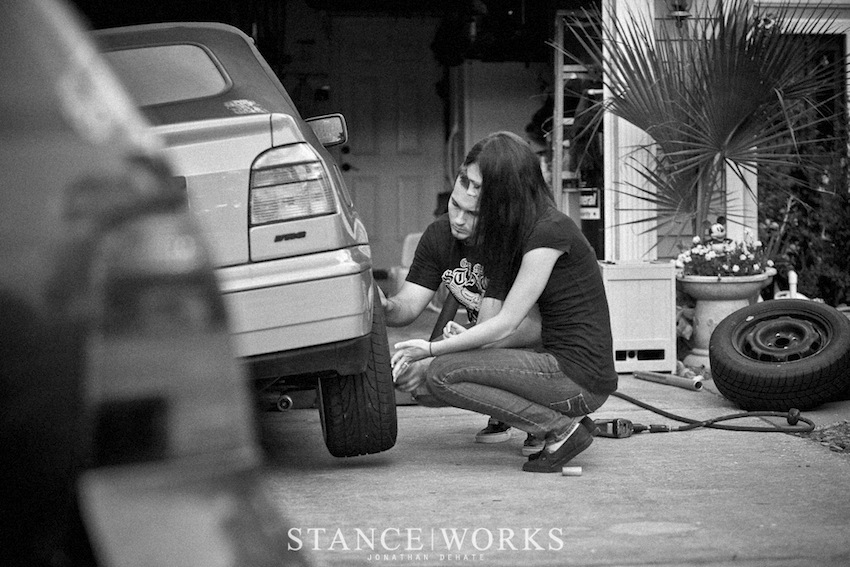 And so we have people like Sean and Kayla, who you'll find not on the forums telling people why their car sucks or that they should do this or that, but in the garage, building new creations to drop our jaws to the floor. These are real car people. They don't build cars for notoriety; for them, it's simply how they spend their time together.
Sean eats, sleeps, and breathes motor oil. Or wheel sealant. Or paint. Or something, either way. And Kayla is one of the few girls who spends her paychecks on chrome-dipping engine parts instead of new shoes and outfits.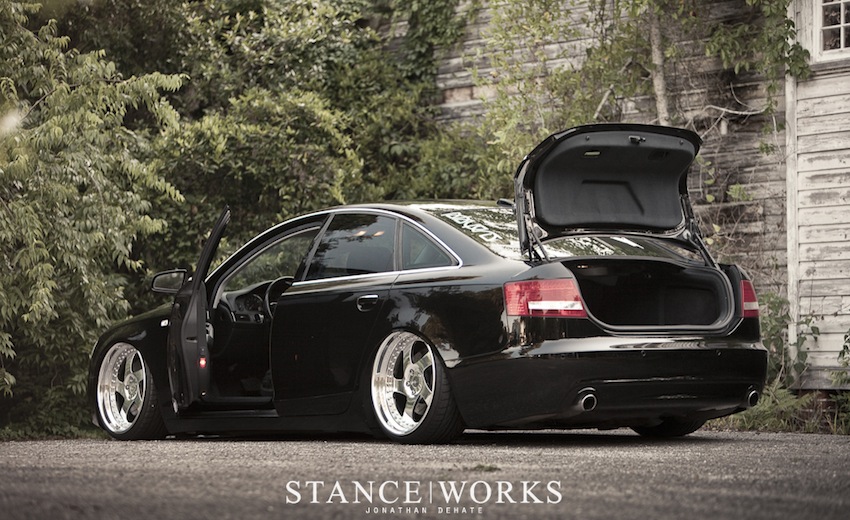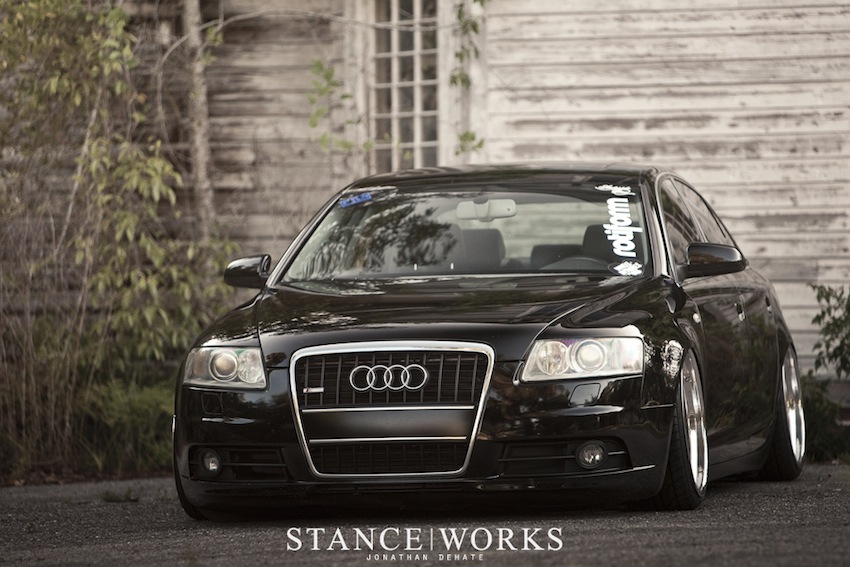 The list of their impressive builds has grown, with the latest being the A6 daily driver. I'm not sure about you, but this DD makes me feel bad about my "show" car. Air, massive Rotiform TMBs, and as always, attention to detail. Simple, mild, and understated, Sean and Kayla show that you don't need a build of monstrous proportions to impress.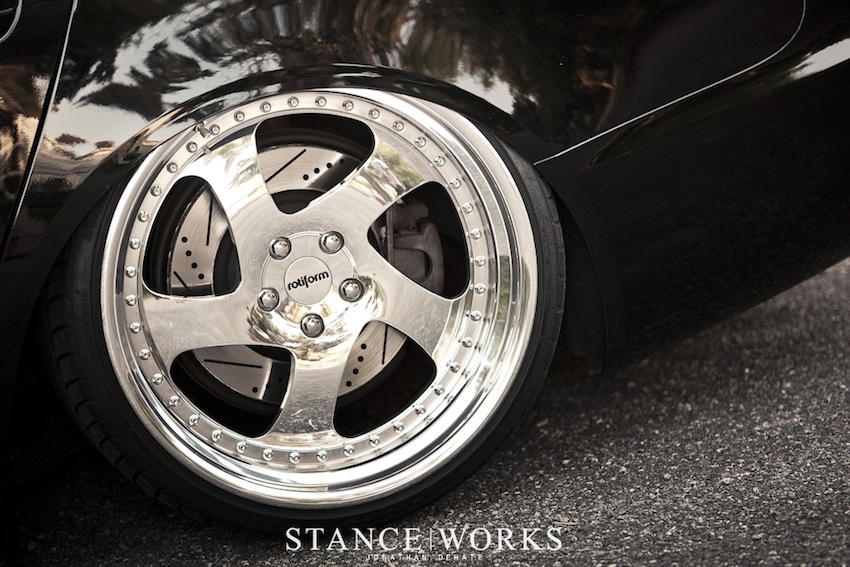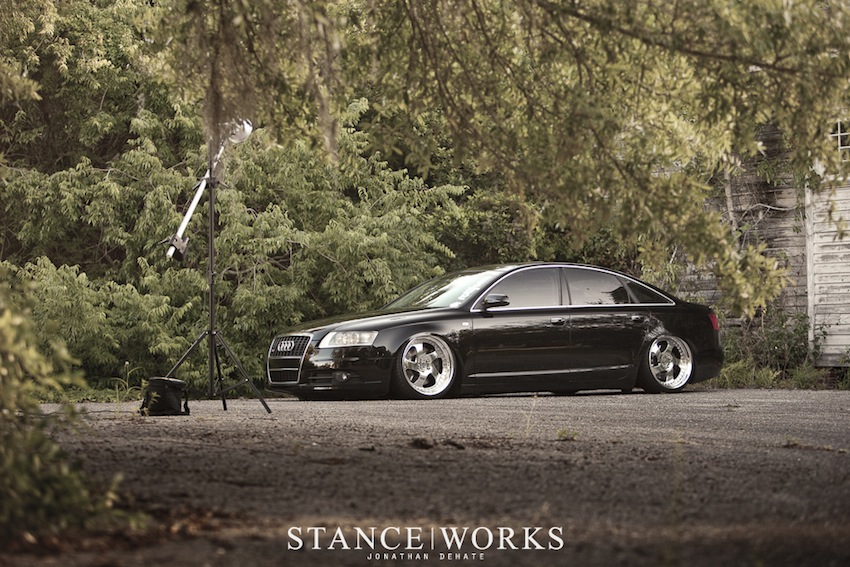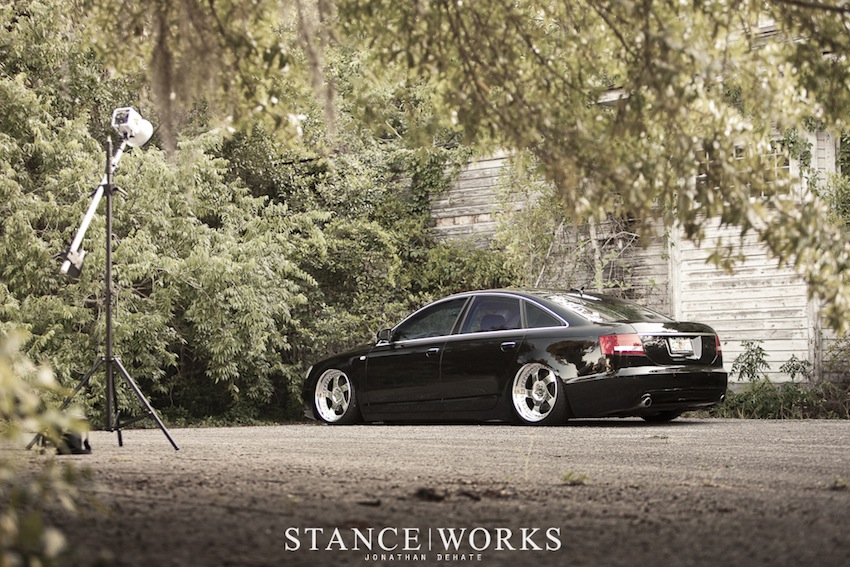 And so now I tell you what you can take from Sean and Kayla:
Cars aren't built on the internet. Anyone can watch a 10-minute youtube tutorial and suddenly "know what they're doing" but at the end of the day, the only way to learn is to get out in the garage, get your hands dirty, and do it. Sean and Kayla prove that you can do anything if you give it a shot and set your mind to it. Your parents weren't lying to you. It doesn't take much more than heart and dedication to build whatever you can come up with.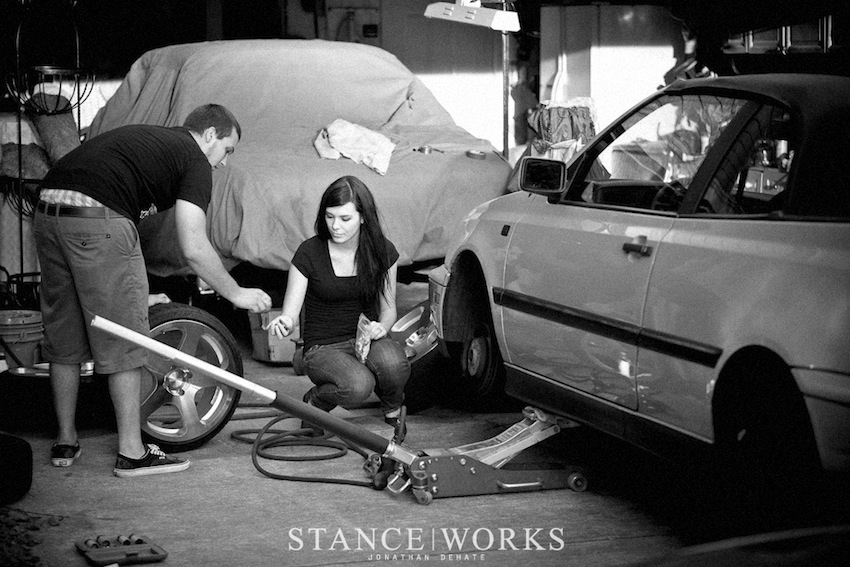 And lastly, these two exemplify why this community exists at all. Not only does this scene create new friends; it creates relationships for a lifetime. We, here at StanceWorks, attempt to reiterate in every article that we're here for the people, and if you've ever met either one of these two, you know they're as good as they get. They're the truest of people and inspire us in more ways than just building great cars. So next time you see them, say hello. You'll be glad you did. And as for what we can expect from them next, well, we wish we could share.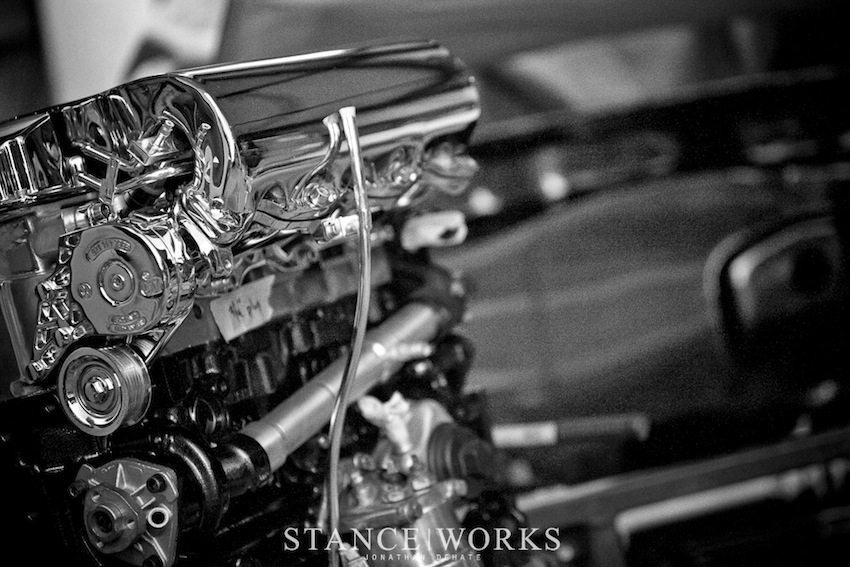 A special thanks to Jonathan DeHate and Ian Kosiek for the pictures.