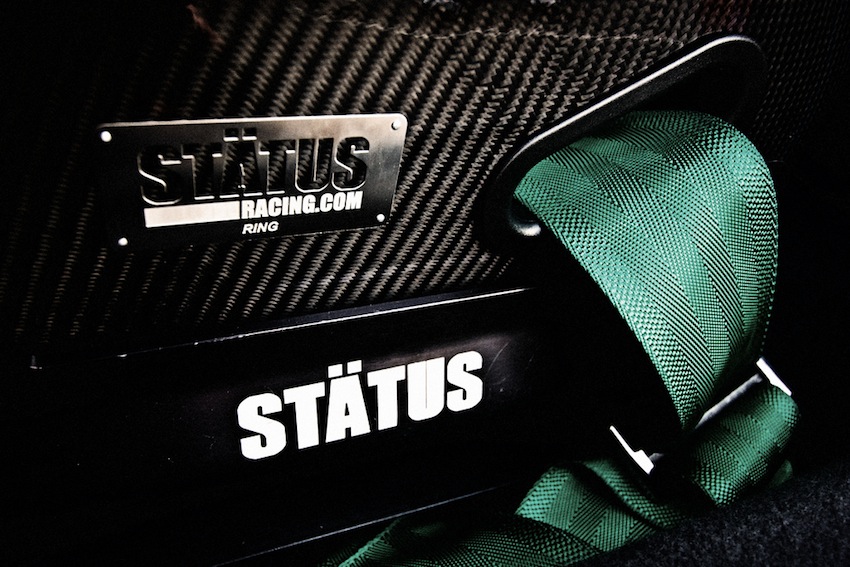 It's with great excitement that we announce our newest sponsor: Status Racing. Here is a little bit about the company:
Founded in 2004, Status Racing brought a new level of style and function to the performance seat market with a full line of composite racing seats. With a successful 7 years of project cars, seat sales, and brand establishment, Status Racing decided to take a new step. In April 2011, Status Racing changed ownership to help expand the companies potential to new heights. While maintaining its high quality manufacture techniques and processes in Washington state, Rob Rohn and Dan Mermelstein of the largely recognized Vivid Racing, came on-board as Partners to handle business development along with sales and marketing for the company. With their successful online and retail background, they compliment the Washington State office military technology and manufacturing processes. Partner Chris Venti says, "Rob and Dan do something that nobody else can duplicate online. What we do well is manufacturing. This is a great partnership that will allow us to really show the quality of Status Racing."
Along with a new website and image, Status Racing will allow customers to do something that no other seat manufacture does… Configure it! "We want customers to be able to design their own seat which fits their vehicle theme and tastes. This is not just a show product. With Status Racing's FIA certification for the Ring seat, this is something targeted to the weekend racers as well", says Dan Mermelstein. The Status Racing line up will be broken out into 4 sections. Status Standard, Status Icon, Status Limited, and Status Harnesses. The Standard group will consist of your ready to ship red, black, blue Ring or Ring GT seats. "Our goal is to have a turn key seat that all can afford and enjoy", says Rob Rohn. Status Icon will be a industry first with seats allowing the customer to go online and configure their seat based on material, stitching, logo color, center cushion, and seat backing. Online customers will be able to configure their seats and save them to a profile, share with friends, or order online. One of the newest projects will be Status Limited. This will be a collaboration between Status Racing and another brand or recognizeable name to develop an exclusive limited production and style. These seats will be made, assigned numbers, and never to be reproduced again. Finally, we have Status Harnesses. These 4pt, 5pt, and 6pt harness kits are FIA approved 3inch with rotary buckle. What is nice about these harnesses compared to the competition is they are a complete package. Available in red, black, blue, or gray, the harness kits come with necessary eye bolts for a simple installation with the clip in design.
At Status Racing, our goal is to provide top quality products with a unique personalized taste while focusing on safety. With fitment videos, searchable seat brackets and rails, as well as our industry first configurator, we will meet each customer's unique needs and tastes. With manufacturing based in the USA, you can be assured that you're getting only the best in quality products from Status Racing.
We are looking forward to working along Status in different capacities. Stay tuned, because some great things are in store for everyone!
Photo credit goes out to our good friend James Evins.. check out his flickr HERE