I'm baaaaaaack!
It's been a while StanceWorks. Oh how I have missed thee.
I finally decided to go through with selling my old Mazdaspeed Miata. I had owned it for 4 years, it was on it's 5th set of wheels, it's 2nd set of coilovers, it's 2nd paintjob and I just felt it was time to move on. I loved that car and all the friendships it created during the few years I owned it. I'm sad to report that the new owner has raised the living shit out of it but oh whales.
Here's a few shots of my old Miata prior to selling it.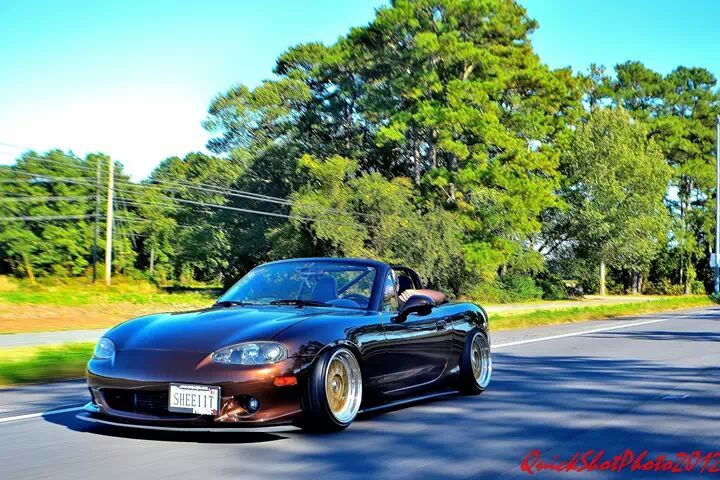 Anywho, I sold the Miata back in Feb. and sought out somewhat of an oddity. A Crossfire SRT-6.
These cars have always been somewhat of a scapegoat. Maybe it was their over the top styling/bodylines or the fact that it was badged as a Chrysler.....but these cars never really took off in the aftermarket scene and are somewhat looked down upon by alot of car enthusiasts. But no matter.......I have always wanted one. The reason i've always been drawn to these cars is simple: They're RWD, have a 330hp/310 tq 3.2L supercharged V6, are fast as balls and are super rare. New they were $50,000+ cars and nowadays you can get them between $13,000 - $20,000 depending on the mileage/condition. And for those who didn't know, they are essentially just a re-bodied Mercedes SLK32 AMG as they share the same chassis, powerplant, transmission, etc etc.
Anywho I set out to find one and it didn't take long. One night at work I get a call from my mom saying "Dad found your car". Now of course I laughed because my parents are oblivious to cars, let alone a car as specific as an SRT-6. But low and behold.....my dad had been searching the interwebz and stumbled upon an eBay Motors listing for a black '05 SRT-6 with 42k on it. Best of all, it was for sale locally......about 20 min from me. It already had a few light modifications done to it including a Needswings CAI, Eurocharged Performance ECU/TCU tune's, an aftermarket head unit/door speakers, 15mm rear spacers and 6K HID's. Nothing I wouldn't have done anyways. Otherwise the car was a blank canvas for me. Now there was some bad. The car, while having very low mileage, was pretty rough around the edges. The paint had heavy oxidation, clearcoat failure on the door and in the roof rails, had a few dings here and there and the headliner was starting to droop on the passenger side. But.....I had to go for it. The mileage was right and I wasn't going to find another example so close to me anytime soon. So a weeks later I got brought him a certified check and brought it home.
Le stock (before I even brought it home, still at the old owner's townhouse)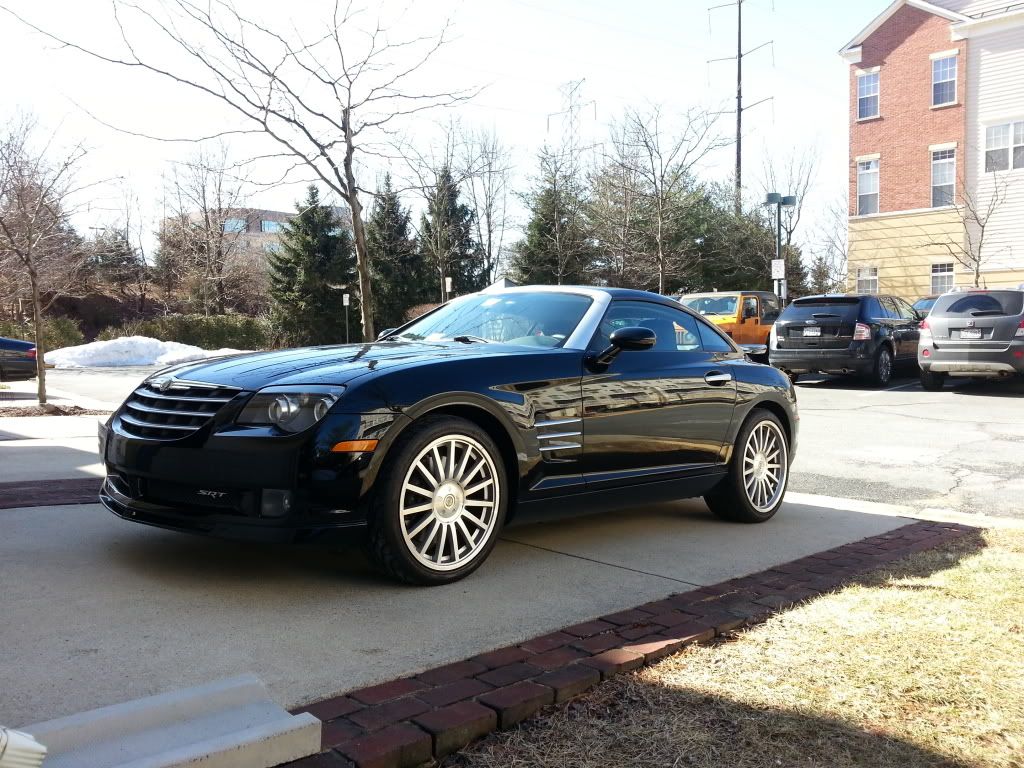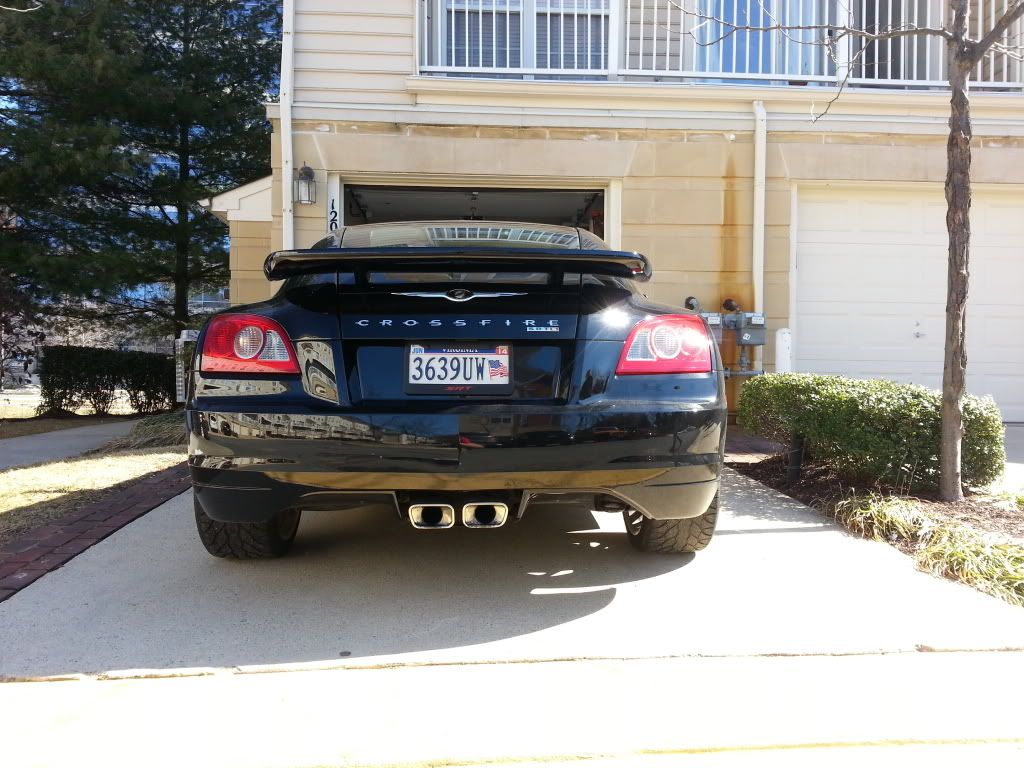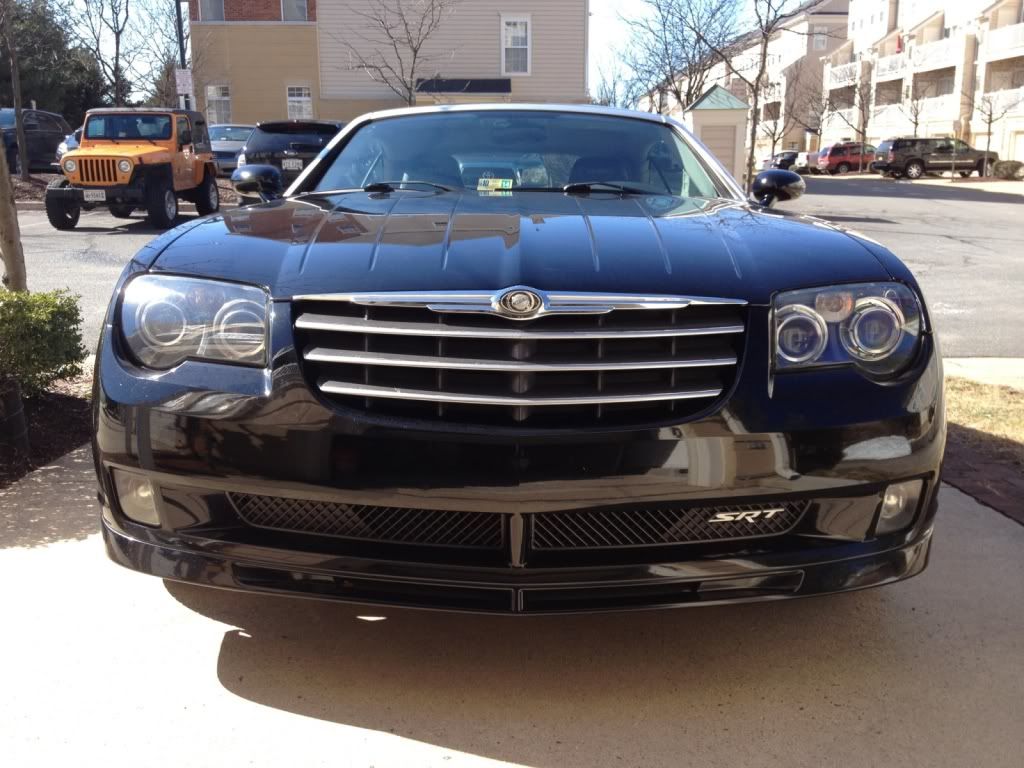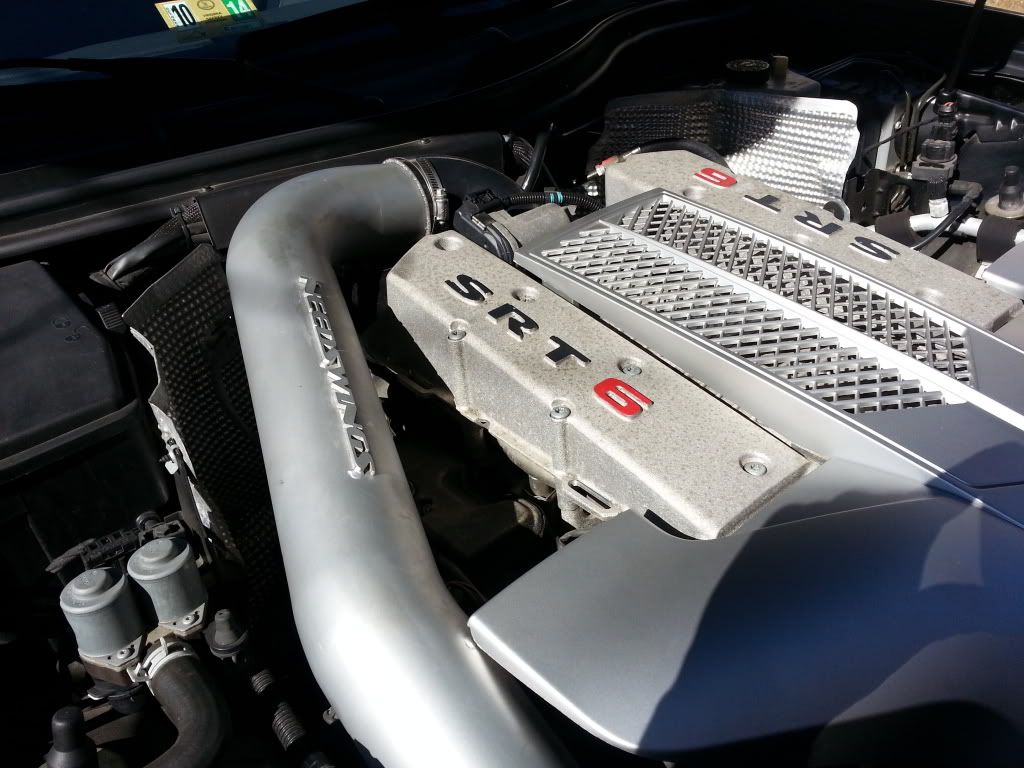 Now I got down to business right away with the car. Within the first few weeks I had 3 dents pulled via PDR, replaced the faded front Chrysler badge, replaced both fender louvers (they were scratched/chipped), had the car detailed & debadged and lowered it on KW Variant 2 coilovers. Oh and also had the windows tinted and ordered a super-emo Europlate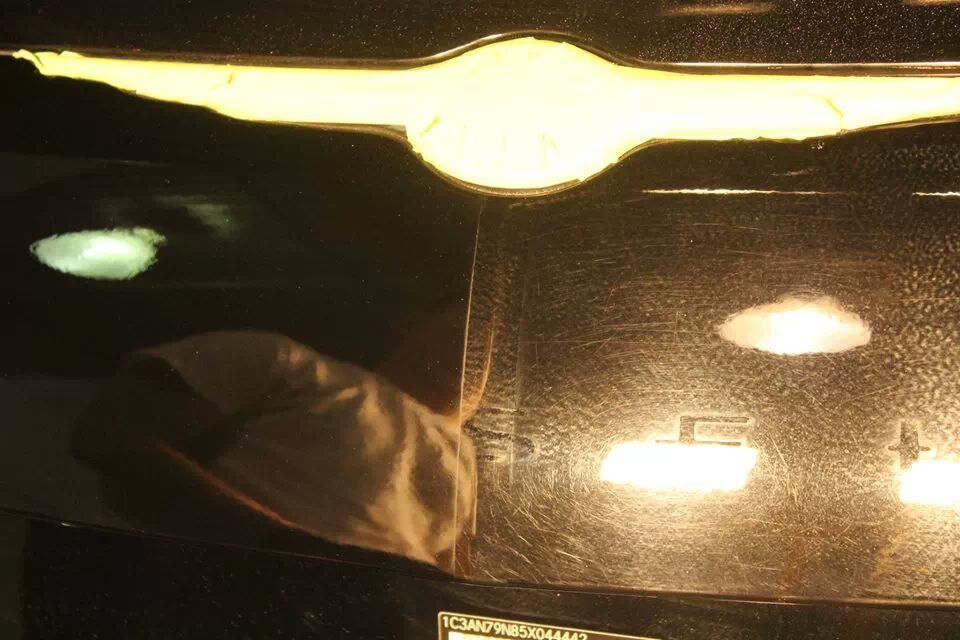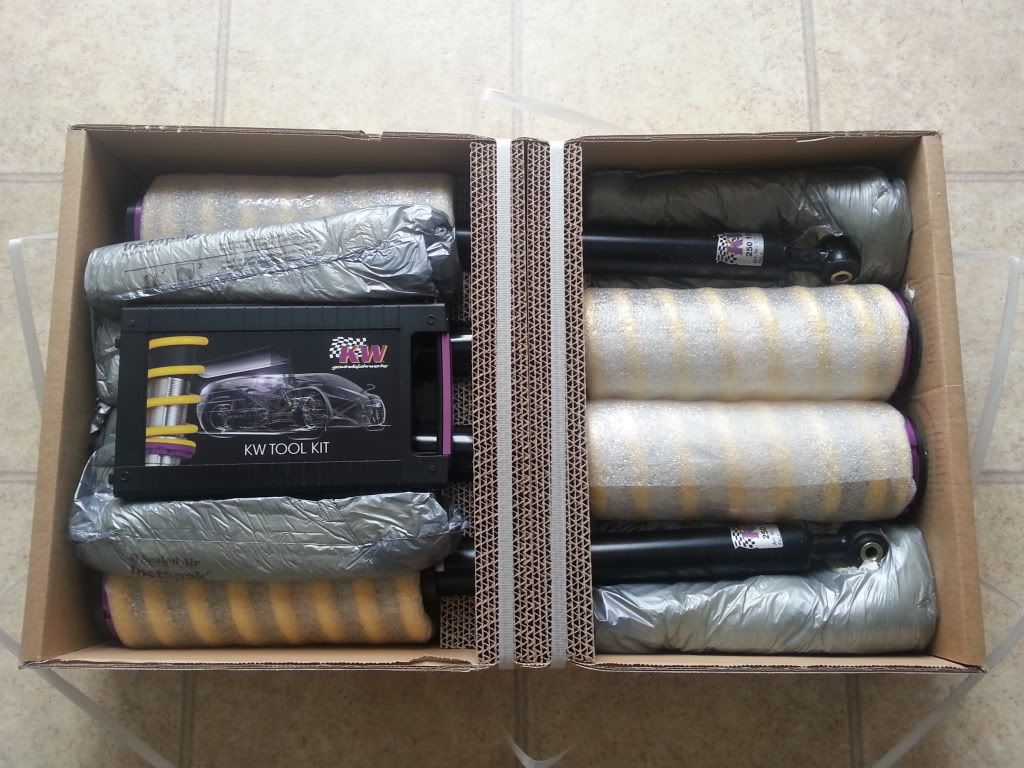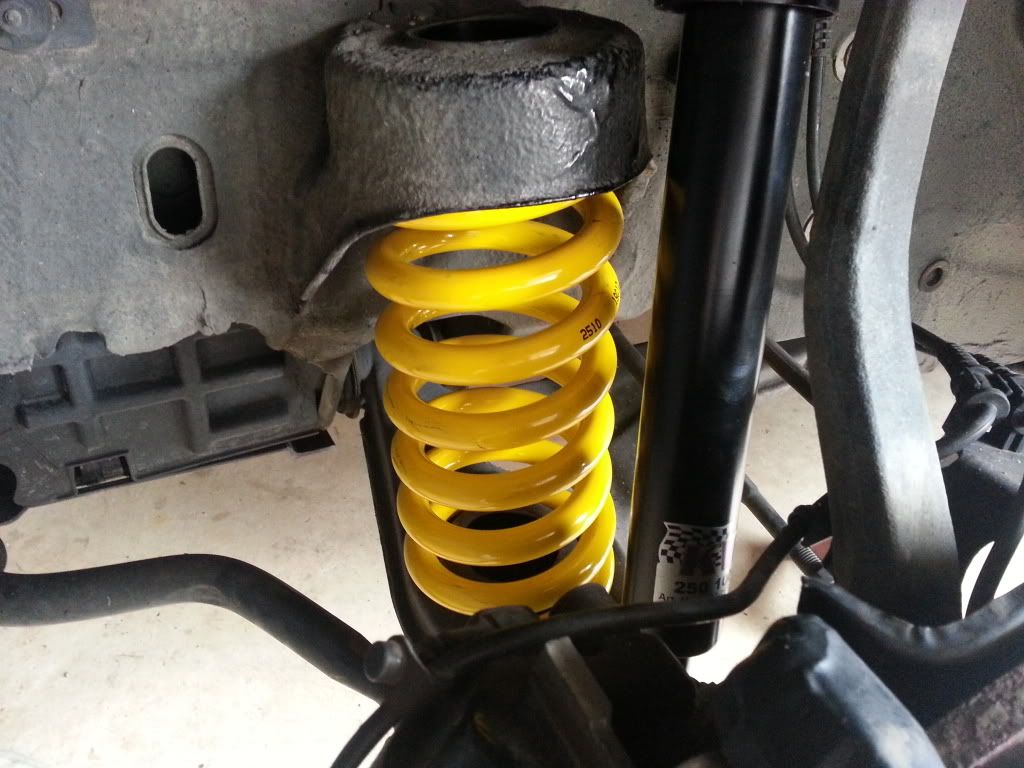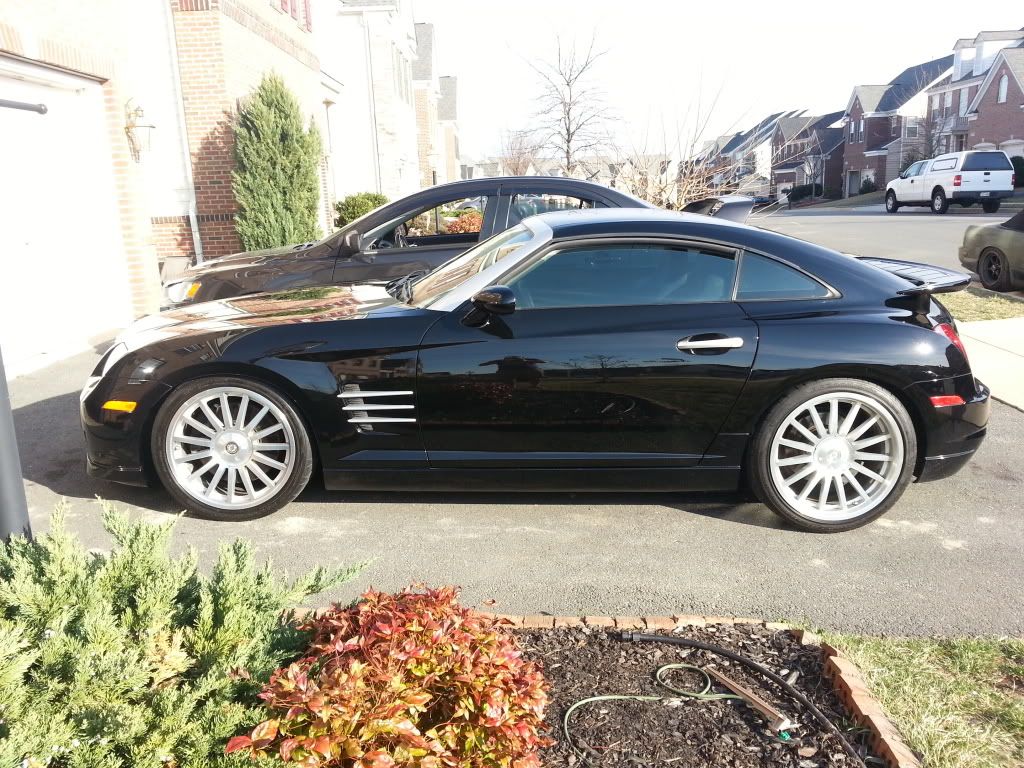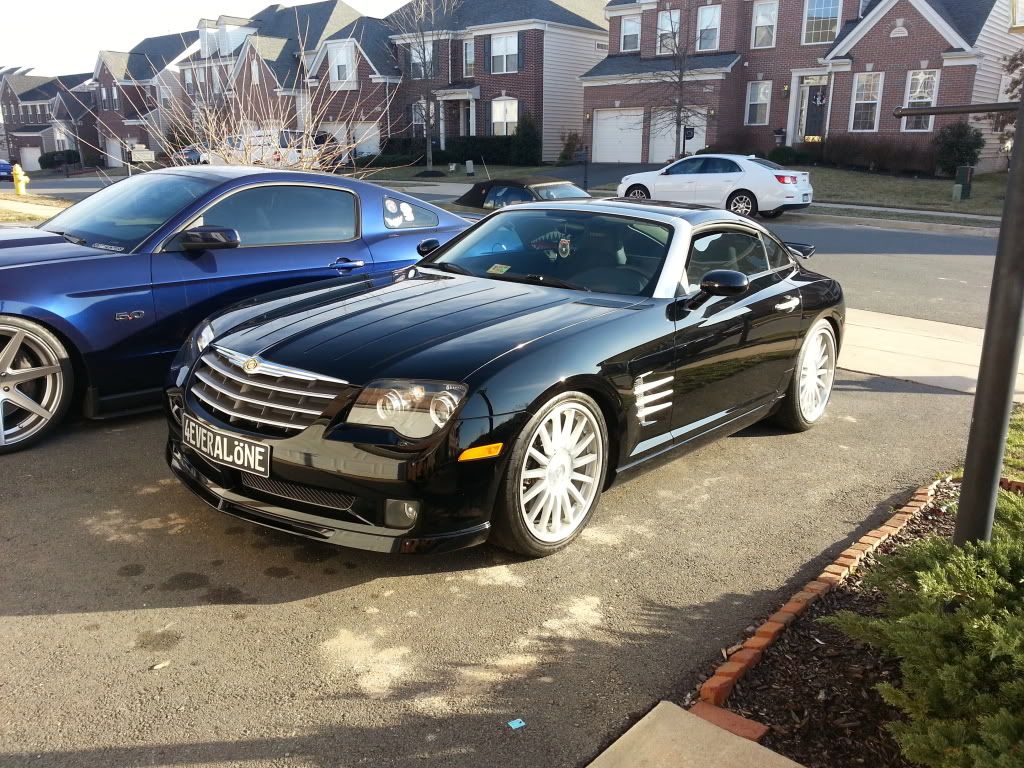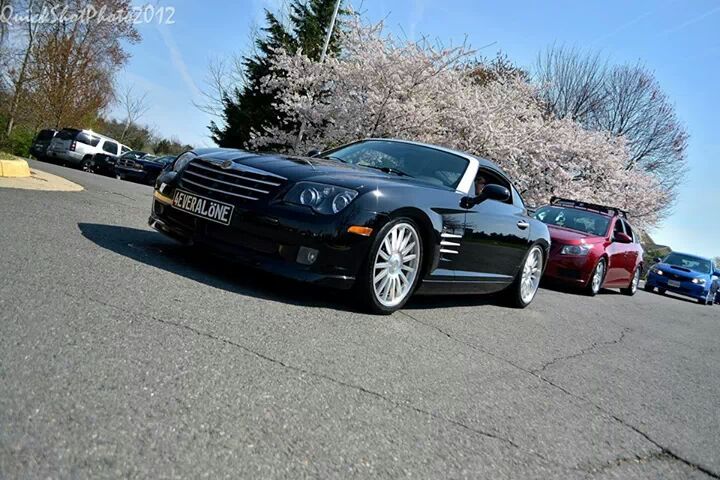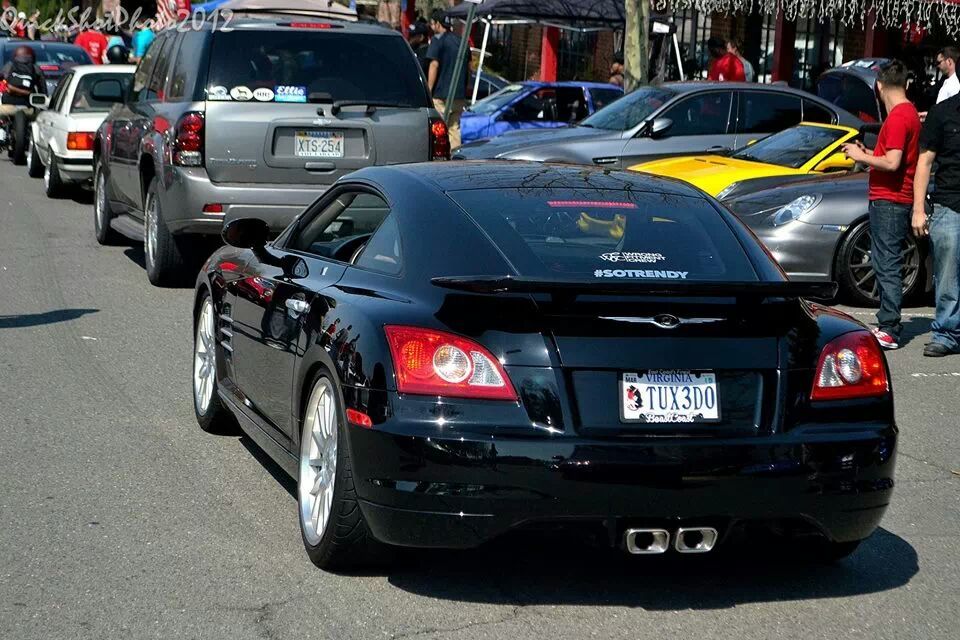 Next up were some more drastic changes. Even after having the car detailed I wasn't entirely satisfied with the condition/appearance of the car's exterior. Even after having it buffed/waxed it still had it's fair share of surface scratches and heavy oxidation that couldn't be fixed. And the clearcoat failure on my door below the window trim was just plain unsightly. Now I plan to have the car repainted later this year, but a paintjob just wasn't in the budget so I decided to roll the dice and have the car dipped. I know I know........i'm sure alot of you aren't a fan of Plastidip. I wasn't either at first. But my friend has a shop dipping cars and he gave me a hell of a deal so I couldn't pass it up. I look at the dip as one giant temporary bandaid for the crappy condition of my car's exterior. He told me he could whip up just about any color I could think up so I decided to go with an Aston Martin green. He used two different pearl pigments to achieve this color and overall I think he nailed it.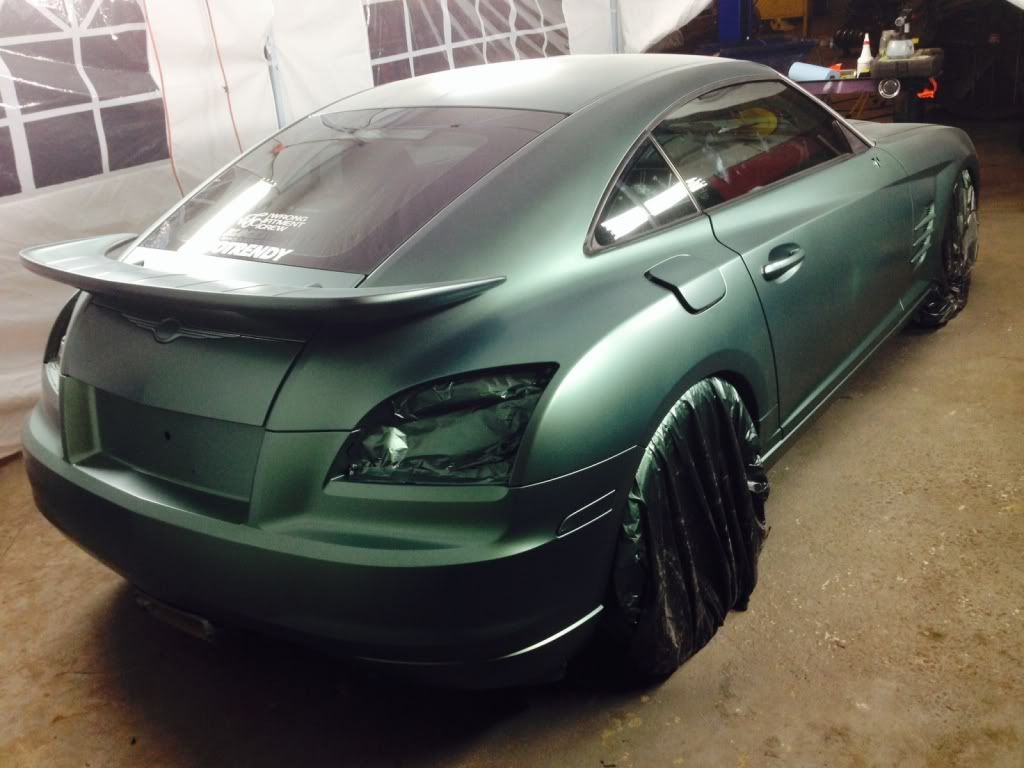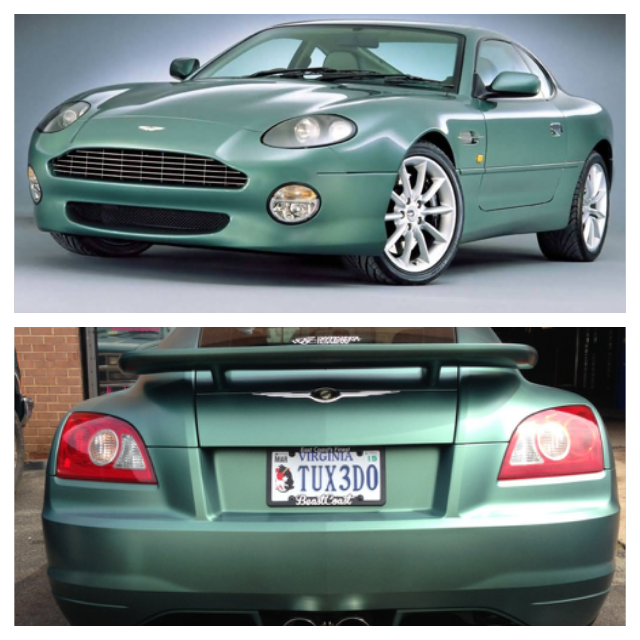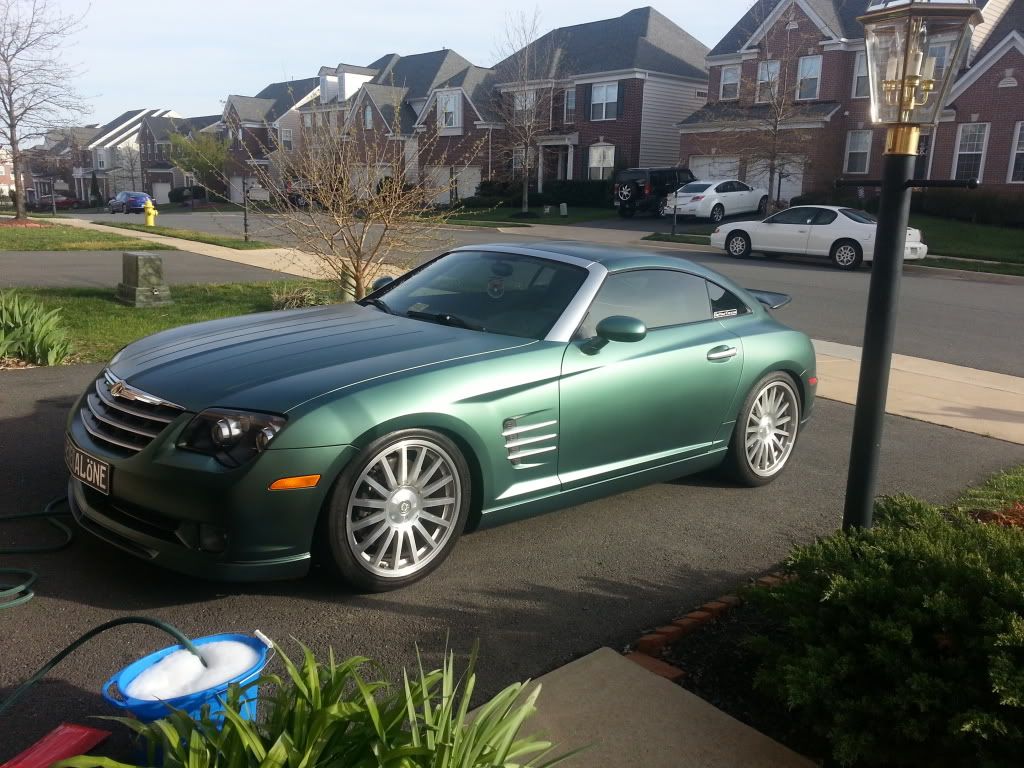 Next up, I ordered some 18x8.5/19x10 3SDM 0.06's and a Megan Racing M-RS muffler. I felt that these wheels went extremely well with the edgy bodylines of the Crossfire. Not to mention that these cars come factory with double staggered wheels (18x7.5/19x9) which meant I was able to be cheap and re-use the existing tires on the car. As for the exhaust......because it's essentially a Benz, parts don't come cheap. A freakin' axle-back for this car is $700+! But I found a thread on the Crossfire forum about the Megan M-RS muffler and saw that alot of guys were just having custom cat-back/axle-backs made using it. The muffler basically looks like the muffler that's used on the Magnaflow system for this car. It ran me $120 shipped on Amazon prime and I had the local exhaust shop fab up an axle-back for me for like $100. So for under $300 i'm pretty damn happy with it.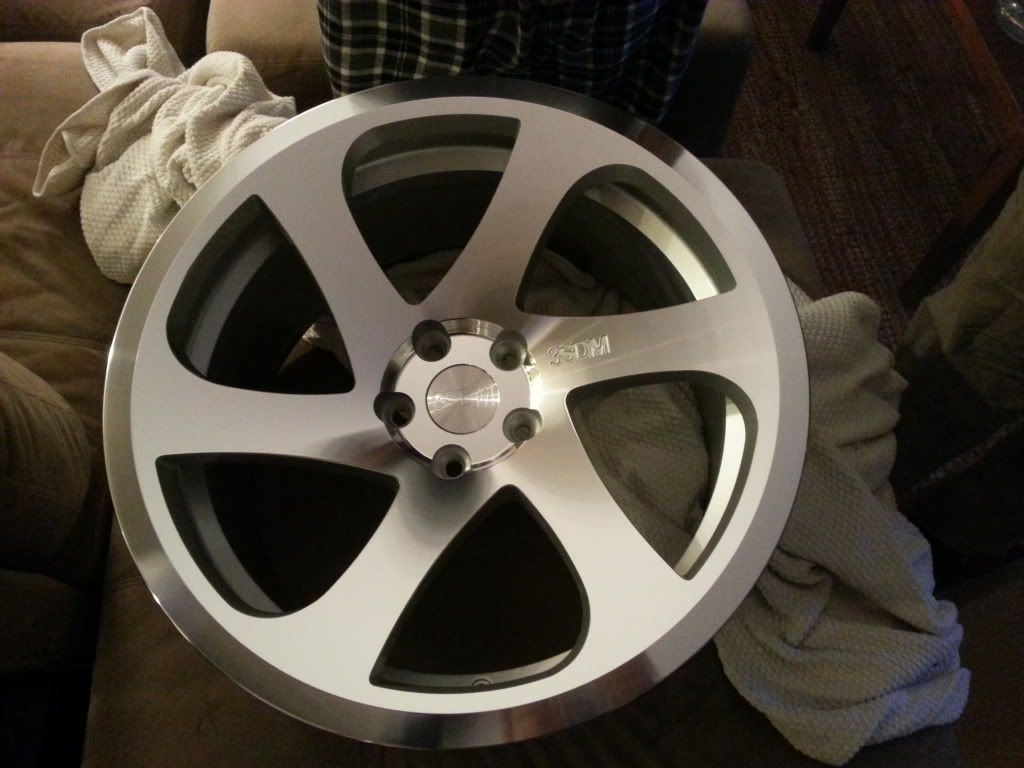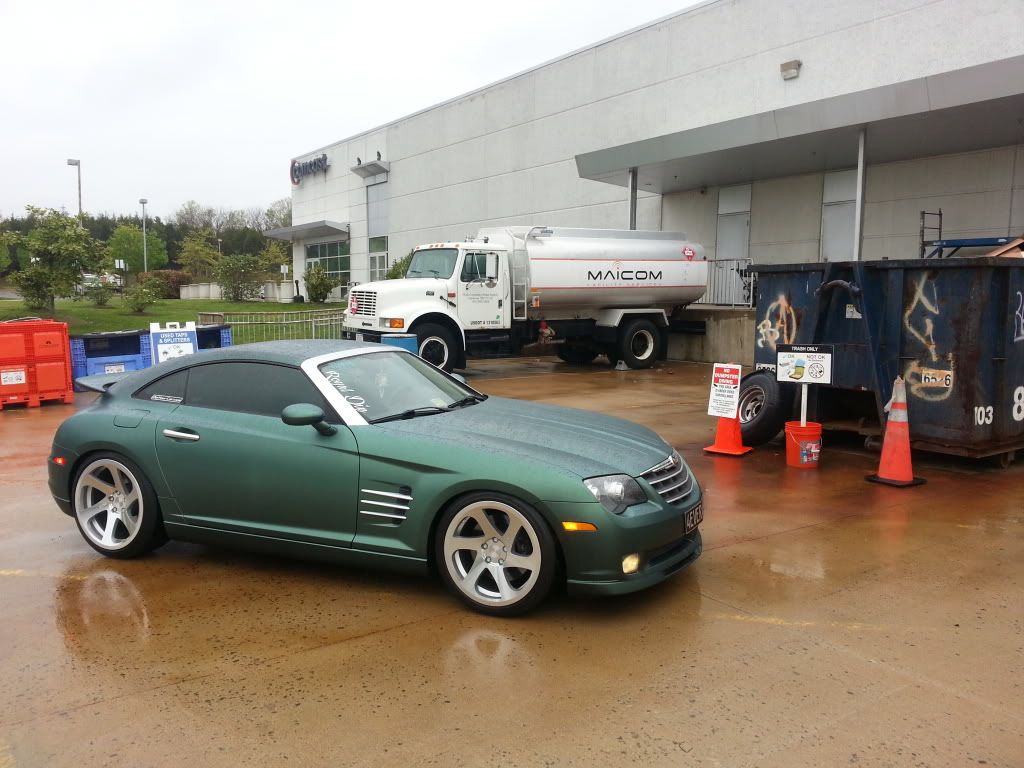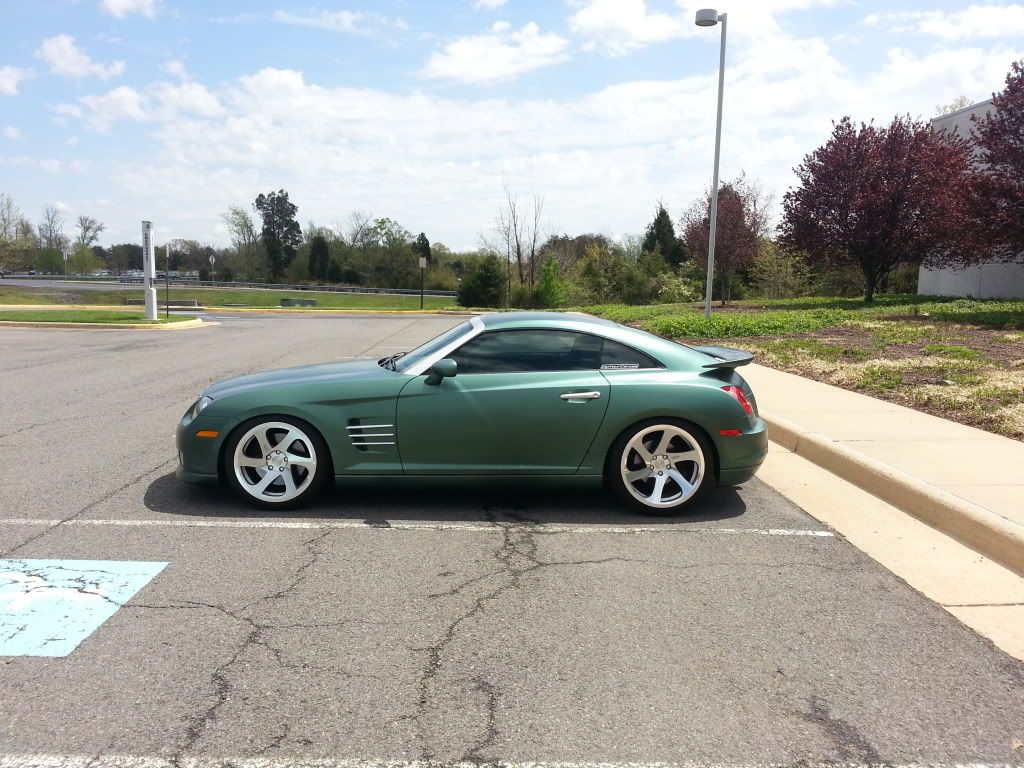 Now at this point I was relatively happy with the car.......but it still wasn't sitting nearly as low or aggressively as I had envisioned it. So I decided to remove the front locking rings/rear collars to get the car down a little bit more. I also went ahead and had my fenders rolled/hammered and added bigger spacers in the rear. The final setup with spacers is an 18x8.5 +19 with a 225/40 up front and a 19x10 +0 with a 255/35 in the rear. I was also in dire need of some lip low so I had Custom Functionz custom build me some front/side splitters. All in all I love how everything turned out!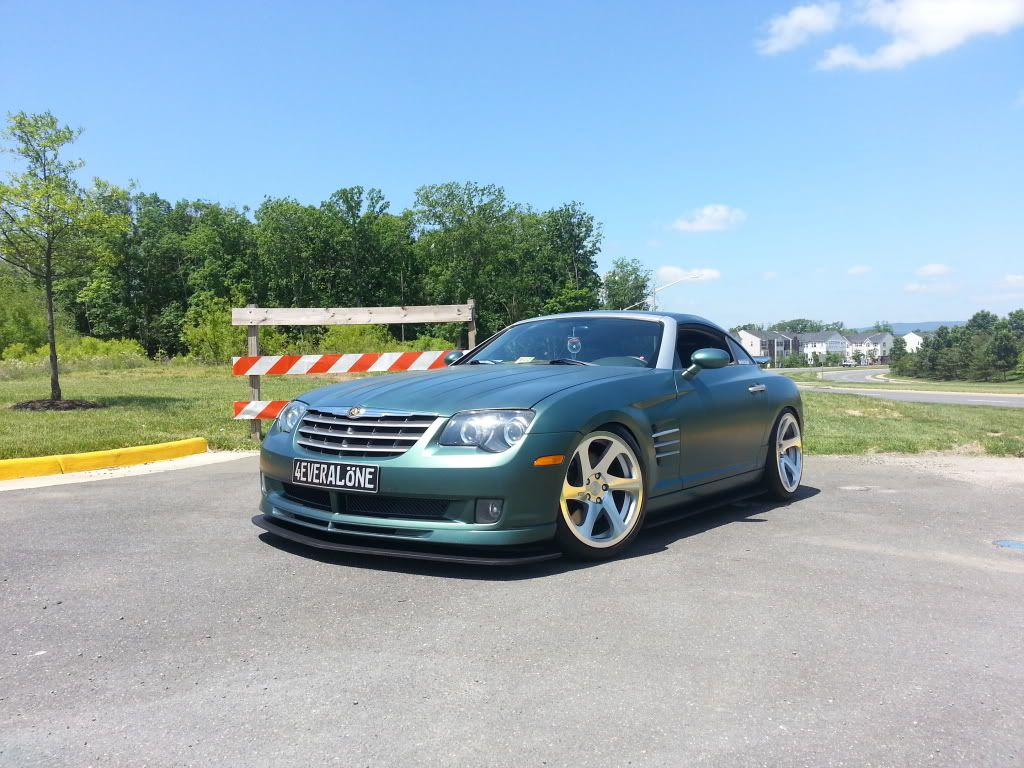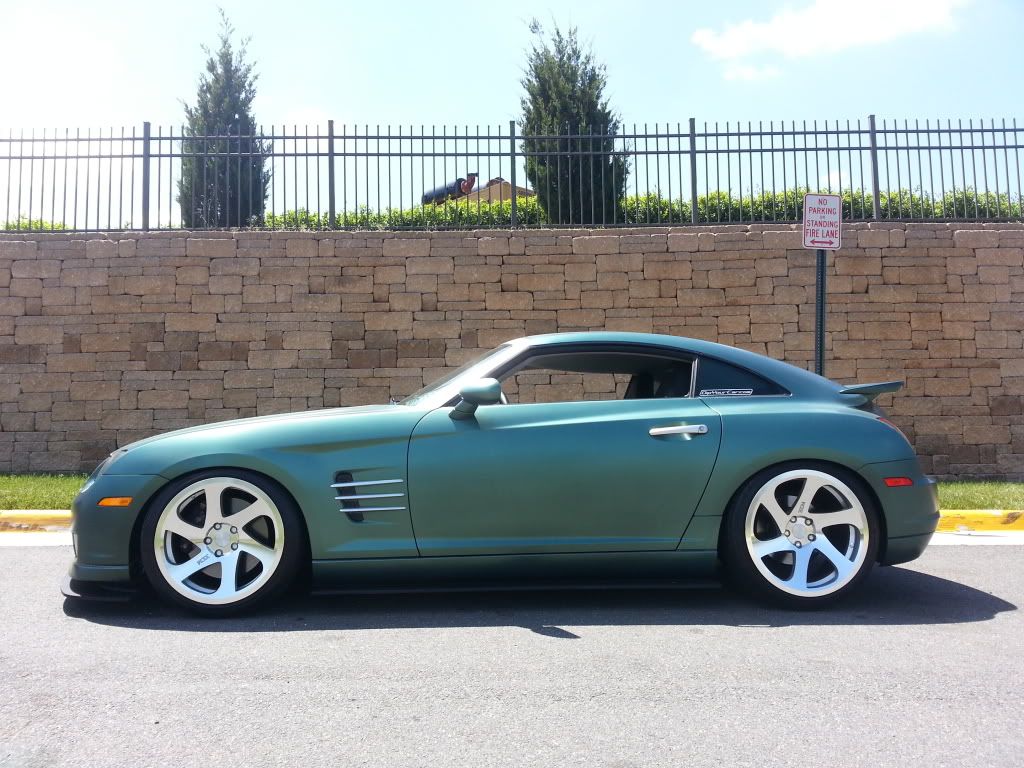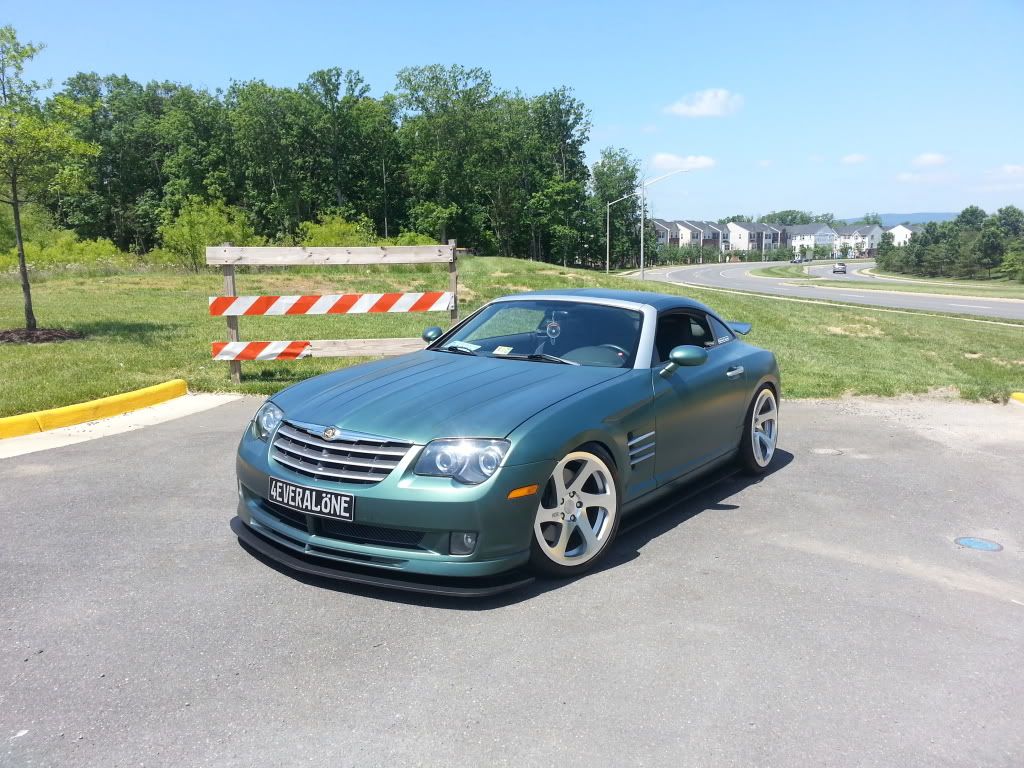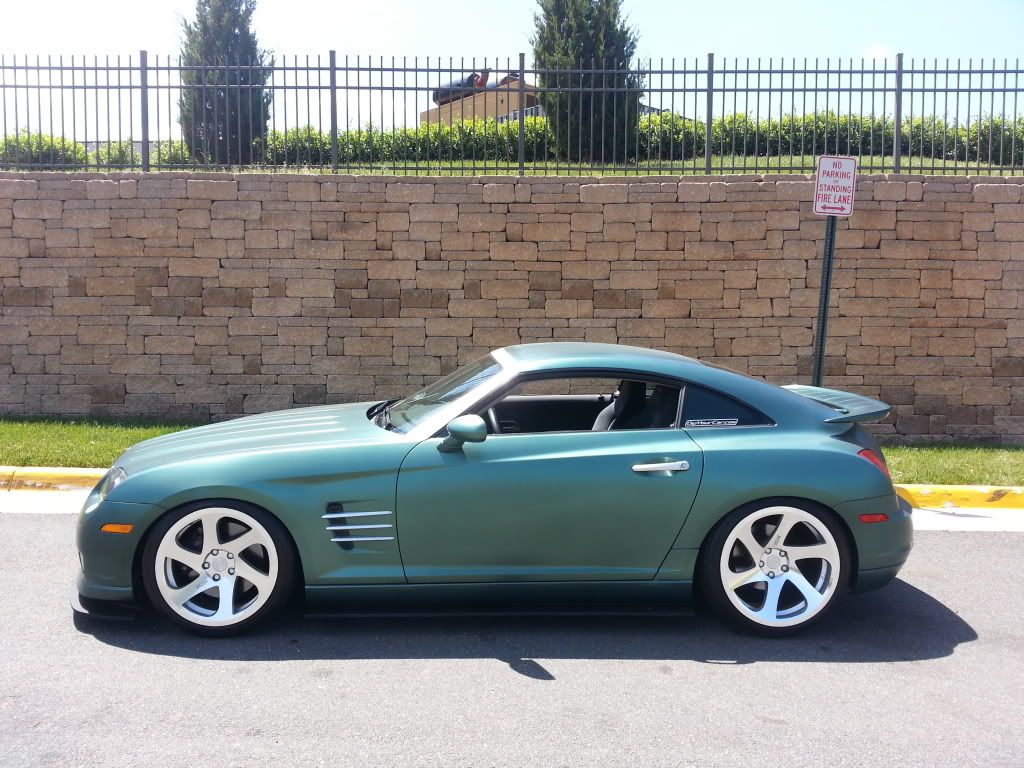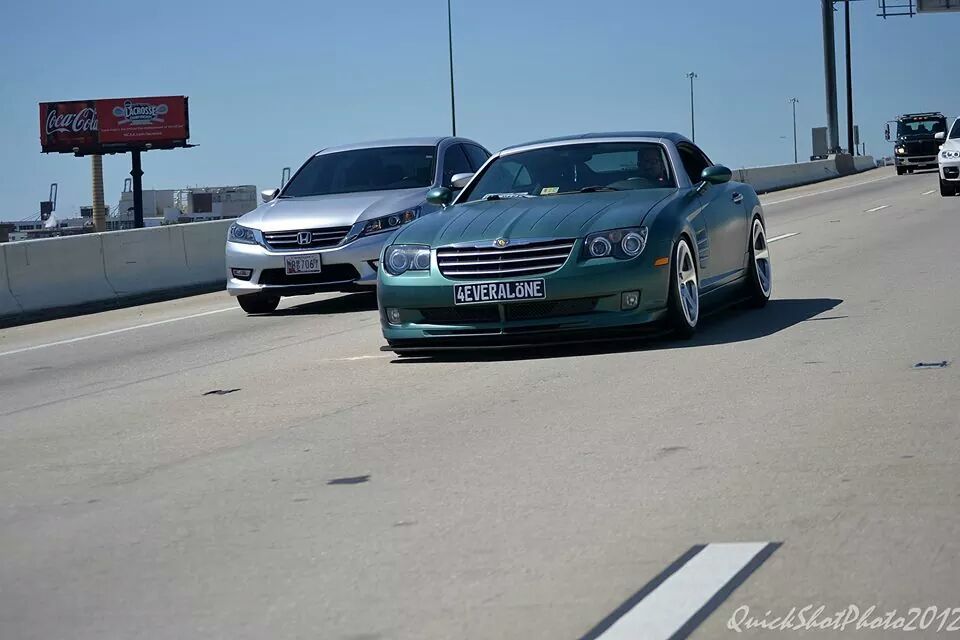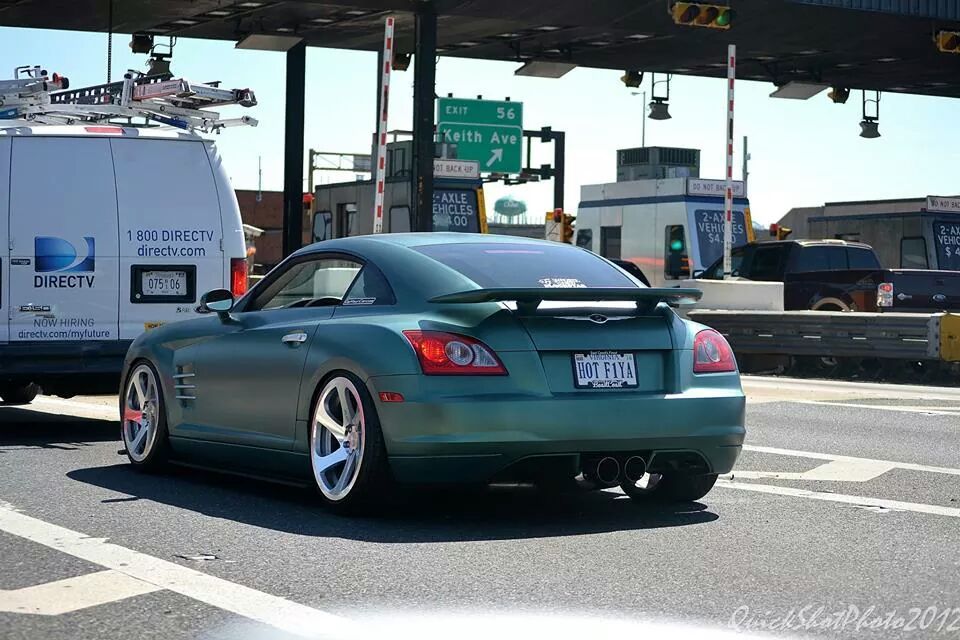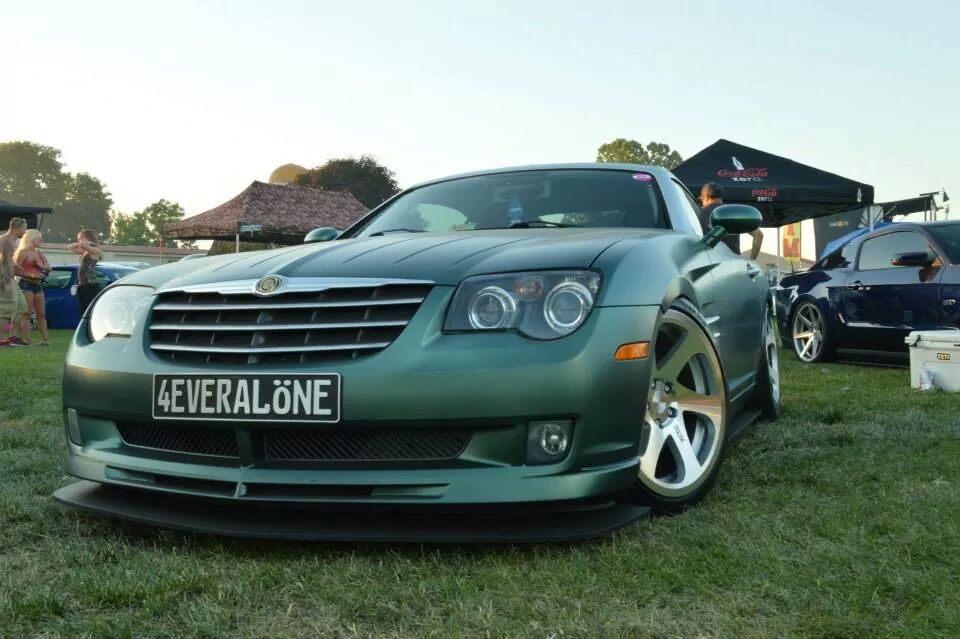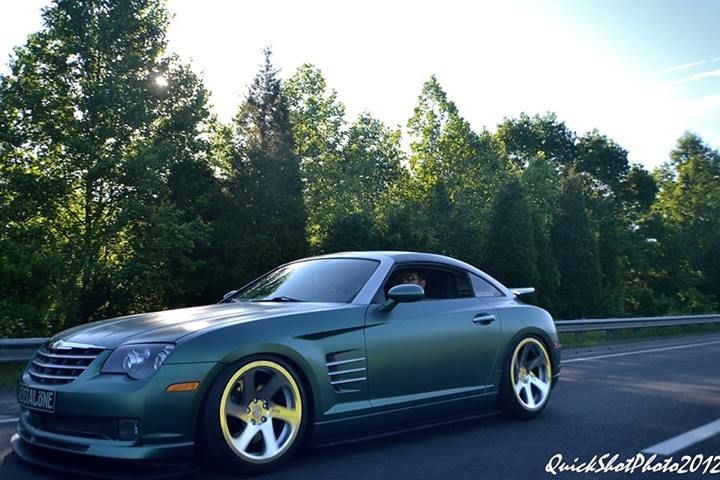 I have much more in store for the car. Next up is Mopar-replica rear diffusers (the Mopar ones have been in production for year), European market side markers, a black microsuede headliner and then paint! I'm planning to have the car painted Obsidian Black Metallic which an is OEM Mercedes color. I want the car to be black, but I figured if i'm spending all that money to have the car painted I might as well do something fancy as opposed to having it resprayed the OEM gloss black.
Thanks for reading! Feel free to follow the progress of my car on my Instagram account @osshwa. But be warned......I post alot of pictures of my cat >_< lol
***As of 10/19/2016***
Engine
NeedsWings single CAI w/ K&N Xstream filter upgrade
NeedsWings oil catch can
Eurocharged Performance ECU tune
Eurocharged Performance TCU tune
Custom axle-back exhaust w/ Megan Racing M-RS muffler
Johnson CM30 intercooler pump
Genuine Mercedes Benz AMG oil filler cap
Painted valve covers & intake manifold plenums (VHT - silver)
Exterior
Mercedes Benz Obsidian Black Metallic respray
OEM gloss black painted upper grille
Shaved rear hatch
Custom Rocket Bunny style front lip/side skirts
ZunSport lower grilles
Lamin-X redout taillight overlays
35% tint
LED tag lights
European side-markers
Suspension/Brakes
KW Variant 2 coilovers
R1 Concepts slotted rotors
Painted calipers (VHT - gloss black)
Wheels
18x8.5/19x10 Radi8 R8S5 wheels
225/40/18 (front) / 255/35/19 (rear) Michellin Pilot Super Sport tires
Interior
Broadway mirror
Redline Goods suede door pull covers
Suede headliner
LEDPartsNow interior LED light kit
Other Misc.
Moddiction titanium fender washers
Sprint Booster power converter
HID Extra RAZIR LED headlights
Clarion FZ501 media player
DressUpBolts titanium valve stems
Mishimoto magnetic oil drain plug